0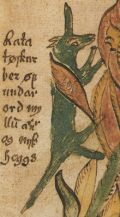 The Tourney Report Pt. 1: The Deck
Posted by Ratatoskr , 20 November 2011 · 190 views
Game of Thrones
Stahleck
Tournaments
Joust
Deckbuilding
Greyjoy
Here's my decklist:

House (1)
House Greyjoy (Core) x1

Agenda (1)
Kings of Winter (TWoW) x1

Character (31)
Alannys Greyjoy (RoW) x2
Baelor Blacktyde (TIoR) x1
Carrion Bird (ASoS) x3
Distinguished Boatswain (TftRK) x3
Fishwhiskers (CtB) x1
Ice Fisherman (TWoW) x3
Island Refugee (RoW) x3
Pyromancer's Apprentice (TBoBB) x1
Samwell Tarly (TRS) x2
Wex Pyke (KotS) x1
Wintertime Marauders (ACoS) x3
Gylbert Farwynd (GotC) x1
Maester Murenmure (CbtC) x1
Scurvy Cutthroat (KotS) x1
Maester Wendamyr (KotS) x1
Theon Greyjoy (ACoS) x1
Newly Made Lord (TftH) x3

Location (21)
Longship Iron Victory (KotS) x3
River Blockade (RoR) x1
Scouting Vessel (KotS) x2
The Inn of the Kneeling Man (FtC) x2
The Iron Mines (KotS) x3
Gatehouse (KotS) x3
The Searoad (KotStorm) x3
Sunset Sea (Core) x2
Aeron's Chambers (KotS) x1
The Iron Cliffs (HtS) x1

Event (8)
Support of the Kingdom (Core) x1
To Be a Kraken (SB) x3
Winter Reserves (SA) x2
The Hand's Judgement (TTotH) x1
Seasick (KotS) x1

Attachment (3)
White Raven (TWoW) x3

Plot (7)
A Time for Ravens (ACoS) x1
Retaliation! (ASoSilence) x1
Winter Festival (WotN) x1
Valar Morghulis (Core) x1
Fury of the Kraken (AE) x1
The Power of Arms (Core) x1
The Winds of Winter (TWoW) x1
My deck runs on five things: Setup, Save, Cancel, Claim, Control. Pretty much every one of my cards except the resources does something in one of those areas.

Setup: I run the usual bunch of weenies and cheap locations. I have no cards that cost more than three gold, and of 3G guys I have not that many either. When I considered a card for inclusion, usability on setup was a big factor.

Saves: Saves give me the opportunity retain board superiority at critcal times, to flood the board, even to Valar offensively (which I never did, though). 3 Iron Mines, 1 Iron Cliffs, Wendamyr were all golden. I might add another Iron Cliffs, but they're a dead card on setup, so I'm hesitant.

Cancel: 3 To Be A Kraken, 1 Seasick, 1 Hand's Judgement, 1 River Blockade, Murenmure. The decision to run TBAK has sweeping consequences for deckbuilding, of course. I need to build my plot deck around it; specifically I need a Military Battle plot I can start the game with. I chose to go with Fury of the Kraken - I can use the gold, it allows me to go first on turn one most of the time (and the chance to have a White Raven in my hand first turn is actually pretty big), and it hurts Stark, which I rightfully expected to be run a lot. Now that I think of it, the combo of Oxcross and FoW might be better, though. To pay the cost of TBAK before the challenge phase, I planned to use Alannys or Ice Fisherman, or, in rare circumstances, Fishwhiskers.
Murenmure didn't do much for me. I kept him because he's a cheap guy with an INT icon, of which I didn't have enough anyway. Maybe that slot should have gone to Asha.
Seasick is great, more of them wouldn't hurt, but you can't rely on them too much.

Claim: The plan was to get a White Raven in my starting hand so I could hold the search plot in reserve, start with Fury to get ahead, then hammer the other guy on three claim 2 turns, and then close with Winter Festival if necessary. I got plenty of cards that help hammering those claim 2 challenges home: Two Scouting Vessels, three copies of LIV, Wex Pyke, some stealth, lots of guys with good cost/STR ratios. Winter Reserves were pretty huge for me in one game at least, and provided me with much needed INT punch.

Control: Mostly location control, resource control and Wintertime Marauders. Alannys was sick,especially with Inn of the Kneeling Man. Newly Made Lord was great. Baelor Blacktyde, Pyromancer's Apprentice, Support of the Kingdom all had their time in the sun. AToR Theon was a late addition for my Stark friends. For dedicated attachment control I only had one Scurvy Cutthroat. He doubles as a setup weenie, so I guess he's OK, but maybe I should replace him with a better card and just leave attachment control to the Marauders. Then again, Horn of Dragons, Oberyn's Guile...
Gylbert Farwynd. I think that might have been a mistake. It's a good card, but I guess it's not a good idea to kinda build your resource locations around one unique character, and then run just one copy of that character. I guess he should go, along with some of the +1 gold locations, and they should be replaced by someone with an INT icon and some Streets or a third Sea.

For Draw, I used two copies of Samwell (who doubled as a weenie) and three of LIV (which also helped me challenges). Not that great, but I never felt that draw was a problem. The Agenda, Alannys and claim 2 INT challenges helped with keeping opponent's hand size in check.

Also, yeah, I took Burned And Pillaged out shortly berfore the tourney. My arguments were the following:
- They're easily controlled, and I didn't expect them to be in play long, especially against Maesters, which I expected to see a lot of (I didn't).
- They hurt my setups
- Against KotHH, they're something of a dead card
- You need to invest one gold and have to wait one or two plots for the investment to really gain you something
- Support of the Kingdom basically serves the same function
I know, that last bit is pretty spurious logic, for a number of reasons. But the other points are more or less valid, I think. And I never felt I really missed Burned and Pillaged.
On the other hand, Martí, the champion, ran them, and they were huge for him. So I guess history has proved him right, and me wrong.