1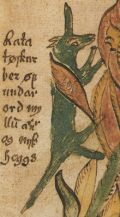 1 votes
The Tourney Report Pt.4: Knock-out stages
Posted by Ratatoskr , 25 November 2011 · 240 views
Game of Thrones
Stahleck
Tournaments
Joust
Greyjoy
Round of 32 vs. Bolzano (France) Stark The Siege of Winterfell
Another Stark SoW deck - *groan*. And against the second place guy from the Melee, no less. Although he doesn't post that much on the FFG boards, I knew Bolzano to be a rules guru. They had also made him a judge, like me, so I expected we'd be able to figure out any rules questions that would come up.

None did, though.
What I said before held true here again: In this matchup, it's extremely important to get though the first plot better than the other guy. He got KotS Robb out early and used him to marshal a Northern Cavalry Flank, but I had a great setup and had better board position from the get-go. I flipped my Fury plot, went first, made it Winter, stole his Bolton Army (which I managed to keep the whole game) and discarded his Carrion Bird with Wintertime Marauders. I could have discarded his Cavalry Flank, but I needed to protect my Raven. From there he had to fight an uphill battle. I even pounded him on MIL challenges, unafraid of Lethal Counterattack because I always had a To Be A Kraken in hand. Newly Made Lord (or possibly the Apprentice, not 100% sure) discarded his Frozen Moat along the way.
I always expected him to Valar, but he didn't have one. I finally played Valar myself on turn 6, saving two of my guys with Iron Mines and Iron Cliffs. He'd expected me to sit on my Valar as long as possible and saved his Assault on King's Landing for the last turn, though. Ouch. If he'd played it when I played my Valar, that just might have turned the game around. I don't really think so, but who knows.
As things stood, I kept dominating the board and managed the win shortly after.
6 - 1
Round of 16 vs. David Gonzales (Spain) Targaryen Knights of the Hollow Hill
The was the most interesting and creative deck I played against all day. A char-lite Targ deck with plenty resets and a crapload of character control. I'd really like to see *that* decklist.
He surpirsed me with a first turn Valar and kept controlling my characters without playing many himself. Newly Made Lord shone once more and discarded a Dragonpit. I kept acquiring Power through unopposed challenges and Domi. Then I got lucky and David blundered twice. First, when he had Search and Detain and I had Valar as plot, he chose me as First Player. Of course I chose his effect to resolve first and he chose my Wendamyr to go back to hand. He hadn't realized that since Wendamyr was Moribund:Hand from Search and Detain, he wouldn't be killed by Valar and could be used to save *another* of my guys instead of having to save himself. The second mistake was that he simply miscounted my Power on the last turn. He had a Westeros Bleeds burning in his hand which he planned to play, but he let me get to 15 in Domi, although he could've avoided it. A lucky win.
7 - 1
Quarterfinal vs. Asier Martirena (Spain) Lannister City of Shadows
And here, it all ends.
Lanni CoS is not a particularly bad matchup for me; in fact, it's probably one of the better ones I can encounter. It is slow - I am fast. It relies on locations - I eat locations for breakfast. It is best against few strong characters - I run lots of weenies. It relies on triggered effects - I have a ton of cancel. It is expensive - I hurt their resources.
That I lost anyway was due to two factors: First and foremost, my opponent had an excellent deck and played it extremely well when it counted. Second, I made mistakes. Big and stupid ones, and smaller, more subtle ones. I'm guessing the small and subtle ones were ultimately what cost me the game. The big and stupid ones only followed from there.
It started even before the game, really. I should have taken a moment to think about how his deck works, what he probably runs, what he can do, what I need to counter it. I didn't, and that lead directly to what was probably my most costly mistake. I should have taken a Mulligan. I really should have.
I had a 4 card flop, which is thoroughly average for my deck, maybe even a bit on the bad side. The bad thing about the setup wasn't the number of cards, though, it was the composition. I had both LIV and Scouting Vessel in there, but only one character. And what you really need against a Shadows deck is characters. Lots of them. The Warships help you win challenges. But with only a few characters, you don't even get to declare challenges, because your few characters will get controlled. It was my paucity of characters that did me in.
Then came the big and obvious mistakes: One time, I did manage to win a POW challenge, and I forgot to use my Support of the Kingdom, which got promptly discarded during an INT challenge the next turn. Then, my biggest blunder of the whole tournament, I marshalled Alannys, only to realize one second too late that KL Cersei is a Queen. Ouch.
Asier, being a thoroughly nice guy, even offered me to take her back. And, what can I tell you, for a second there, I was tempted by sin. Luckily, my sense of decency returned in time, and I declined. But if I had had one last glimmer of hope left, this was the moment it died. The last nail in my coffin came when I played Valar. He had Search and Detain and took Queen Cersei back to hand. Shortly thereafter, it was done.
7 - 2
Asier went on to the final, where he lost by a hair to another GJ KoW deck, not least because his Alchemist's Guild Hall got Burned and Pillaged. Thrice.
As I said, it was Asier's skill and my own ineptitude that did me in, not the deck. The deck performed marvellously all day. There were so many great cards, but the all stars were
3) Alannys. Great hand control in a deck that's light on INT, especially with the Inn.
2) Wintertime Marauders. So versatile.
1) Newly Made Lord. Lost Oasis, Ghaston Gray, Frozen Moat. Dragonpit. Two Black Cells. Two Alchemist's Guild Halls. And that's just off the top of my head. The guy was golden all day.
So, this concludes the tale of my marvellous travel to Castle Stahleck, where I met the best knights this side of the big sea, dared cross blades with them, and whence I returned a wiser and richer and slightly less humble man.
To say my weekend was awesome does not even begin to do it justice. Thanks to my opponents and to all the other great people I had the honour of meeting. And thanks, most of all, to Wolfgang, who brought it all into being.