2






1
votes
Snakes all up in your business
Posted by ProfessorWerewolf , 21 June 2013 · 3721 views
Game of Thrones
House Martell
Sand Snakes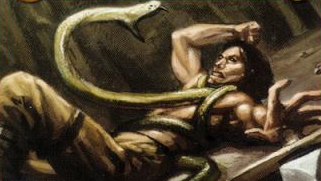 If you've been playing Game of Thrones long enough, you've either seen or heard of the infamous Sand Snake rush. The concept is fairly simple: get out the Red Viper, kill him or let him die, then play
No Use For Grief (DB)
, kneel three influence, and vomit Sand Snakes all over the board.
Ever opened one of those stupid cans of Peanut Brittle, so sure you're going to have a delicious treat, only to have spring-loaded snakes explode into your face? It's like that but instead of snakes it's a bunch of pissed-off women.
....I digress
When building the deck correctly, you're basically triggering an effect that can allow you to immediately place up to 10 different characters on the board immediately. And since they're Sand Snakes, each of their abilities benefits the other. This is not to say that there aren't vulnerabilities, because they are many.
First, you need to even get the Red Viper out.
Second, you need to have at least three influence to use.
Third, when you do eventually unleash the Sand Snakes, cards such as

Wildfire Assault (Core)

and

Valar Dohaeris (TWH)

can ruin your day. The latter moreso if you played something like


To the Spears! (PotS)

and didn't kneel anyone.
I've played this deck several times and it's always been a blast. Honestly, half the fun is playing against someone who is unaware of what's about to happen and then watching their face as you load up the board with cards. Lots of bluffing and acting are helpful too. One of the key things I've found is that you need to not only bring in all the Sand Snake ladies, but also ensure that you have alternate characters that can help out in a clinch.
House Card
House Martell (Core)
Agenda
Knights of the Hollow Hill (MotM)
Plots
Take Them by Surprise (LoW)
Loyalty Money Can Buy (QoD)
Valar Morghulis (Core)
Rains of Autumn (Core)
To the Spears! (PotS)
Game of Thrones (LotR)
Forgotten Plans (KotStorm)
Characters
The Red Viper (APS)
x3
Maester Kedry (FtC)
x1
Tower Captain (GotC)
x2
Arianne Martell (PotS)
x1
The Windblown (AHM)
x2
Lost Spearman (MotM)
x3
Bastard Daughter (OSaS)
x3
Spiteful Bastard (VD)
x2
Dorea Sand (TftH)
x2
Sarella Sand (PotS)
x3
Obara Sand (TWoW)
x3
Obella Sand (DB)
x3
Nymeria Sand (OSaS)
x3
Tyene Sand (OSaS)
x3
Maiden of Poisons (ODG)
x1
Pit Viper (RoW)
x2
Locations
Palace Fountains (PotS)
x1
Dornish Fiefdoms (PotS)
x2
Shores of the Summer Sea (AToTT)
x3
Attachments
Milk of the Poppy (Core)
x2
Bowl of Brown (LoW)
x1
Formal Petition (PotS)
x1
Blood of the Viper (OSaS)
x1
Events
No Use For Grief (DB)
x3
The Dragon's Tail (PotS)
x3
The Prince's Wrath (PotS)
x2
The Shadow of the South (CoS)
x1
Burning on the Sand (RotO)
x3
Notes
:
I use x3 of

The Dragon's Tail (PotS)

for those spooky situations where I just can't seem to pull the right cards. Yes, I know it's also helping the other guy, so you have to do this in moderation.
DON'T BE AFRAID TO MULLIGAN! This should be standard for most decks, but with this one I use it as a rule. If I don't get at least one of what I want in the first hand, I'm trying again.
I use Valar simply because I will almost always have multiples of every card. It's also handy when you absolutely need to kill The Red Viper and nobody wants to do it for you. (I've had people avoid military attacks just for this reason, so you sometimes have to force the issue).
You absolutely do not have to put every single Sand Snake on the board. I'm not gonna lie, it's super fun to do. But all it takes is one pull of

Wildfire Assault (Core)

and you just lost about everyone.

Rains of Autumn (Core)

...because if I can't have gold producing locations, neither can you.
Forgotten Plans is there when you're pretty sure someone's going to


Valar Dohaeris (TWH)

or Wildfire. It obviously won't protect against both but can at least stave off one.

Burning on the Sand (RotO)

simply because it's great.
That's my jam. It's not going to conquer the world but it's pretty powerful when used correctly. And, as always, it's fun.