Do you want to win a full set of promo Eldritch Nexus cards?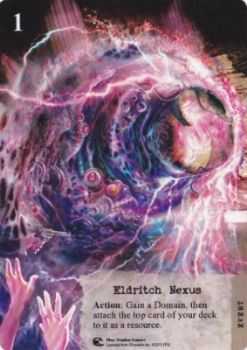 How to Win
1.
Check out the 12 decks that played in our tournament. You'll find them
here
.
2.
Vote on which deck you think came in 1st, 2nd, and 3rd place. Post your vote in this thread.
3.
The 2 people who have the most correct decks in their top 3 win the promo cards.
It's that simple.
In the case of a tie, whomever had their choices in the closest to correct order wins. Otherwise, it will come down to a best 2 out of 3 match-up on Lackey/OCTGN or be randomly determined by Cthulhu (with me acting as his ever-loyal human proxy).
When Does Voting Close?
Voting closes at midnight PST on 1/15/14. Once the voting is closed, I'll reveal the results round-by-round.
Format and Pairing
The tournament consisted of x4 90-minute rounds using the Cenacle multiplayer rules. Players were matched up randomly with the stipulation that they weren't allowed to face any player more than once (to ensure the greatest diversity in pairings).
I made 2 changes to the Cenacle rules.
1. Players needed to win at least 1 story from both their right and left location, or 1 story from the center and any combination of right or left. The 3rd+ story card won from either the right or left location didn't count toward victory and didn't go into a player's won story pile, though they could still resolve its effect.
2. Players couldn't drag or place characters at stories where they weren't legally allowed to commit.
Scoring and Tiebreaks
We used a different scoring system for this tournament (based loosley on AGoT's Melee tournament rules):
Each success token equaled 1 point. Each story in a player's won pile at the end of a match was worth 5 points. The maximum number of points a player could win per match was 15, for a grand total of 60 points over 4 rounds. The player with the most points at the end of 4 rounds won the event.
If time ran out, whomever had the most success tokens at their 3 best stories won the match and scored 15 points automatically. Every other player would then total up their success tokens at their 3 best stories (either those still on the table or in their won pile). This was their point total for the round (between 0-14 points).
If 2 or more players had an equal number of success tokens at a story on the table, then whomever had more stories in their won pile earned the tiebreak. If this number was also a tie, then no one could count their success tokens at that story.
Final ranking was determined by total points. I used the following tiebreaks in order:
1. Total Stories Won
2. Head-to-Head (must have defeated each tied player)
3. Strength of Schedule (total points of a player's opponents)
Links to Result Threads
Round 1 Results
Round 2 Results
Round 3 Results
Round 4 and Final Results
Additional Info
Last month, the Portland Call of Cthulhu group "Mythos and Microbrews" held the first Cenacle multiplayer tournament in North America. We had 12 participants battle it out over 4 rounds of brutal, cutthroat, sacrificial, in-your-cultist-robes no-chants-barred action.
Okay, that last part was a bit of a stretch. Still, it was a ton of fun and we drank a lot of beer, and our group would like to share some of that excitement with everyone here. So don't hesitate to join in the insanity. Who knows, you may walk away with a pretty cool prize.
Sincerely,
Matt