Most of this is copied from my announcement for Game of Thrones to save time

Hey everyone,
So it has been a long time coming but the new deckbuilder is ready to use. I'm going to go over it a bit to show the improvements and changes.
First up a few small details. The new deckbuilder is redone from the ground up and as such it wasn't feasible to copy decks from the old system. I also can't guarantee that older browsers will work flawlessly. I always suggest using the latest version of your preferred browser. I like Chrome but anything recent will do. There are alot of old saved decks from over the past few years, many of them totally out of date. Because of this I'm going to be modifying the old deckbuilder soon to link to the new deck builder and a page where you can copy your old decks you want to keep. They can then be imported in the new deckbuilder under the import tab by copying and pasting the decklist. This should be a fairly painless process but I do ask that you only import the decks you actually want to keep. Eventually these old saved decks will go away and things will just have to be built from scratch. The other thing that is different is that some people had too many saved decks. I totally understand the need to have many decks saved to try out different ideas but I need to keep it to a workable number. So I've put a limit of 50 saved decks per game for the time being. Hopefully this will be enough and the number could be adjusted in the future but I think it is a reasonable amount that will encourage people to delete old decks they don't actually want. And lastly the old submitted decks section is being archived, the new decks section will not be cross posting the decks to the forums as this just caused confusion. The new submitted decks section has alot of new features though so I hope people will like visiting it.
So on to the good stuff...
The first and most notable change is that all card searches are done completely in your browser now. What does that mean you ask? Well it means that getting results back for your search is virtually instant now. When you first go into the new deckbuilder page it will download the full Android: Netrunner database and cache this file. The file is about 40K zipped up but if your browser doesn't support zipped files it could mean a slightly longer initial download. For those of you with larger monitors the new widescreen layout will let you see your searches happen instantly as you change the search criteria: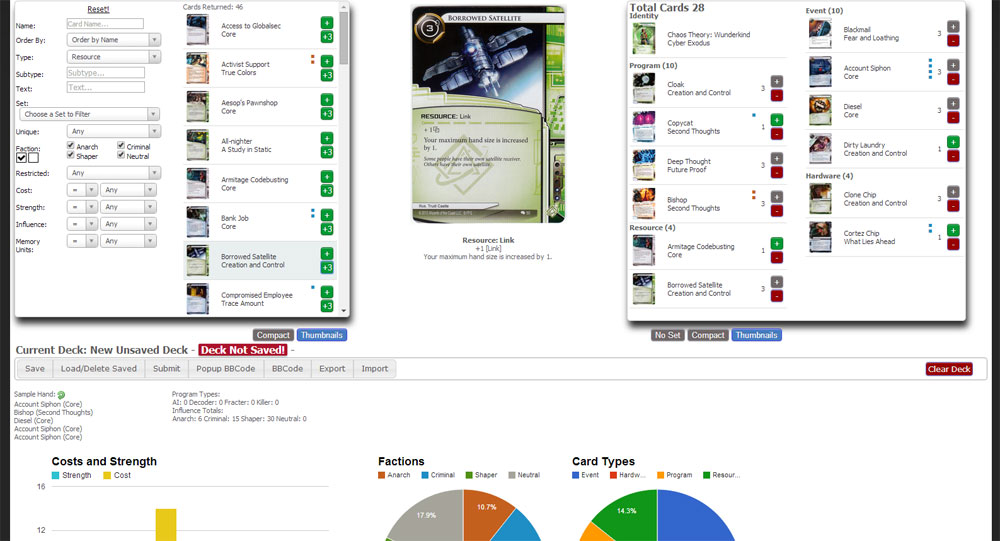 The widescreen layout will allow you to see more of your deck at a time and see your search in real time.
For those of you on smaller monitors things will collapse to give better views.
Medium view: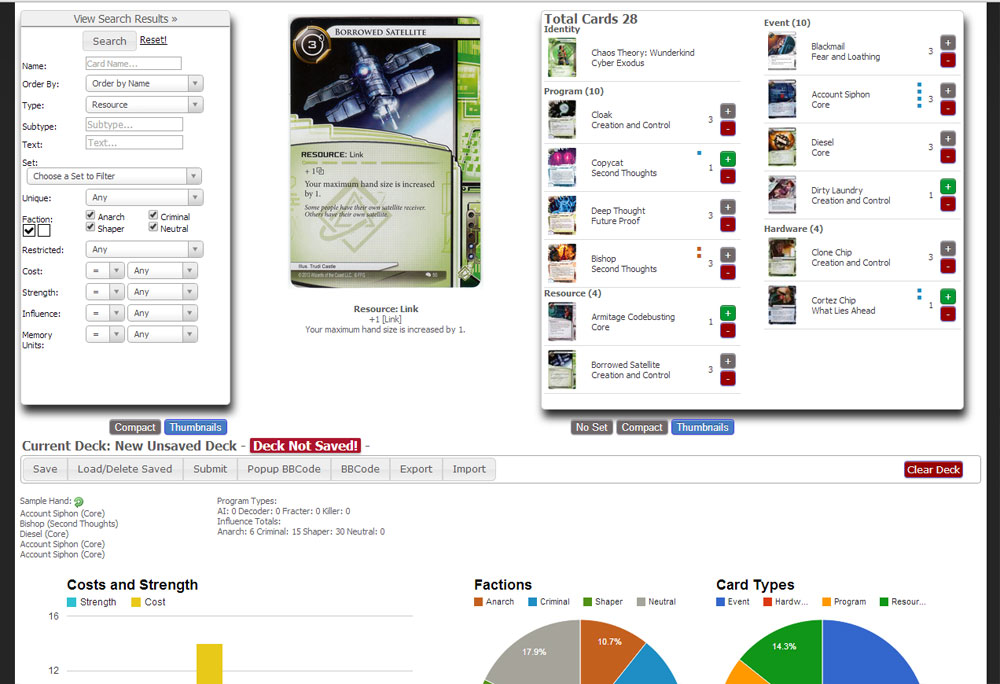 Compact view: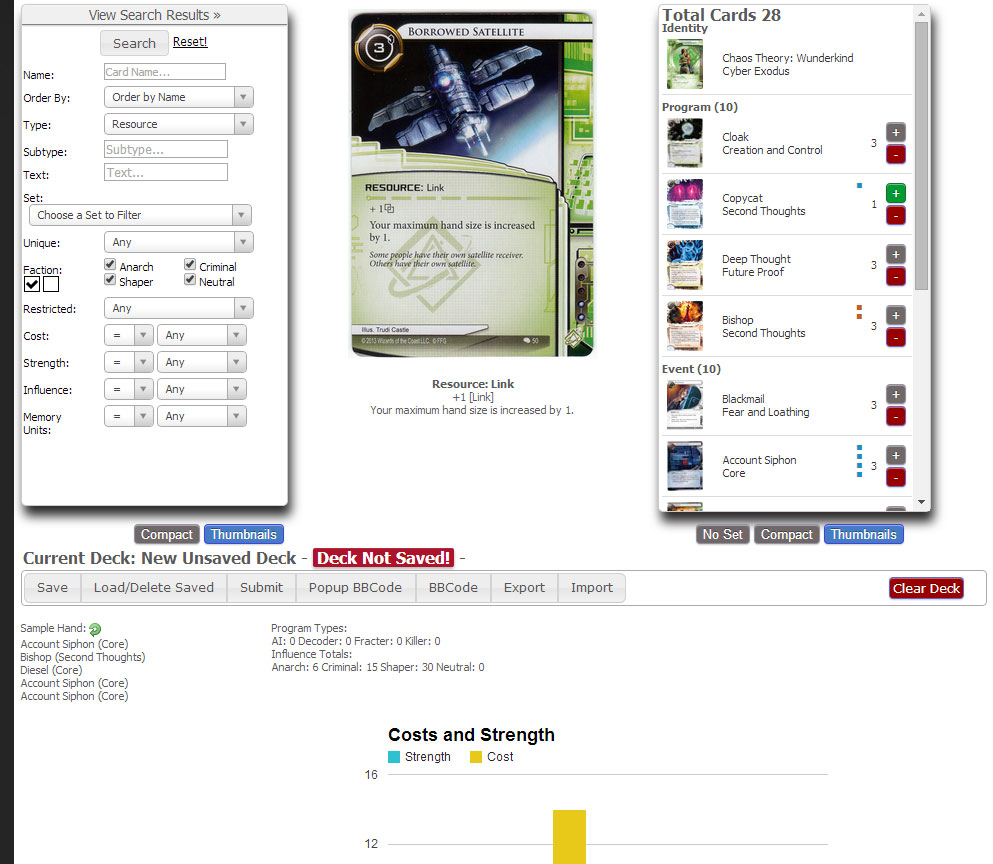 Next up there are 2 views for card records, if you want to see more on your screen switch from the full to compact view to remove the card icon images. You will also note that you can add 3 cards at once directly from the card search. (game of thrones image shown but Netrunner is the same)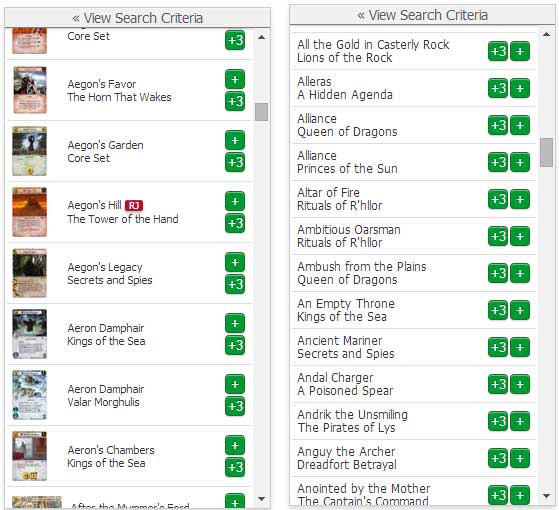 And because I got a few requests for extremly compact so you could pretty much see your whole deck
There are brand new non-flash graphs the same sample hand.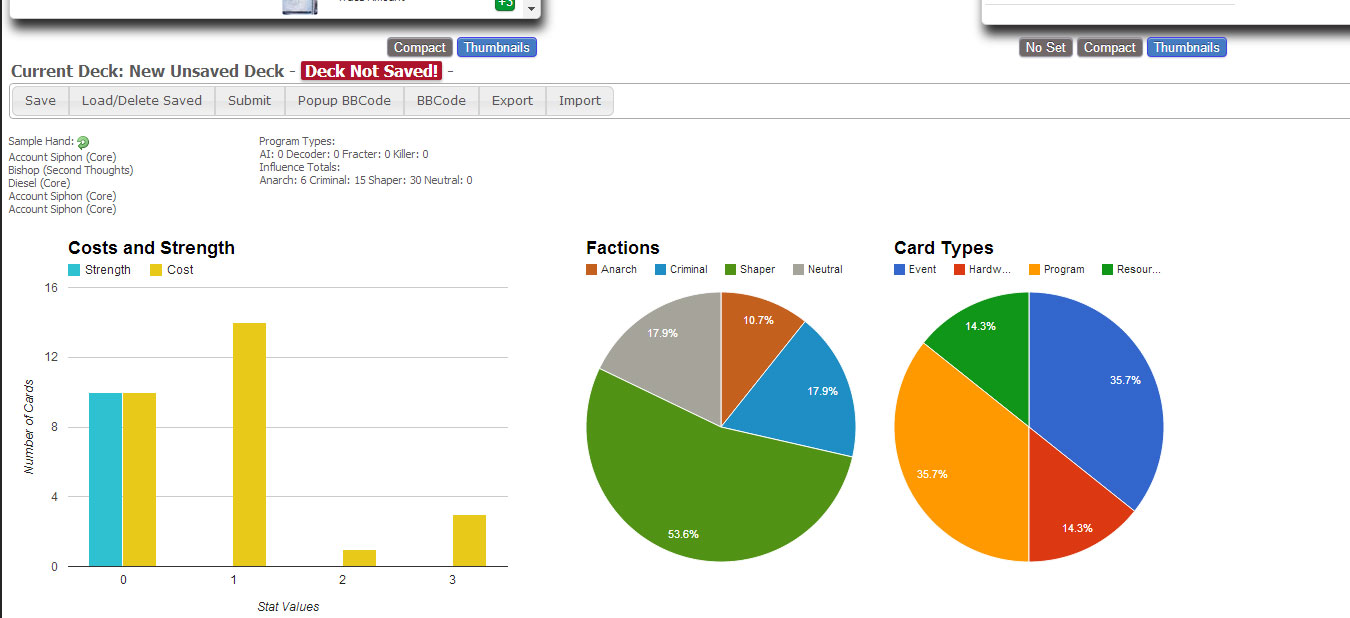 Perhaps one of the most confusing things about the old deckbuilder for new users was saving and submitting decks. I've tried to make this more intuitive by giving each action its own section. When you click on Save it will allow you to fill out the deck information, pick some pre defined tags and it gives you one of two options. Saving as a new deck will add it to your saved decks as a new entry, but if you have loaded an already saved deck the update existing deck button will be usable and will automatically update the deck.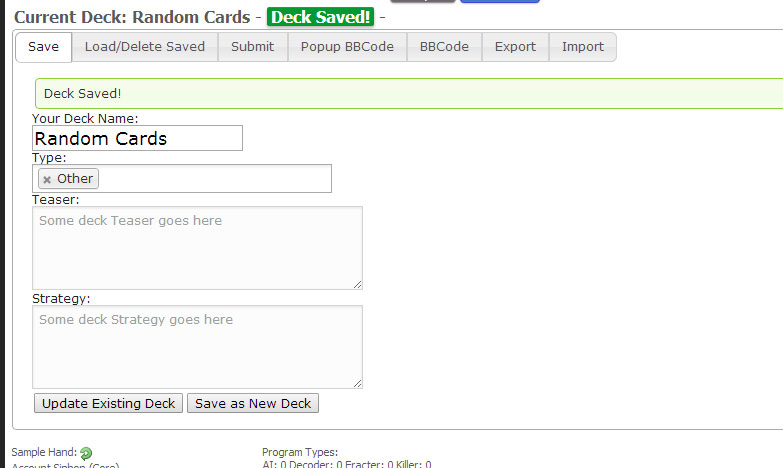 The load and delete saved section will show you your saved decks and let you get rid of them, load them or generate a private link you can share with a friend so they can see your deck without you having to submit it to the site.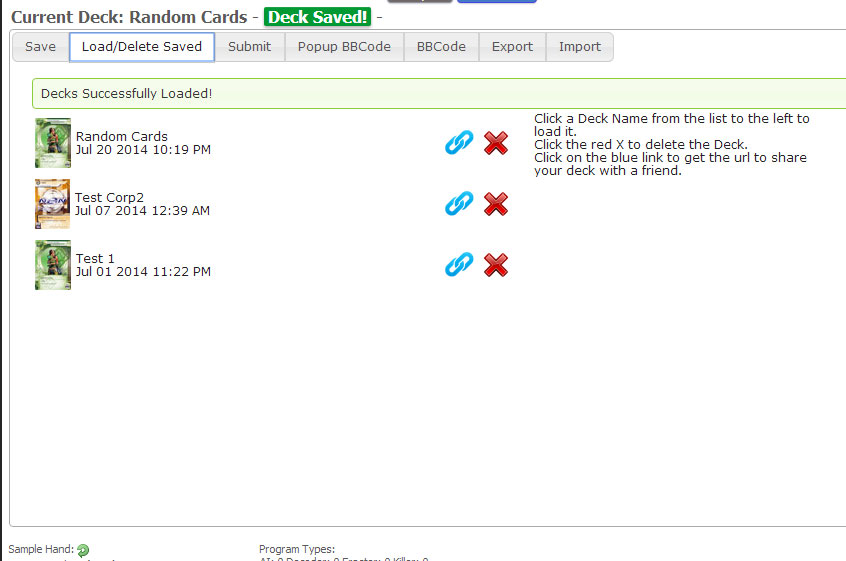 The submit section lets you review any of your saved decks and send them to our submitted decks section. Deck approval is no longer necessary so whatever you submit will be immediately visible.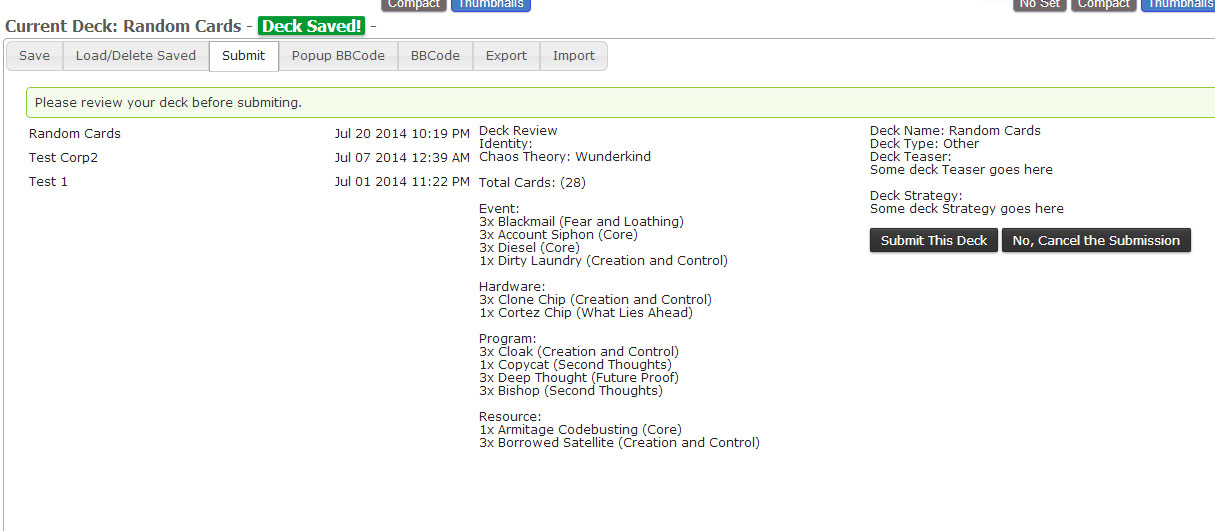 The new submitted decks section has filters so you can filter by a users chosen tags. Note that the deck version is automatically tracked so as long as you are submitting the same saved deck, every time you submit a new version of it the system will increase that counter and show it.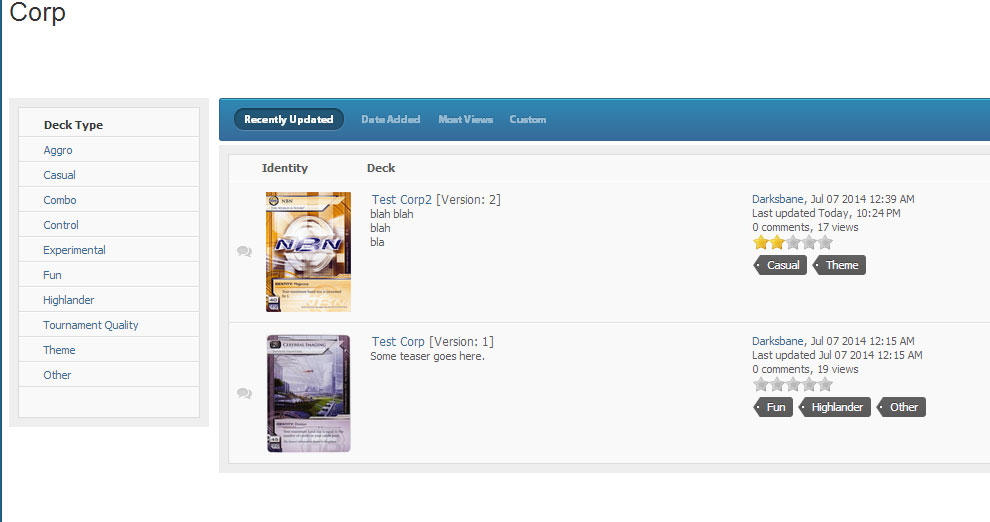 The submitted deck shows a sortable list of the cards in the deck, with export options and two different views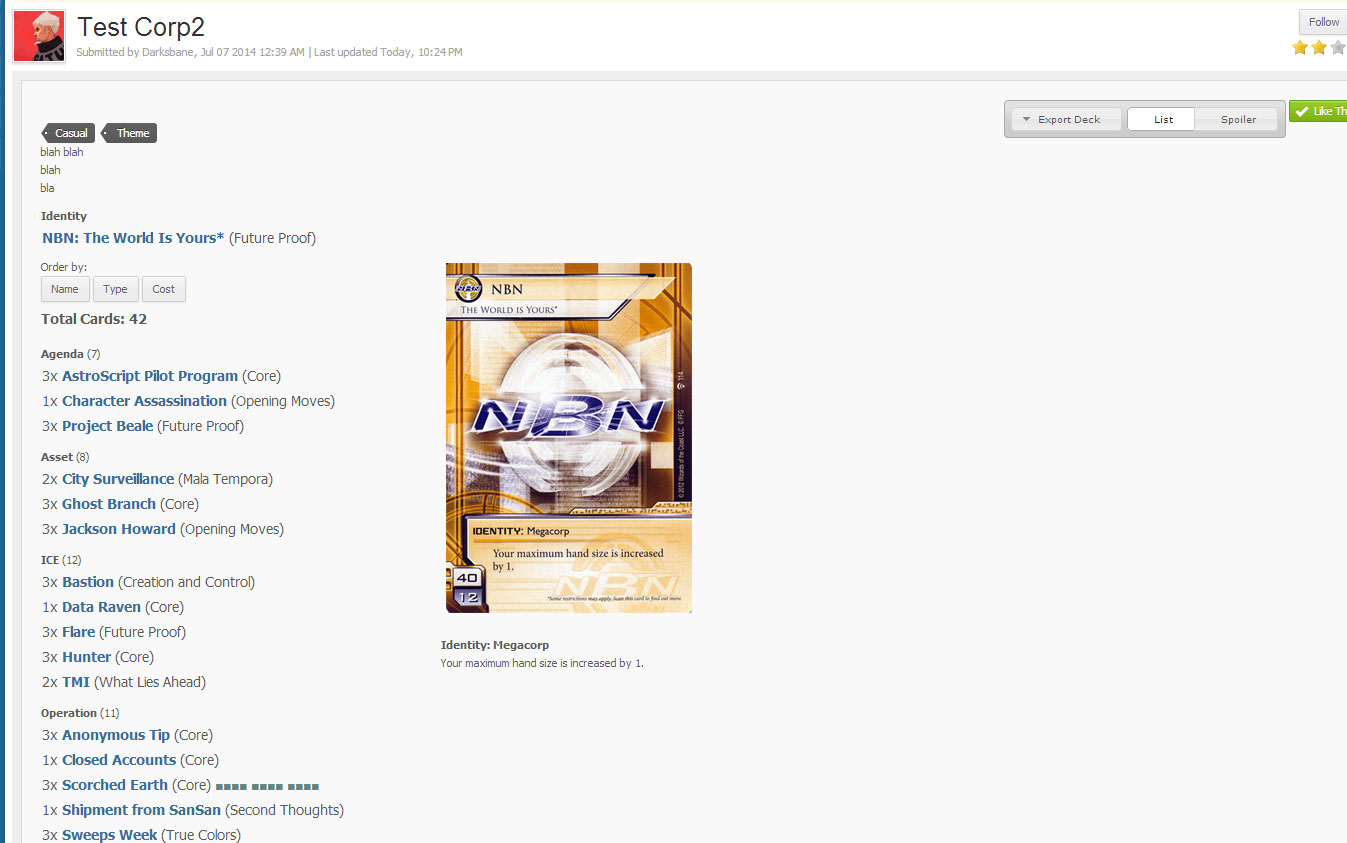 The Links as promised
You can find your old decks to import here.
New Android: Netrunner Deckbuilder
New Android: Netrunner Submitted Decks Section