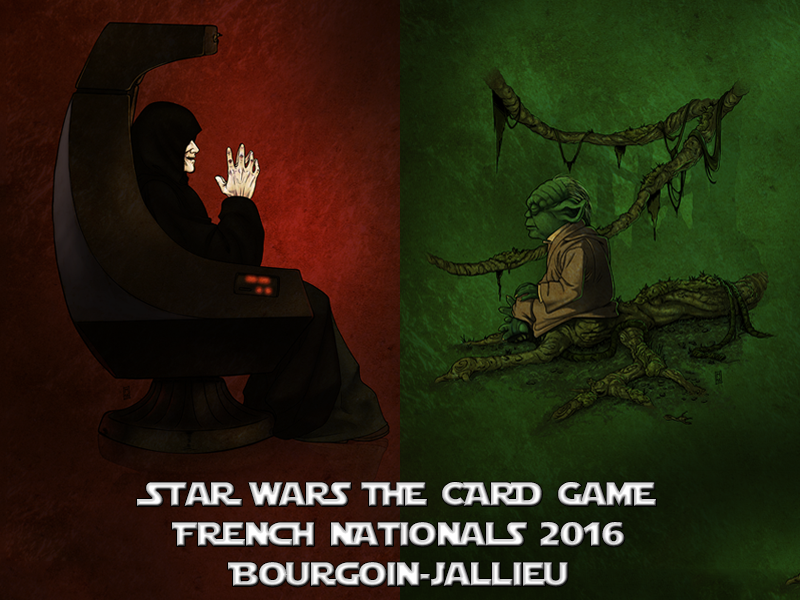 This thread is meant to explain how "Star Wars: the card game" french national championship will be managed and ruled.
Several referees will be present during the event in order to:
- verify that the rules are followed properly
- do rules reminders
- judge rules disputes
- make sure that the schedule is observed
If there is a dispute between players and a rule has to be verified and applied, the referee that will arbitrate will preferably not be affiliated to the meta / region of any of the players.
The referees are selected from different metas / regions to provide good diversity, and ensure no partiality.
A "Head judge" will be appointed from the "Great Librarians" that will attend the event ("Grands Bibliothécaires" in french, people that are rules referees in our country / forums).
Referees list (tbc):
- Budmilka
- Fully Operational (UK)
- Htrader
- Kalisha Stark
- Med_freeman (possible Head Judge)
- Skychapon
- Trajan
- Yamael (possible Head Judge)
If a qualified top cut player drops after swiss rounds, the first player outside the top cut will enter the cut.
Allowed cards list:
Faq and tournament rules:
Additional rules:
- Opaque card sleeves are mandatory and should be of the same kind for a specific deck (no different sleeves in a deck).
- Proxys aren't allowed.
- Official FFG alternate cards and equipment are allowed.
- Both players have to agree on how to use the equipment, common or individual.
The use of other alternate equipment is dependent on the following rule: you could use it, but your opponent can legitimately ask you to use the base equipment instead. You should then also have the base equipment in your possession.
Deck sheet:
We ask that each player comes with its pre-filled deck sheet, if possible. This will allow a smoother registration process, and ease the event's organization.
Please simply fill the requested information:
- Your name.
- Your nickname.
- The event's name and date (Championnat de France, 17 et 18 Septembre 2016).
You'll find empty deck sheets at the following address:
https://images-cdn.f...-deck-sheet.pdf
Thanks.
Deck checks:
- Each players' decks will be verified on Saturday 17th.
- Random deck checks will also be made during games. A non player organizer will then take the deck you are not currently playing with, and will make sure to give it back before you need it.
- Before the top cut on Sunday 18th, each player participating in the top cut will have its decks checked.
Round end:
During the tournament, once you finish one of your rounds, we'll ask a few things of you:
- To go to the TO's tables with your opponent to report your score together
- Immediatly verify that the reported score is correct with the TO
In order to avoid disruptions during rounds and any scouting/spying, please do not stay around the tables where games are in progress. It is of course forbidden to give any advice to a player currently in a game.
Warnings/penalizations:
In case of manifest rules infringement, several penalizations can be applied:
- Warning issued by an referee / TO to the concerned player
- In case of repeated errors or inappropriate conduct during a game (stalling, intentional cheating, etc.) a game or a whole round can be declared a loss
- The most severe offenses or improper behaviors can lead the TO and the referees to issue a ban from the tournament
Illegal decks:
Depending on the nature of the illegality of the deck (affiliation error, missing cards), a penalization can be issued by the TO / Head judge to the corresponding player.
Any deck not complying with deck building rules should be immediately notified by the player or opponent to the TO.
You can ask any questions here about the regulations of the event.