Hello everyone

I'd like to introduce the Star Wars: Destiny section and go over some of its features.




The Star Wars Destiny Deckbuilder allows you to craft your own custom Destiny decks, Using multiple filters you can search for the exact cards you want and add them to your deck. You can then save that deck to your local machine or online, you can export it to multiple formats (text, bbcode, markdown) and if you have saved your collection on CardGameDB you can compare the deck to what you own.

The deckbuilder also allows for many customization options, letting you choose from between 5 themes. Below shows the minimalist flat theme and one with a little more flair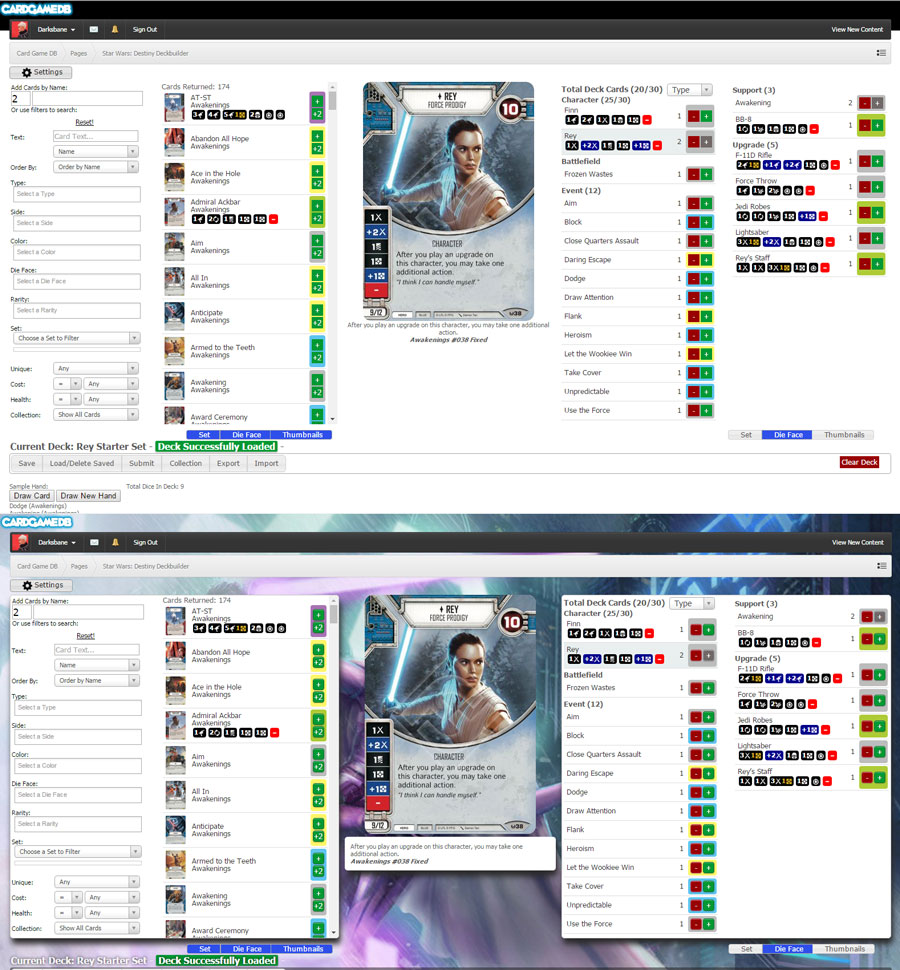 You can also choose between 5 layouts. If you have a widescreen monitor then the above layout with a double wide search area and deck with a static center image might be your thing.

Or you might prefer something a little more compact, like the below layout which removes the static center image and shows the card images when you hover over them.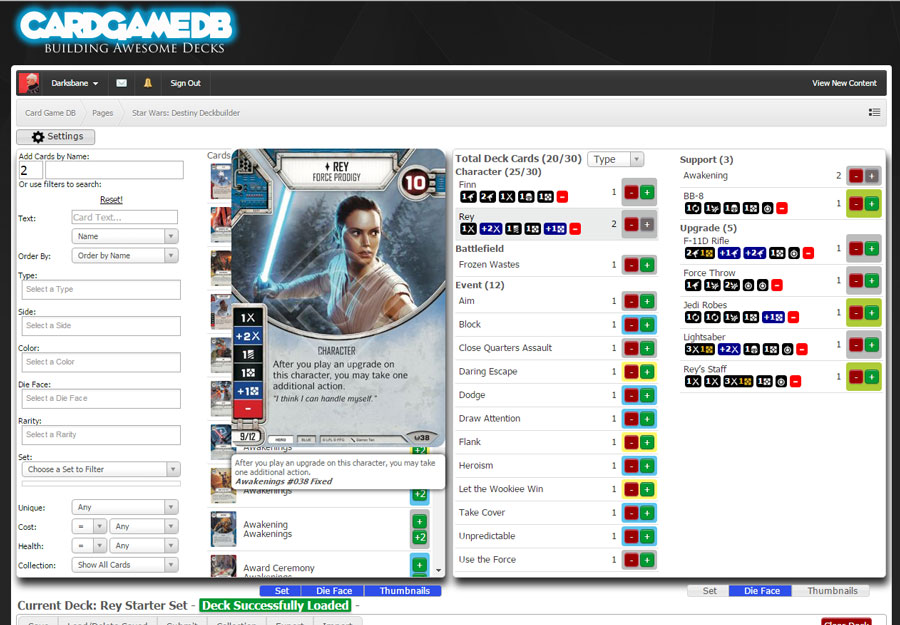 You can access all of these options in the settings menu at the top left of the deckbuilder

When adding cards to your deck you can easily add them by the card name. Type in the name and press enter to have it added directly to your deck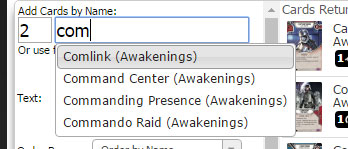 You can also use the various filters to search for cards, and when the search area is wide like the below image the results are filtered in real time



You can also customize how you see the cards in the search results and deck. You can add or remove the thumbnails, die faces, and set to see as much or as little information as you need.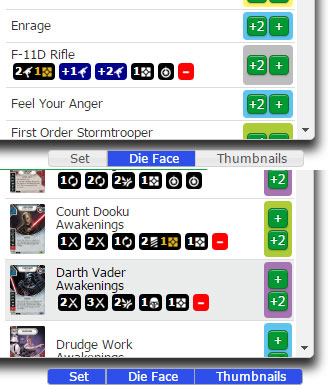 Once you start building your deck some helpful graphs will give you more detailed information.




And once you are done you can save your deck online or offline, look at your saved decks, submit them to cardgamedb to be displayed in the public decks database, share them privately with friends, compare it to your saved collection, export it in a variety of formats (text, bbcode, markdown) and import text deck lists.



Speaking of collection, you can track your collection in the Collection Manager. You can then use the saved collection information in the deckbuilder to only show cards you own and compare a deck you have built to what you have in your collection so you can see what you need to get to build that killer deck.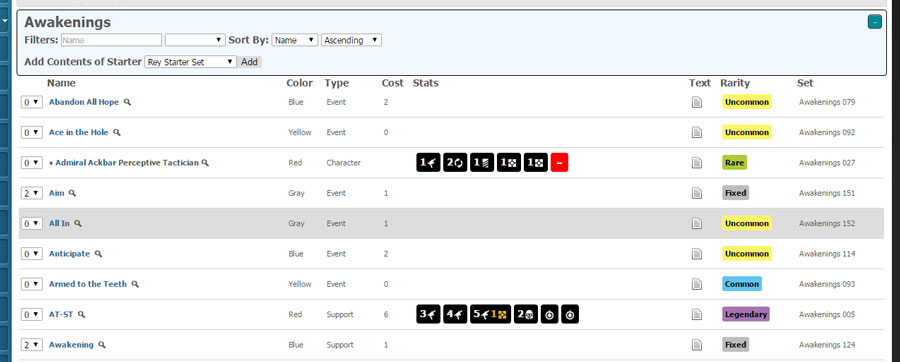 Outside of the deckbuilder you can view all the cards from the set in the card database. On the main Star Wars Destiny card database page you can see recent comments on cards and search for cards using advanced filters. On each individual card page you can comment on the card, rate them on a 1 to 5 star scale and follow a card.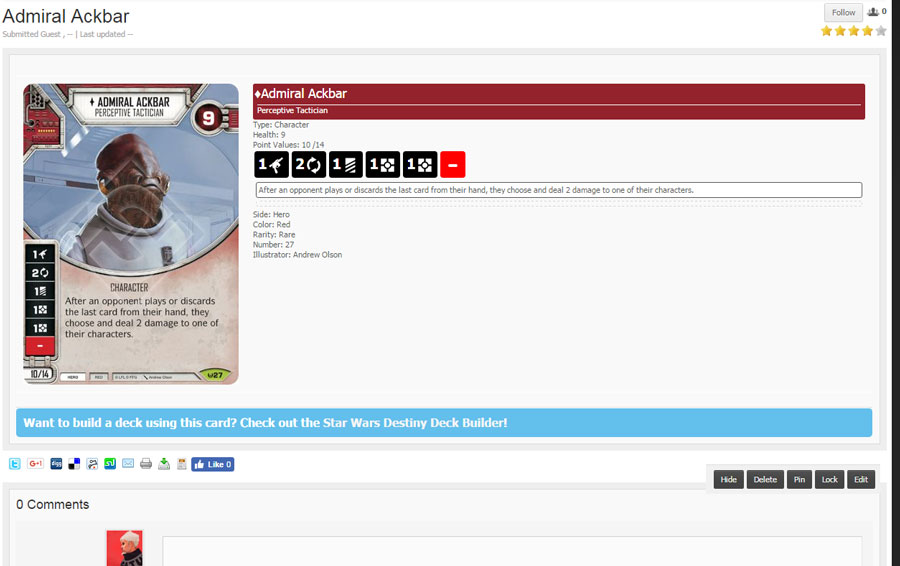 Any decks that are submitted are placed in the decks section. On the main page you can filter by the users chosen tag or by Hero/Villain. You can also see a quick glance on the contents of the deck and see the character cards chosen.



When looking at a specific deck you can rate it on a 1 to 5 star scale, comment on the deck, like it, or share it on your preferred social network.



We want to welcome everyone to this great new game and hope you join us here on CardGameDB to build some awesome Destiny decks.