Welcome! It's time to have fun in the online tourney. As of now there are no official prizes. That may change, but for now it's all about pride and meeting players from the community.
Below are the groups. Currently they have generic placeholder names, but people in the groups may name the groups as they please. Feel free to have fun with it. I will update periodically as I get information.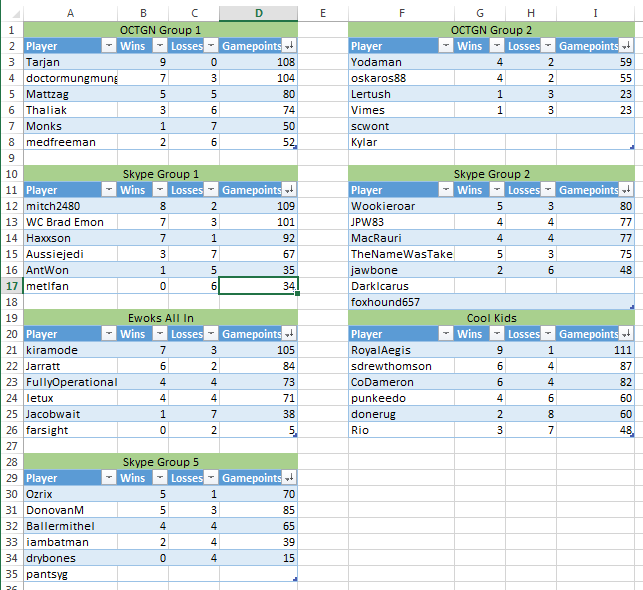 Format:
Each player will have 3 weeks to schedule, complete, and report a match with every other player in their group. Any games that cannot be completed will result in an Intentional Draw. After all the games are completed we will tabulate the standings of each group and take the top 2 of each group to play in a double elimination. Byes and at large bids are in play since the cut will be 14 players. That much is TBD. Just know that if you finish in the top 2 of your group you get to advance to the next stage.
Contact:
As a baseline each player is assumed to contact each other player thru cardgamedb's messenger system. But you can schedule games however you see fit. Facebook and Skype messenger are reasonable options. Best thing I can recommend is to just make contact with your opponents ASAP to figure out when you can play.
Note to players in Skype Group 1: Brad Emon is the only player in the tourney that is not on these boards. But he is okay with random people adding him on Facebook messenger. So to schedule a game with him just add him there and let him know that you want to figure out when you will be able to play him.
Scoring:
DON'T SCOOP! There's no time limit on these games; play it out. We will be using gamepoints for tiebreakers on the standings. Here's how game points will operate in this tourney:
- A win equals 12 game points no matter how you got the win.
- A loss on DS will get you game points equal to the number of ticks on the death star dial when you lost the game.
- A loss on LS will get you 4 game points for each objective you destroyed and an additional 1 point for every 2 damage(round up) on opposing objectives(with a maximum of 3 points that can be earned this way). A dead Spice Trade counts as 2 damage across DS objectives if not in victory pile.
In other words; the most amount of gamepoints you can earn in a loss is 11. As a LS player it's better to have 2 objective kills than 1 objective kill and 9 damage across the other objectives. An intentional Draw will have both players get the full 12 game points for their win, but 0 gamepoints for their loss.
The gamepoints are only here to determine ties in the standings when players have the same amount of wins.
Reporting
It is expected that players will report games for the group stage of the tournament here on this thread. Anytime a match is finished just make a post on the thread stating the results of each game and relevant game points. Examples:
Letux sweeps kiramode. DS kiramode loss dial 5. LS kiramode loss 2 objectives and 4 damage across other objectives.
Letux, kiramode DS split. Letux LS loss 1 objective and 2 damage across other objectives. Kiramode LS loss 1 objective and 5 damage across other objectives
Letux, kiramode LS split. Letux DS loss dial at 10. Kiramode DS loss dial at 8.
I will update my chart as we go. Players are more than welcome to start a thread for their own group to better keep records among themselves. I can always copy the information there to this thread. Just be sure to post results as they happen. People usually like to see a running tally.
Level of play:
This is a competitive tournament. The baseline expectation is that players will bring their best decks. Players are also welcome to bring jank. There's no rules on that front. But don't give other player grief for playing a good deck. If you bring an off the wall deck you better be ready to play it against good decks and beat said good decks. Players have won big events using the wackiest decks.
Jank can win. It's just harder to play and the margins for error are smaller. If you are up for the challenge, then go for it. If you want to decrease the variance, play good cards. All paths are acceptable so long as you are trying to win and are also having fun.
Also; there's a lot of names in this event. I know if I were looking to make a statement I wouldn't show up to my match against Mick Cipra with jank. That man needs no handicaps; bring the pain. Remember that you can switch decks every game. You're not locked in. You can play the goods against Ozrix and play the jank against everyone else. You can also make handshake agreements with opponents to have neither player use Yoda or Tarkin. It's a free for all! Play different decks each round! No one will judge!
This is shaping up to be a really fun event. I love the enthusiasm people have for it and I hope it runs smoothly. Remember that the most important aspect is to have fun. We're all friends here in this space trying to sharpen our skills. Make the most of it. Play all your games, chat with your opponents after the games, and maybe get some extra side games after the match if you can spare the time.
May The Force be with You!