Hello! In context of the question
about Desert Recruitment
(objective triggers only once during declaration of attackers) the similar issue about Nightsister Matron.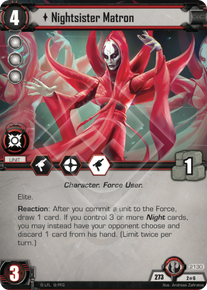 Can she triggers twice if you commit two or more units during the Force Commitment? Or should those units be considered as committed simulteneously, so she can triggers only once?
The text from the Rules (page 14): "The active player may commit any unit cards in his play area to the Force (except for a unit card that is already committed to the Force)". There is not "the active player declares which of his units will be committed to the Force" as in case of Declare Attackers, or something like that. But to be sure.