Well. We've had a topic about the best cards in the game (as we all personally feel), so ever eager to throw a spanner in the works, I thought I'd start a topic on Best 'Counter' Cards to these and several other significant cards in the current pool and popular 'strategies'. I'll start with what I think may be a very nice card to have at your disposal in these present times. That being: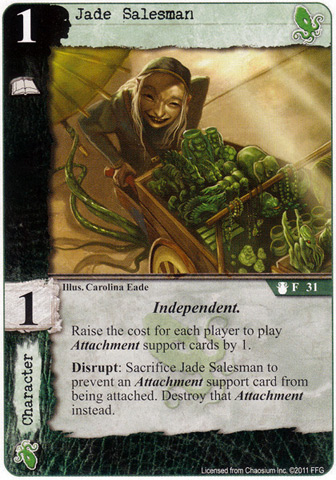 And the reasons why are that it not only forces an opponent to pay 3 for something like
Khopesh of the Abyss (TSS)
or
Stygian Eye (IT)
(if they'd even bother - making dead cards in the hand), but you also get the opportunity to DESTROY them without having even entered play !! And that goes for any Relic that needs to 'leave play' to reshuffle. Straight to the discard as far as I can tell (please correct me if I'm wrong). It can even do this against the dreaded
Museum Curator (TWB)
,
Marcus Jamburg (WoP)
or
Dark Passenger (TKatG)
'put into play' effects. YAY!! Not to mention all those nasty new Yog-Sothoth attachments and the inkling I get that somewhere, someone is working on a
The Tattered Cloak (TKatG)
possible draw discard deck. Heh heh heh. Although it's a wicked card used for any purpose really.
And failing all that, he's a cute little 1 cost multi-tentacled guy with a handy Arcane Icon, or to be used as sacrifice fodder. I've always liked this Character and it's seen it's fair share of deck time, and definately has my vote as a potential wrench in the cogs !!