Welcome to Card Game DB
Register now to gain access to all of our features. Once registered and logged in, you will be able to create topics, post replies to existing threads, give reputation to your fellow members, get your own private messenger, post status updates, manage your profile and so much more. If you already have an account,
login here
- otherwise
create an account
for free today!

0
abUse the Force - Being a Good Player
Oct 17 2013 06:00 AM | divinityofnumber in
Articles
abUse the Force
divinityofnumber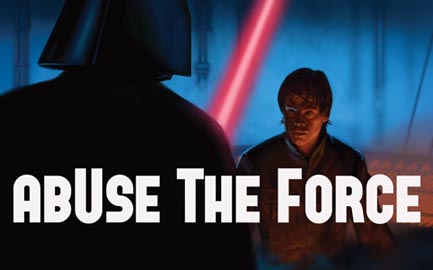 With the World Championships for our beloved LCGs approaching quickly, let's discuss and develop a set of community standards for tournament play. Fantasy Flight Games has done an excellent job of releasing Tournament Rules for most of the games for which said rules are relevant, yet those official rules lack clarity about a number of domains that are highly relevant to both the fairness and enjoyableness of the games.
The goal here is to develop a living document that reflects an
unofficial
community standard for LCG organized play, for issues that do not warrant inclusion in official tournament rules documents for a specific game. The aim is to delineate a set of guidelines that are hortatory rather than jussive, a
community driven
code of conduct. That is to say that the goal of this article is not to present things that should be carved-in-stone rules, but rather ideals and standards that we should strive toward. FFG's tournament rules
cannot
and
should not
cover all relevant points, so we strive here to fill in some gaps, and make organized play a more enjoyable atmosphere for all involved.
Before we begin, let us be clear about this; this article and these suggested guidelines were in no way developed, approved, considered, screened, etc., by FFG. These have sprung out of my own head, and are loosely based on either 1) things that have annoyed me at past tournaments or 2) things that I have heard people complain about online in the fora or in person. The goal is to develop (with the help of all you readers) a set of suggestions that, while they are not issues that necessarily demand attending to in an official tournament rules document, help promote fair, kind, and enjoyable competitive play.
In my years of playing competitive card games, I have found the LCG community to hold perhaps the brightest and most talented competitive card players. In my opinion, FFG's LCGs demand more cognitively from competitors than most (if not all) other card games. Let's take this opportunity to further emphasize what else sets the LCG community apart from the others, namely respectful and quality competitive play to a degree that surpasses that mandated in official tournament rules documents.
The goal is for this article to change as you all read it. This is me taking a stab at it. Let me know where I went astray. Discuss and contribute in the comments!
*Latest update: 10/21/2013
Initiating a game/match:
As in chess, let us deem it proper to shake hands and provide a brief introduction (i.e., your name) before any play occurs. It is also nice to wish your opponent well by saying something such as "Good luck" after you both have shuffled sufficiently and are cutting each other's decks. Also, make an effort not to vent previous frustrations on your new opponent (e.g., trash-talking certain decks, cards, etc.).
It is also considerate to make sure that your phone and/or other electronic devices are turned off or set to silent mode (
not
vibrate mode).
Game pieces and materials:
In casual play, it is not uncommon for players to use a variety of objects in place of the standard materials for a given game. However, in competitive play, this becomes less acceptable. Alternate art cards and various items produced by FFG are one obvious exception to this guideline. In the spirit of good sportsmanship and fairness, players should refrain from using seemingly random tokens, dice, counters, and other objects that have potential to become confusing as game pieces. Ideally, players should use the tokens, etc., that are provided with the core set (or official expansion) of a given game.
Things such as randomly colored glass beads, poker chips, dice, Lego figurines, etc., should be reserved for casual play only. In other words, your play area should not look like someone dumped out their kitchen junk drawer onto your cards. Players are encouraged to call a tournament judge and request that an opponent use minimally obstructive, easily identifiable game materials, and, in my opinion, judges should see this request through. As was mentioned, the tokens that were manufactured and included with a specific game are usually best. But, in their stead, the second best thing is the use of tokens of similar dimensions and colors (e.g., round gold tokens to represent AGoT gold and round blue tokens to denote AGot power).
However, please note the following; If both players are satisfied with each other's choice of tokens and game materials, this becomes irrelevant. But, if you have an opponent who wishes you to use the game standard materials (or materials that are distinct and easily identifiable) in a competitive environment, this should be accommodated, and not begrudgingly.
Also, be respectful with your opponent's game materials and cards. Most people do not care if you flip a card toward yourself to read its text, or lift a card slightly to read the enhancement/attachment/etc. that is under it. But, nonetheless, it is polite to say something like, "Do you mind if I read this one?", while reaching your hand toward a card, but before actually grabbing it. One would think that a "
do unto others..."
sort of rule would work here. But, some players even treat their own cards in a manner that I would consider harsh. So, regardless of how you treat your own cards, treat your opponent's cards as though they are priceless (i.e., with a high degree of care and consideration). Also, count your cards and double check at the conclusion of a match that you have all of your cards and materials, and that you are not walking off with any of your opponent's cards or materials.
Respecting space limitations:
Often, at major tournaments, table space is quite limited; players must play in a much more confined space than they are used to when playing casually. Thus, it is necessary that each player be respectful to the other when arranging game materials. For example, the tables on which games are played at the FFG Event Center during World Championship events are not large enough to accommodate two regularly sized playmats (which is funny, since FFG often gives away playmats at these events). All too often one can witness one player with a playmat fully unfurled on the tabletop, leaving the other player a small and cramped play area. Often people are too kind to bring this up to their opponent, or they simply do not notice. For example, examine the the two images below.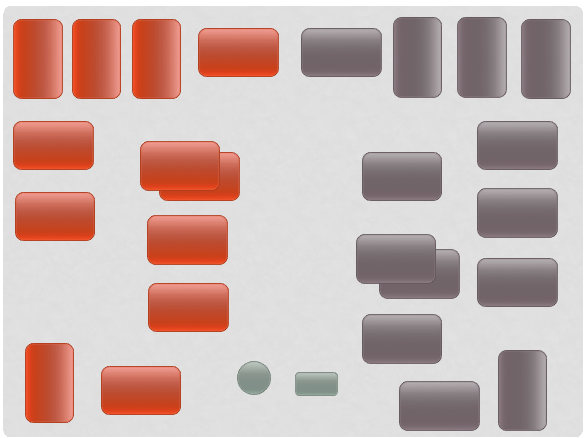 In the above image, we see a considerate and relatively symmetric play area. Each player commands roughly half of the available play space. This seems like common sense, but sometimes things move quickly, and neither player takes the time to consider the amount of available play space that they are using. Different LCGs obviously require different tokens, counters, etc. These should be accommodated in a logical way that does not unfairly deprive one player of play area.
Now, let us consider the bad example below.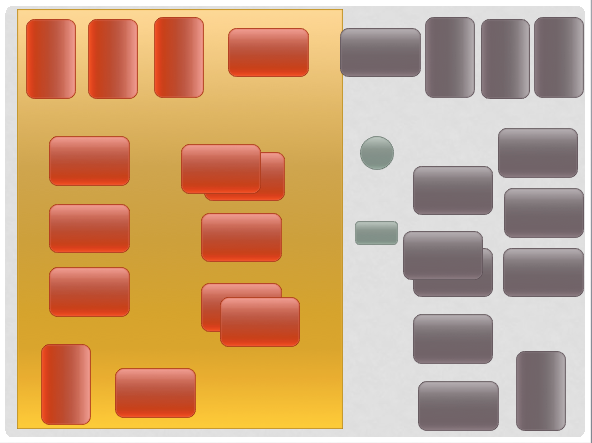 Here we see one player who wished to use a playmat taking up more than his or her fair share of the available play area. This situation can be awkward, since many events give away playmats for various reasons. So, some people want to put them to use right away. But, as has happened at events that I have attended in the past, the tables that are available for gaming cannot handle two playmats. In this case, be considerate of you opponent's play space. It is not courteous to unfurl your playmat on the table completely, expecting your opponent to have his or her playmat hanging off the table's edge into their lap. Likewise, avoid the situation above if your opponent happens to not be using a playmat. And, regardless of the playmat situation, make sure that your cards and materials are within your half of the play space.
This is common sense; use only half of the available play space. But, if you look around the internet at pictures from card game tournaments, as common sense as this is, you see violations often.
If you witness another player being denied a fair share of the play area, notify a tournament official to correct the issue. It can also reasonably be considered the job of tournament officials to comment on and correct improperly organized play areas. Even at quite large events, it takes only a minute or two for a judge to peer down the rows of tables and detect inappropriately arranged play areas. Situations like that pictured above are simply inappropriate and unfair. The community as a whole should not tolerate such situations. It is our duty to comment on this when we see it.
Also, because space at large tournaments is often so limited, it is courteous to not carry any more than you have to at any one time. For example, if you are playing in the AGoT Joust tournament, have your tokens and your deck on you, but try to leave other things elsewhere (e.g., in your vehicle, in your hotel room). It can be awkward and largely pointless to try to carry around a large duffle bag with every AGoT card ever printed in it when you are spending the entire afternoon only playing with one deck. So, it is courteous to only carry on your person that which you need for the tournament in which you are currently playing. Sometimes this is not possible; there are always exceptions. But, the main point here is that when space is limited, it is decent to not carry around more than you have to. If you do have to carry around additional materials, it is best to place them under your chair or down by your feet when playing, instead of trying to find room for them on the tabletop.
Also, having to do with respecting space limitations and your opponent's game materials, it is best to try not to eat and/or drink while playing in a tournament game. It is not fun to play against someone who has a bag of fast food sitting on their lap, or a massive fountain drink sitting in the play area. First, food and beverage could be spilled, leading to damaged game materials. Second, food and beverage take up space, which is often in high demand in competitive environments. Even the longest of tournaments are not
that
long, given the human ability to persist without food or water. Furthermore, you can eat before and after the event(s), and most long events have at least one major break along the way. Once you stand up from the table, by all means eat, drink, and be merry. But, it is best not to try to eat and drink while playing a competitive game or match.
Announcing game states and action windows:
Players should do their best to vocalize the flow of action windows in a given game. For new players, it would serve you well to memorize the flowchart for the games that you play. But, sometimes this is not possible. Thus, it is recommended that you bring a version of it for reference. Simply print it out and keep it in your back pocket. Many things can be settled before they become issues by simply having this to reference. It can save time for both players and judges. Active players who have no actions should ask if their opponent has any actions before proceeding into new sections/phases of the game. For example, in the Star Wars LCG, the active player may play units during his or her deployment phase as an action. The player should first pay the required resource cost, and then say something like, "Luke Skywalker (placing him in the play area). Do you have any actions?" We are all quite used to saying things like, "Cards in hand?" Let us try to make a better effort to note the transition of game phases and action windows. It is a simple gesture that can prevent many issues.
Physical manipulation of game materials and vocalizations:
All too often in card gaming players fidget with and move around tokens and other game materials. Let us make an effort to hold ourselves to the standards of modern chess competitors. Our games are complex, and deserve that level of respect. Thus, generally, if one touches a token (e.g., gold token, focus token) or tokens, he or she should use them. For example, in AGoT, after gold has been marshaled and placed onto one's plot card, any gold that makes contact with that player's being ought to be spent. Likewise, any card that is touched by a player (other than those in his or her hand, of course) should then be used. For example, in the SW LCG, after the conflict phase begins, and both players pass on actions, if the active player pushes forward a unit card that is in play, they should then attack with it. Likewise for the non-active player with respect to defenders. In sum, no game materials should be touched without the logical follow-through occurring. There is no comprehensive list of official rules about touching game materials. So, let the above serve as a guide, as something that we should strive toward.
There is an important qualification to the above statements about physical manipulation of cards and game materials. Sometimes it can be helpful to rearrange things, lift cards up to read cards beneath them, move some things around to help work out some math in your head, etc. These are all normal and acceptable touching of cards and game materials. The key to avoiding problems is clear and consistent communication. For instance, one can simply say to an opponent, "I'm going to move some things around for a minute or so, just to help work out the math in my head", to which the likely response will be something like, "no problem, take your time." Problems arise when one players says something like, "attacks", and pushes forward some cards, lightly patting them with their fingertips, and then the other player lifts his or her arms and starts pushing forward defenders, only to have the other move back the pushed forward cards, saying, "actually...hold on." Thus, it is normal to adjust and move things around to some degree. But, it is less acceptable to move things around that suggest a change in the game state. For another example, lifting up your gold in AGoT to count it out is normal. Grabbing a few gold coins, tossing them aside, saying, "three", but then picking them back up and saying, "wait...nevermind", is less acceptable and I would be inclined to call a judge.
This is really common sense. It is not courteous or fair to your opponent to start grabbing gold, focus tokens, etc., or sliding cards around, changing their position, when you have not actually decided what you want to do. The play decisions themselves do not require fidgeting with the cards and game materials to make; so, make the decision about what you want to do, and then start moving the appropriate game materials. This will help eliminate confusion, and is simply a conscientious way to play. As noted, this is a general principle and there will always be exceptions.
In this same manner, anything vocalized by a player should happen. Thus, if a player asks his or her opponent about taking actions, and then proceeds into the AGoT combat phase, saying "ok, if you have no actions,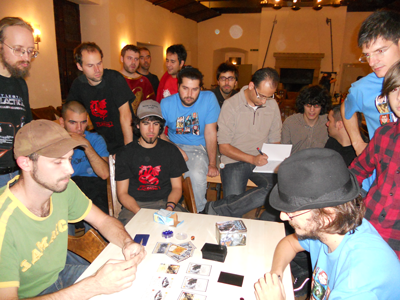 we'll proceed to combat", there can then be no take-back of that phrase, and the combat phase has officially been entered into. It is unacceptable for a player say, "I'm going to attack with…well, never mind...actually, before combat..." If a player announces an attack, an attack should occur.
If a player attempts to take back the placement or arrangement of game materials or vocalizations, you are encouraged to immediately call a judge. For example, if your SW opponent places a focus token on their only available Jedi resource, but then picks it up, saying, "actually, I am going to use this resource", placing the focus token on a neutral resource, call a judge.
Another rule of fairness and politeness at tournaments involves the spectating of games. If you do not make the cut, it can be fun to stand around and watch the final games. But, this must be done with respect for the players involved. This means refraining from making comments, facial expressions, or gestures after a player draws cards, makes a play decision, or effectively wins/loses some aspect of the game (e.g., an engagement, a challenge). If your friends are playing, you must refrain from doing anything that would benefit them. If you see others doing such things, please notify a tournament official.
Recognition of illegal game states:
There are some instances where speaking up during a match that is not yours becomes an ethical imperative. If you witness an illegal game state, outright cheating (e.g., knowingly playing cards in a manner other than which they were intended), collusion, etc., it is your duty to report it to the tournament officials. The onus is quite obviously put more on the veteran players here to look after the newer. For veteran players to play quickly, fail to announce action windows, use cards other than the way in which they were intended (e.g., taking advantage of the fact that the new player with whom you were matched has not committed every line of the latest FAQ to memory), or be otherwise disingenuous is simply not acceptable. So, when you notice something like this going on, whether as an outright spectator or simply overhearing it at the station next to you, please inform a tournament official.
So, readers, what did I miss? What should be removed? What should be added? What should be altered?
What have been your past tournament annoyances?
As always, thank you for reading abUse the Force!
schi0384, kurthl33t and Nightmare588 like this
Article: abUse the Force - Being a Good Player