Welcome to Card Game DB
Register now to gain access to all of our features. Once registered and logged in, you will be able to create topics, post replies to existing threads, give reputation to your fellow members, get your own private messenger, post status updates, manage your profile and so much more. If you already have an account,
login here
- otherwise
create an account
for free today!

2
Ascending in the ranks - Volume I 'Tabula Rasa'
Jan 02 2016 12:00 AM | Barnie25 in
Articles
Barnie25
agot 2.0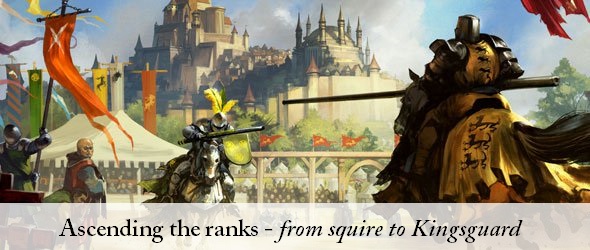 Volume I 'Tabula Rasa'
This is my inaugural article of my new article series 'Ascending in the ranks – from squire to Kingsguard'. This article series will feature a range of different topics I hope to cater to both the veterans as well as the new players. In order to do this some articles will go more in-depth than others. Together we will ascend in the ranks in the hope to one day become a true Knight, a honorary member of the kingsguard. This article will focus on my first steps as a Thrones player, how I got to where I am now and what you can do to become a better Thrones player.
For the people that don't know who I am, let me introduce myself briefly. My name is Ruben Barnhoorn, a 24 year old student studying Urban Planning and Human Geography from The Netherlands. I have played card games for the better part of my life, I started playing Magic at the age of 12 and quickly got immersed in the world of competitive gaming. I got out of touch with the competitive gaming a few years ago when some of my friends moved away and for a good long time it seemed I was done with card games. To understand the context you have to know that in my area / country living card games aren't really a thing outside of a few people who play it and the competitive scene is near to nothing compared to Magic, up until this day I've never seen a Star Wars or Netrunner card in real life. But maybe it was fate that one of the most active Thronesers in the Netherlands was the same person who got me into card games all those years ago. His name? Remko Looten, Who some of you might know as the person who personally made sure Europe had access to Thrones 2.0 core sets by flying to America to attend GenCon, so that we also had the opportunity to see these beautiful cards before the general release. It was in late August that I had my first experience with Thrones and soon after I had pre-ordered my three own core sets and proxied up approximately 5 core sets to able to play until the core set was released and jumped in with both feet.
I feel that as competitive Magic player you learn to look at things in a certain way and you learn to look for synergy and efficiency. Some might call this the 'DC' approach. You try and find the next big thing or perfect that list that you have found. It is not uncommon for gamers to apply these methods to most aspects of daily life as well. If you get pleasure out of competing and strive to be the best you can be you understand what I am talking about. Do you also always win when playing board games with your family? Do you try to find the best play in everything you do (read: justify laziness for finding the most efficient option for everything)? Then you have caught the bug.
My Thrones experience is strongly influenced by my history as a Magic player, as I explained above it not only helps me to look at cards in a certain way, it also gives me a rigid frame of reference. The most notable difference which took me a bit to get used to is the timing structure, getting in to my head that I could only do a single reaction in an action window before giving the priority to my opponent was significant but once I got that down the game came easy to me and soon I found out that skill does transfer over from other card games to Thrones. As a new player getting into an existing game it can be daunting to navigate through the maze that is the entire body of work of existing information. The relaunch of A Game of Thrones marked a rare opportunity to start the game with a blank slate or tabula rasa and on a more even ground with 1.0 veterans - we all go into this game as new players trying to establish some sort of baseline, a frame of reference to help with understanding this new game. See: Left and Right
But what did I do actually to get into this game and how did I try to improve both my play skill and my knowledge of the game? I tried to take in as much information as possible, be a sponge. I read as much existing material that was available on 2.0, to try to figure out what made this game tick, what worked and what didn't, how to build decks and what appealed to me. I analyzed as much data as possible, tried to formulate preliminary conclusions based on my findings. The next step was empirical testing, taking an existing deck. Play some games with it against some of the 1.0 veterans in my area. This process is very much iterative and revolving as more testing leads to more insight, which leads to new questions that need answering and require more testing. This type of approach comes easy to as it is the same process that I go through when doing academic research for my study, you formulate a thesis, you gather research to either support or disprove said thesis, do an empirical study to test your thesis in reality and make your conclusion based on both your desk research and empirical findings. Thrones in not too different.
My advice to all players that are trying to improve their game is to always ask yourself a certain set of questions, which when thoroughly researched will help you get to that next plateau, whether that is getting more adept in this game or competing for that place at the top of your meta. There are two questions that always comeback.
What am I trying to do?

What do I need to achieve this goal?
This seems overly simplistic but these two questions are at the core of most problems. When looking at a card pool one has to figure out what it is you are trying to achieve, if this is winning then you might be looking for the most efficient or most synergistic combinations out there. If you are just starting out and are in fact that tabula rasa your goal might be getting a basic understanding of the game and how will you get there, that is by taking in information and combining that with your own experiences.
These two questions are very rudimentary and not very specific, so what is it that I am trying to get across? This game is a puzzle. Try to solve that puzzle, whether it be the correct. A Game of Thrones is a complicated, with a lot of variables, only some of which you have control over. Trying to limit variance will help you become a better player as the less variance there is the more play skill matters (but understanding how to leverage variance is a whole separate beast and could warrant an entire article by itself!).
What did I do to become a better Thrones player? I read forum posts, read articles, built decks, played games and evaluated how my experience lined up with the experiences of others, looked for what worked for me and tried to figure out why that worked. I tried to identify what was important every step of the way. What am I advocating? A structured approach to the game that will help you identify the important pieces of every puzzle. With this the first installment of 'Ascending in the ranks' has come to a close. I hope to release an article every (other) week. If you have any questions or comments be sure to leave them down below, send me a PM or find me on Facebook.
Eggo, scantrell24, PulseGlazer and 10 others like this
Article: Ascending in the ranks - Volume I 'Tabula Rasa'