Welcome to Card Game DB
Register now to gain access to all of our features. Once registered and logged in, you will be able to create topics, post replies to existing threads, give reputation to your fellow members, get your own private messenger, post status updates, manage your profile and so much more. If you already have an account,
login here
- otherwise
create an account
for free today!
0
Quill & Tankard Regulars - Issue 7
Aug 03 2012 05:05 AM | CardGameDB in
Articles
Small Council
Quill & Tankard Regulars
Ire
Ratatoskr
WWDrakey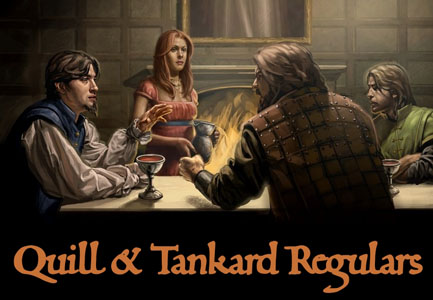 Quill & Tankard Regulars - Issue 7
This week here at the Quill & Tankard we tell legends of one of the fairest maidens said to live north of the wall. Innkeep, bring thine Harp! And a round of mugs for all, for this do be a tale that may mist the eyes of many an older student...
Beware The Sphinx - Val
Beware the Sphinx is a series of articles concentrating on important cards with several peculiar, complex or unintuitive interactions. An emphasis is kept on both new and competitively relevant cards. Remember, the Sphinx is the riddle, not the riddler.
Today we're again looking at another old favorite, way back from the Defenders of the North Chapter Pack Cycle. Probably the
Wildling
that had the largest impact on the competitive scene at the time, she was one of the first cards to also find her way onto the newly created Restricted list. With the rising north winds ruffling her hair, here's Val.
The important part here is her ability, which states:
Any Phase: Reveal and draw the top card of your deck. Play that card as your next response or action, if able. Otherwise, discard it.
So, what does this actually mean? The first portion is simple, trigger the effect during any phase, and you reveal the topmost card of your deck to your opponent and draw it. Now, the second portion is the more complicated one. What it actually means, is that you have to play the card you just drew either in the next Response or Player Action window that opens up - if you do not, the card is discarded from your hand.
Let's look at the two options separately.
Playing the card as your next Action
A card is
played
only if it's an event card played from your hand or an attachment, character or location played normally during your own portion of the Marshalling phase. This means that you cannot play cards drawn using Val through Ambush or other effects that put a card into play. However, playing a card into Shadows is considered as playing a card from your hand (FAQ §4.15, p.11), so you can play any Shadow card drawn through Val during the Marshalling phase, as long as you have enough gold.
As the card must be played as your next player action, you cannot take any actions on other cards in play to reduce the cost of the card you're playing after you've drawn it. However, you can kneel cost reducer locations like
Street of Steel
(Core) BEFORE triggering Val's ability, hoping to draw and play a suitable card. However, this means that there is also the chance that you kneel something like
Godswood
(LoW), only to draw and be forced to play a
Bolton Refugee
(RoW) and end up having your reducer's effect get wasted.
Remember, that Val does not create a new player action opportunity, so your opponents will still be able to use cards like
Ice Fisherman
(TWoW) before you can play the card you just drew.
Playing the card as your next Response
The first Response window that opens up is either the Response window for Val's own ability, or a save/cancel Response to something your opponent played in that window. The latter is possible, because your opponents get the first chance to respond in one of your Player Action windows.
Responding to her own ability:
The obvious question is of course:
Are there any cards that can actually be played here?
Well, all of the possible candidates here are events, and for the event to be playable you need to both meet the play conditions and be able to pay it's price. However, there's at least one card that can hypothetically be played.
Death by Payne
(SaS) can respond to Val's ability, as long as you have at least one Noble character standing. Drawing a card just to kill your own character with it, is surely not a very happy occurance, so you should be quite careful when using Val in a deck where you run
Death by Payne
(SaS).
Responding as a save/cancel to your opponent's response:
While theoretically possible, this eventuality is quite improbable. Why? Since your opponent has already seen the card you just drew, if she knows it can be played as a save or cancel to anything she plays, it is very unlikely that she'll trigger anything like that. Cards that they could respond with here include at least
Death by Payne
(SaS),
The Iron Throne
(TTotH) and
Informed Acolyte
(TIoR). Cards that you could theoretically respond to any of these include
Seasick
(KotS),
To Be a Kraken
(SB) and
He Calls It Thinking
(PotS).
Interaction with The Laughing Storm
One of the most frequent uses of Val nowadays is together with
The Laughing Storm
(GotC). If you have both characters in play and trigger Val's ability, you will never be forced to discard the card that you just drew. However, you will still be forced to play it if possible, so it can be advantageous to use the draw from Val outside of your own Marshalling.
Interaction with the draw cap
Since there are no limits to triggering Val's ability, she is one of the easiest methods of drawing multiple cards during a single round. However, like all cards with the word
draw
Val is limited by the draw cap. In the past, when you were still able to run both Night's Watch and Wildling Agendas together, Val was sometimes seen in Stark decks together with
Dolorous Edd
(TWH) in order to bring an amazing number of characters like
The Wildling Horde
(TWH),
Defenders of the North
(AKitN) and
Wolves of the North
(WotN) into play in a single Marshalling phase.
Dear Archmaester
Dear Archmaester collects interesting, unusual and unexpected rulings from the FFG Rules forum.
Q:
Dear Archmaester,
my opponents Thoros is giving a
Fiery Kiss
(ODG) to
Renly Baratheon
(KotStorm). Meanwhile my
Baelor Blacktyde
(TIoR) is scowling to him and tells them to get a room, since he has seen this before. Can my Baelor end the kisses coming from the shadows?
A:
No. Baelor is only restricting players from playing events that they already have in their discard pile. The important word here is
playing
. Shadow events come out of shadows and are then treated
like
they were played from the players hand, so Baelors restriction happens too late. For further discussion, see the thread
here
.
Questioned by the Conclave
Questioned by the Conclave is a series of quizzes for our readers, loosely based around the topics of the Issue in question. Correct answers will be posted in the comments, after enough readers have had their chance of testing their knowledge. The difficulty of the questions will vary from those directed at Apprentices, to those best suited for Archmaesters.
1. You trigger
Val
(RotO) with
Seal of the Crown
(APS) in play. What happens?
2. You bring
The Queen of Thorns
(TftRK) from the dead pile using
Fiery Kiss
(ODG), can you still trigger her ability?
3. You draw
The Weasel's Way
(TIoR) with
Val
(RotO). Can you play it using it's
Response:
to your opponent triggering their
Winterfell Kennels
(Core) as their next player action?
Bonus Question:
When is a card discarded if it has been drawn through Val and cannot be legally played?
Antti Korventausta (WWDrakey) is a self-proclaimed Finnish AGoT philosopher and nitpicker, who also used to practice Quantum Mechanics, but found that it paled to AGoT in both interest and complexity. As a Stahleck regular and judge, he sometimes has oddly vivid dreams of understanding portions of the game. In AGoT, he'll play anything as long as it's suitably twisted... often ending up with something that has horns on it.
Helmut Hohberger (Ratatoskr)
started playing AGoT in September 2010 and has never looked back (although his wife has, longingly). As a German, he loves rules - and I mean
*loves*
'em. Try triggering a Response at the end of a phase on his watch, and he'll probably invade your country. He has actually read the FAQ, and was made a judge at Stahleck 2011 and at various other events. He sometimes answers rules questions on boardgamegeek and the FFG rules board. Some of his answers haven't even been contradicted, corrected or expanded upon by ktom - there is no higher accolade for a rules board morlock.
Every Maester needs a Raven on his shoulder. As a Finn, Iiro Jalonen (Ire) got pulled under the waves by Krakens years ago, and has never looked back. A self-inflicted Shagga and active member of the global AGoT community, he has always strived to know the rules of the game, in order to make them do ridiculous things.
Article: Quill & Tankard Regulars - Issue 7