Welcome to Card Game DB
Register now to gain access to all of our features. Once registered and logged in, you will be able to create topics, post replies to existing threads, give reputation to your fellow members, get your own private messenger, post status updates, manage your profile and so much more. If you already have an account,
login here
- otherwise
create an account
for free today!
Notice!
We have scheduled maintenance windows for the following times:
Monday (5/20/2013) from 2200 EST to Tuesday (5/21/2013) at 0200 EST.
Tuesday (5/21/2013) from 2200 EST to Wednesday (5/22/2013) at 0200 EST.
Estimated Downtime 1-2 Hours total.
Follow cardgamedb on
Facebook
,
Twitter
, or
Google+
to recieve updates when we are down.
0
All Things Shagga - Tax Is A Four Letter Word
Small Council
All Things Shagga
Devastacia
Happy Independence Day, or if you are one of our international friends, happy Wednesday! While many people will be out camping, at barbecues, and engaging in general drunken debauchery, here at Card Game DB we are celebrating the holiday in the most American way possible…by talking about
Heavy Taxes
(APS). At the Bay Area, California monthly tournament last weekend, I saw this card pop up for the first time, and I have been thinking about the ways to exploit it since.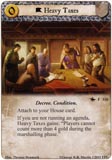 One of the keys to making Heavy Taxes work is to build around it. All of your resources should be non-gold producing locations that instead reduce cost. You can take advantage of more powerful plots that are below five gold, since the excess would be wasted if the attachment is active. The new River plots may have a chance to shine in a Heavy Taxes deck, since their primary drawback is the lack of income that they provide. City plots are another solid option along with Heavy Taxes.
Perhaps the most obvious deck that Heavy Taxes shines in is a Greyjoy "choke" deck. If you can manage to play Heavy Taxes early, you can immediately shut down the gold producing locations and characters that typically give choke decks fits. Make your deck noble heavy, and then throw in
Gylbert Farwynd
(GotC) and you could potentially make almost every resource in your opponent's deck virtually useless.
River Blockade
(RoR) is also particularly effective in stopping your opponent's reducers,
Wintertime Marauders
(ACoS) and
Newly Made Lord
(TftH) can get rid of them altogether, and
Ice Fisherman
(TWoW) can steal some of the remaining gold your opponent manages to count.
Alannys Greyjoy
(ODG) and
Maester Murenmure
(CbtC) can also use their abilities to cancel your opponent's reducers if necessary.
Heavy Taxes is a tricky card, as it requires that you not run an agenda with your deck to work. Although this seems like an immediate drawback in many cases, one of the strengths of Heavy Taxes is that it does not count as an agenda once it is attached. This allows cards that get a bonus from not running an agenda to still work, such as
Rickard Karstark
(WLL) or
Damon Dance-For-Me
(VD).
The Red Viper
(TftRK)'s ability will still trigger if you have Heavy Taxes, allowing you to trigger the feared combo with
No Use For Grief
(DB) in a Sand Snake deck. Getting it into play early is crucial for it to be effective, so it should be assisted with the
Spending the Winter Stores
(QoD) plot.
Exploiting a card that limits you too is always a challenge. The card certainly takes away many deckbuilding choices, but by building around it you are rewarded with several of your opponents' cards being less effective or dead altogether. Manage that, and you create the potential for any card your opponent draws to be worthless. I'm interested to hear what other ideas people have come up with for this card. Please leave your comments and questions below.
Article: All Things Shagga - Tax Is A Four Letter Word