Welcome to Card Game DB
Register now to gain access to all of our features. Once registered and logged in, you will be able to create topics, post replies to existing threads, give reputation to your fellow members, get your own private messenger, post status updates, manage your profile and so much more. If you already have an account,
login here
- otherwise
create an account
for free today!
2
Forgotten Plans - The Brotherhood Without Banners
Small Council
Forgotten Plans
Rave
Hey all! Staton's computer is still on the fritz, so I'm next up for a guest spot in Forgotten Plans.
This week, I want to talk about the black sheep of the LCG, the Brotherhood without Banners.
The Brotherhood without Banners is a fun mechanic, and plays host to some powerful effects, but it has heavy weaknesses that keep it from becoming a truly competitive deck type.
Ultimately, the problem lies in reliance on Beric. It is a very common tactic to use Beric as if he was your house card, and put all of your power on him because he is the most survivable card. If you don't do this, Valar and other kill or discard effects will do a good job at keeping you from winning. The problem is that there are so many card that will blank, bounce, or bleed the power off of Beric that using him in this way usually results in shattered dreams.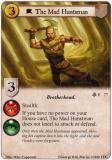 Stark and Greyjoy are the only houses that can really add survivability to The Brotherhood, and of the 2, I believe Stark benefits from The Brotherhood's effects the most. Brotherhood in general, gives Stark another way to gain power quickly, without relying on armies and Siege of Winterfell. They also help patch Stark's intrigue weakness very well. In turn, Stark gives The Brotherhood Widow's Watch for survivability, and easy ways to deal with character threats that could keep them off the board. Old Nan and Meera also help them retain their power by blanking the
Brotherhood
trait when on the recieving end of a power challenge.
Using Widow's Watch, you can play 2-3 copies of the key Brotherhood characters with less worry about the dupes coming up later when they are dead, allowing you to spread the power around, and make less of a target for your opponent's effects.
Don't forget that the star of your show is not necessarily Beric, and with dupes on some other characters they become equally as effective.
The Mad Huntsman:
The Mad Huntsman is always a threat when he is out, especially with the kill effects Stark has access to. Not to mention he does a great job in warding off intrigue weenies.
This effect for 3 gold is about as efficient as it gets. Stark also has access to the Winterfell Practice Hall, which gives The Mad Huntsman non kneeling renown.
Anguy the Archer:
Did you know that with the right plot deck, Anguy can win you the game at 9 power with little effort? With enough characters to cap his ability, flip Wildfire Assault on the next turn and then Valar the turn after that. Even if Anguy dies on the Valar turn, he is moribund while claiming the power, and you will still win.
In general, with all of the character's dying to military claim, Anguy is at home in a Stark deck with their kill effects.
Tom Sevenstrings:
Tom has synergy with Widow's Watch himself, and no-one will discount the usefulness of his cancel ability. He's not a heavy hitter for sure, but he is good support.
Thoros of Myr:
I prefer the save version. This guy is great to have as backup. Discard the power from the dying character if you can, in case the effect is cancelled.
Other key synergies:
Old Nan
: Great utility for Widow's Watch, blanking Maesters, and your own
Brotherhood
characters.
Riders of the Red Fork:
Searchable with Widow's Watch. This is a good way to make sure we have a way to trigger our war effects.
There are other useful things you can do with Widow's Watch besides grab dupes of The Brotherhood. For example, you can grab extra copies of Ice, or Rider's of the Red Fork if you've splashed in some War effects you'd like to use.
What to watch out for:
These cards are a nightmare to come up against, even if you're putting all of your power on Beric. Keep them in mind as you play, not all are common, but know they could potentially pop up.
Don't ever get overconfident, if you've never played Brotherhood before, trust me.
Life finds a way.
My favorite Brotherhood story comes from Rings, where he mentioned that his Beric was Nightmare'd and Valar'ed first turn during a large tournament. Poor guy.
If you have some more of these, please add them in in the comments section.
Search and Detain
Ghaston Grey
Ellaria Sand
Melisandre (core set)
Slander and Lies
Lannisport Tourney Grounds
Here's a link to a sample build,
Stark Brotherhood
Stark Brotherhood
House (1)
House Stark
(Core) x1
Agenda (1)
The Brotherhood Without Banners
(RoR) x1
Plot (7)
Fury of the Wolf
(AE) x1
Search and Detain
(HtS) x1
Take Them by Surprise
(LoW) x1
The Minstrel's Muse
(RotO) x1
Valar Morghulis
(Core) x1
Wildfire Assault
(Core) x1
Building Season
(Core) x1
Character (30)
Beric Dondarrion
(IG) x1
The Mad Huntsman
(ASoSilence) x3
Anguy the Archer
(DB) x3
Ghost of High Heart
(WLL) x1
Thoros of Myr
(RoR) x1
Tom Sevenstrings
(RoR) x1
Maester Luwin
(FtC) x1
Old Nan
(BoRF) x1
Guard at Riverrun
(LoW) x3
Lucas Blackwood
(GotC) x1
Meera Reed
(TftH) x1
Sansa Stark
(Core) x1
The Blackfish
(LoW) x1
Fanatical Follower
(KotStorm) x3
Cat o' the Canals
(RoW) x1
Ser Kyle Condon
(APS) x1
Hodor
(Core) x1
Carrion Bird
(ASoS) x2
Riders of the Red Fork
(FtC) x3
Location (18)
Widow's Watch
(GotC) x3
Lord Eddard's Chambers
(Core) x1
Isle of Faces
(APS) x1
The Searoad
(KotStorm) x3
Bay of Ice
(KotS) x3
Harrenhal
(ODG) x1
Winterfell Practice Yard
(ODG) x1
River Row
(QoD) x1
Street of Silk
(LotR) x1
Shadowblack Lane
(Core) x1
Street of Steel
(Core) x1
Street of Sisters
(Core) x1
Event (6)
No Quarter
(TBC) x3
Die by the Sword
(LoW) x2
The Price of War
(KotS) x1
Attachment(6)
Ice
(Core) x2
Frozen Solid
(LoW) x3
Flaming Sword
(DB) x1
Description:
Get your key Brotherhood characters out, and roll them with your high initiative and military effects. If you get within 9 or 10 power with Anguy out, hopefully Wildfire, then Valar for the win.
Widow's Watch is the cornerstone and your deck thinner, get it out ASAP.
Kill your cheap characters over your duped Anguy or Mad Huntsman, treat those dupes as if they were gold.
Price of War and Die by the Sword are dependent on Riders of the Red Fork, which are searchable with Widow's Watch.
What are your successes with the Brotherhood? Any insights of your own? Heroic stories of victory?
Article: Forgotten Plans - The Brotherhood Without Banners