Welcome to Card Game DB
Register now to gain access to all of our features. Once registered and logged in, you will be able to create topics, post replies to existing threads, give reputation to your fellow members, get your own private messenger, post status updates, manage your profile and so much more. If you already have an account,
login here
- otherwise
create an account
for free today!

0
Card Spotlight

The Bearded Clansmen review In Daznak's Pit. Super awesome pack with a ton of fun cards, except those lame-o maesters.
Read story →
0 comments






In Daznaks Pit
The Breaded Clansmen
Welcome to the first of a series of articles I plan to write, in which we will attempt to 'break' a card by building decks around it. The goal will be to create a deck that has the potential to be viable competitively using the new card as a focus. While the decks we make are going to be initial versions, and thus probably won't be as strong as the tier 1 tournament decks right away, hopefully they will give you a solid start on deck building and could become even stronger with tuning.
My goal will be to pick cards that I think have potential to be great, not to take the cards that everyone thinks is terrible and try to make something okay with them. That's why this article is about King Robert's Warhammer and not Merchant Prince. We aren't trying to make "bad Johnny" combo decks here using a terrible card (or should that be "bad Shagga" in GoT land?) We are trying to make viable competitive decks, based around a new card from a recent expansion pack that has potential synergies that havent been sufficiently explored by the community.
Read story →
10 comments






Warhammer

,

Strategy

,

Deckbuilding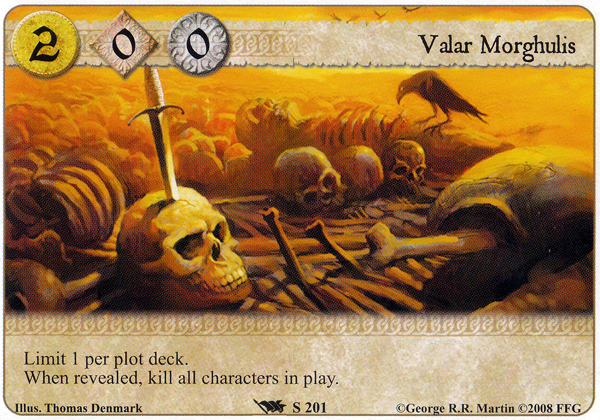 Valar Morghulis 2-0-0Limit 1 per plot deck. When revealed, kill all characters in play. Arguably THE meta-defining card for A Game of Thrones LCG, Valar Morghulis demands the attention of every player not only during play but also as they build thei...
Read story →
10 comments