Welcome to Card Game DB
Register now to gain access to all of our features. Once registered and logged in, you will be able to create topics, post replies to existing threads, give reputation to your fellow members, get your own private messenger, post status updates, manage your profile and so much more. If you already have an account,
login here
- otherwise
create an account
for free today!
0
Metaphysics - Going Rogue
Small Council
Metaphysics
jimpanda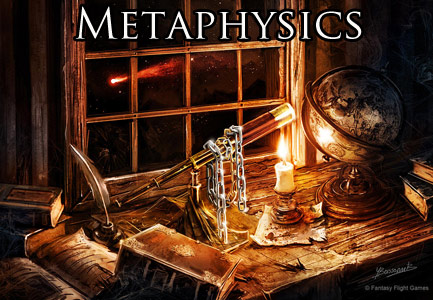 Rogue decks are traditionally defined as decks played against the grain of the metagame. These are decks that come straight out of left field to level the competition by playing unexpected cards or strategies that most of the popular decks are not prepared to face. In theory, the more players prepare to face the 3 or 4 top decks, the less they are prepared to face anything else.
For most players, tournament preparation goes something like this:
Identify the top decks in the metagame by looking at local results, Regional lists, and the overall buzz around certain archetypes.

Either choose one of the existing "best decks" or create one that has a good matchup against what you feel will be the most popular deck(s) at the tournament.

Play tons of games until you're comfortable with your choice.
All of this comes back to some simple metagame decisions: What do you expect to be popular? Can whatever deck you play handle some of the more popular decks?
The drawback to playing one of the clearly defined "best decks" is that your opponent should have a game plan walking into the match up. If sit down across from Greyjoy/
Kings of Winter
(TWoW), it should be fairly obvious where this game is headed, and you can do everything in your power to plan accordingly. Sitting down across from a Baratheon House card with no Agenda is a different matter. What are they playing? Power Rush? Asshai? Should you expect Val/
The Laughing Storm
(GotC) or
Narrow Escape
(KotStorm)? Or are playing right into the first turn
Fear of Winter
(BtW) that you never saw coming? The harder it is to get a read on what people are playing, the harder it is to have a game plan for the first few turns of the game.
There are really two different ways to make Rogue work for you – single card choices or whole decks. Sometimes, even one or two under the radar cards will make the difference if they are not expected. Here are a couple examples of cards that have not seen too much play, but definitely have a spot in the metagame, some broad and some specific: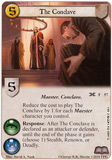 The Conclave
(CbtC): It seems like many Maester decks these days are fielding only a small handful of Maester cards – just enough to get their Chains off of their Agenda for the win. Few of these decks seem all that interested in going all-in on the Maester theme. This has always surprised me a little, as one of the things that you get for your trouble is The Conclave – a non-unique, frequently undercosted, 5 strength monster of a character. Match-up wise, The Conclave also presents some real problems for a few of the top decks - Targaryen have a hard time burning them out, and only
Doran Martell
(TGM) and
The Red Viper
(PotS) can hit them with
Ghaston Grey
(FtC). They are a Maester to boot, and they benefit well from many of the Chains taken from
The Maester's Path
(GotC).
The Hound
(AToT): While this guy is purely a metagame call, he does have some subtle uses that are interesting. If you are expecting
Knights of the Realm
(KotStorm) to be big, The Hound can be a serious beating on Stark and Baratheon for a turn (or more if you bounce him with
Search and Detain
(HtS), Ghaston Grey, etc.). At the very least he kneels The Laughing Storm for a while. Stark and Baratheon have the lion's share of the good Knight characters, but most Houses play at least one or two. Unfortunately, his usefulness against Martell and Greyjoy is extremely limited, making him a risky proposition against two of the best decks in the field. At 4 strength he is still a large body though, even if he only has one icon to back it up.
Burning Bridges
(QoD): The list of cards this plot stops would go on for hours. While it is Initiative 0 and will hamper your triggers as well, Burning Bridges does sport 5 gold and an ability that can shut down entire decks for a round. Problem cards like Val (if she's not used pre-plot), Ghaston Grey, and all of the Chains are down for a whole turn. Against Greyjoy Choke you take cards like
Ice Fisherman
(TWoW) out of the equation. With half of the decks or more relying on reducers for income, you can deny them plenty of gold generation as well.
Or, you could go off the reservation and play a whole deck that will most likely not be expected at all. Here is an example of what I'm talking about:
Stark Wildlings:
House:
House Stark
(Core)
Agenda:
The Free Folk
(BtW)
The Last Giants
(TWH)
Plots:
7
Fear of Winter
(BtW)
Retaliation!
(ASoSilence)
Twist of Fate
(APS)
Respect of the Old Gods
(LoW)
Forgotten Plans
(KotStorm)
The Minstrel's Muse
(RotO)
Take Them by Surprise
(LoW)
Characters: 32
Bolton Refugee
(RoW) x 3
Carrion Bird
(ASoS) x 3
Hodor
(Core)
Free Man
(TftH) x3
Osha
(AKitN)
Sansa Stark
(TftRK)
Old Nan
(BoRF)
Varamyr Sixskins
(AKitN)
Ser Kyle Condon
(APS) x2
Mance Rayder
(RotO) x 2
Arya Stark
(CoS)
Jon Snow
(ASitD)
Orell the Eagle
(ASitD)
Meera Reed
(TftH)
Skinchanger
(WotN) x2
Rattleshirt's Raiders
(AKitN) x3
Robb Stark
(LoW)
The Blackfish
(LoW)
The Wildling Horde
(TWH) x 3
Attachments: 5
Frozen Solid
(LoW) x 3
Climbing Spikes
(AKitN) x 2
Events: 7
No Quarter
(TBC) x 2
Paper Shield
(QoD) x 3
The Battle of the Whispering Wood
(EB) x 2
Locations: 16
River Row
(QoD)
Street of Steel
(Core)
Street of Sisters
(Core)
Flea Bottom
(TGM)
The Land Beyond the Wall
(EB)
Great Keep
(Core) x 3
Shivering Sea
(KotS) x 3
Frozen Moat
(BtW) x 2
Frozen Outpost
(LoW) x 2
Harrenhal
(ODG)
This a rough example of a deck that is certainly not going to be expected, but has a few things going for it, depending on what you expect to play against:
Targaryen will have a tough time burning your enormous characters down, most of which will be 4 Str or greater with The Last Giants. Rattleshirt's Raiders and The Wildling Horde can really go the distance in this match-up.

Due to the immense levels of Stealth, defending against Wildllings is particularly difficult. With claim 2 plots and a reliable way to push through challenges, you can win a game simply by attrition.

Lannister, this decks worst match-up by far, seems non-existent at the moment.

Between Frozen Solid and Climbing Spikes, you have a superior amount of location control. This is particularly important against Martell, when the threat of a 2 claim Red Vengeance (PotS) coming back at you is bad enough without having to deal with overpowered locations as well.

Universal Stealth and +1 Str is fantastic for defense as well as offense. Against smaller, aggressive decks like Greyjoy and Stark, one large character can be all that is needed to defend against most incoming attacks, which forces bad combat situations and overcommitment by your opponent to get anything done. Hodor + Frozen Outpost alone is a nightmare for decks like these.

Old Nan is quite a stunner, allowing you to give the Wildling trait to your non-Wildlings and hit Maesters where it hurts.
And no,
Craster
(WotN) did not make the cut. While he is enormous for his cost, his single icon is very limiting, especially in a deck like this one. Skinchanger can often fill his role if needed.
This is just a rough example of a deck that is both unexpected and very powerful under the right circumstances. Certain features of the deck, as well as numbers, can be tailored to suit what is popular at the moment. Again, this is just an example of the concept of a Rogue build and how it can work within a certain field, and I don't expect it to win Worlds anytime soon. However, decks like this one can be a real savaging against opponents who aren't prepared for them and can give you the edge in a particular field.
Article: Metaphysics - Going Rogue