Welcome to Card Game DB
Register now to gain access to all of our features. Once registered and logged in, you will be able to create topics, post replies to existing threads, give reputation to your fellow members, get your own private messenger, post status updates, manage your profile and so much more. If you already have an account,
login here
- otherwise
create an account
for free today!
0
The Grand Melee - Playing Control in Melee Part 3 - Bending the Rules
Small Council
The Grand Melee
FireFox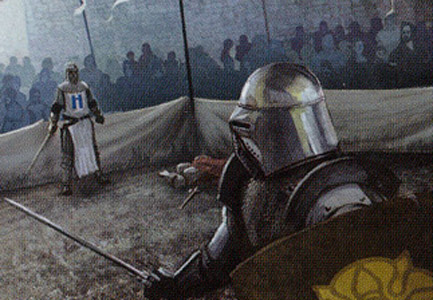 Hello and welcome back to the Grand Melee! After a small break, we are back to continue exploring the possibilities of playing control in Melee. Last week we looked in some detail at the multiple reset option and how clearing the board often could be used in Melee to your advantage. Today, we will look at a more subtle form of control.
The way Game of Thrones is designed, it rewards attacking and offensive strategies the most (i.e. attacker wins ties, effects that key of winning challenges on attack, etc...). This is why most decks out there need to attack to win the game. Of course you can sit on your money and win after 15 turns of dominance, but it's unlikely that no one else will win during those 15 turns, especially in Melee. But what if you were to deny your opponents the possibility of attacking? Surely if they can't attack they can't win the game? This also has the advantage of making it harder for them to disrupt your plans. So how can we achieve this form of control?
The first thing that springs to mind is, of course, using the Melee Titles. They can help direct the flow of attacks towards someone else and help defend yourself. But that's not exactly what we are trying to achieve here. Even if your opponents can't attack you because you grabbed the correct Title(s) and/or have some form of redirection they will just attack someone else, but they still get to attack. That's the step we are trying to prevent here. So how can we stop people from initiating challenges altogether?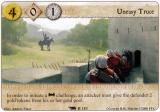 There are a few plots out there that put conditions on initiating challenges, like
Shadows and Spiders
(LotR)
Uneasy Truce
(Core) and
Lineage and Legacy
(KotStorm). While the last one isn't optimal in Melee as people are often focusing on power challenges a lot, the first two can completely wreck the plans of your opponents. These effects have the advantage of being global and affect everybody at the table, so you are controlling the table with essentially one card, which is good. Of course, they also affect you but 1) you know what's coming and 2) you should be prepared for it. Along the same lines of thought, a plot like
Desolate Passage
(TRS) can really mess up your enemies' plans. Of course it doesn't stop them from attacking, but it will make it harder for them to push through effects like
Make an Example
(PotS).
Other cards can have similar effects, like
Questioned Claim
(AE) or
Magister Illyrio
(Core) (Yes I really mean Core set Illyrio!). These can really hinder your opponents possibilities of attack. You can even recycle Questioned Claim quite easily as it's a Small Council event.
These cards can help you control the flow of challenges during the game, but can they make you win? To be honest, I don't think a fully fledged control deck running only these types of effects can win. However, I am convinced that using some of these effects at the right moment can help you delay the aggressive decks out there by a turn or two. Enough time for you to establish your control or set up your winning combo. And in these times of first turn Marshalling victories you need all the delays you can get!
Next week we will look at other forms of control that are only possible when playing certain Houses. See you then!
Article: The Grand Melee - Playing Control in Melee Part 3 - Bending the Rules