Welcome to Card Game DB
Register now to gain access to all of our features. Once registered and logged in, you will be able to create topics, post replies to existing threads, give reputation to your fellow members, get your own private messenger, post status updates, manage your profile and so much more. If you already have an account,
login here
- otherwise
create an account
for free today!
2
Uniquely Suited - Robert Baratheon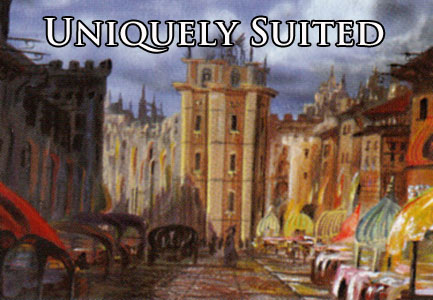 Welcome to the first installment of my new series, Uniquely Suited. This series will take a look at characters (and the occasional location) that have multiple 'personas'- that is, multiple versions of the same character. I will be breaking down every one of these personas, discussing which one is best for popular Joust deck types, and giving each one a rating from 1-10

, based on their utility in Joust. Come along with me as we explore the options for each of our favorite characters from AGOT, from the venerable Robert Baratheon (see below!), to
The Hound
(PotS), and all the way down to the fat red priest,
Thoros of Myr
(TGM)!
Our first article begins with the first king that we meet in A Game of Thrones (and one of the two characters tied for the largest number of personas with 5- without peeking, can you name the only other LCG character with 5 versions? I was surprised when I found out!), Robert Baratheon, the First of His Name.
Robert Baratheon
(Core):
One of the few cards that appears in multiple copies in a single Core set, the affectionately known "Fat Bob" is a solid addition to any Baratheon rush strategy. While he shares the Noble crest with his other four personas, it is something that he does
not
have – the
King
trait – that makes him very attractive to many deck builders. This absence allows the text of
Renly Baratheon
(KotStorm) to reduce the cost of all of your other Baratheon characters (or allows you to draw cards with the Raven's Song Renly). He also plays well with
Stannis Baratheon
(KotStorm) in a control/denial deck. Add in some standing tech, which Baratheon has in spades in the form of
Marya Seaworth
(KotStorm),
King Robert's Hammer
(TBoBB) or events such as
Obey the King
(KotStorm), and this persona of Robert can gather bundles of power in a very short amount of time.
Rating:








Robert Baratheon
(KotS):
If the Core set version is "Fat Bob," this persona of Robert is most certainly "Combo Bob." He is quite the enigma to many deck builders: He is a strong character stat-wise and sports renown like all Roberts, but his text requires him to kneel. As I mentioned before, Baratheon does have many ways of standing a character, but unless the event that you play swings the game quite a bit in your favor, it can be difficult to justify utilizing him. His text also requires him to be the only King in play (and not just the only Baratheon king), so that is another strike against him as his text can easily be 'turned off' for large portions of the game, making combos with him even more unreliable. He does recycle the event that he plays back into your deck, which is nice. Some of the more popular events to use his text for are
Distinct Mastery
(Core),
See who is Stronger
(KotStorm), and
Questioned Claim
(AE) (the last one being particularly effective since you are guaranteed to have a King in play yourself).
Rating:





Robert Baratheon
(TTotH):
The infamous "No Shadows Bob" himself: One of the five strongest characters in the LCG, and the cause (directly or not) of two different errata (one to
The Maester's Path
(GotC) and one to himself). Despite the recent change to allow him to stand only 3 times per phase, he is still an imposing presence on the board, allowing him to participate in up to 4 challenges in a turn, potentially gathering renown for all of them. Additionally, you can use him to pay costs for effects that require kneeling, or use
Flea Bottom
(TGM) to play him cheaper and then stand him for later beatings.
Court Advisor
(PotS) is one of his favorite attachments, as it allows him even more versatility when it comes to attacking & defending. He does share a drawback with the
Knight of Flowers
(SaS) in that his text is inactive when there is a card in Shadows, so if your deck is planning on taking advantage of Shadows it's probably better to look to a different persona of Robert. If Shadows is popular in your area, you may also want to add
The King's Law
(KotStorm) to your plot deck in order to ensure that he lives up to his reputation. Otherwise, go crazy!
Rating:










Robert Baratheon
(KotStorm):
This version of Robert is a bit of a conundrum. In very general terms, he is outstripped by both Fat Bob and No Shadows Bob, as both cost 1 less gold to play, and this is shown in the overwhelming use of one or the other of those two in the more successful Baratheon builds. In addition to his higher gold cost, he would also shut off Renly's reducing ability, so your other characters would potentially cost more as well. Builds including him must be very focused on power challenges in order to gain maximum advantage from his text. To build such a deck, one would want to stuff it as full of renown as possible, because the effect of winning multiple power challenges will naturally be curbed, especially early in the game when your opponent may not have any power on his house to claim in the first place. Characters who do not kneel and have renown, such as the Knight of Flowers, or characters that gain advantages in power challenges such as
Ser Cortnay Penrose
(KotStorm) or
Arena Knight
(RoW) would be staples of this deck. It might be possible under such circumstances to win the game on the first turn using multiple copies of
Superior Claim
(KotStorm). However, his extra cost would seem to run at cross purposes with the idea of flooding the board with the characters mentioned in large enough quantity, making him very difficult indeed to utilize well. A different possibility for him might be a deck in which you try to flood your opponent with as large a quantity of power challenges as possible, in order to grab a large amount of unopposed power, and hopefully some renown as well. This might be run best out of a Maester deck, utilizing plots such as
An Empty Throne
(KotS) and events like
Citadel Custom
(CbtC) in order to increase the number of power challenges, with
Banner for the Storm
(CtB) allowing maximum participation in those challenges.
Rating:






Robert Baratheon
(TGM):
The most recent addition to the stable of Roberts, "Party Bob" is extremely Nedly, and he gains the underrated Melee keyword in addition to Renown and his Noble crest. As such, I hate to rate him as low as I have. I've seen him used effectively in a melee setting: he was one of the key components of the victorious melee deck piloted by a good friend of mine at Kingdom Con. However, it is unlikely that the Melee keyword is enough to sway a deck builder away from any of the other four personas of Robert in a Joust setting. Sorry, Bob, but the party's over.
Rating:



I hope this look at the wide variety of choices for Robert Baratheon has been both informative and entertaining. Join us next week as I look at some of the other movers and shakers from the house of the Stag whose multiple personas open up a variety of deck building choices.
Article: Uniquely Suited - Robert Baratheon