Welcome to Card Game DB
Register now to gain access to all of our features. Once registered and logged in, you will be able to create topics, post replies to existing threads, give reputation to your fellow members, get your own private messenger, post status updates, manage your profile and so much more. If you already have an account,
login here
- otherwise
create an account
for free today!
0
Uniquely Suited - Stannis Baratheon
Small Council
Uniquely Suited
imrahil327
Stannis Baratheon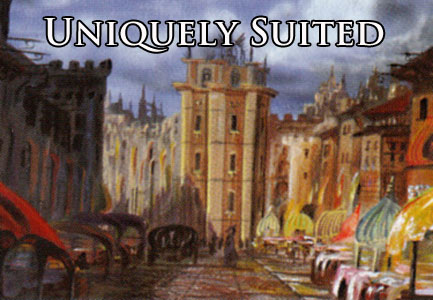 Welcome back to Uniquely Suited, the column that explores unique characters and which version of each best suits your deck. For a more detailed explanation of the premise, and a look at Robert Baratheon, check out
last week's article
. This week we turn our focus to another Baratheon: the elder of Robert's two brothers and the Lord of Dragonstone, Stannis Baratheon. Stannis has 4 personas that are legal in the LCG, one of whom is shiny and new. Let's find the right one for your deck!
Stannis Baratheon
(Core): The first version of Stannis to be printed in the LCG era also happens to be the most popular one by quite a wide margin, at least until the release of the Valar Morghulis CP. While some of his other personas require a good bit of thought to use, if not an entire deck built to utilize them, this persona can be reasonably added to nearly every Baratheon deck and not seem too out of place. Much like the Core version of his older brother Robert, this Stannis lacks the King trait, which makes him attractive to rush decks trying to make use of
Renly Baratheon
(KotStorm) to reduce the cost of their characters (as un-Nedly as that might be.) While he may be described as 'generic,' his text is also quite powerful. While there are certainly commonly-played Lords in every house, the environment currently seems to favor decks with a variety of non-uniques, such as Greyjoy with their
Distinguished Boatswain
(TftRK). It's clear that he can be played in any sort of Baratheon deck and not be disappointing, but there are also certainly things that you can do to take greater advantage of his text if you choose to. He plays very well with his companion
Melisandre
(RotO), since he causes unopposed challenges on a fairly regular basis. Being able to challenge with him multiple times via
Distinct Mastery
(Core) or any of the Baratheon standing tricks only increases his utility. Maesters can be a pain, as they can give themselves a Lord via
Copper Link
(GotC) if they need to. Lannisters and (fittingly enough) opposing Baratheon decks tend to be able to shut him down naturally more often than others, but if you are making this Stannis a key component of your deck, you can easily add
Condemned
(TBC) to take their Lordship away.
Rating:








8
Stannis Baratheon
(VM): Next on the list is the new hotness in the Baratheon stable. It remains to be seen whether people will favor this Stannis over the Core version in any of the popular Baratheon builds, but he is certainly a bundle of fun. His first line of text is not to be underestimated.
Ghaston Grey
(FtC) got you down? Having trouble with
Scouting Vessel
(KotS) ruining your challenges? This Stannis is your man, and of course he is far too honorable to visit a house of ill repute such as the
Lannisport Brothel
(Core). It has its downsides though, as it does prevent him from standing via
King Robert's Hammer
(TBoBB), or gaining the benefit of any of Baratheon's other useful locations. He makes up for these slight drawbacks with the pile of keywords he gains when he's the only
King
on the table. Vigilant, Stealth AND Renown- not often you can get these all on the same character without help from other cards, but Stannis can pull it off. He can sneak past your opponent's biggest defender, win the challenge, claim a power, and stand back up to do it again. Unfortunately, his King-trait text works only with the 'Fat' version of his brother Robert, and in a particularly Nedly twist, he has a quarrel with the two more popular versions of his younger brother Renly as well. A further problem presents itself when your opponent plays a king of his own, as well: he gets much less attractive at 4 cost with no keywords at all. Because of this, you should look at cards such as the aforementioned
Condemned
(TBC) to keep him in keywords until he can close out the game. I will be very interested to see which Stannis is more common between this and the Core version. My gut says that the permanent renown and the lack of the King trait on Core Stannis will win out, but if you don't see many Kings in your area and aren't using others of your own, this guy could be the way to go.
Rating:







7
Stannis Baratheon
(KotStorm): In contrast to the brute force and strength shown by Core Stannis, or the iron-fisted grip on the Throne of the new VM Stannis, this persona is much more the scheming and planning type. He has the renown and Noble crest shared by all Stannis personas, but the ability to draw, whether via
Knights of the Realm
(KotStorm) or via Val &
The Laughing Storm
(GotC), is an important piece in a rush deck, so this Stannis finds himself more at home in a control build. If such a deck is built to showcase him, though, he can cut off your opponent's flow of resources while you slowly but inevitably march to victory. He gives your deck an inherent one-sidedness: You are aware of the rules that the game will be played by (2 cards a turn of draw is all you're going to get), while your opponent generally will not have planned around him. The flip-side of that, of course, is that if Stannis DOESN'T hit the table, you are at a disadvantage since your opponent will be drawing gleefully while your deck struggles along without it. Therefore, he is a reasonable candidate for
Summoning Season
(Core) if your deck is relying on his text. A build using
Kings of Winter
(TWoW) is a distinct possibility, as he essentially wins the seasonal battle by himself: Your agenda has no drawback while he is on the table and your opponent's Kings of Summer has no incentive. He also enjoys working with the Asshai, as their naturally high intrigue numbers combine with a hand destruction theme utilizing cards such as
Confession
(KotS),
Altar of Fire
(RoR) and
Ghost of High Heart
(WLL). This allows you to decimate their options and limit their chances of improving them in one swift stroke. In a near-complete inversion of the previous two personas, he is also a great weapon against Lannister, for whom card draw is often their bread and butter. Making your opponent's Restricted card (
Pyromancer's Cache
(TWot5K)) into a dead card is a powerful effect indeed. It is worth noting that like any card, he has his weaknesses- he will not stop Stark searching for cards via
To Be a Wolf
(SB) or
Harrenhal
(ODG), nor will he curtail Martell's non-draw reveal effects such as
The Viper's Bannermen
(PotS). No one's perfect, perhaps, but this Stannis will usually be thwarting your opponent's plans with impunity.
Rating:






6
Stannis Baratheon
(AKitN): This Stannis is obviously the most specialized, and it's not difficult to figure out what deck he goes in: a Night's Watch deck. Specifically, he interacts very well with
The Wall
(TWoW). Although it is quite expensive, once you get it out it is reasonably well protected (No Attachments means no
Frozen Solid
(LoW) or
Climbing Spikes
(AKitN), and 4 cost prevents
Newly Made Lord
(TftH) from breaking it), and essentially all of your Baratheon characters will gain +1 STR and will not kneel to defend. +1 STR may not seem like much, but when a strong character generally only has 3 STR, +1 is a pretty big boost. Similar to the anti-draw Stannis, it is likely that this Stannis will be a linchpin of your deck, and you may want Summoning Season to get him out early. Once he is out, you'll want to give him a
Loyal Guard
(WotN) to protect him so that he can defend the kingdom for as long as possible. With the Night's Watch agendas (
The Builders
(ASitD),
The Rangers
(WotN), and
The Stewards
(AKitN)) and Stannis and the Wall out, your Baratheon characters will be a very stout force indeed. He does give his STR boost to the neutral Nights Watch characters as well, so if you choose to, you can run them in the deck and Stannis will make them stronger as well. They will, unfortunately, still kneel to defend though. Whenever I see a character or effect that gives out STR boosts, I immediately consider adding the power grab events to my deck in order to speed it up, and if you DO choose to use the Night's Watch agendas,
Superior Claim
(KotStorm) and
Make an Example
(PotS)will be very welcome in order to mitigate the additional 2 power that each one requires. Stannis helps you hit the necessary numbers for events such as these, or if you want to get really tricky,
Terminal Schemes
(LotR). While he isn't an every day Stannis, this one will help you become Lord Commander in no time.
Rating:





5
Hopefully this article has helped you find the right Stannis for your deck. Feel free to leave any comments or questions below. Tune in next week when we take a look at Stannis' consort, Melisandre!
Article: Uniquely Suited - Stannis Baratheon