On June 7th, 16 brave souls fought over the fate of all humanity - or at least over prizes, bragging rights, and a piece of cake.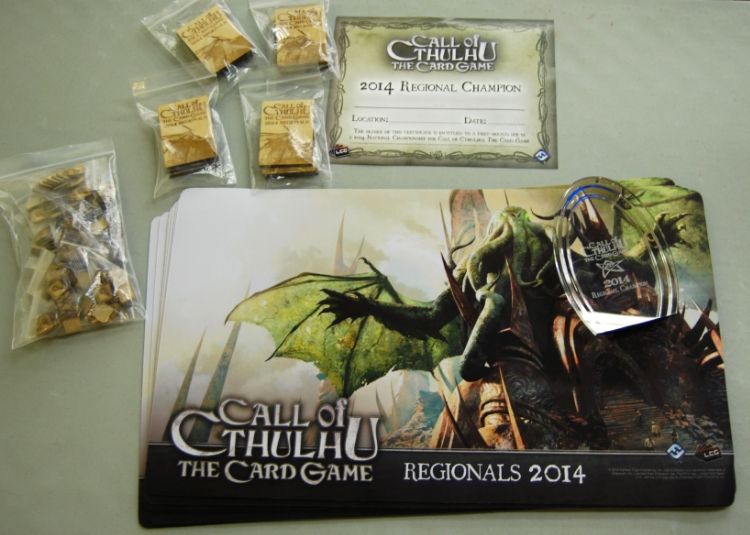 The prizes...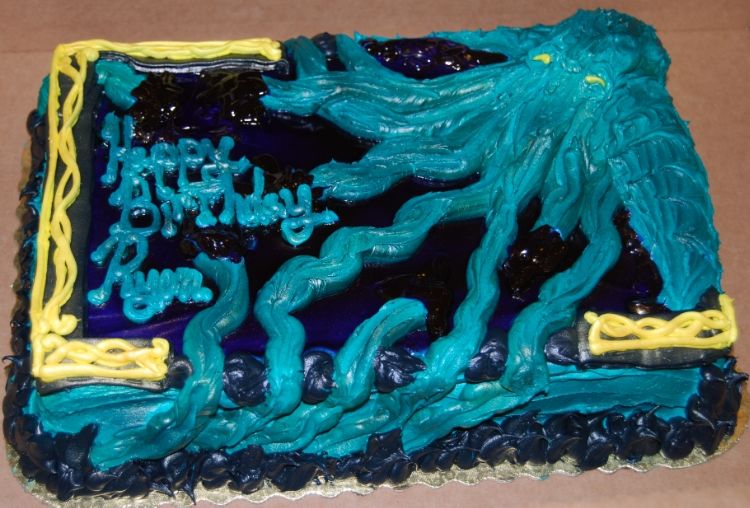 And the cake!

I'll be adding more pics and a report of my deck building, preparation, and matches as the week progresses.

For now, here are the top 8 results after 5 rounds of Swiss (no cut):

1. Gavin 5-0
"Dead Never Die" (Mono-Yog / Interstellar Migration)

2. Ryan 4-1
"Feed Me" (Cthulhu-Yog / Khopesh of the Abyss)

3. Chris L. 4-1
"Monster Mish-Mash" (Cthulhu-Shub / Khopesh of the Abyss)

4. Matt 3-2
"Sleight of Hand" (Hastur-MU / Alternative Historian)

5. Drew 3-2
"Surf n' Turf" (Cthulhu-Shub / Khopesh of the Abyss)

6. Joshua 3-2
"Made Men" (Mono-Syndicate / No Restricted)

7. Nick 3-2
"Rewriting History" (MU-Yog / Alternative Historian)

8. Katherine 2-3
"Moon Over Marin" (Mono-Syndicate / No Restricted)

A breakdown of all the decks:

x3 Cthulhu-Shub
x3 Mono-Syndicate
x3 Mono-Shub
x2 Hastur-MU
x1 Cthulhu-Yog
x1 MU-Yog
x1 Mono-Cthulhu
x1 Mono-Silver Twilight
x1 Mono-Yog

I was surprised at all the mono-faction decks - 9 out of 16. I anticipated a fair amount of mono-Syndicate and practiced against it accordingly (it's a solid build for beginners, made even stronger by the DotU expansion), but I definitely wasn't expecting so much mono-Shub. I shouldn't be surprised though as it's also a great build for newer players due to cost reduction, strong characters, and the all important support card destruction (which turned out to be a good idea with several Khopesh decks floating around).

More to come so stay tuned!