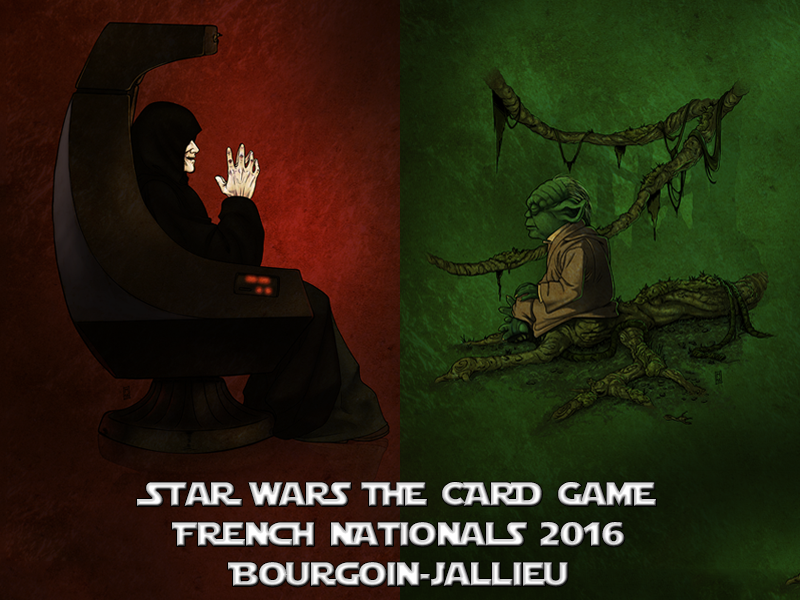 Here's the prizes for French Nationals 2016.
First, the nationals kit from FFG: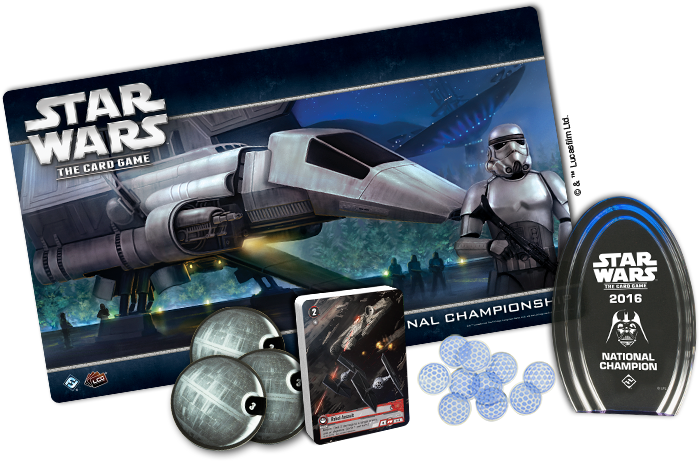 - The french champion will get a trophy and a bye for the first round of world championship, which will take place in November. He'll also have the great honor of representing France and to try to become the first french world champion.
- The top 4 players will get an acrylic death star dial.
- The top 8 players will get a magnificent playmat featuring "The Emperor's Legion".
- The top 16 players will get a set of acrylic shield tokens.
- The top 64 players will get one "Rebel Assault" alternate art card.
"Rebel Assault" alternate art card
Let's continue with our prizes, specially crafted for the event.
The first series has been commissioned to the illustrator Mischiev Delattre.
We asked her to design 4 different illustrations, around 4 iconic Star Wars characters.
We'd like to thank med_freeman and Kalisha Stark for the effects and formatting of the cards.
The first prizes are Force cards featuring the Emperor himself and Grand Master Yoda.
Since they didn't get their Force cards counterparts already, we chose to give a tribute to these great Force users:
Emperor Palpatine and Master Yoda
The next prizes are alternate unit cards, Luke Skywalker and Darth Vader.
About Darth, we wanted to make an alternate of the meanest Force user of all time.
On Luke, even if we love Tony Foti's work (core set's Luke card illustrator), we were thinking of him resembling his younger self, carefree hero from "A New Hope", in white clothes, training with his lightsaber.
Darth Vader and Luke Skywalker
A word about the author:
Mischiev Delattre is an illustrator who worked for several web-series, and has illustrated different board games.
You can find her work here:
http://mischiev.deviantart.com/
We'll now continue with the prizes created by me.
They are cards given to the top and bottom player of a given affiliation.
Let's start with the lightside factions:
Jedi top and bottom cards
Rebels top and bottom cards
Smugglers top and bottom cards
Sith top and bottom cards
Imperial Navy top and bottom cards
Scum and Villainy top and bottom cards
Big ships, revisited.. Light Side


Big ships, revisited.. Dark Side


Come back soon for more )
"Star Wars: the card game" french national championship is sponsored by the following partners: