Welcome to Card Game DB
Register now to gain access to all of our features. Once registered and logged in, you will be able to create topics, post replies to existing threads, give reputation to your fellow members, get your own private messenger, post status updates, manage your profile and so much more. If you already have an account,
login here
- otherwise
create an account
for free today!
Notice!
We have scheduled maintenance windows for the following times:
Monday (5/20/2013) from 2200 EST to Tuesday (5/21/2013) at 0200 EST.
Tuesday (5/21/2013) from 2200 EST to Wednesday (5/22/2013) at 0200 EST.
Estimated Downtime 1-2 Hours total.
Follow cardgamedb on
Facebook
,
Twitter
, or
Google+
to recieve updates when we are down.
Bokrug
Submitted Darksbane , Sep 04 2010 04:48 PM | Last updated Sep 15 2010 01:55 PM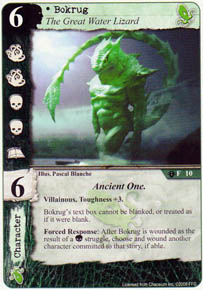 Bokrug

The Great Water Lizard
Type: Character Faction: Cthulhu
Cost: 6 Skill: 6 Icons: (T)(T)(C)(C)(A)
Game Text:
Ancient One
Villainous. Toughness +3.
Bokrug's text box cannot be blanked, or treated as if it were blank.
Forced Response: After Bokrug is wounded as the result of a C struggle, choose and wound another character committed to that story, if able.
Set: AH
Number: 10
Illustrator: Pascal Blanche
Call of Cthulhu: The Card Game, Living Card Game, the Living Card Game logo, Fantasy Flight Games, and the FFG logo are trademarks of Fantasy Flight Publishing, Inc.
Card: Bokrug