Welcome to Card Game DB
Register now to gain access to all of our features. Once registered and logged in, you will be able to create topics, post replies to existing threads, give reputation to your fellow members, get your own private messenger, post status updates, manage your profile and so much more. If you already have an account,
login here
- otherwise
create an account
for free today!
Calphon's Divination
Submitted Guest , -- | Last updated --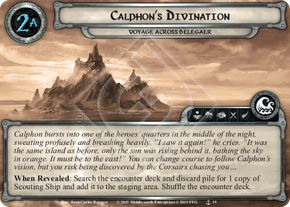 Calphon's Divination
Type: Quest
Encounter Set: Voyage Across Belegaer
Encounter Info:
Quest Points: 4



When Revealed

: Search the encounter deck and discard pile for 1 copy of Scouting Ship and add it to the staging area. Shuffle the encounter deck.



Sailing.
While you are off-course (󲂒, 󲂓, or 󲂔), each

Ship

enemy gains Boarding 1.


When this stage is defeated, if you are on-course (

󲂑

), look at the top 2 stages of the quest deck and advance to one of your choice, placing the other on the bottom of the quest deck. Otherwise, advance to the top stage of the quest deck.



Calphon bursts into one of the heroes' quarters in the middle of the night, sweating profusely and breathing heavily. "I saw it again!" he cries. "It was the same island as before, only the sun was rising behind it, bathing the sky in orange. It must be to the east!" You can change course to follow Calphon's vision, but you risk being discovered by the Corsairs chasing you...
Set: The Grey Havens Number: 19
Quantity: 1
Illustrator: Juan Carlos Barquet
© 2011 Fantasy Flight Publishing, Inc., all rights reserved. No part of this product may be reproduced without specific permission. Middle-earth, The Hobbit, The Lord of the Rings, and the characters, items, events and places therein are trademarks or registered trademarks of The Saul Zaentz Company d/b/a Middle-earth Enterprises. Fantasy Flight Games, Fantasy Flight Supply, and the FFG logo are trademarks of Fantasy Flight Publishing, Inc. All Rights Reserved to their respective owners.
Card: Calphon's Divination