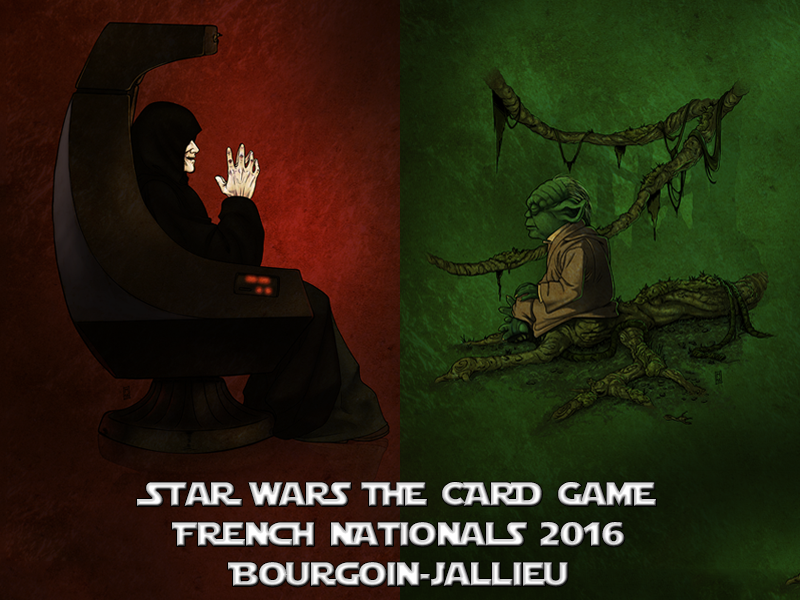 Yoda to Luke: "Do not underestimate the powers of the emperor, or suffer your father's faith you will…"

original url on the french forum


The Rhône-Alpes community (the region where you can find Lyon, Annecy or Vienne) has the great pleasure to invite you to "Star Wars: the card game" french national championship.
This event is hosted in partnership with EDGE (spanish and french distributor), Declik Ludik shop and our senator fourtet comprised of: Maxliger, Htrader, Totofett and Rigcy Beleh (senators in our community are tasked with the organization of tournaments and the recruiting of new players).

Dates:
September 17th / 18th 2016

Location:

La Halle Grenette
Rue de la liberté
38300 Bourgoin-Jallieu
France
Map

"La Halle Grenette" is a venue with 2 stories, with a capacity of more than 300.
Located in a pedestrian zone 10 min on foot from Bourgoin-Jallieu's train station, it also is 5 min away from a big, free car park.
Official venue link

Pictures:






Travel / Accomodation:

You can land at Lyon or Geneva (Swiss) airports on Friday, September 16th.
Provided you tell us soon enough beforehand, we'll come get you at the airport.
Please ask if you need to go back on Sunday and need a drive, since that could prove complicated while running the tournament, so we can organize in advance.
As promised, we'll have free accomodation for approximately 15 people, 8 in a music school with shower, toilets, kitchen, and bunks, and the other at our respective houses / flats.
If some want, we can do a barbecue / party, what you'd like with friends and fellow players (organizers should be really busy before the tourney) on Friday night / Sunday night. A restaurant is booked for saturday already (see below in various informations).

Registration and fee:

We offer 2 registration options:
- 20 euros if not pre-registered on our forum
- 15 euros if pre-registered

Please just post in this topic if you'd like to register.

Tournament regulations and allowed cards list:


Week-end schedule
:
Prizes
:
Side event on sunday
:
Various informations
:
50 registered players
:
Editor Rules
The flight for Worlds will be offered to the first french player, if we reach 48 players.
The bye and trophy will go to the winner.
0 players waiting for confirmation
:
"Star Wars: the card game" french national championship is sponsored by the following partners: