Welcome to Card Game DB
Register now to gain access to all of our features. Once registered and logged in, you will be able to create topics, post replies to existing threads, give reputation to your fellow members, get your own private messenger, post status updates, manage your profile and so much more. If you already have an account,
login here
- otherwise
create an account
for free today!

0
Cyber Exodus Card Reviews
Android: Netrunner
Cyber Exodus
Review
Genesis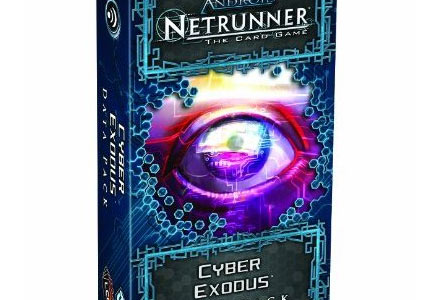 Genesis - Cyber Exodus Review
67% - 267 out of 400
74% - Runner 148 out of 200
60% - Corp 120 out of 200
Our staff has put together a first blush analysis of the newly released data pack Cyber Exodus. We've used a one through five scale; five being the best. The cards are listed in numeric order. Our reviewers are listed in alphabetical order. Let us know in the comments what you think of the cards in this pack.
Runners are going strong, taking all 3 top spots this month and getting an overall much better rating than the Corp this month.
Top 3
Test Run (Cyber Exodus)
19 out of 20
Emergency Shutdown (Cyber Exodus)
18 out of 20
Dinosaurus (Cyber Exodus)
18 out of 20
Bottom 3
Muresh Bodysuit (Cyber Exodus)
5 out of 20
Sunset (Cyber Exodus)
8 out of 20
Marked Accounts (Cyber Exodus)
9 out of 20
[CRB='forums/uploads/an/nerve-agent-cyber-exodus.jpg']
Nerve Agent 16 out of 20
Kennon - 3 out of 5
Medium looks like a great addition to the Anarch arsenal. More virii are always useful ('cause who isn't planning on trying to mill out an entire Corp deck with Noise?) but more importantly, this gives them another very threatening attack vector. With the ability to access more cards in a corp's hand, the much greater your ability to hit an agenda- provided they have one there. This helps put considerable pressure on a Corp to get agendas behind ice fast, be that ice guarding HQ or a remote server, which may well be forcing ice away from other targets. Still, if you make your way through with Whizzard or other Anarch trashing based cards, you can really do a number on the Corp's hand. It's tempting at first glance out of Criminal, but the incentive is already there to protect HQ from Gabriel and others, so why use your influence to drive yourself into going after what's already the most protected server against you?
NuFenix - 3 out of 5
The HQ version of Medium. Having more virus cards to make Noise more threatening is a good thing (for Runners at least), but it feels like it has reached a critical point, and not everything can make it into a deck that you want. This is a good card, as accessing multiple cards is generally strong. However, I personally don't think it is as good as Medium. By accessing R&D, you know what the Corp will get before they do, trash something they wanted before they get a chance to install which may have happened the turn they got it, or both with enough virus tokens on Medium. But with HQ, if it is still there, the question is why? Please say in the comments, if you could only take Medium or Nerve Agent, which would you pick?
Scud - 3 out of 5
Another Virus brings Noise one step closer to viable R&D depletion, but the card itself is just okay. The Corp can't be completely sure how much defense to dedicate to R&D, since, while they know what is left in their deck, they have no idea as to the order of cards. Therefore, if you have Medium, the Corp is probably going to deal with it as if their remaining cards are in the worst possible order. Running on the Corp's hand, however, is less "scary" for the Corp – they know what is in their hand and can make completely informed decsions as to how much to invest in protection. If and when larger Corp decks with greater than base hand size become a thing, Nerve Agent will become more powerful.
Toqtamish - 4 out of 5
This card is great as a threat to the corp. With this allowing you to access 2 or more cards it is a very big threat as you are increasing your odds of finding one or possibly more agendas. If nothing else this card will very quickly make the corp feel the need to purge all virus counters and forcing the corp to lose 3 clicks (for most corps a full turn) is never a bad thing as it sets them back and gives you essentially two turns in a row. Play this with a Grimoire installed and right from the start you will be accessing two cards from HQ. I think this card would be good with Gabriel Santiago as he wants to make at least one successful run on HQ every turn to get the most of his ability and that will probably force the corp in to placing more ice on HQ and leaving other servers less protected. Use a Sneakdoor Beta with this also to get around all of that ice and get his credits and the extra cards you can now access.
[/CRB]
[CRB='forums/uploads/an/joshua-b-cyber-exodus.jpg']
Joshua B. 10 out of 20
Kennon - 2 out of 5
Some folks are awfully excited about Joshua and some are less than impressed, and at the moment, I have to admit that I'm in the latter crowd. You won't be able to get that click until the next turn after you play him, and that will be the only time that it's particularly useful. Since you gain the click at the end of the turn, you won't have the chance to get rid of it before the Corp's turn, meaning that they can trash the resource before you get more use out of it. Unless, of course, you happen to be up against Weyland or NBN decks that would like you to be tagged, in which case, they'll very likely let you keep it. If you're worried about the the tags on latter turns, you'll be spending the extra clicks and creds in order to remove them, so I just don't find it practical unless you're certain that the extra click on that next turn will win you the game.
NuFenix - 2 out of 5
Both the Corp and Runner will always wish they had more clicks. Whilst only HB have the potential with Mandatory Upgrades, all Runners can beat them to it, but at the weighty price of getting a tag at the end of their turn. Even if the Corp has nothing to make the most of the Runner being tagged, with no other Resources out, the Corp can trash Joshua, potentially making him work once. Combining him with Decoy to avoid getting the tag would extend his lifespan, but then hope the Corp wasn't planning to tag you as well.
Scud - 3 out of 5
Paying 3 credits and 2 clicks (1 click and 1 credit for Joshua B. plus 1 click and 2 credits to scrub the tag) to bank a click for a later turn is actually pretty good (you have to assume that you're only getting one extra click, since the Corp will probably trash the card off the tag you get). There are going to be times where you'll want just one extra click (an additional run or a chance to deal with tags after an Account Siphon or Vamp; an additional run after an Emergency Shutdown; an extra click to get through the Hiemdall 1.0 guarding that Remote; scoring a second Notoriety; etc.). You want to make *sure* that whatever you're doing with that extra click is game-changing, though. If you're playing against a Corp (most Jinteki or HB decks, for example) that can't do much outside of trash resources off a tag, then Joshua B. becomes even better. The same goes if you have ways of avoiding the tag (Decoy, for right now) – the more uses you can get out of him, the better Joshua B. is. But dedicating a lot of deck space to making him work more than once is probably counter-productive.
Toqtamish - 3 out of 5
Depending on what you want to do in a turn that extra click could make quite the difference. And depending on which corp your opponent is using that tag could really amount to nothing. I don't know if it something I would use but I know there has been more than a few games where I have said "If I just had one more click..." particularly when using Notoriety and knowing can get it scored by running all 3 central servers but missing something like an icebreaker or credits. If you had that one more click to get whatever you needed and then be able to make those 3 runs successfully and score Notoriety can get you that much closer to winning.
[/CRB]
[CRB='forums/uploads/an/emergency-shutdown-cyber-exodus.jpg']
Emergency Shutdown 18 out of 20
Kennon - 4 out of 5
Provided you can get through on HQ, this is going to help really put the unwary Corp player on their heels. Just last night I watched a Weyland player essentially spend out to rez Hadrian's Wall in front of R&D. Derezzing that ice would have been the nail in his economic coffin for the foreseeable future. Of course, this comes with the standard caveat that a Corp is pretty much always more likely to protect HQ against a Criminal runner. On the other hand, in a Shaper or Anarch build (or Criminals with a timely Sneakdoor Beta) Emergency Shutdown has the potential to be unforseen and backbreaking at an affordable 2 influence.
NuFenix - 5 out of 5
As if Criminals needed more encouragement to run against HQ! Being able to force any piece of ice to de derezzed for no credit cost, and only for the restriction of successfully running against HQ, I can't think of why any a Criminal wouldn't want to use it. With an influence cost of only 2, it is affordable for it to be included with other decks too, even if only a copy or two. Even derezzing a 5 credit piece of ice will hinder the Corp, but 8+ credit ice or even Archer would be a tremendous setback for the Corp.
Scud - 4 out of 5
This is a very good card. It is hardly the death of "big ICE," though. It makes Toolbooth a little less appealing but go ahead, derez my Archer. As long as I hit you with it hard when I rezed it, I'm not all that sad. And, if the chance to bludgeon you with it rolls around again, I'll happily toss another Agenda. You need to run HQ, then play this card. That leaves you two clicks to take immidiate advantage. Against Gabe, the Corp will lock HQ up tight a.s.a.p., so you'll need to spend some resources getting in. Splashed in other runners' decks, you may have a slightly easier time pulling it off. Remember, Emergency Shutdown combos well with Account Siphon/Vamp.
Toqtamish - 5 out of 5
Another very strong card that can have a major impact on the corp especially if used on a piece of ice like Archer or Tollbooth or Janus 1.0. 0 cost event that can potentially force the corp back a very large amount of credits is very powerful. I can see this card being used by a lot of criminals and with only two influence cost in other decks quite easily.
[/CRB]
[CRB='forums/uploads/an/muresh-bodysuit-cyber-exodus.jpg']
Muresh Bodysuit 5 out of 20
Kennon - 1 out of 5
Well, if meat damage was a thing, maybe this would be playable. As it stands, the only one to be worried about is Scorched Earth and there are numerous better ways to deal with that. Perhaps in the future we'll see a need.
NuFenix - 1 out of 5
If meat damage was something that happened often but in small amounts, then I could see some use for this card. But I imagine it may have a similar impact as Net Shield did - non-existent.
Scud - 2 out of 5
Um, this plus Public Sympathy plus a full hand saves you from double Scorched Earth? That's all I've got. However, with Dedicated Response Team from Future Proof (the final Data Pack in the Genesis cycle) spoiled, this may end up being a little more useful, so I'm bumping it a point.
Toqtamish - 1 out of 5
It is a good price which is good but really it is not a great card. Not that Criminals are hurting for great cards but this one is really quite situational where currently the only regular sources of meat damage you see are usually in NBN or Weyland decks. I can certainly see its uses and if you play against an opponent who likes to Scorched Earth you in the face it would be something you want to include but otherwise it is just very limited on what it can do for the runners.
[/CRB]
[CRB='forums/uploads/an/snitch-cyber-exodus.jpg']
Snitch 15 out of 20
Kennon - 4 out of 5
Between Sneakdoor Beta and Snitch, Criminal runners are going to be hurting for memory as they try to juggle these amazing programs with the need for actual icebreakers. Still, Snitch is worth it. Being able to repeatedly scout out potentially nasty situations is extremely valuable to the runner. Snitch puts a large chunk of the balance of knowledge in the Runner's hands where it normally wouldn't be and Criminals are flexible enough to abuse that. On the other hand, Shapers come up with extra memory a little bit more readily, and at 2 influence, Snitch is not unreasonable to splash. If I was looking at a more early to midgame focused Shaper deck, I would sure think about this.
NuFenix - 4 out of 5
It has been said before by my fellow contributors, and it will continue to be said - Knowledge is power. And once again, the Criminals add a new toy to their box of snooping. How often has a Runner gone into a server, with ideas of what ice is in the way, but running mainly to force the Corp to reveal it at the cost of credits?Now they can see if the piece of ice before them is something they can cope with and keep running past, or jack out before the Corp has a chance to rez it.
Scud - 3 out of 5
Snitch is a great card depending on your play style. If you are a cautious runner that wants to try being a bit more aggressive, Snitch is your girl. If, like me, you think it's better to be lucky than be good, Snitch will probably just make you angry when you draw it instead of an Account Siphon or something. Right now, this feels like a big investment for keeping yourself safe from, basically, four cards (Rototurret, Ichi 1.0, Janus 1.0, and, of course, Archer) that you can ready yourself for just as easily by Special Ordering or Test Running your Killer.
Toqtamish - 4 out of 5
Speaking of powerful Criminal cards, here's a Snitch. Being able to see that piece of ice and then jack out before encountering it can be very useful if it ends up being a piece of ice you either cannot break or want to avoid for whatever reason based on its subroutines. It is only once per run but if you make multiple runs you can use this program several times a turn to get you a better view of what the corp has in store for you.
[/CRB]
[CRB='forums/uploads/an/chaos-theory-cyber-exodus.jpg']
Chaos Theory 17 out of 20
Kennon - 4 out of 5
An even tighter deck for the Runner means that they're even more likely to draw the pieces they need to force their way through, since they don't have the incentive to purposefully dilute their deck that Corps have. Extra memory is also just the sort of thing that I love in order to set up my own killer rig. One of the most interesting things that I haven't heard much comment about yet is that Chaos Theory still sports the full 15 influnce points. I really expected a 40 card Runner to drop to 10 influence. With a smaller deck and more memory making it even easier to get to and use cross faction cards, I expect Chaos Theory to be the go to Runner for whatever combo decks may form.
NuFenix - 4 out of 5
She is not a 5 to me, as in my mind means she should always be chosen over Kate, which is not true. But she is also not worse than Kate, but a viable alternative. The most alluring aspect of her identity is that she allows a deck of only 40 cards. The loss of Link compared with Kate varies depending on if the Corp is using many traces. But With Rabbit Hole to give her Link and reduce the deck even more to make it as lean as possible, this can be mitigated. The built in +1 MU means that a full suit of icebreakers allows her room for something like Magnum Opus for economy, or Sneakdoor Beta to force the Corp to spread their ice thin.
Scud - 4 out of 5
The hype is deserved. Chaos Theory plays quite a bit differently than Kate but has very interesting strengths. Her lower deck size allows you to get your rig up insanely fast, pack a lot of one-of tricks into your deck and see them, and/or build into combos (if that's your thing) much more easily. The trickiest thing about building a Chaos Theory deck is to ensure that you have enough economy to hold you over in those few games where you don't get an early Magnum Opus, but not too much that it starts to clog you up if everything fires off well. All in all, that's not a terrible problem to have.
Toqtamish - 5 out of 5
I have been waiting for her to come out since she was previewed. I was really looking forward to seeing the implementation of changing the minimum deck sizes in this game and it was a long three months waiting for her. Needless to say, I love her. I really like the idea of Shaper having a speedier deck to get their rig built. The extra +1 MU in Shaper is handy in that it lets you install one of each icebreaker and Magnum Opus and also help you to save deck space from extra memory cards. It also helps you to be able to find your answers in your deck easier for those times you don't have a Test Run in your hand to use. I see a lot of potential in her. She can be run aggressively and win very quickly as I discovered in games I have used her.
[/CRB]
[CRB='forums/uploads/an/test-run-cyber-exodus.jpg']
Test Run 19 out of 20
Kennon - 5 out of 5
Now Test Run is a card that I can really get behind. In a game where not having the correct answer can lead to your imminent downfall as quickly as Netrunner, I feel that search effects are at a premium. Test Run knocks it out of the park by being that much more flexible than even the already great Special Order. Not only does it get you that Magnum Opus, Djinn or other non icebreaker program that you need, but can even do so out of your heap if it's been trashed for some reason. Getting the temporary install is great for surprise runs when the Corp thinks you don't have the necessary breaker and having to redraw and play the program is of minimal concern of you either want to A- abuse Noise's ability or B abuse Femme Fatale's ability.
NuFenix - 5 out of 5
To me this feels like Special Order's bigger brother. Sure at the end of the turn the program goes from being in play to the top of stack, forcing you to draw it again. But you now know exactly where that card is, so spending a click to draw won't be a random card. Being able to get a card from your stack or heap means if a key program has been trashed, it has a second chance. The fact that it is not limited to icebreakers but programs on the whole, means the scope of what you can do is greater. Grab a copy of Imp, make a run, trash a card using Imp, and then when you play it again in a later turn, you still have both virus tokens. Criminals are more likely to stick with Special Order, and Anarchs may use a copy or two, but 3 influence a go when there are many other cards they can use makes it hard to fit.
Scud - 4 out of 5
Test Run is a "trick" first and a tutor second. It is great if you know what 'breaker you need. You can grab it, make a few runs, and then poof, back to your deck it goes. If you play it strictly as a tutor, then it shines for being able to find Magnum Opus, but otherwise you're better off with Special Order. However, this really isn't a ding on the card, more on the way I've seen it played so far. Test Run wants to be in a deck that runs aggressively. You want to need something specific before you play a Test Run. Simply playing it to find a piece of your rig in a vaccuum is wasting the card's potential.
Toqtamish - 5 out of 5
This card is amazing I have been testing it for a few weeks now since it was previewed in full by FFG and it is very effective. The ability to pull out any icebreaker when you need it has been a great boon for the runners right since the core set with Special Delivery and this card improves upon that by allowing you to install it right away. Now granted it does go away at the end of your turn but it only goes to the top of your deck so you know you will have it again next turn and then have to pay for its full installation cost. However used with a card like Femme Fatale, even if only for the turn it is used with Test Run can certainly help you get around a particularly troublesome piece of ice using Femme Fatales ability. And then if you play it again next turn you can pick a different card to target with her ability.
[/CRB]
[CRB='forums/uploads/an/dinosaurus-cyber-exodus.jpg']
Dinosaurus 18 out of 20
Kennon - 4 out of 5
A cheap and very effective alternative to Tollbox. I'm looking forward to the considerably lower outlay on resources. Especially with the strength boost, I think Dinosaur plays to a more aggressive Shaper build than I usually see by saving them quite a bit of creds as they set up their rig so that they an start running earlier.
NuFenix - 4 out of 5
Having an alternative to Toolbox for Shapers without having to use influence for an out of faction console expands the options for Shapers, which they need with the hefty price of 9 credits for Toolbox. Giving the hosted icebreaker +2 strength does seem like a punch in the face for Helpful AI, with them both belonging to Shapers. My main criticism of it is that because it hosts a non-AI icebreaker and not just grant a MU bonus, it could lead to the Runner holding back playing an icebreaker until they see Dinosaurus. With their mostly fixed strength icebreakers, I could see this being a viable console for Whizzard (Noise would implant Grimoire if he could!), which I may test at some point.
Scud - 5 out of 5
Dinosaurus is really the perfect console for Chaos Theory. He combines a couple of attributes that CT can then not worry about cluttering up her deck with: added Icebreaker strength and de facto +MU. Yeah, he doesn't offer any fancy tricks like Desperado or Grimoire, but in a deck whose main goal is a quickly-built and easy to run rig, Dinosaurus kinda rules. At 2 Influence, I think we'll see Dinosaurus get splashed into some Anarch builds. The +2 Strength to the hosted Icebreaker is awesome, making Yogosaurus (or Morningstarosaurus) a force to be reckoned with. (Mimicosaurus not so much, since Sentries are the most likely type of ICE to get pumped up by a Corporate Troubleshooter and smashed directly into your face.)
Toqtamish - 5 out of 5
I was blown away when I first saw this card. Not only is it a dinosaur console (who doesn't like dinosaurs?) but it is also very powerful in it's own right. The ability to give any icebreaker a permanent +2 strength boost is very handy. It certainly needs to be used correctly but once you have a good view of your opponents ice it should make it easier to decide which of your icebreakers to give the boost to. Now some might think it's cost of 5 is expensive but it is certainly cheaper than Shapers only other current console and most of that cost is taken care of with a copy of Modded. Dinosaurus works good in both Shapers I feel. It's at the most a 4 cost console for Kate and as low as 1 cost and continues to save Chaos Theory on memory allowing her to make the most out of her +1 MU.
[/CRB]
[CRB='forums/uploads/an/personal-workshop-cyber-exodus.jpg']
Personal Workshop 17 out of 20
Kennon - 3 out of 5
Ah, layaway, so good to see you rear your head here in the Netrunner world. Personal Workshop lets you set something back and make installment payments until you've paid it off, but it seems impractical to me compared to just clicking until you have enough creds to play it normally. That is, of course, unless you can come up with some other shenanigans like using Stimhack credits to pay off whatever expensive beasty you have on layaway. I'm not sold on blowing a card and taking a brain damage (effectively 2 cards) in order to get the creds to play something like Morning Star or Femme Fatale, but enough other players here are excited about it that I'm not willing to write it off completely.
NuFenix - 4 out of 5
An alternative means for Shapers to support their economy, at the price of waiting for the card to turn up. Being able to have multiple cards hosted on here (as it doesn't state any limit), and then bring out the cards you by slowly waiting for them, or spending credits for getting the cards when you need them, gives flexibility. I do like how it works for both programs and hardware, so they can be protected against any damage you are expecting to suffer, but can't afford to put into play. However, it does seem to encourage Shapers to play slowly, which they already do. A ruling from FFG will be needed of what happens if you have a console installed, and all the counters are removed from another console on here? Or a parasite with no rezzed ice in play?
Scud - 5 out of 5
Buh. I mean, seriously. Buh. Sure, Personal Workshop goes well with a deck that is looking for alternate economy in order to play expensive programs/hardware. But the really awesome thing about this card is how it allows you to pack a lot of answers but only pay for the ones you need when you need them. This is what makes the card a decent fit for Chaos Theory, letting her host different icebreakers but only requiring her to have the economy for the right ones in the moment, which, in turn, lets her run early and still build her rig quickly. Yes, there are risks to loading up your Personal Workshop with a bunch of different programs (namely a single tag can send large chunks of your rig into the Heap) *but*, especially in the early game, it's nice to be able to host your icebreakers on it prior to running, then only install the one(s) you need to get through the early ICE. Later in the game, Stimhack shenniganery and Femme Fatale on-demand silliness make for some fun and hard to counter tricks. Oh, yeah, and it isn't Unique, so you could have a couple out, working on different programs. Just saying...
Toqtamish - 5 out of 5
Even if you only use it for one turn that is still saving you a credit every turn for installing something, just like Kate's ability does. And this with Kate would get you two discounted cards every turn, install something with her ability first and then complete the payments for whatever card you have hosted on Personal Workshop. This card can also be helpful for if you have more cards in your hand than your current hand size, install a card on Personal Workshop and it will help you avoid having to discard down. That being said be careful of avoiding tags when you have something installed here as it is really a no brainer for the corp to use their action to discard a resource as it lets them trash two cards for one when you are hosting a card at the workshop.
[/CRB]
[CRB='forums/uploads/an/public-sympathy-cyber-exodus.jpg']
Public Sympathy 13 out of 20
Kennon - 2 out of 5
Maximum hand size increase is essentially gaining life in Netrunner, which appears to be a rare thing, but how useful will this really be? With one on the board, an opponent can still double Scorched Earth you for the game, even if your hand is full. Sure, you could have multiple Public Sympathies out but then you've spent all that time drawing to get them and the 2 creds each. Conveniently, 2 creds is also what it costs to ditch a tag, thus preventing Scorched Earth (unless you're just loaded down with tags). As well, Public Sympathy just doesn't really do anything on its own since it doesn't draw two cards to go along with that extra size. If I have to click to get the cards to reach that new hand size, I could as easily draw after actually having the damage dealt to me. Overall, I just find it to be really inefficient.
NuFenix - 4 out of 5
Whilst flatlining stays as a reliable means for the Corp to win, having more ways for the Runner to stay alive is a good thing. But a means to prevent damage become dead cards if the Corp aren't using them, being able to keep more cards in hand when you aren't using them as fast as you are getting (as can happen with Wyldside) keeps the Runner's options open. Whilst it can be trashed if the Runner is tagged, as they won't check their hand size until the end of their turn, they still have time to use the excess cards in their hand.
Scud - 3 out of 5
Um, this plus Muresh Bodysuit plus a full hand saves you from double Scorched Earth? Also, this may be a zero Influence-cost answer to playing Wyldside without Aesop's because at least you don't have to toss as many cards. Also also, people are going to be trying out Jinteki builds for a while and more cards makes Net damage less painful. Boom, two extra points.
Toqtamish 4 out of 5
This card can really help out the runners from losing the game to Jinteki or Scorched Earth and having more cards in your hand is never a bad thing as you then have more answers for the situations as they come up in the game. It is a good cost and not unique or anything so can stack up to give you a very large hand making it harder for those corp decks that are looking to flatline you.
[/CRB]
[CRB='forums/uploads/an/project-vitruvius-cyber-exodus.jpg']
Project Vitruvius 17 out of 20
Kennon - 4 out of 5
Being a 3/2 agenda for HB is what sells to for me. Sure, there's potential here to do some really cool stuff by returning cards that you'd like to use over an over, but I'm not as interested in the that at the moment. What seems really interesting is that HB now has another option (along with Accelerated Beta Test) for an agenda that they can install and score on the same turn using Biotic Labor. I'm going to enjoy that.
NuFenix - 5 out of 5
An alternative to, or even means of supporting Accelerated Beta Test, Project Vitruvius gives HB another way of recovering cards from archives, lessening the desire to use Archived Memories. Whilst arguably not as strong as Project Atlas, if the card you need is in archives, it means the deck stays the same size, which could make a difference if mill becomes a viable strategy.
Scud - 5 out of 5
Project Atlas lets Weyland get the card they want when they want it. Project Vitruvius lets HB use the cards they want a couple extra times. With enough money, an HB deck with a Project Vitruvius loaded with a few counters can pull off some really fun stuff. I mean, HB could splash a single Scorched Earth and use it twice. Or three times. Or four. And that's just the pie-in-the-sky application – there are a lot of cards that would be nice to play multiple times, back-to-back. Oh, yeah, and having a loaded Project Vitruvius against Noise is kinda funny.
Toqtamish - 3 out of 5
I can certainly see the appeal of being able to pull stuff out of the archives especially if Noise has trashed a card you want in your hand or you have used and drawn all your copies of a card that you need right now. But the problem with the extra advancement agendas is can you afford the time and credits it takes to really make them useful. And that really depends on how the runner is playing and making their runs. I just right now do not see the advantage of these extra tokens over simply scoring an agenda and then putting in another to keep making your way towards 7 points. Now if you have a scored Mandatory Upgrades this card could be advanced and scored for 4 all in one turn (after installing it last turn) and will get you the points and the Hosted counter all in one turn before the runner can even attempt to steal it from you.
[/CRB]
[CRB='forums/uploads/an/viper-cyber-exodus.jpg']
Viper 13 out of 20
Kennon - 3 out of 5
I'm going middle of the road here because having a high strength than rez cost is quite good, as are two subroutines. That said, the usefulness of these traces are going to depend quite a bit on the prevalence of link boosting in your meta. At least it's not another HB ice that the runner can click to break, so there is that, although the subroutines remain conditional.
NuFenix - 3 out of 5
As a strength 4 code gate, it means that Yog.0 is unable to break it without help, Gordian Blade requires 4 credits for both subroutines, Peacock requires 6 credits, and Zu.13 requires 5 credits. However, because of the subroutines require a trace to succeed to do anything, and at 3 it means that a high Link Runner may be able to shrug them off, and a low Link Runner has to decide if it is more cost effective to pay to resist the trace than it is to break them. With an influence cost of only 1, it could easily find a home in a core identity NBN deck, but otherwise may be a meta choice based on how many cards Runners use to increase their Link.
Scud - 3 out of 5
Depending on your meta, Viper either beats the pants off Enigma or it looks terrible in comparison. Lots of Link makes Enigma better. If the local Runners pack little to no link, then give me Viper every time. This also makes Runners have to take possibly needing to beat a trace into account when playing a Corp that until now has had a dearth of Traces (at least, Traces that can't be broken with a click). Being out of unaided Yog range is nice, too. At a single pip of Influence, NBN will probably want to give this slippery little guy a try.
Toqtamish - 4 out of 5
HB never suffers for a lack of credits so they could quite easily make use of the traces on this card. Also it is a strength 4 code gate for only 3 credits so is a good investment and will help you to end the run. It doesn't suffer from the break with clicks of most other HB ice and is an in faction end the run ice for them. With only one influence this card would also work really good for NBN who get their free credits to use with the traces. This cycle has been very strong with increasing the number of traces and that is likely going to eventually result in runners increasing their link to help them combat traces but again in a HB deck with their abundance of credits they can probably afford to outspend the runner ensuring the trace attempts are successful.
[/CRB]
[CRB='forums/uploads/an/edge-of-world-cyber-exodus.jpg']
Edge of World 16 out of 20
Kennon - 4 out of 5
What a sweet new Ambush. The biggest downside that I'm seeing is that it's just not going to be practical for me to run all of them in a single deck. Ok, ok, so maybe having a wider variety of ambushes is the better way to go, as the runner is that much less likely to know which trick you have up your sleeve or whether it really is an agenda there waiting to be scored. The interesting part about Edge of World is going to be the bluffing aspect. Since it deals damage based on the ice protecting that server, you're going to want a couple pieces (three perhaps?) in order to give that "protected but not impenetrable" appearance to the runner, but you'll also need to convince them that the ambush is actually an agenda, which will be trickier without the ability to advance this one. Timing is going to be everything.
NuFenix - 4 out of 5
Jinteki turn up with a new ambush asset, whilst not as versatile as Snare, not requiring advancement tokens unlike Project Junebug means the Runner can't run against an unadvanced card, hoping to either score an agenda whilst the Corp was testing them to see what it is. Even with only two pieces of ice in front of it, brain damage will make it easier to flatline the Runner by making it harder for them to keep a larger hand.
Scud - 4 out of 5
When you see Edge of World, you immediately get visions of the Runner plowing through 6 pieces of ICE before falling out of existence. However, getting the Runner to run through 3+ pieces of ICE on an unadvanced card is a lot harder than just installing the card and hoping. The Jinteki builds I'm seeing tend toward lighter ICE, which is actually probably a better match for Edge of World. 2 or 3 Brain damage from a couple of Edge of Worlds makes the threat of surprise Net damage (Jinteki's stock in trade) a whole lot scarier. Edge of World combos better with Personal Evolution than Replicating Perfection for that reason.
Toqtamish - 4 out of 5
Jinteki has been getting more and more appealing this cycle and this card continues with that. Another ambush asset to punish the runner for daring to hack your servers. You would want to build up the server this is in but not too much as you want the runner to access the card and even 1 or 2 brain damage will then make it even easier for Jinteki to deal enough net damage so as to be fatal to the runner. There is currently no way to "fix" brain damage so it is very powerful. The downside of this card is the fact that you cannot advance it so if playing a cautious runner this card might end up being a waste if they never fall for your trap.
[/CRB]
[CRB='forums/uploads/an/sunset-cyber-exodus.jpg']
Sunset 8 out of 20
Kennon - 2 out of 5
Are the situations where I can see rearranging my ice to be useful? Sure. They generally involve things like Chum, Sensei or Matrix Analyzer, but I still don't think that Sunset is going to be worth including right now.
NuFenix - 2 out of 5
Does anyone else find they want to change the order of the ice in their servers? This card may be useful in niche situations, which is why I don't want to give it a 1. But even if it was neutral instead of a meagre 1 influence, I don't think it would be a common card.
Scud - 2 out of 5
Huge for certain Jinteki builds. Outside of that, though, this is an incredibly niche card. Sure, there are times that I wish I could rearrange the ICE on a server when playing my HB deck, but not often enough to spend even 1 pip of Influence.
Toqtamish - 2 out of 5
I can certainly see the use for this card so I did not rate it superlow but at the same time a smart corp player would be sure to arrange their ice in the way they want to in the first place. Jinteki requires thought when laying down ice to ensure you get the most from your Sensei and Chum. So while I can see how this could be useful you should really never allow yourself to be in the situation where you would need to use this card and so are better off leaving it and saving room in your deck for other cards.
[/CRB]
[CRB='forums/uploads/an/marked-accounts-cyber-exodus.jpg']
Marked Accounts 9 out of 20
Kennon - 3 out of 5
Seeing some more Corp economy in this pack is a huge boost considering the options that have been available so far. Marked Accounts isn't going to be the most efficient option for your credit needs considering the occasional influx of clicks that you'll need to spend. Another knock against it is the delay on not getting creds until the next turn. Still in a meta with a good Whizzard presence like mine right now, the higher trash cost of 5 that we see here means that the Whizzard player will actually have to dip into their real credit pool to torch it. Against non-Whizzard players, I don't see this being trashed until the rather late game as 5 credits is a pretty hefty investment.
NuFenix - 2 out of 5
NBN receives their own variation of PAD Campaign. A means to get a free credit at the start of every turn. No rez cost compared to 2 credits from Pad Campaign, and 1 more credit to trash. However, clicks are required to load it up, whilst PAD Campaign is the gift that keeps on giving. At first I liked the idea of the card, but the more I thought about it, I questioned what would make me choose it to support my economy.
Scud - 3 out of 5
I just don't think this card is as bad as everyone makes it out to be. Yes, PAD Campaign is almost as hard to trash and doesn't require a click to load. When you take PAD's rez cost into account, then the fairer estimation is to a twice-clicked Marked Accounts (you need two credits on hand to rez PAD, which roughly equates to two clicks). If your PAD lasts 6 turns, it's "better." Spending one click every three turns or so to basically get an extra click for the next three turns (one dedicated to getting you a credit) isn't bad, though. Trash cost of 5 is pretty high – take a second and think about what situation you'd need to be in as the Runner to dedicate 5 credits to getting rid of it. Outside of Whizzard, that's a tough call. And the nice thing is you can run both PAD and Marked Accounts for high trash cost economy in a horizontal deck.
Toqtamish - 1 out of 5
The fact that you need to load this with credits yourself before being able to use it really makes this not a good card. You couldn't even rez it at the end of the runners turn to get its benefit at the start of your turn as it would have 0 credits on it until you spend the click to deposit some credits.
[/CRB]
[CRB='forums/uploads/an/pop-up-window-cyber-exodus.jpg']
Pop-up Window 15 out of 20
Kennon- 4 out of 5
Hahaha, the flavor on this one is a homerun as I remember the glory days of the pop-up window. The most intriguing thing to me about this is that it's an econ card that the Runner can't trash barring some pretty specific Imp pulls at the moment. That puts them in the tough place of either helping you out by giving you a steady income or looking to run elsewhere. Either of which, the savvy Corp player can take advantage of.
NuFenix - 4 out of 5
Free credits for the Runner encountering it for 1 influence and no rez cost is very nice. Having it where the Runner effectively breaks it by spending a credit does make it easy to walk past. But stick it behind Chum, and now they can't risk letting the subroutine happen. As an outer piece of ice, to help protect important ice from Inside Job, I see this being a useful ice overall.
Scud - 4 out of 5
Free passive economy is great. Try stacking multiples in front of a high-trash cost economic Asset. Oh, the hilarity! Pop-Up Window isn't going to ETR, but it *can* net you some serious cash over the course of a game.
Toqtamish - 3 out of 5
It is 0 strength so more often than not the subroutine will just go off as it is probably cheaper for the runner to do so. Its a front loaded piece of ice much like Data Raven so it does provide a benefit whether the runner wants it to or not and nets you a free credit just for them encountering it. Put it out front and that 1 credit could help you with the ice behind it and it is going to cost the runner credits to pass this card whether they break the subroutine or let it go off and forcing the runner to spend money early in a run is never a bad thing.
I do like the flavor of the ice as it is annoying much like those pop-up windows we all encounter.
[/CRB]
[CRB='forums/uploads/an/woodcutter-cyber-exodus.jpg']
Woodcutter 10 out of 20
Kennon - 3 out of 5
This one gets a tentative middle of the road rating until I've had time to test it out fully. There's the chance that I might find out it doesn't work very well and move it down to 2 or I might love it in move it up to 4. Of course, best case scenario mentality leads one to visions of flatlining a runner with a single Woodcutter. While that sounds awesome, I doubt it's likely to happen. Still, the awesome thing about Woodcutter is that once you are able to advance it (and boy does it suck to not be able to do so before it's rezzed) you're adding entire subroutines to it instead of just upping the damage of a single subroutine. Even if they have the right Ice to break it, having to individually break a ton of net damage subroutines will be a huge drain. Unless of course they choose to take it, in which case, they're likely to need to spend several clicks to stock back up.
NuFenix - 3 out of 5
It seems strange seeing a Weyland card with net damage instead of meat damage. Regardless, the fact that unless the card is rezzed before the Runner encounters it, using cards such as (but not inclusive to) Amazon Industrial Zone, Forged Activation Orders or Priority Requisition, then when this is rezzed against the Runner during a run, they will walk past it as it has no subroutines. Once it gets some advancement counters, it can start to threaten the Runner. But is the time and resources advancing it worth the cost? To me, no. This is a card that may get trialed, but won't ever be a first pick ice.
Scud - 2 out of 5
Oh, how I want this to be as awesome as it is in my head. However, the hoops you have to go through just to get the thing started don't seem to be worth it. You need a long game or a deck with a focus on getting your Woodcutter nice and deadly to really make it shine. And even if you do get it all jacked up with advancement tokens, it's 2 Strength makes it easy Parasite food.
Toqtamish - 2 out of 5
Okay I do like the fact that you can give this as many subroutines as you want to give it thus creating a very powerful protector for a server but the fact that you cannot use it until it is rezzed makes it less useful if even at all. Also there is a card coming up in the next data pack called Deus Ex for Shaper that lets them break as many AP subroutines as they want to by trashing the program. So you might have a 5 subroutines Woodcutter out, I played and then trashed my copy of Deux Ex and run right on by. So while this card could be useful I think it will not last as an option in the long run. It would however create a good target to use in conjunction with the previous card as this is card you would likely put several advancement tokens on and then play Commercialization to get those credits used back plus your bonus.
[/CRB]
[CRB='forums/uploads/an/commercialization-cyber-exodus.jpg']
Commercialization 11 out of 20
Kennon - 3 out of 5
I've been itching to get some more transaction operations for my favorite faction, and Commercialization is an interesting option that's sure to help boost Weyland's economy. Being able to recoup your investment as well as a slight profit suddenly makes advancing some of those cheaper Weyland ice look like a much better plan in order to forge a strong defense and then score a bunch of creds to use on your next big project.
NuFenix - 2 out of 5
Finally, a new Operation to make the core Weyland ability useful. However, it is very niche. Personally, I don't recall seeing a piece of ice go beyond two, maybe three advancement tokens. So whilst it returns the credits used to advance the ice, clicks were still used to advance them, and play this card. If it was not limited to ice, it would be amazing (and possibly too good), but at least then it may be popular.
Scud - 3 out of 5
Emergency Shutdown got you down in the dumps, Mr. Corporation Guy? Don't sweat it, just use some of that there affordable advancable ICE. Those advancement tokens don't disappear when the ICE derezes AND you can put 'em to work for you. The first Commercialization nets you 1 more than you spent advancing the ICE. The next two give you a much larger return. I expect to see highly advanced Ice Walls in all sorts of Corp decks for the next little while.
Toqtamish - 3 out of 5
An easy credit generator for Weyland. Would net them 2+ credits just from playing it as it would combine with their original identity from the core set. Weyland has no shortage of ice that they can advance and this just gives them an extra benefit from doing so and helps them to get back the credits they spent on advancing that card plus one.
[/CRB]
[CRB='forums/uploads/an/private-contracts-cyber-exodus.jpg']
Private Contracts 10 out of 20
Kennon - 3 out of 5
This is another card that I'm quite happy to see. In the trash happy meta that I play in right now, it can be quite difficult for a Corp to keep some credit previding cards on the board. Upping the trash cost to 5 is a pretty significant investment (or perhaps anti-investment?) for the Runner to make, even if they're playing Whizzard. The return on it is respectable, if not amazing, by being virtually the same as the stalwart Armitage Codebusting.
NuFenix - 2 out of 5
The Corp gets their version of Armitage Codebusting. The problem is, it competes with Adonis Campaign, PAD Campaign and Melange Mining Corp for asset based credit gain. Whilst it has 14 credits; 7 of them you would have earnt from the same number of clicks, an extra click was needed to install it, and 3 credits were needed to pay for it. So assuming you got it during the draw phase and didn't spend a click to draw into it, you have made 3 credit profit. All that work, and the Runner could trash it by running against it, whilst you can't deal with their Armitage without them having tags.
Scud - 3 out of 5
Oh noes, that pesky Runner is coming at me with an Account Siphon and/or Vamp! They are going to get all my monies! Wait. I'll just rez the Private Contracts over in that there Remote Server and "save" some of my money that way! Great idea, me! Seriously, though, the Corp has one less action per turn than the Runner. That means that any gain in economic efficiency is a good gain in economic efficiency. Its high trash cost will keep it safe against possibly even Whizzard. There's something to be said for the Corp being able to get 6 credits in one turn, especially after, say, your Tollbooth has experienced an Emergency Shutdown...
Toqtamish - 2 out of 5
Corp has lots of other credit generators right now so this might not end up seeing use. I really don't see this as being as good a card as Pad Campaign or Melange Mining. It does have a very high trash cost so it is unlikely this card will be trashed by the runner other than perhaps by Whizzard which can be an advantage if you play against a really good trash deck which I have seen used. Otherwise it just seems corp already has better economy builder cards and I do not see this replacing any of them from the core set.
[/CRB]
[CRB='forums/uploads/an/chimera-cyber-exodus.jpg']
Chimera 11 out of 20
Kennon - 4 out of 5
I may be in the minority here, but I really like this card. This provides huge early game flexibility to the Corp by becoming whatever obstacle a runner is likely to trip right over. Shutting out a runner completely from a server until they have icebreakers of all three types is an ability that I'm gladly willing to pay 2 for repeatedly. Of course, this repeated drain puts a greater emphasis on my own credit providing cards, but the nice thing is that until they get an entire rig set up, I don't need to worry about rezzing any other ice on this server. Plus, in the late game it can always be overwritten; something that I think isn't done often enough in the game right now.
NuFenix - 2 out of 5
I like the idea of this for early game, when the Runner is lacking the holy trinity of breakers. However, having to derez it the end of the turn means the Runner only has to worry about it once, as until they can break it, they will avoid the server. However, the same would happen against any piece of ice that the Runner can't get past. Combining it with Akitaro Watanabe so it is free may help, but as he is unique that limits the potential for it.
Scud - 3 out of 5
Awesome early game ICE that goes away once the Runner has her full 'breaker suite up and running. Yes, it costs 2 credits every time you need it. Luckily, you're not forced to rez it every time the Runner hits it. Put it on HQ, where you can make solid decisions about when you need to stop the Runner and when you can let them through. Chimera is also good with another piece of ICE or two in front of it. Not all 'breakers were created equal and there will be times when having a Code Gate instead of a Sentry will make it impossible for the Runner to get in (and try raising Chimera's strength with, say, an Experiential Data or two).
Toqtamish - 2 out of 5
Great in the early game when the runner has yet to get their rig fully setup. However the fact that you need to pay to rez it every single time means that eventually you will be trashing this to install a different piece of ice and save yourself some credits. Personally I would rather have a piece of ice that will not become useless as they game moves on.
[/CRB]
Article: Cyber Exodus Card Reviews