Welcome to Card Game DB
Register now to gain access to all of our features. Once registered and logged in, you will be able to create topics, post replies to existing threads, give reputation to your fellow members, get your own private messenger, post status updates, manage your profile and so much more. If you already have an account,
login here
- otherwise
create an account
for free today!

0
Tech Talk - Spinal Modem
Android: Netrunner
Tech Talk
Scud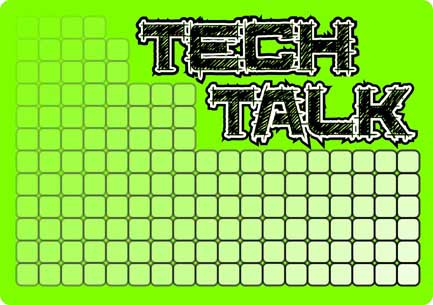 Tech Talk comes to you each week with a discussion of a single card - how to use it, why to use it, and what to do when it's used against you. This week, we take a look at Anarch's newest console,
Spinal Modem (What Lies Ahead)
.
DOCUMENTATION:
What Lies Ahead brought us a new Anarch ID, Whizzard, a stout (which is gamer lingo for tubby) fellow who doesn't care about Viruses like good old Noise but instead seems rather fond of trashing the Corp's Assets and Upgrades. Many players are focusing on the specifics of his ability and trying to build around it. Tech Talk likes to think of Whizzard's ability in more abstract terms - it is an economic advantage, similar to Gabriel's or Kate's. So, instead of focusing on trashing cards, maybe Whizzard decks should focus on more traditional "build a rig and run" style.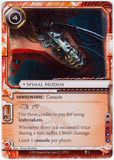 That's where Spinal Modem comes in. Like Kate's Toolbox, it gives you two recurring credits to use for powering icebreakers. It only gives you +1MU, but if you aren't going to focus on Viruses, then 5MU should do the trick. Also, let us not pretend that Trace Amount, with its sexy Dyson Mem Chip, isn't out yet. Not only does the Dyson Mem Chip let Whizzard pack more programs, it helps him combat Spinal Modem's drawback, that pesky brain-damage-from-successful-traces-during-a-run thing.
Spinal Modem is the console of choice for the stronger-economy Anarch that is slowly being revealed in the Genesis cycle. Liberated Accounts, Vamp, Morning Star - all these cards are aimed at a well-funded, chaos-minded Runner.
INSTALLATION:
The brain damage clause may make you want to wait until the mid- or late-game to drop Spinal Modem, especially if you take everything Tech Talk says as gospel (as you probably should), since we're always telling you that a little brain damage once you're done setting up your rig is really no big deal. However, Spinal Modem is, you know, the exception that proves the rule. You want it out as soon as you need it. That means, if you install a couple of your icebreakers early, you want this out a.s.a.p. If, however, you spend a good chunk of the early game with only one (or none) of your icebreakers installed, you might want to sit on this a while.
Don't wait until you hit your MU cap, either - the recurring credits are only good if you get to use them repeatedly. If you find that you are having trouble getting your economy going (bad draws, Closed Accounts, etc.), get Spinal Modem into play to help you make runs.
If you have a choice, you'll want your Killer (that's a Sentry-breaker for all of you not hip to the icebreaker subtypes) in play first since currently only Sentries have Trace-running subroutines. Once your Killer is out, you only need to worry about TMI and Ash 2X3ZB9CY. So, you know, no sweat-ish.
IMPLEMENTATION:
While there seems to be no reason for Criminals to splash a Spinal Modem (Desperado just plays to Gabriel's strengths far too well), Shapers might want to take a look at it as a much more affordable alternative to The Toolbox, especially with Akamatsu Mem Chip in-faction. With Kate's ability and a copy of Modded, Spinal Modem is cheap-as-free.
COUNTERMEASURES:
Trace, trace, trace-ity, trace, trace, trace. Chances are, if you have the two available Data Packs, you're running SOMETHING that lets you run a Trace. If not, may Tech Talk humbly suggest packing an Ash 2X3ZB9CY? Two pips of Influence not only gets you a source of brain-damage-inducing Trace, but also gives you a way to protect your valuable servers. Yes, he is Unique, but that just means you can only have one REZZED at a time. You can install an Ash 2X3ZB9CY on multiple servers and just trash the currently active one when you need to switch servers.
We also suggest you take a look at Ichi 1.0. If his Trace goes off, the Runner's frontal lobe gets double dinged.
Don't forget that the oft-splashed Data Raven isn't particularly good for triggering the brain damage clause on Spinal Modem since the Runner can jack out before the trace subroutine goes off.
HaphazardNinja likes this
Article: Tech Talk - Spinal Modem