Welcome to Card Game DB
Register now to gain access to all of our features. Once registered and logged in, you will be able to create topics, post replies to existing threads, give reputation to your fellow members, get your own private messenger, post status updates, manage your profile and so much more. If you already have an account,
login here
- otherwise
create an account
for free today!

2
Tech Talk - The World is Yours*
Android: Netrunner
Tech Talk
Scud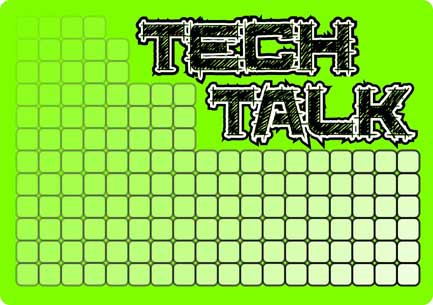 Tech Talk is your source for decks using the cards everyone is ignoring. We're like the Patron Saint of Lost Causes or something. This week we give you a double dose, revisiting last week's RepliChaos deck AND presenting a deck built around the newest NBN identity, The World Is Yours*.
Howdy, Tech Heads and welcome back to the old Tech Talk Ranch. First up this week, we'd like to present a tweak to last episode's RepliChaos deck, using the super-popular R&D Interface to make Replicator (and Inside Man) shine.
(Note: The deck is RepliChaos III because the first tweak, RepliChaos II was posted in the comments of the last Tech Talk article.)
RepliChaos III: This Time It's RepliChaoser
Identity:
Chaos Theory: Wunderkind (Cyber Exodus)
Total Cards:
40
Event: (11)
Modded (Core)
x3
Test Run (Cyber Exodus)
x2
The Maker's Eye (Core)
x3
Indexing (Future Proof)
x3
Hardware: (14)
Replicator (Humanity's Shadow)
x3
The Personal Touch (Core)
x3
Cyberfeeder (Core)
x3 ■
R&D Interface (Future Proof)
x3
Dinosaurus (Cyber Exodus)
x2
Program: (9)
Battering Ram (Core)
x2
Gordian Blade (Core)
x2
Femme Fatale (Core)
x2 ■
Deep Thought (Future Proof)
x1
Medium (Core)
x2 ■■■
Resource: (6)
Kati Jones (Humanity's Shadow)
x2
Inside Man (A Study in Static)
x2
Liberated Account (Trace Amount)
x2 ■■
Influence Values Totals
Anarch: 13
Criminal: 2
Now it has been pointed out that this deck is probably inferior to a Kate build with much the same idea. And to that, we here at Tech Talk say a hearty, "Uh, yeah, so?" Seriously, though, this deck plays differently to a RepliKate deck – it gets started a little faster. Just a little, but, you know. Try it out for something different!
Ok, now on to the main event. Future Proof gave us a brand-new NBN identity, The World Is Yours* (we're going to keep using the asterisk because we like that particular punctuation mark a lot). Many people have been declaring it a waste. Their logic is that if you are going to build a tag-heavy 44 card deck, why not add one Agenda, get 4 more useful cards, and use the NBN: Making Headlines for the two recurring credits to fuel your Traces. To that, we say, "Duh, yes, you should do that." Because that is not what The World Is Yours* is for. It's for speed. And we're not talking about fast-advance tricks here (although it can do that), we're talking about finishing a game quick by assembling a set of cards that can win. The ID's ability, +1 hand size, lets you hold onto cards a bit longer, allowing you to draw more often, which is actually a good thing, both for this deck and for the R&D Interface-infused meta that's the norm post-Future Proof.
So, if we're looking for a set of cards that can just win the game for us, what are we looking at?
Seriously?
You need us to answer that?
Here's a hint: Borched Nirth.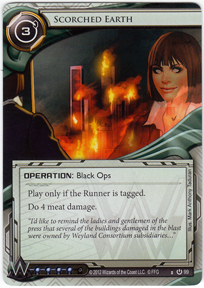 Yup. And, lookee here - three copies of Scorched Earth costs exactly 12 Influence. Well, alrighty then!
So already have our Influence spent, now it's time to build the combo we are going to use to win. Scorched Earth requires the Runner to be tagged, so we'll need to be able to tag her. Three copies of SEA Source is a good star, although its base Trace strength of three isn't great. Midseason Replacements, another new card from Future Proof, can tag the Runner in spades and its high base Trace strength of six means we won't miss original flavor NBN's recurring credits as badly. We'll order up three of those, too.
The only hitch with Midseason Replacements is that the Runner has to steal an Agenda before we can use it on her. Well, if we want the Runner stealing Agendas, we'll probably want them to be as small as possible. Breaking News is in-faction, so we'll use three of those. False Lead is only one point and it's ability can be useful for keeping a Runner poor and/or tagged, so we'll grab a three-pack of them, as well. That leaves us 12 more Agenda points to add to the deck. We could go with four three-point Agendas, but that means the Runner can win by stealing three not to mention that three-point Agendas are way harder to score than two-pointers and we want to be able to win via Agendas if the opportunity arises (or, you know, imperative). Luckily, NBN has the best two-pointer in the game in-faction, the king of enabling fast advance nonsense, AstroScript Pilot Program. Three of those gets us to 12 Agenda points. we're 6 short. Good thing Future Proof also gave us Project Beale which is a two-pointer that can pretty easily be a three-pointer - just drop two AstroScript Pilot Program agenda counters on one after you've advanced it three times and viola. That's great because it is always only two points for the Runner. So three copies of Project Beale gets us to the magic 18. Our Agenda mix means that the Runner has to steal between four and seven Agendas to win. Nice!
Okay, we are now at 21 cards in our 40 card deck. Oh, did we not mention that? Yeah, we're gonna keep this bad boy lean and mean at 40 instead of bloating up to 44. Why? Because we're Tech Talk and that, friends, is how we roll.
Anyway, we've already picked 21 cards, which leaves us 19 to go. Well, we want to find the cards we need for our combo quickly, so we'll use three copies of Anonymous Tip to get more cards not our hand in less time. 16 left. We need economy, let's start with three copies of Hedge Fund. 13 to go. We want the Runner to be running in order to activate SEA Source, so economic Assets are probably a good idea. We don't want to lose whole turns to Melange Mining Company, we want to be drawing, installing, or playing operations with our clicks. That leaves PAD Campaign and the in-faction Marked Accounts, both of which have decent trash costs, so will need little protection. And if the Runner is wasting credits blowing up high trash cost Assets, she won't have the scratch to beat our important Traces. Three of each of those leaves us 7 cards to choose. We still want a bit more economy, so we'll go with the underrated Private Contracts so we can spend only the clicks we want on gaining credits, but we'll only take two of them, leaving us with 5 open slots.
Psychographics is a nice option to have in case the Runner gets herself all Plascreted up before we can toast her, giving us something to do with the tags we can land, especially with Midseason Replacements and Project Beale in the deck. We'll take two because most games we aren't going to use them. That leaves us 3 cards.
Oh, wait. ICE. Whoops.
We're just kidding, we didn't forget the ICE.
We just don't want any.
Look, we can't be slowing down to ICE up servers then wasting precious Runner-scorching credits rezzing the stupid things. This is a live fast, die young, leave a beautiful Corps (see what we did there) type of deck, just like a media giant would want.
However, since Pop-Up Window is such a great passive income source, especially stacked up in front of a Central Server, we'll take three, but honestly, they barely count as ICE.
So, here is our wacky NBN: The World Is Yours* deck that is aiming to scorch the face off the Runner as fast as possible:
Smear Campaign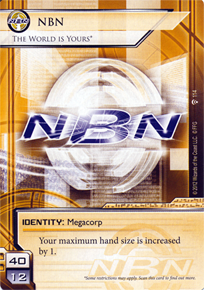 Identity:
NBN: The World Is Yours* (Future Proof)
Total Cards:
40
Agenda: (12)
AstroScript Pilot Program (Core)
x3
Breaking News (Core)
x3
Project Beale (Future Proof)
x3
False Lead (A Study in Static)
x3
Asset: (8)
Marked Accounts (Cyber Exodus)
x3
PAD Campaign (Core)
x3
Private Contracts (Cyber Exodus)
x2
ICE: (3)
Pop-up Window (Cyber Exodus)
x3
Operation: (17)
Scorched Earth (Core)
x3 ■■■■
Anonymous Tip (Core)
x3
Midseason Replacements (Future Proof)
x3
Hedge Fund (Core)
x3
SEA Source (Core)
x3
Psychographics (Core)
x2
Upgrade: (0)
Total Agenda Points:
18
Influence Values Totals
Haas-Bioroid: 0
Jinteki: 0
The Weyland Consortium: 12
Unlike the last few decks, this one actually has a few plays and we were surprised by how well it worked. The deck went 3-1 at our local League day and scored six points in the one loss, which is pretty good if you're playing full matches with Tournament scoring, which is the only way to play, really.
The deck handles a bit like a Jinteki shell-game deck. You play out a lot of Assets and a one-point Agenda or two and start amassing credits. Your first Pop-Up goes on R&D unless you're playing against a Criminal, in which case "protect" HQ. Hold on to your two-pointers for as long as you can, since they are your back-up plan, giving you an alternate victory route by, you know, scoring them. Score your one-pointers if 1)the ability will help you OR 2) you need the points. Sacking a False Lead can be a powerful tool in this deck, especially if the Runner steals an Agenda with their second click, so keep an eye out for opportunities to use 'em.
Okay, now go out and try the deck, then come back and let's talk about it. Please, please, please try the deck as presented BEFORE you start tearing it apart. It works. It isn't the best deck out there, but it is fun and it can win games. We're sure there are tweaks that can be made, but remember that experience, Tech Heads, is the greatest teacher.
Zaidkw, Lluluien, gamervoid and 3 others like this
Article: Tech Talk - The World is Yours*