Welcome to Card Game DB
Register now to gain access to all of our features. Once registered and logged in, you will be able to create topics, post replies to existing threads, give reputation to your fellow members, get your own private messenger, post status updates, manage your profile and so much more. If you already have an account,
login here
- otherwise
create an account
for free today!

0
FFG Organized Play News
Nov 12 2012 06:45 PM | Nerdcore in
Articles
Organized Play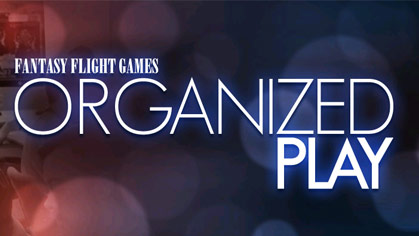 During Worlds they discussed the upcoming 2013 Organized Play stuff, and I grabbed some quick notes between Netrunner rounds. Apologies for not catching the FFG Employee who presented the meeting, however, this was an announced, public event that took place before Round 4 of the Netrunner tournament and Round 3 of the Melee on Friday evening.
The official word for all of this should be released sometime this week, but in the mean time, check the summary below:
Game Night/Tournament Kits
These kits will now be released in three Seasons, covering the downtime after the OP season (Jan-May), Regionals (May-approximately September) and Worlds (September-December).
The kits will now be more game focused, rather than item focused, much like the new Netrunner and X-Wing OP Kits. They want to put out things that you can actually use during a game.
Game Night Kits will now include a Tournament Organizer Prize, though it wasn't confirmed if it would be in the upcoming Netrunner or X-Wing Packs.
Game Night Kits will eventually include alternate art promotional cards that are reprints of existing cards with new/different/better art. The exception to this is Star Wars, which will receive
Aurebesh
texted cards. For those that don't know, Aurebesh is the name of the font that the signs and written communication of the Star Wars universe is. These cards will have the title and flavor text replaced with Aurebesh translations.
It was emphasized that there will be
no competitive advantage
from having the alternate-art cards, aside from having extra copies of the alternate art cards. This is to keep in line with the LCG credo of not requiring players to chase cards.
2013 OP Schedule
Regionals Registration opens for stores on January 7th, running through January 31st, with Venues announced sometime in February.
The full Regional season is April 1st through June 30th.
North American National Championships will again take place at Gen Con Indy.
World Championships will occur at the FFG Event Center November 7-10th. Official date announced was November 8th-10th, however, this was modified sometime Saturday during the public announcement of this information to being "A Four-Day Event".
This is likely in response to the event this year. Most players got to play at most 3 events, and were having to choose their top 4 games over playing the preliminary rounds of another game. Most notably this applied to Game of Thrones Joust Champion John Bruno, who got to the Top 4 in Netrunner, and Cthulhu/Warhammer players who's events ran at the same time.
FFG Event Center Regional Events
The FFG center's regional was announced as follows:
April 30th: Days of Ice and Fire/Minnesota Regional.
May: Star Wars/X-Wing will be held over a Star Wars Weekend event similar to Ice and Fire.
June 1st: Android: Netrunner Minnesota Regional.
​ Miscellaneous
FFG is looking into bringing back
two
popular programs: a Tournament Organizer program and a Player Ranking System. Both programs are in their infancy, and are not yet developed. They were very intent on letting us know that they are being looked at. The Ranking system will most definitely NOT be an ELO based system (He was exceptionally clear on this point.) The new TO system will likely start small and then expand from there.
WWDrakey, darknoj, DubiousYak and 1 other like this
Article: FFG Organized Play News