Welcome to Card Game DB
Register now to gain access to all of our features. Once registered and logged in, you will be able to create topics, post replies to existing threads, give reputation to your fellow members, get your own private messenger, post status updates, manage your profile and so much more. If you already have an account,
login here
- otherwise
create an account
for free today!

0
Legend of the Five Rings Review: Phoenix Clan
Sep 25 2017 12:00 AM | Kingsley in
Articles
l5r
review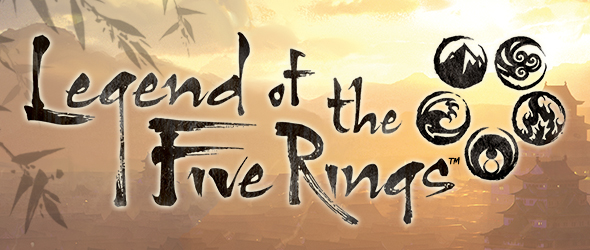 Welcome back to our Legend of the Five RIngs reviews! The latest clan we look at is Phoenix. As always, reviews of strongholds are not reviews of the faction as a whole, but of the stronghold card itself, and provinces will be handled in a later article.
Our review board:
benjoewoo:
Old5r player, coming back and excited to see this game revive.
Kingsley:
Kingsley once played Conquest and Netrunner competitively and is excited for a new and intriguing LCG.
Grendel:
I have around twenty years of card game experience. At one time I was the worst rated player on DCI in the state of Tennessee. I have played several games to varying degrees of competitive success locally. For FFG's LCG line I have only played Conquest competitively in which I have achieved second place in a 50+ OCTGN league, second and fifth place in two regional events, second in a store championship, and took home several game night kits. Beyond just playing a game. I enjoy discussing theory, strategy, and tactics for said game.
I Fight Dragons:
I am an avid card game player who has played Magic, Netrunner, and Conquest competitively and L5R casually in the past. For the L5R LCG, I went 5-0 in the 704 person Kiku Matsuri and became one of the first Phoenix Hatamoto, then placed in the top 8 for the following 256 person inaugural tournament at Gencon 2017. I host a podcast focused on competitive play and being a better player called The Winter Court Podcast.
nyxnyxnyx
: nyxnyxnyx is a competitive player from Singapore who has played Netrunner, Conquest, and AGOT 2.0.
On to the reviews!
Isawa Mori Seido
(average score: 2.4)
Benjoewoo
– 1/5
Barring the next Phoenix SH is blank with the same stats, virtually anything will replace this. Requires other cards to make ability relevant outside of contesting the favor, but even then requires a standing character who unbowed or didn't attack/defend.
Kingsley
– 2/5
Despite being in contention for the worst stronghold in the game right now, Isawa Mori Seido has a fair number of uses – the problem is that all of them require other stuff to set up. Versatility is one thing, but Phoenix doesn't have enough honor/dishonor tech for this to be strong. On the other hand, I guess it makes up for the ridiculous Kuroi Mori?
Grendel
– 3/5
The ability in and of itself is quite strong, but the lack of ways to manipulate a character's status leaves this stronghold lacking. This could conceivably change with the introduction of one or two cards.
I Fight Dragons
– 3/5
Isawa Mori Seido has a hard time shining in the core set. There are plenty of ways to honor characters, but many require winning a conflict while dishonoring your characters requires very little investment with cards like For Shame! and Way of the Scorpion. That said, this stronghold is very flexible. In addition to buffing up an honored guy you control, you can also use it to decrease the stats on a dishonored guy of your opponent, grab the imperial favor, or for some card synergies within Phoenix.
nyxnyxnyx
- 3/5
11 honor, +2 province strength pretty decent. The ability is super flexible, being usable on attack, defence, in both POL and MIL, and doesn't require a large commitment the way Crab's or Lion's does. The catch is that the 2 skill swing is only 'on' when your side has an honored character, or the other side has a dishonored one which is easier said than done given Phoenix's lack of in-faction honor/dishonoring options. The swing is also undone by any subsequent honor/dishonoring, so it's not always the most straightforward boost. The glory boost affects certain glory-matters cards, so that's neat. You can also use this to claim the Imperial Favor most of the time, if there's no better use for it.
Naive Student
(average score: 4.8)
Benjoewoo
– 5/5
You run this because he draws cards. Courtier is also a strong trait.
Kingsley
– 5/5
Worse than Bayushi Liar? Yes. Still 3x autoinclude? Also yes.
Grendel
– 4/5
Courtier, Draw a card, relatively respectable glory that on the off chance this guy gets honored he can become quite fearsome. Hopefully the scholar trait will end up meaning something so he doesn't feel like watered down Bayushi Liar.
I Fight Dragons
– 5/5
An Otomo Courtier with no downside and a free card draw? Sign me up. Being an averagely statted 1-coster is made up for with the Courtier trait and sincerity. You can compare him to Bayushi Liar, but it's not like Phoenix can run Liar to begin with.
nyxnyxnyx
- 5/5
Kind of a crappier Bayushi Liar, with more upside AND downside due to higher glory, and also starting at a lower base POL. Still an easy 3-of due to being cheap 1-fate-for-2-skill, a Courtier, and Sincerity.
Shiba Peacemaker
(average score: 3.8)
Benjoewoo
– 4/5
This guy is hyper efficient to get some cheap military force. Will be included for a while until a 1 or 2 drop comes out with a non-drawback text box and 3 or more military force.
Kingsley
– 4/5
While this character is only really strong in one challenge each turn (defending military), he's amazingly strong there for his cost, and it's a role that Phoenix can really use.
Grendel
– 3/5
Against Crab, Dragon or Lion this card is a straight wall and his value is amazing. Against the other clans he is extremely lacking. Thankfully for him two of those clans are top dog in the meta.
I Fight Dragons
– 3/5
Some people won't agree with this rating. To me Shiba Peacemaker is a monster in 1 out of 4 potential conflicts each turn (military defense) and basically useless for the other 3. This inflexibility is a fair price for his good military stats, but doesn't make him amazing.
nyxnyxnyx
- 5/5
This guy is great IMO. 1 for 4 is huge, and all that you have to do is put him on defense in a MIL conflict. He is rather weak to harpoon effects, however, and the likes of Doji Challenger and Yogo Hiroue love nothing more than pulling him in on POL defense duty. It's not an argument against Peacemaker, but rather a testament to its strength that it has to be dealt with.
Solemn Scholar
(average score: 4.2)
Benjoewoo
– 5/5
With rather plentiful ring manipulation, getting the earth ring isn't obscenely difficult, and bowing on the defense without needing to be there is amazing.
Kingsley
– 4/5
1/1 is a very bad statline – generally worse than 2/- or 2/0. The ability here is pretty amazing though, and while activating it can sometimes prove hard this also has favorable trait synergy.
Grendel
– 3/5
The earth ring is important, and bowing your opponent's best character is really strong.
I Fight Dragons
– 4/5
Mediocre stats but a potentially stellar ability. If you manage to get the Earth ring into your claimed pool, then this 1 cost character effectively removes an opponent's character for the turn. Being a 1 cost Shugenja as well is very important for Cloud the Mind and Supernatural Storm.
nyxnyxnyx
- 5/5
I love this guy. I've always been a fan of the Earth ring (I think it's the best Ring) and having an ability that encourages you to go get it more often will probably up your win rate a little if you're not already doing it enough. If you can control the Earth ring every time, you get a bow that is put simply a Mirumoto's Fury on steroids. Note that it's a Shugenja ability, and like most of them, does not require Solemn Scholar to be participating in the same conflict as the target to bow.
Adept of the Waves
(average score: 4.2)
Benjoewoo
– 3/5
Like most of the Shugenja in core set, this guy is conditional. He is great if water ring is useful, but it often is not ideal to force it, making it more situational than the other similarly themed Shugenja.
Kingsley
– 4/5
Two fate 2/2s tend to be a bit weak in my evaluation – I'd usually rather have a one fate 2/- or 2/0 – but Covert is so strong that it makes up for it, even if you do have to go in with water ring – which is something that you'll often want to do anyway if Tsukune is on the board.
Grendel
– 5/5
Water ring is very dynamic in how strong it is, which I think leads to people missing how strong the ring is even when it's not the "best" ring. I am sure by this point everyone has recognized how strong covert is. The body is decent, and the ability can get you there with free province breaks or even close the game.
I Fight Dragons
– 5/5
This is an absolutely insane tempo 2-drop. Covert is probably the most powerful keyword in the game and the water ring is all about short term tempo. I like to covert a character with no fate then bow them with the water ring or use it after defending the first conflict to stand my best character again. The best part about this card is you can dodge assassination relatively easily because you can use his ability pre-conflict. Also, he's a Shugenja.
nyxnyxnyx
- 4/5
The water ring is kinda sucky, though the mechanic of fate going on unclaimed rings means that there will come a time for even Water to shine. 2 for 2/2/2 is kinda unexciting, though Covert is a pretty neat keyword. The way the ability is worded, you can put the 'buff' on a character in advance, and have it be 'on' during the Water conflict, in case you're afraid of getting Assassinated or something. Having multiple of these Covert guys is great if you're leading on provinces and are going on the final Stronghold push. Also a Shugenja for your Shugenjaing needs.
Asako Diplomat
(average score: 3.2)
Benjoewoo
– 3/5
Ability is great if you can trigger—as you essentially have pride on a stick. But, not proactively helping you win. Has Courtier, so kudos for that.
Kingsley
– 2/5
This ability is really cool if you win, but it comes on a body with really bad stats that isn't doing much to help you get that win in the first place. Similar two fate 1/2s with strong abilities are much less conditional, so this one's a fair bit below the curve IMO.
Grendel
– 3/5
The ability is strong, but I find it hard for me to love cards that only do something after I won.
I Fight Dragons
– 4/5
The Asako Diplomat essentially gets you a free fire ring on a conflict win. The issue there is actually winning the conflict and dodging the Assassination that is inevitably gunning for her. She's a great card that can really snowball board position though, and you definitely cannot ignore that.
nyxnyxnyx
- 4/5
Essentially a payoff card in a 2 for 1/2/1 Courtier body, which is pretty good. Doesn't specify POL/MIL or attack/defence, so she's flexible enough that you can bring her in on any conflict that you are planning to commit heavily to get a win for.
Meddling Mediator
(average score: 4.4)
Benjoewoo
– 4/5
This person is for a deck that doesn't exist yet, but very likely will—phx control for switch or non-military primary victory condition.
Kingsley
– 5/5
This card is absolutely great and combines well with several other pieces of the Phoenix puzzle while also being good on its own. Other combo cards here are a bit weak because they require other things to even be average, but this is strong on its own and becomes excellent with other parts of the puzzle (Tsukune, for instance).
Grendel
– 4/5
Good stats, good trait, very relevant incremental advantage especially if you get to nab a fate.
I Fight Dragons
– 4/5
Great stats for a 2 cost and an ability that plays into the Phoenix game plan of defensive board building makes Meddling Mediator a fantastic card. To play around this card your opponent either needs to spend all of their fate every turn or not declare 2 conflicts, both are generally just fine for Phoenix.
nyxnyxnyx
- 5/5
My one gripe is that she has 0 MIL instead of a dash, which exposes it to a variety of harpoon (Doji Challenger) and swap effects (Yunako). Other than that, 2 for 3 POL Courtier is very tantalizing, and the ability is strong enough that it will warp your opponent's play (taking 1 Fate is super strong, while reserving the option to go for Honor when you need to).
Radiant Orator
(average score: 3.6)
Benjoewoo
– 5/5
Great ability, currently almost guaranteed to go off with her alone outside of the mirror given the SH.
Kingsley
– 3/5
While excellent later on in a game, this card is weak to move effects and has extremely bad stats for its price, making it disappointing to see early.
Grendel
– 3/5
Great ability when you are winning the game, poor ability when you are losing. Bad stats overall leave something to be desired. The situational strength of send home is something to be aware of as well.
I Fight Dragons
– 4/5
I expect this card will be controversial, but it really shouldn't be. Send home is a powerful, powerful effect with very little counter play (splashing Unicorn and Favorable Ground being about the 2 main ways of dealing with it). In short, Orator wins you a conflict you really need to win, attack or defense, and removes an opponent's character from their best conflict every turn. They are likely still unbowed, though, so be careful with how aggressive you are with her.
nyxnyxnyx
- 3/5
I don't really like Send Homes, but at least this is a repeatable one on a stick, albeit a very frail, fragile stick. 3 fate for 1/2/2 is terrrrrible stats, but if you get to use her ability 2 times or so it should be quite alright. The requirement is also pretty easy to fulfill, between Phoenix's naturally above average Glory and the Stronghold. Note that her Glory count does not include claimed rings, unlike the normal Glory count.
Serene Warrior
(consensus score: 2)
Benjoewoo
– 2/5
Very swingy card, and while he can be the monster that can't be dealt with while honored, but while dishonored useless and while normal is lackluster.
Kingsley
– 2/5
This card would be decent in Crane, but in Phoenix you don't have a reliable enough way to get your guys honored. I would not play this card unless honoring your guys becomes significantly easier in the future or your opponents really like letting you claim the fire ring for some reason.
Grendel
– 2/5
It's quite possible for this character's value to increase greatly if more honor effects come along for Phoenix. Currently he is very weak but sometimes he gets honored and your opponent can't answer him.
I Fight Dragons
– 2/5
Serene Warrior is an average stat 3 drop that has extra glory in place of an ability. Referring back to my comments on Isawa Mori Seido, it seems way easier to dishonor characters than it is to honor them currently. As such, the high Glory on Serene Warrior can often be a detriment, with no ability to redeem the loss of stats. Could potentially be a great card later in life, but not super great in the core set environment.
nyxnyxnyx
- 2/5
3 for 3/2 is okayish. 4 Glory is o_o . I hate that Glory is a double-edged sword, but once again, I will reiterate that when your Glory is higher than your base stats, it's actually a good thing, since you can't go below 0 skill for the purposes of comparing skill for conflicts. If he's dishonored, your net loss is -3/-2, whereas if you honor him, your net gain is +4/+4 (from a neutral state). Still overall a pretty crappy card but it's something.
Shiba Yojimbo
(average score: 3.8)
Benjoewoo
– 5/5
Will get better as better Shugenjas come out. Has decent stats. Makes voltron Phoenix better. You play this now because you don't have a ton of choices. You play this later because it's actually good.
Kingsley
– 3/5
Again a bit too much of a combo card right now. This is great if you have powerful Shugenja already out, but unlike comparable cards it doesn't really help your board on its own. Starting with a Doji Challenger, a Lion's Pride Brawler, or Raitsugu and then some one-drop is very strong; this and a one-drop is quite weak.
Grendel
– 4/5
Easy to underrate this character but his ability to protect an MVP and get him to the end zone is very good.
I Fight Dragons
– 4/5
Shiba Yojimbo is one of the most underrated cards in my opinion, protecting your low cost Shugenja from Assassination and otherwise forcing your opponent to blow two effects to target your Shugenja or to target her instead. If you voltron up a Shugenja, then she can really inversely effect the board. This is one of the cards I expect to go up in value as more Shugenja are released.
nyxnyxnyx
- 3/5
3 for 3/2//2 with an extremely narrow prohibition effect. You're unlikely to ever cancel anything with her ability, but it will maybe protect your other Shugenja by making something else the target or doing it on a later turn. If more powerful Shugenja come out that are absolutely deserving of such fine bodyguarding work, then perhaps this card will see play. Cloud the Mind also 'passive' abilities absolutely cut through this, so it's not even a perfect protection solution.
Isawa Masahiro
(consensus score: 3)
Benjoewoo
– 3/5
3 fate for a 3/2 isn't terribly inefficient. He's assassinate on a stick at a loss of up to 3 force instead of 3 honor, which is probably worse, but he's Shugenja and unique, the former of which is important to Phx and the latter can be conditionally better than not being unique for generating value.
Kingsley
– 3/5
This guy would be an amazing card in other games, but here he's merely okay thanks to the impermanence of most characters. However, he's a bit better than you might think since (like many Phoenix Shugenja) his ability is live even when he's not in the conflict.
Grendel
– 3/5
His ability causing him to trade down is somewhat disappointing, but against some factions it can be very powerful.
I Fight Dragons
– 3/5
At first glance, Masahiro's ability seems quite overpowered, potentially being an Assassination every turn that there's a Fire conflict; however, having to bow as a cost for the effect and the general ease of playing around this ability means it acts as more of a deterrent than an actual removal effect. Still Masahiro has decent stats and is a unique Shugenja so he'll likely make most Phoenix lists for at least a little while.
nyxnyxnyx
- 3/5
Another 3 for 3/2/2. I don't quite like this card, mostly because Assassination being a thing prevents people from dumping too much fate on 2-cost characters anyway. That you have to bow him, and also choose a participating character and have it all be during a Fire conflict makes it super niche as well. You'd probably still play him as a 'vanilla' 3/2 with the option to use his ability sometimes for lack of better options out of Core, but he'll be on the chopping block really quick when the card pool grows.
Fearsome Mystic
(average score: 3)
Benjoewoo
– 4/5
I think you'll want to play her for a while, because fate control over multiple opposing characters is fairly strong. She can get up to 5 glory in air conflicts, which basically means she hits everyone except Tsukune or a serene warrior with the SH buff in the mirror match. Also not terribly inefficient and is a Shugenja.
Kingsley
– 3/5
I like Fearsome Mystic, but I'm not sure how long she'll stay in the deck because her play, while strong, is extremely telegraphed. Strong with Elemental Fury or Kuroi Mori, but otherwise not thrilling.
Grendel
– 3/5
4 is a nice number, the ability can cause an opponent to flatline. But not helping you this turn is a big downside in my book.
I Fight Dragons
– 3/5
Fearsome Mystic offers Phoenix some great board control which is the name of their game, but can sometimes be awkward in order to pull it off. The Air Ring is far and away the least declared in my experience, so you often need to use your Stronghold to bring her up to threatening fate removal. The main reason for the 3 rating here is actually Isawa Kaede in the first pack fulfilling a very similar role but in a much more effective way.
nyxnyxnyx
- 2/5
4 for 2/4 is passable. She gets +2 Glory during Air conflicts, which is intended as synergy for her Action, which strips fate from participating characters with lower glory than her. No one in their right mind will let you get any more than 1 Fate out of her ability. (2 is rare but possible, 3 is when you need to find better opponents) Requiring Air to get to 3 (5 with Stronghold) also means it's possible to play around her. 'Lower" instead of 'equal to or lower' glory also means that even with Stronghold she barely misses 3-glory clan champs (that are more likely to have Fate on them) like Hotaru/Toturi/Yokuni who go on any non-air conflict.
Isawa Atsuko
(average score: 4.6)
Benjoewoo
– 5/5
Given the Kaede preview from the first dynasty pack, Void will be the strongest Shugenja affinity element simply by count, never mind that Atsuko and Kaede are both good. Atsuko is really good with a multiplicative pump for your side and negative to the opponent's side. You play her because she can single handedly swing void conflicts, and she doesn't even need to be there.
Kingsley
– 5/5
Atsuko is one of the strongest four-fate characters in the game already, and will likely grow even stronger in the future. One of the truly excellent cards Phoenix has access to.
Grendel
– 5/5
Great Stat spread and a great ability in an important conflict.
I Fight Dragons
– 5/5
This is Evil Grandma. Evil Grandma drinks evil tea. When Evil Grandma is done drinking her evil tea, her effective stats shoot way beyond what any 4 cost character has any right to hold. On final pushes, she secures wins outright and outside of that she's just a block of stats. It helps that the Void ring is one of the best to use, especially as and against Phoenix.
nyxnyxnyx
- 3/5
4 for 3/3 is passable. Her ability buffs herself, so she's at least 4 skill worth during a Void conflict, with 1 more for every character in the conflict at the point of activation. Very strong on province/stronghold pushes where you can consciously choose the Void ring to enable her ability, but loses points for not being able to control that decision while on defence.
Shiba Tsukune
(average score: 4)
Benjoewoo
– 5/5
Assuming she's alive by the end of the conflicts phase, her ability always "goes off," making her ability pretty good. The fact that doing so often gets you great advantage for not attacking and punishes your opponent for not attacking, a pain decision in combination with the mediator, makes it better as well. Funnily, while Tsukune will often be one of the higher stat characters on the board, she will not often be the most important to you to directly winning conflicts given how influential the Shugenja and Shugenja related cards usually are. Not that Tsukune doesn't bring value, but she'll often bring value by not dying during the conflict phase.
Kingsley
– 4/5
Tsukune has the worst stats
(considering that glory is often a downside)
but one of the best abilities of any of the clan champions, which ends up being pretty good. Just watch out for dishonor, and be sure to go for the water ring if she's in play, since it has no practical effect with her ability – Imperial Favor is determined before Tsukune can trigger her reaction.
Grendel
– 3/5
Extremely high variance champ. Sometimes shes a monster on the board with 8/8 stats fighting in a ton of conflicts and generate an amazing amount of free value at the end of the phase. Other times she is sitting at 0 and the ability isn't doing enough. 3/5 might be a little mean for how much pressure she can put out when she is on. More status manipulation can push her over the top.
I Fight Dragons
– 5/5
Tsukune is one of the best clan champions in the game, getting Phoenix incremental advantage every turn she stays on the board. With her ability, your only real reasons to attack are to break a province or take a priority ring, so you often are only attacking once per turn. This guarantees you 2 rings left over every turn and unless one is water, then both rings will be useful. Four glory hurts more than helps, but honestly I'm okay with her sitting home while dishonored gaining imperial favor until she triggers fire or is re-honored in another way. Like every good champion, Tsukune really warps the way the game is played when she's around and boy to Phoenix want to keep her around for awhile.
nyxnyxnyx
- 3/5
I want to like Tsukune so much but I think she falls short a little despite a pretty awesome ability that gets a lot better in conjunction with tools like Way of the Phoenix and Know the World. The problem is that those cards are pretty bad without Tsukune to really abuse them. She's 8/8 if she ever gets honored, but with few Honoring options in Phoenix it's unlikely she gets to that stage very often.
Forgotten Library
(average score: 4.8)
Benjoewoo
- 5/5
Play it. Undeniably drawing cards is awesome. Phx build a late game and this helps in an environment with unlimited hand sizes.
Kingsley
– 5/5
The best repeat card draw card in the game under normal circumstances. You don't always want to trade dynasty for conflict draws, but when you do you wish you had Forgotten Library. Just remember that you have to trigger this BEFORE you look at your dial – I sometimes joke this is called Forgotten Library thanks to how often people will forget to trigger it!
Grendel
– 4/5
The best draw a conflict card holding. The timing is quite favorable compared to the others.
I Fight Dragons
– 5/5
This holding trades a Dynasty slot for a card draw every turn BEFORE dials are even picked up in the Draw Phase. That's a very nice trade off. Due to Phoenix's inherently defensive nature and running incremental advantage provinces like Shameful Display and Manicured Garden, this can generate a ton of value over the course of the game. I expect it to make the cut for Phoenix for a while.
nyxnyxnyx
- 5/5
After an initial outlay of 1 dynasty slot, every subsequent turn you trade 1 dynasty slot for 1 conflict card. This trade is good in any turn where you are capped on fate, since dynasty draws tend to require a higher fate cost than the conflict deck. I'd argue that it isn't a lot better than Imperial Storehouse, but it's probably still an autoinclude right now.
Ishiken Initiate
(average score: 2.8)
Benjoewoo
– 2/5
She's very swingy, so I'd put her below average unless the swing ability generated much higher numbers.
Kingsley
– 3/5
In the best case scenario, this can be two fate for a 4/4! Unfortunately, the most important conflicts are usually early in the turn, so this ends up being worse than it looks on paper.
Grendel
– 3/5 Not an amazing character, but he can get often you get a strong unexpected victory at the last conflict and even a province break.
I Fight Dragons
– 3/5
Ishiken Initiate is a solidly okay conflict character, who potentially can crush most provinces by herself. That said, it's not every turn that 4 conflicts happen and it's usually the first few conflicts that are most important and where you want the character. Not bad, but not great either.
nyxnyxnyx
- 3/5
It's not too out of the question for her to get to 3/3 or 4/4 if you're patient with her, which is pretty good for a 2-cost character.
Seeker of Knowledge
(average score: 2.6)
Benjoewoo
– 3/5
She is somewhat limited by the fact her cost to stats ratios aren't great. But, if Phx are able to consistently deny multiple rings with their Way card, then she'll easily rise in ranks.
Kingsley
– 3/5
This isn't very good right now but we've already seen future cards that will make this very cool, and it does provide an interesting option for honor and dishonor. Being both Courtier and Shugenja is pretty hype as well.
Grendel
– 3/5
Phoenix has a very grindy style right now and this character can help give you the reach you need on honor for more cards or the ability to threaten dishonor on your opponent.
I Fight Dragons
– 2/5
I don't like this card. It was very mediocre stats for a 2 cost character and an ability that adds the least impactful ring element to a conflict and only while attacking. The ruling on Way of the Phoenix with multiple ring types gives it a bump, but I don't think that deck will be that good even with Kaede also adding void to a ring.
nyxnyxnyx
- 2/5
Ahh, the source of a million rules debates. Out of the core set, there are few combos beyond cute ones with Way of the Phoenix (locks out multiple elements). There is Isawa Kaede in the first dynasty pack, but this is a core set review so…
She's a Courtier Air Shugenja, which is a pretty exotic trait combo shared with exactly with one other character, Asahina Storyteller. Stats are wholly unexciting/bad. Air ring is pretty crappy, so gaining the option for Air is pretty meh.
Magnificent Kimono
(average score: 2.4)
Benjoewoo
– 3/5
This card is likely better as a splash now than in Phx, but can be a better rated card if Phx honor becomes viable.
Kingsley
– 2/5
I currently consider this one of the most overrated cards in the game – zero fate for one strength is okay but not great, and Pride is often a downside. While this does have some extra utility as something to play on enemy characters in losing conflicts, overall I'm against.
Grendel
– 2/5
Sometimes it creates a monster on the board, but I think this is just a weak card in general.
I Fight Dragons
– 2/5
I'm predicting this is another controversial rating. Magnificent Kimono is a zero cost attachment that potentially honors your characters and also gives +1 political skill to boot. The issue is that when push comes to shove, your opponent has the ability to turn this card into one that is actively harmful to you and your characters due to Phoenix's mid to high glory values. That vulnerability is one that you will see and over time I expect this attachment to rotate out of Phoenix decks. It's a great splash option in many other clans, however.
nyxnyxnyx - 3/5
I like this card quite a lot, though it's a little tricky to use in practice. Since the honor/dishonor is only applied at the end of the conflict, you never get to benefit from the stat swing during that conflict. On top of that, the moment you play this card you incentivize your opponent to win that conflict, with possibly disastrous results if you cannot respond.
Grasp of Earth
(average score: 2.4)
Benjoewoo
– 4/5
Movement into battle will become more common—it almost has to for game variety purposes. Conflict characters will also become more popular—they have to also for variety purposes. This card will get better as a result of those two things. In core only, this is probably a 2/5, but because it's pretty obvious this will get better, I'm giving it a rating based on the future.
Kingsley
– 2/5
This card is good in certain scenarios, but overall isn't really good enough to include at this time. In the future we may see it becoming more powerful – the fact that it works from outside of the conflict is nice – but as it stands this effect isn't good enough except against Unicorn, and Unicorn isn't very good.
Grendel
– 2/5
Seems very weak currently. That could change, but I doubt it.
I Fight Dragons
– 2/5
This card would be solid if it actually effectively did what it set out to do, which is prevent extra characters from entering the conflict on your opponent's side. It has a major issue with timing, however, because if you play it during a conflict then your opponent's next action can just be to move in the guy they wanted to move in or play a conflict character. If you play it outside of the conflict, they just play them before declaring. The salt on the wound is that this card doesn't do anything against Charge, Cavalry Reserves or Ambush.
nyxnyxnyx
- 2/5
Very narrow prohibition effect that does almost nothing most of the time.
Pacifism
(average score: 4)
Benjoewoo
– 5/5
This card really hammers your opponent's lopsided military characters and characters with heavy military investment. Really hard.
Kingsley
– 3/5
This is a bit weak against attachment control and the timing isn't great, but when it locks down a big military guy it can be amazing. Overall a decent but not stellar card that will become much stronger if sideboards get added or in military-focused metas.
Grendel
– 5/5
Honestly even in a Let Go heavy meta this card is worth playing if you think an opponent doesn't have it in their hand. It can win the games if left on the right character.
I Fight Dragons
– 4/5
Attachments that cost 2 are very risky. Pacifism is worth the risk and gives Phoenix a ton of options for controlling the flow of the conflict phase. You can play this right before declaring your military conflict to deny their best/only defender, or disable a military powerhouse like Toturi, Kisada, or… Matsu Berserker (yes, I'm serious). There's a ton of potential use, and if your opponent isn't running attachment hate then this card is well worth the 2 cost and if they are running hate then you just need to play more carefully with it.
nyxnyxnyx
- 3/5
2-cost attachments are pretty frowned upon in the current meta, but at least this one isn't so bad against Calling in Favors. If you land this on any one of the lopsided MIL characters like Kisada, Unassuming Yojimbo and the like, it's very very neat. Has neat synergy with Captive Audience, which effectively bows and sends home the Pacifism-ed character.
Supernatural Storm
(average score: 4.6)
Benjoewoo
– 5/5
Barring Phx get a top tier deck with non-Shugenja only, this card will likely be auto-include for a very long time in every Phx deck because it's an uncapped multiplicative bonus that only has a trait restriction, a trait that you want to maximize board population on anyway.
Kingsley
– 5/5
This card is already great and it is only going to get better. While the average stat boost right now isn't great (it'll often be two strength or so), the fact that it works in both conflicts is rare and prized.
Grendel
– 5/5
Currently quite strong, will only get stronger and scarier as time goes along.
I Fight Dragons
– 5/5
This card is insane. Absolutely insane. This is another card I feel a lot of people glance over without much consideration, but it's a non-limited skill buff that works in both conflicts and scales with characters you want to run anyways. Even at a lowly +2/+2 this card is great and flexible for threatening conflict wins, and +3/+3 and higher it gets to ridiculous levels. The best part is that this card only gets better as the card pool expands and more Shugenja are released. One day this card will be a real pain to deal with against Phoenix, and it is already good.
nyxnyxnyx
- 3/5
Usually going to be around 2+ skill, which is pretty decent for 0 cost. Does require heavy investment in the Shugenja theme, however, so it's not going in every deck.
Way of the Phoenix
(average score: 2.4)
Benjoewoo
– 2/5
This card is pretty hard to fit unless Phx get a deck that will consistently be able to deny multiple rings with it. If that deck is competitively viable, this card goes up. Otherwise, and likely, it'll probably stay this low rating.
Kingsley
– 3/5
I'm going to go against the grain here and say this is much better than many think. Yes, it can be conditional, and you don't want to just play it out recklessly, but in the right situation this can be amazing.
Grendel
– 2/5
More cute then good, some interesting synergy with multiple elements being added to a ring but that's more of a dream then a reality right now.
I Fight Dragons
– 3/5
Perhaps one of the most binary cards in terms of opinions of its worth. I have no doubt that Way of the Phoenix does not stack up to the other Way ofs, sans Unicorn. Way of the Phoenix is a pure utility card that completely shuts off a ring from your opponent, and that effect is merely okay but doesn't really help you win the game directly. That said, there are a lot of keeper roles right now and this card is fantastic when it's denying a ring and a couple of Keeper Initiates entering play. The multiple ring FAQ answer also means that Way of the Phoenix can potentially be very powerful in a combo deck one day.
nyxnyxnyx
- 2/5
The way this is worded, you can use any of the 'add element' effects like Seeker of Knowledge or the upcoming Isawa Kaede to stack multiple elements on one ring before choosing to Way of the Phoenix it, effectively denying multiple rings from being declared by your opponent that turn. Still more of a cute combo, than anything, however. Can net you some fate going late into the game when there are rings with fate on them.
Against the Waves
(average score: 4.8)
Benjoewoo
– 5/5
Unbow your Shugenja outside of conflicts or in conflicts? Great. Bow your opponent's Shugenja in the same circumstances? Wowza.
Kingsley
– 5/5
Like Supernatural Storm, this is an incredible card, and like Supernatural Storm it will only get better as more Shugenja and spells get added to the game.
Grendel
– 5/5
Unbelievably good.
I Fight Dragons
– 5/5
Bow is good, unbow is arguably better. This card is amazing for 1 resource to surprise double use a character and a lot of match-ups actually have some powerful Shugenja worth bowing as well. The ultimate Yokuni-bane.
nyxnyxnyx
- 4/5
1-cost bow/ready that works only on Shugenja is very neat, especially with the Phoenix focus on Shugenja. Has bonus usage against opposing Shugenja like other Phoenix and Togashi Yokuni.
Know the World
(average score: 2.2)
Benjoewoo
– 3/5
The card is fairly situational, and requires other cards to maximize its use because it often will not gain you much benefit by itself. Can lead to powerful combos, and is part of the Phx deck that says you never play the game, assuming it comes to be.
Kingsley
– 2/5
Combo card that isn't good yet except under rare circumstances. Hopefully it will never be good, because combo stuff like this can often have negative impacts on a game.
Grendel
– 2/5
Seems like a dragon monk card in the making.
I Fight Dragons
– 2/5
Know the World is a fun card and gives a lot of flexibility to the turn. You can use this to deny fate on a ring, as extra economy, to change your claimed ring to Earth for Solemn Scholar, or to simply double claim a specific ring. Unfortunately, Phoenix can sometimes struggle with reach right now, so you have limited options for cards that don't help you actually win conflicts to begin with. I like this card, and I hope in the future there are tons of reasons to run it.
nyxnyxnyx
- 2/5
Costing one is quite an issue, though it can potentially net fate when choosing a ring with fate on it. Just doesn't quite pull its weight for costing 1, compared to the plethora of options available at that cost like AtW and such.
Display of Power
(average score: 4)
Benjoewoo
– 3/5
Arguably a trap card, but it can be very powerful. Risky though, at 2 fate cost and requiring you to lose a conflict unopposed, effectively also costing you an honor. Usually cards that require you to lose harder to use them are below average, but this card can turn games and ultimately claims a ring for you, so it's at least average.
Kingsley
– 4/5
Display of Power is bad to play under normal circumstances, but when it's on it's an incredible reversal. Just keep in mind that you have to spend two fate, a card, an honor, and often even a province (since you have to let them attack unopposed), and only use it when it Really Matters.
Grendel
– 3/5
I don't think playing this card just because you can is worthwhile, knowing when to play this card is the secret sauce, and when playing it at the correct time it can win you game.
I Fight Dragons
– 5/5
What a card. For the cost of an unopposed honor loss and 2 fate, Display of power denies a ring effect from your opponent, gives the effect to you, gives you the ring, and also bows every character they attacked with. Especially good if your opponent is doing a poking attack or you manage to prevent a province break, which is totally doable. Display of Power is a card that's not good in every conflict, but in a key conflict and ring claim can completely swing the turn and sometimes, by extension, the game. What makes this card so ridiculously good is that those types of conflicts happen every game and usually multiple times per game.
nyxnyxnyx
- 5/5
The
defining Phoenix spell. The effect is a huge swing, frequently netting twice of the ring effect (once when your opponent is denied, twice when you get it instead) on top of the Imperial Favor (because of the net 2-ring swing). Conveniently turns off some abilities that trigger off claiming rings while enabling them for you, such as Keeper/Seeker Initiate and Toturi/Hotaru. The only weakness is that it costs 2, making it a prime target for opposing event cancels.
NuFenix and Antaiseito like this
Article: Legend of the Five Rings Review: Phoenix Clan