Welcome to Card Game DB
Register now to gain access to all of our features. Once registered and logged in, you will be able to create topics, post replies to existing threads, give reputation to your fellow members, get your own private messenger, post status updates, manage your profile and so much more. If you already have an account,
login here
- otherwise
create an account
for free today!

0
Legend of the Five Rings Review: Unicorn Clan
Oct 09 2017 12:00 AM | Kingsley in
Articles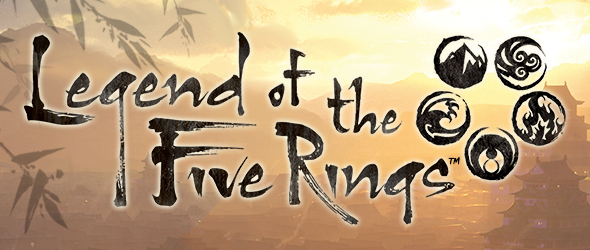 We've made it to the end of these clan reviews! As always, stronghold ratings are for the stronghold card itself, not the entire faction (extra relevant this time!), and provinces will come in another article. Our reviewers:

Kingsley: Kingsley once played Conquest and Netrunner competitively and is excited for a new and intriguing LCG.

Grendel: I have around twenty years of card game experience. At one time I was the worst rated player on DCI in the state of Tennessee. I have played several games to varying degrees of competitive success locally. For FFG's LCG line I have only played Conquest competitively in which I have achieved second place in a 50+ OCTGN league, second and fifth place in two regional events, second in a store championship, and took home several game night kits. Beyond just playing a game. I enjoy discussing theory, strategy, and tactics for said game.
nyxnyxnyx: nyxnyxnyx is a competitive player from Singapore who has played Netrunner, Conquest, and AGOT 2.0.

benjoewoo: Old5r player, coming back and excited to see this game revive.

I Fight Dragons: I am an avid card game player who has played Magic, Netrunner, and Conquest competitively and L5R casually in the past. For the L5R LCG, I went 5-0 in the 704 person Kiku Matsuri and became one of the first Phoenix Hatamoto, then placed in the top 8 for the following 256 person inaugural tournament at Gencon 2017. I host a podcast focused on competitive play and being a better player called The Winter Court Podcast.
Golden Plains Outpost (average score: 1.6)


Kingsley - 1/5
Unfortunately, I think this is not only the worst stronghold in the game but also a serious design mistake that will haunt the game for some time (unless Unicorn gets a replacement SH printed very quickly). Golden Plains Outpost combines the worst stats of any stronghold (+0 strength and ten honor) with a very conditional ability. The frustrating part is that it is so close to being good, but there are just too many constraints on the ability, and it comes in a faction that already plays a lot of movement and put into play effects. I strongly wish this had been printed without the Cavalry restriction, with the ability to move characters into political conflicts, or with the ability to move out as well as in. I hope I'm wrong, but as it stands I think this one is really weak and will hold Unicorn significantly back for some time to come.

Grendel – 1/5
In the current environment this stronghold feels extremely weak. A majority of the Cavalry characters feel very weak stat wise. It does make your character's immune to move home and it is perhaps most synergistic with cards like Ide Trader, Spyglass, and Warrior Poet. This weak ability is further compounded by most other strongholds providing an effect of 2 value or more in most situations outside of the Scorpion one. However, as more Cavalry characters get printed or more Cavalry synergy abilities come into play this card can grow. This room to grow shouldn't be heralded as some fount of endless potential as the ability is extremely limited with it only being useable in military conflicts. Just a disappointment.

nyxnyxnyx - 1/5
10 honor, +0 STR bump, ability that only works on MIL, on a single Cavalry character, that only works for moving TO the conflict (and not home FROM the conflict). Crappy, crappy stats, restrictive ability that overloads on the various movement effects that Unicorn already has. Easily the worst SH out of the core.

Benjoewoo – 3/5
You'd think moving in on your SH would be strong. But, at least out of core, you don't often seem to be able to draw out your opponent's over-commitment because of unicorn's core numbers. Additionally, trait and conflict type restrictions further limit the ability's utility, meaning non-cavalry flops, even if ideal buys, work against your SH.

I Fight Dragons – 2/5
I feel that Golden Plains Outpost is the worst Stronghold in the core set, due to the ability being less useful without options to also move out of conflicts compared to other strongholds strict stat boosts being more impactful right now. This stronghold is effectively a stat boost that requires exhausting a character to get, which is a big price to pay. It does not help that Unicorn is teeming with this effect already, so this just feels like more of what you're already saturated with. A +0 province strength and lowest possible starting honor is just kicking it while it's down. At least you likely won't ever have an unopposed conflict, so that's nice.


Moto Youth (average score: 4)

Kingsley - 4/5
While the conditional nature of this card means that it falls a bit short of Matsu Berzerker, this is a similar combination of a cheap price, good stats, and powerful synergies.

Grendel – 3/5
A conditional ability to make this character 3 strength for the exchange( I won't say upside.) having 0 pol instead of a dash makes this character disappointing compared to the other factions 1 cost cards.

nyxnyxnyx - 4/5
Pretty unexciting for a 1-cost card. It's usually a 3 MIL for 1 fate, which is nothing to shout about. Does have the Bushi and Cavalry trait, so it's something. It's kind of an upgraded Seppun Guardsman, which is pretty meh for a Clan character.

Benjoewoo – 4/5
1 fate for a 2/0 isn't terrible—it's better than seppun guardsman. 1 for a 3/0 in the first military conflict of a turn is great. Fairly solid.

I Fight Dragons – 5/5
A fairly easily engineered 1 cost with 3 in a stat which is the benchmark for a solid 1 cost character. Not much else to say about this card other than it's probably a staple for awhile.


Utaku Infantry (average score: 4.4)



Kingsley - 4/5
This card synergizes with Unicorn's move effects to grow larger and larger in fights - it starts as a 1/1 for 1 (awful) but quickly becomes much bigger as your other characters join him in battle. As a result, this guy is often getting lots and lots of value in the right situation.

Grendel – 5/5
Very strong, can often force an assassinate on his lonesome because of the high value his stats present. Don't view this as a drawback as most other factions would love to be able to draw out control effects on 1 cost cards with no other effects attached to them.

nyxnyxnyx - 3/5
Can get pretty big if you go on a conflict with 3+ characters, which is neat. Also has POL, something Unicorn kind of lacks in. Note that you can move in bowed characters just to give him extra skill.

Benjoewoo – 5/5
You play this because he's one of the only in clan ways to build additional, guaranteed force. Can be stupidly strong, and as unicorn out of core play blitz/swarm, he can be quite strong.

I Fight Dragons – 5/5
This card is always at least a 1/1 (because they count themselves), and anything that grows is potentially a scary proposition. Hell, with just one other guy in the conflict this card is above curve; any more than that and he's amazing. Fantastic final push card.


Aggressive Moto (average score: 1.8)



Kingsley - 1/5
This card is horribly behind the curve - in a faction that has a card that is often strength three for one, why would you play a card that is strength three for two and has a downside? Compares very unfavorably to alternative options both in and out of faction.

Grendel – 2/5
I almost want to give this character a 1/5 but dynasty being limited as is can make this playable. This card is a giant slap in the face though and an insult to unicorn players. Calvary Tax.

nyxnyxnyx - 1/5
The poster child of ''FFG ****** Unicorn Over". Compares extremely poorly to other similar cards on various axes. Matsu Berserker, for example, is 3/- for 1 fate, without the 'cannot defend' restriction. The worst part, IMO, is that Unicorn might still play him despite how terribly he compares to his peers, for lack of better options in their Dynasty deck.

Benjoewoo – 3/5
A similar stat character to Moto Youth, but requires SH or another card to move in as a defender, is more limited. I don't like that a number of unicorn cards encourage swarm blitz with relatively inefficient bodies, so this gets a lower rating than Moto Youth, which can be just as good on attack as defense.

I Fight Dragons – 2/5
3 stats for 2 is not great, but at least Aggressive Moto puts them all in one block which is nice. Unfortunately, his ability is a strict downside when most 3 stat characters for 2 have some sort of useful ability to make up for it. Granted, his downside is easily mitigated with all of unicorn's movement tricks and generally wanting to attack anyways, so he's not so bad for now but I imagine he won't last long past core set.


Border Rider (consensus score: 5)



Kingsley - 5/5
One of the best cheap units in the game, Border Rider is extremely strong early in the game and stays powerful late - just be careful not to invest too much in this one or Assassination may end up ruining your day!

Grendel – 5/5
The value this character can generate is insane. If assassinate wasn't in the game he would dominate the game. I like to splash scorp with my unicorn to cancel the assassinates this guy draws out.

nyxnyxnyx - 5/5
Strong contender for best 2-fate unit in the game. It's the 2/1 Bushi Cavalry that keeps on giving, without asking for anything in return. You use her in 2 conflicts a turn, for absolutely free. Put any attachments on her, and they get double value. She'll even ride to the horizon and back again, for you!

Benjoewoo -- 5/5
2 fate for a 2/1 is fine. Having the ability to go into two conflicts or draw out multiple bow actions is great. Solid 2 drop.

I Fight Dragons – 5/5
This is an amazing ability. Anything that lets you double dip on value is a crazy strong effect, and this card has great synergy both with the Unicorn card pool and game plan. It's unfortunate that Assassination holds it back from being a really scary menace, but if there's ever a time where it's less prevalent then this card is certainly going to be a real force in the meta.


Meishodo Wielder (average score: 3.2)



Kingsley - 3/5
A two fate 2/2 is weak but a one fate 2/2 is strong, so this card will be either above the curve or below it depending on whether you are going first.

Grendel – 3/5
Strong value half the time, disappointing the other half.

nyxnyxnyx - 3/5
1 fate for 2/2 is quite okay when you're first player is okay, though nothing amazing. The issue is how he clogs up dynasty slots when you flop him as non-first player. Great hair, though.

Benjoewoo – 4/5
One of two in clan shugenja, he is highly efficient as first player. Not terrible as second player, but slightly below average efficiency. Not cavalry lowers the rating, but as one of the few balanced characters that can be fairly efficient, use him for a while because cloud the mind is awesome.
I Fight Dragons – 3/5
Kind of like how Aggressive Moto is lackluster when compared to Moto Youth, this card feels lackluster when compared to Utaku Infantry. For always costing 1, it seems like the infantry can often easily reach the same stats as this guy who only sometimes costs 1. Still paying 1 for 2/2 is solid, and that's all this card is: solid.


Shinjo Outrider (average score: 3.2)



Kingsley - 3/5
Shinjo Outrider brings some extra movement to the table, making it a great way to use Spyglass and Ide Trader without relying too heavily on the stronghold. However, this needs other cards to really shine and the two glory can be significantly risky.

Grendel – 4/5
Strong character, decent glory to make him a strong threat if you can get it manipulated favorably

nyxnyxnyx - 3/5
The younger sister of Border Rider who lives in her shadow. Being able to only move to the conflict (and not home, kind of a theme with Unicorn movement for some reason) is very limiting. Still synergizes with a bunch of the movement-matters cards like Ide Trader and Spyglass, but unfortunately cannot double-dip on +Skill attachments the way Border Rider does.

Benjoewoo – 3/5
Movement is pretty good and makes the 2 fate cost for a 2/2 more acceptable. But, bringing in a bowed body has limited use, and often bringing her in with her ability isn't a surprise so often doesn't upset metrics in close games.

I Fight Dragons – 3/5
This ability isn't currently very valuable in my opinion due to you always having it on the stronghold and rarely needing 2 instances of it in a turn, at least in my experience. Stats are pretty average, with 2 glory being a bit of a detriment thanks to Unicorns lack of ability to honor characters outside of the Fire ring. When Unicorn gets a new Stronghold that's not simply more movement, then this card becomes quite good rather than decidedly average.


Giver of Gifts (average score: 4.2)



Kingsley - 4/5
This character combines moderate stats with the useful Courtier trait and a powerful ability, given how strong attachments tend to be in this game. Note that you have to control the attachment to use this ability, so it does not work as a counter to negative attachments like Fiery Madness.

Grendel – 5/5
Easily one of the best characters in the coreset. I can't play him with out putting 2 fate on him. He can generate an absurd amount of value, his value only escalates if Unicorn get access to better attachments.

nyxnyxnyx - 4/5
Moving attachments around is stronger than it seems. In the worst case, you move something like a Katana/Fan to get an extra use out of it. In the other cases, you move something like Spyglass to get an additional trigger. In the best cases, you're moving Watch Commanders around...Now you're thinking with Watch Commanders.

Benjoewoo – 4/5
Not being cavalry in unicorn will almost automatically mean not being a 5/5. But, this gal has a lot going for her. Courtier, so For Shame! is more viable. 3 fate cost, so no assassinate. 3 political, so helps with unicorn's weaker political average. Great package.

I Fight Dragons – 4/5
Solid stats combined with a very useful ability make this a great base for the 3 cost slot in Unicorn decks. Being a Courtier is also a nice benefit if Unicorn get a couple more to start running all the courtier cards consistently (which they actually kind of can with the Crane splash). Great card.


Ide Trader (average score: 4.2)


Kingsley - 4/5
When combined with the right effects (protip: Favored Mount), this guy can generate significant additional economy with either fate or cards. The downside, as with some of the earlier cards, is that he is not at all strong on his own, but the upside is high enough that I'm giving this guy a strong rating

Grendel – 4/5
It's hard to hate any card that can generate fate. Being possible to generate up to 3 fate a turn if you have a favored mount on him is awesome.

nyxnyxnyx - 5/5
This guy right here is a payoff card for movement effects. It's unfortunate he doesn't have the Cavalry trait, but at least Courtier is useful too. 3 for 1/3 is decent. His ability is where he really shines, since you get to trigger him as many times as you can get him into conflicts. Essentially you'll just be ferrying around a bowed, unconscious, Ide Trader and drawing cards off him all day.

Benjoewoo -- 4/5
Card draw for moving other people or himself in? Great. 3 political stat? Great. Courtier? Yes. Not Cavalry? 4/5.

I Fight Dragons – 4/5
At a glance, this card seems really vital given that moving into conflicts is what Unicorn already kind of does; but he's actually a little clunky to use effectively while also getting optimal use of your movement shenanigans. It's often a choice of moving in for the economy now for moving in for effect later. Ultimately, though, this card gets you cards and fate and that is not a bad thing.


Warrior Poet (average score: 4.2)



Kingsley - 4/5
While Warrior Poet's stats are weak, her ability can be extremely strong, and natural Unicorn movement abilities get her into conflicts to use it.

Grendel – 5/5
Okay in the early game, great in the mid game and great in the end game. The numbers he can generate are very strong.

nyxnyxnyx - 3/5
Ideal use for her would be to send her in with a decently-sized force to break a province, threatening to use the ability but not, then using one of your many movement abilities to get her in against a large opposing force for value. The problem is that at 3-cost, plenty of characters directly contribute to winning or getting some kind of advantage, while hers is rather tricky and comes with poor stats to boot.

Benjoewoo – 5/5
While not very efficient stat wise, has one of the only multiplicative force negatives to your opponent. She's cavalry and bushi, so works with SH and the likely lion splash you're running, most of which prefers bushi over any other trait.
I Fight Dragons
– 4/5
This is a very solid 3 drop with a nice scaling ability. Thanks to being cavalry and the Unicorn stronghold, you can put her in basically any conflict you want her ability to have the most effect in, and that is quite powerful. Staple.
Utaku Yumino (average score: 2.6)


Kingsley - 2/5
Utaku Yumino serves a notionally important role - smoothing out the deck by turning unused situational cards into stats - but her three glory is a huge weakness in the present environment. In the future, she might be quite strong, but I fear it'll be a while

Grendel – 3/5
The ability is very strong. The traits are great. The 3 glory makes me hate this character perhaps more then I should but it is very hard for me to like characters that have glory higher than their base stats as if they become dishonored they can make other effects on the character worse.

nyxnyxnyx - 2/5
Most 3-cost characters come with 3 on their relevant 'side', so her getting to 4/4 with a discard isn't amazing. 3 Glory as always is a double-edged sword, likely more pain than pleasure with a lack of honoring options in Unicorn. Ability would have been neat at more than just limit once per conflict, but alas it is what it is.

Benjoewoo – 3/5
She has an ability that works like an old ability in the previous version of L5R that was considered amazing. But, in this game it's fairly average because it gives an average force bump at +2 in both stats, and she's not particularly strong by herself. A higher glory number is also more likely a liability than a boon. You play her because she can become relatively large, though the cost can be quite high.
I Fight Dragons
– 3/5
Yumino is very lackluster until she is honored; but by the same token is near worthless when dishonored. This double-edged nature makes her very unreliable as a unique, as she has no utility outside of stats and if she's not giving you stats, then she's bad. Hopefully the battle maiden theme will come with some honoring tech so she's more consistent because she's fantastic when she's able to actually wreck provinces solo.
Moto Horde (average score: 3)


Kingsley - 3/5
Huge stats and the Cavalry keyword are solid, but nothing incredible.

Grendel – 2/5
I think you end up playing this card because you need a character that is a big ole ball of stats. Unfortunately, I don't think he is a very good big ole ball of stats so his long term value is very low in the game at large.

nyxnyxnyx - 3/5
4 for 6 is actually pretty cool, kind of like a 4-cost 4-MIL guy that always comes attached with a Katana. It's just a huge beatstick though, with nothing going for it beyond that.

Benjoewoo – 4/5
You play this guy because he's amazing in military. 6 military force at 4 cost is pretty hard not to marvel at, with useful traits. But, the dash political stat and attachment restrictions are a relatively large drag.

I Fight Dragons – 3/5
Moto Horde exists to be charged into play or brought back with Cavalry Reserves and that's about it. It's impact with those 2 cards gives it a pass for being a very terrible value proposition for 4 cost, otherwise. So long as Charge and Cavalry Reserves is run in your deck, it's probably worth slotting a couple of these guys.


Shinjo Tatsuo (average score: 2.6)



Kingsley - 2/5
Tatsuo is almost the epitome of "too much movement, not enough stats to use the movement on." Four fate for a 3/3 is tough unless they come with an incredible ability (what up, Niten Master?) and Tatsuo distinctly doesn't, instead providing something that Unicorn already has a surplus of.

Grendel – 3/5
I think hes decidedly better then Moto Horde, especially if Unicorn gets access to a character worth cheating into combat, unfortunately Unicorn don't have access to a character like that currently.

nyxnyxnyx - 2/5
Once again, another movement ability that can't go home. 4 for 3/3 is quite bad. His ability can only be used from home (Tatsuo can't already be in the conflict), so it's a little awkward to use sometimes.

Benjoewoo – 3/5
This guy's ability tests your rules knowledge. He can't use it unless he's out of the battle, which means you held him back after spending the fate on him, and the ability is predictable, making it most likely a relatively small mind game on drawing out an overcommitted defense.

I Fight Dragons – 3/5
Yet more movement with this card alongside mediocre stats means I'm generally not super happy to see Tatsuo. Like the Shinjo Outrider, I expect his value to go up with a Stronghold that doesn't do what he wants to do for free every turn. His ability also has some clunkyness where he and the target you want to move in both need to be outside the conflict, which hurts a bit.

Shinjo Altansarnai (average score: 2.6)



Kingsley - 3/5
Altansarnai is in contention for the worst clan champion, but I don't at all think that means she's actually bad - with the right combination of effects, she can completely blow out the opponent, and Charge/Cavalry Reserves provide strong options for engaging those combinations. However, her base stats are comparatively low and she suffers from often killing characters that were going to go away anyway.

Grendel – 2/5
Ugh. I want this card to be good. I do. I really do. Occasionally you get some bomb plays off a Cavalry Reserves or a Charge. Most of the time you get a character that isn't worth hard casting ever. Just a laughably bad example of Cavalry Tax.

nyxnyxnyx - 3/5
Her ability gets better when going first, and on smaller boards. Unicorn unfortunately lacks additional avenues of character discard like Way of the Crab that would make her ability more painful, so she's not too great at the moment. In most cases you'll either not be able to break at all, or get chumpblocked (preventing unopposed) and then forcing your opponent to discard the chump anyway.

Benjoewoo – 2/5
This ability seems great because you get it for doing what you want to do. On a cheaper character or non-clam champion, great. On your clan champion, who has some of the least efficient stats against her peers? Not great. If your opponent plays well, her ability will get rid of a spud body who doesn't have much use left in the turn anyway. Even if your opponent plays poorly, you'll often be putting out another card or two to set up her ability to hit the best target possible, which sets your opponent back at the cost of likely card advantage and hurting your own ability to go blitz/swarm, which seems to be unicorn's best bet out of the core set.

I Fight Dragons – 3/5
Poor Altansarnai. One champion had to be on the weak end of the scale, and it happened to be the one in the weakest core set clan (in my opinion). Her ability can actually be quite devastating if you combo it with Assassinations and perhaps even the rogue Fallen in Battle. The problem is her ability requires winning and breaking on specifically military attacks, which means you have at most 3 opportunities for her ability to be relevant during a game (Since you've already won when you break the 4th). That's the best case scenario as well where you never break a province politically which definitely won't be the case every game. I'm not sure if she'd be really busted if her ability triggered on just military win and not break, but alas that is just not the case. Don't get me wrong, Altansarnai is still a solid character for the cost but not much beyond that.


Iuchi Wayfinder (average score: 4.4)



Kingsley - 4/5
Iuchi Wayfinder is an amazing card to draw in the early game. In the late game it can be lackluster, but with blowout provinces like Restoration of Balance, Shameful Display, and Endless Plains in the game you might really want this one as insurance - and if more cards like that get printed, this could end up being a 5/5.

Grendel – 5/5
While this card has decreasing value as the game progresses, its ability to prevent you from being blown out by walking into a bad province can decide matches on its own. This card will become even more valuable as the game matures and province selection becomes even more open. I would play this with 0 stats. It also has 2 important traits.

nyxnyxnyx - 4/5
1 for 1/1 is pretty meh, but the ability is actually very useful, particularly in certain matchups like Dragon where there are extra provinces like Restoration of Balance for which information is crucial.

Benjoewoo – 5/5
One of the cards that makes you want to splash unicorn, it lets you effectively "turn off" otherwise once per game provinces like elemental fury. Doesn't guarantee the other choice is better, but you can play around a specific ability really hurting. Being a cavalry shugenja is also really good in clan.

I Fight Dragons – 4/5
For 1 cost, getting 1/1 in stats is the standard fair for a conflict character with a good ability. The ability on Iuchi Wayfinder is pretty much always good, allowing you to better plan your conflicts and not be taken off guard by the very swingy provinces such as Shameful Display. One of the best cards to splash out of Unicorn as well, due to being a 1 cost Shungenja in addition to its inherent usefulness.


Ide Messenger (average score: 1.6)



Kingsley - 1/5
Bad stats, expensive, and this ability is something that you have much better sources of already. Instead of paying two fate for a bad character so that you can then spend another fate to move in (three fate total), why not pay one fate for a Favored Mount?

Grendel – 2/5
I think this is the only card in the game that I have not seen on the table. Obviously cheating a character into a combat that couldn't get there otherwise is a very strong play but only Crab has one of those characters currently.

nyxnyxnyx - 2/5
Terrible stats at 2 for 1/2, with an abiity that costs 1 fate just for something Unicorn already swims in, a movement to conflict (but not home!).

Benjoewoo – 2/5
Very inefficient stat wise, and requires a large investment for a movement.

I Fight Dragons – 1/5
I loathe giving a card such a low rating, but comparing this card to Favored Mount is just sad. You need to pay 2 fate to get the same military, but get 2 extra political, skill and then pay 1 additional fate to move in someone. If you want to do this in two turns, you need to invest 2 extra fate (1 on the Messenger itself, 1 for the ability). In comparison, Favored Mount gets you the repeat move in and the 1 military for 1 fate, with no additional fate costs each turn, at the cost of 2 political skill and the flexibility of choosing your target each time. This card just isn't worth it.


Favored Mount (average score: 3.8)



Kingsley - 4/5
Favored Mount is an easy splash for increased movement, provides a nice little stat boost, and has some extra synergy within Unicorn thanks to providing the Cavalry trait. Strong both as a splash and in faction.

Grendel – 3/5
A very strong 3. Bestows a trait, a mil, and a decent ability. Pairs very well with the games premier attachment.

nyxnyxnyx - 4/5
To be honest, it's probably a 3/5 within Unicorn, but gets 4/5 for its value in other clans as a splash. At only 1 influence, it's a flexible surprise movement ability that can combo with other stuff like Watch Commander/Guest of Honor. The +1 MIL is actually relevant, too.

Benjoewoo – 5/5
You splash unicorn for primarily this, wayfinder, and spyglass. The stat buff is good too. Solid card.

I Fight Dragons – 3/5
A solid attachment for Unicorn allowing them to have EVEN MOAR MOV3MENT!!!! Outside of Unicorn this attachment gets nice extra value as a surprise reinforcement in a conflict or a means to counter send home effects. Overall, Favored Mount is good, but not great.


Spyglass (consensus score: 5)



Kingsley - 5/5
Spyglass is one of the best cards in the game, providing huge card advantage if left unchecked, especially if given to a character that has movement abilities or can otherwise participate in multiple conflicts in a turn.

Grendel – 5/5
Card Advantage wins games. This card generates absurd CA. It also provides 1 pol. This card cannot stay on the table or you will more than likely lose the game if your opponent can trigger it twice repeatedly.

nyxnyxnyx - 5/5
If you can use it twice per turn, for maybe 2 turns, this card is just game-breaking. It's not even that hard to do either, between any kind of movement like Favored Mount/Favorable Ground and ready effects. Prime target for attachment control, but you just jam 3 anyway because it's so good. Oh, it also gives +1 POL.

Benjoewoo – 5/5
Probably the 1st reason you splash unicorn. Drawing cards up to two times a turn for sending the attached character to conflicts is great. With the SH, more easily triggers twice, and can draw you multiple cards with multiple copies or in combination with Ide Trader.

I Fight Dragons – 5/5
The best Unicorn conflict card in terms of raw value. On a character with multiple fate alongside some ready or movement shenanigans, this easily draws you 2 cards a turn for 1 fate which is not matched by any other economy card in the game, really. This card is another fantastic card to splash outside of Unicorn as well.


Born in War (average score: 2)



Kingsley - 2/5
This card can give +4 MIL for two fate. That's not really very good, and in later conflicts it'll give less than that. In an environment that had attachment recursion or fewer discard effects this might be strong, but right now it's highly constrained.

Grendel - 2/5
While adding up to 4 to your math, the ubiquity of attachment hate makes this card weak in a game with 1 cost attachments providing 2.

nyxnyxnyx - 2/5
2 cost attachments are bad due to attachment control yada-yada. This one at least is rather resilient to Calling in Favors (it'll drop off unless Scorpion has a Cavalry from Favored Mount or something). Best case it gives +4 MIL for 2, which is decent until you realize Banzai! gives 4 for 0 fate and 1 honor.

Benjoewoo – 1/5
High cost for steadily decreasing bonus, which caps at 4 and will be at least 1. Not very good without attachment protection cards in circulation.

I Fight Dragons – 3/5
This is a decidedly average effect for a 2 cost attachment but can be a nasty surprise. Unfortunately, attachment hate is really easy and (somewhat) popular at the moment, which makes this card one of those 2 cost attachments that doesn't feel strong enough to risk getting Let Go or Calling in Favors'd.


Breakthrough (average score: 1.4)



Kingsley - 1/5
IMO terrible, probably one of the worst cards in the game? The fact that the conflict occurs immediately means you don't have time to play I Am Ready or similar effects to stand up the guys who just attacked. There are some niche situations where this card could be strong, especially if there are large amounts of fate on valuable rings, but that doesn't happen so often and a lot of the time this is just going to clog your deck. I hope I'm wrong, because the concept here is very cool, but I don't see this really doing anything much of the time.

Grendel – 2/5
Extremely limited and Narrow with a marginal effect.

nyxnyxnyx - 2/5
Pretty great in conjunction with ready effects like Border Rider and something like Captive Audience to really put the screws to your opponent on the game-winning turn. Unfortunately the plan is easily foiled by your opponent defending any one of the two province-threatening challenges, which makes it too much of an all-in to be any good.

Benjoewoo – 1/5
If this card lets you close out a game, chances are your opponent is losing anyway. This card does NOT let you get a pre-conflict phase, so you have enough bodies to reasonably take a province against your opponent in a political conflict, assuming your first conflict was military. That means the SH is turned off and you didn't get a chance to put on nifty attachments like spyglass to rebuild your hand after playing this card.

I Fight Dragons – 1/5
Spending a card to go directly to your next conflict after breaking simply isn't worth it right now, and I'm not sure if it every will be. The main benefit of attacking again is to get a second ring declaration or try and tempo a win if you break their 3rd province and somehow can also threaten stronghold. The narrow benefit combined with the limited requirement of breaking a province (see: Altansarnai) makes this card a non-starter and easily binder fodder, in my opinion.


Captive Audience (average score: 4.4)



Kingsley - 4/5
Captive Audience can produce huge swings/reversals in the right circumstances, especially against political-favored clans. This can also be a crucial tool for defeating Kuroi Mori - Lion and Crab in particular have serious issues with breaking Kuroi Mori on a stronghold thanks to its ability to swap the conflict to political, and Captive Audience can counter that. However, this is also

Grendel – 5/5
Amazing card right here that can create huge swings in combat math.

nyxnyxnyx - 5/5
Extremely impactful ability that has relevance in skill calculations, on top of negating or enabling certain conflict-type dependent abilities. Dash Military characters are immediately sent home bowed, and anyone who has lopsided POL/MIL is punished. For the low, low, cost of 0 fate and 1 honor, the ability is downright amazing.

Benjoewoo – 3/5
This is arguably one of the reasons you splash unicorn, because it turns off Bayushi Shoju's ability, one of the best in the game, and can send home and bow people with a dash military stat. Good for unicorn because they have few political leaning characters with a number of dash political stat characters.

I Fight Dragons – 5/5
If Kuroi Mori has taught us anything, it's that switching the Conflict type mid-conflict whenever you want is a very powerful effect and Captive Audience is no exception to that precedent. Paying 1 honor is a very low cost to outright flip the tables on a conflict, which is why and when you play this card. This is yet another reason for any military leaning deck to be considering the Unicorn splash carefully.


I Am Ready (average score: 3.4)



Kingsley - 4/5
Imagine Against the Waves except it can't be used to bow, but it works on any Unicorn character and you pay in advance. That's a pretty solid card! The Unicorn restriction means that it won't be very strong as a splash, however.

Grendel – 5/5
Ready effects are amongst the best effects in the game and this one being mostly unconditional(outside of having payed for the cost earlier.) makes it one of the best of those effects. Also baiting a void ring and then readying a character with 1 fate is super tech.

nyxnyxnyx - 3/5
If Unicorn ever gets a character worth standing repeatedly, this card will actually be pretty good. Right now it's roughly a 1-cost ready event that forces you to pre-pay the 1 fate in advance, which makes it slightly telegraphed if the opponent is keeping track. You better be doing something really good with the Ready though, since you're frontloading the extra use of the character now at the cost of its use in subsequent turns.

Benjoewoo – 2/5
This card is terrible out of the core environment, because you're spending fate and then removing fate investment to unbow people for what is assumedly a winnable subsequent conflict. But, you're stealing from your future self for this barring you splash Lion and got For Greater Glory off.

I Fight Dragons – 3/5
I originally really liked this card, but I found myself more lukewarm to it after playing as often your best characters are the ones with no fate that have been building for a few turns. This card is still just fine, essentially getting you a turn's worth of value of a character later (1 conflict) right now at the cost of that turn's fate. There's some cuteness as well in using this card to avoid a Void ring effect your opponent declares on you, which makes me smile when it happens.


Way of the Unicorn (average score: 2)



Kingsley - 2/5
Usually, going first is okay but not particularly worth it. However, Unicorn's mobile playstyle often benefits from playing second, because your opponent really has to worry about how much defense to commit to conflicts. As it stands, the "go first" cards Unicorn has access to aren't particularly amazing, and while this does mean you have a better chance of passing first to gain a fate and have your first choice of rings, it isn't at all clear to me that that's worth a card slot at present.

Grendel – 2/5
Hopefully they will make more cards that synergize with this card.

nyxnyxnyx - 3/5
Going first is kind of a theme with certain Unicorn cards like Meishodo Wielder and Moto Youth, so this enables that. If you're somehow exactly tied on provinces and need to strike first next turn to win, then this is also pretty good. If there's a particularly juicy ring available next turn, then this also lets you get first dibs on it. Indirectly, this also should help give you the fate from passing first, which is actually pretty clutch if it made the difference. It's probably still better, however, to just play something that straight up wins conflicts.

Benjoewoo – 1/5
Very conditionally useful. You never want to draw this except after all conflicts have finished in a turn in which you were first player, because it does nothing until the end of your "first player" status turns.

I Fight Dragons – 2/5
Going first is almost certainly an advantage outside of the first turn of the game (free fate too strong), as it lets you get first claims on important rings and/or rings with fate built up on them as well as extra tempo to gain a passing fate. Unfortunately, I don't think Way of the Unicorn is worth a conflict deck slot for that benefit, especially because drawing it while you are already second player means you have to wait 2 full turns before you can get value out of it.


Cavalry Reserves (average score: 3.6)



Kingsley - 4/5
This is a hugely impactful event, and while it can be crushing to get this cancelled the impact of this card can be massive. Unlike Scorpion's Ambush, using this doesn't require cards in provinces or conflict characters, making it much less situational.

Grendel – 4/5
This card can win games if it isn't cancelled. Just need a decent way to fill up the discard pile quicker.

nyxnyxnyx - 2/5
3-cost event, so watch out for those event cancels. This lets you dig for only Cavalry characters and only out of your dynasty discard pile, so it might take some setup. The payoff seems great (3 for 6!), but if you factor in the fact that you usually would play fate on big/strong characters to get double use out of them, then the '6' you get now is actually an inflated value, since they will always die without any additional fate on them in the fate phase. Also only works on MIL, not POL.

Benjoewoo – 3/5
Recursion is good. No restriction on number of bodies is great. Trait and conflict type restrictions lower the rating, though they may not be debilitating. However, the high fate cost as an event makes it very high risk in an environment where 2 event counterspells exist. Also, current target availability can be very unfavorable. But, you run it because blitz/swarm seems the only real strategy in the core only environment.

I Fight Dragons – 5/5
Cavalry Reserves makes Unicorn's finishing pushes very scary and difficult to stop outside of an event cancel or an overwhelming defensive force or effect. It turns out paying 3 fate for 6 fate worth of Cavalry units usually ends up being at least 6 skill and averages 8 or 9 in my experience which is a very strong bargain, especially when played in multiples. I find that Unicorn relies heavily on this card to win games, however, so against decks that have event cancels and know they need to save them for this it is a very steep uphill battle for Unicorn to win right now. That said, this card is ridiculously powerful and an obvious staple for any Unicorn deck running lots of Cavalry units.
Article: Legend of the Five Rings Review: Unicorn Clan