Welcome to Card Game DB
Register now to gain access to all of our features. Once registered and logged in, you will be able to create topics, post replies to existing threads, give reputation to your fellow members, get your own private messenger, post status updates, manage your profile and so much more. If you already have an account,
login here
- otherwise
create an account
for free today!

5
Quill & Tankard Regulars - Volume II, Issue 6
Dec 19 2015 07:40 PM | WWDrakey in
Articles
Q&TR
Istaril
WWDrakey
JCWamma
Ire
Ratatoskr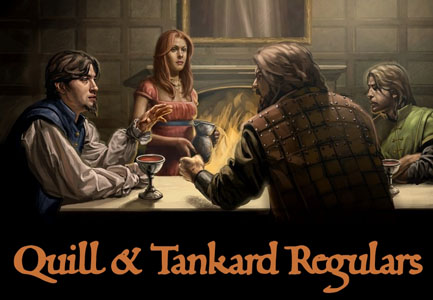 Quill & Tankard Regulars - Volume 2, Issue 6
The pair of players watched in horror as the game piece bounced off the table, rolled across the floorboards, narrowly missed being stepped on by a hobbling patron, found itself being kicked by another, and finally ended up in the Archmaester's soup.
The splash was a small one, but did send pieces of fish disappearing into the folds of the man's mighty beard.
The Archmaester in turn grabbed his walking stick, and pounded on the Inn's floor, drawing the attention of all other players. With rheumy fingers he fished the piece out of his soup, dropped it on the table, then ambled to the chalkboard on the wall.
On the board it read:
Q&T Cyvasse Night Rules:
#1 - No free beers.
#2 - No trained monkeys.
#3 - No smoke-generating pyromantical concoctions.
In stern letters, the Archmaester added below, one more item:
#4 - No excessively forceful tossing.
Backroom Rumours
Backroom Rumours brings up various timely topics related to current developments in the game and specifically rules matters.
While full Floor Rules have not yet been provided (as they have for Netrunner), we do now have a set of official Tourney Rules available. Interesting contents include:
Joust game length has now been standardized to 55 minutes (instead of the 50-70 minute range used previously). While removing some leeway from tourney organization, this should help create a more cohesive tournament experience across the board.

An unchanged scoring system - Win 5 points, Modified Win 4pts, Draw 2 pts, Modified Loss 1 pts and Loss 0 pts.

Explicit handling of Byes with regard to Strength of Schedule development.

An "End of Match" procedure that does not list conceding as a possible ending for a game, but rather states that a game ends by one player gaining enough power to win, or time running out. That said, the rules do not include running out of cards here either, so it is likely that there will still be other changes to this section down the road.

Introduction of Extended Strength of Schedule term, in addition to Strength of Schedule. While Strength of Schedule is counted from the average points your opponents receive, Extended Strength of Schedule is counted from their Strength of Schedules.

Tiered Tiebreakers for deciding order (Head-to-Head games, then Strength of Schedule, then Extended Strength of Schedule and finally random).

A somewhat abridged Unsportsmanlike Conduct section, likely to make room for upcoming Floor Rules. Apart from the standard stuff of stalling and treating other players with respect, there is a focus on prohibiting any collusion to manipulate scoring. Oh, and tossing components on the table excessively forcefully is a no-no. Umm… ok.

Judges are still allowed to participate in Casual and Competitive Tournaments (including Store Championships), but not in Premiere ones (such as Regionals, Nationals and World Championships).
Having the Tourney Rules available at this point should help greatly in allowing prospective TOs to prepare for the upcoming Store Championship Season.
The Raven's Message
The Raven's Message exclusively reveals and discusses an up-and-coming, either mechanically or rules-wise interesting, card. The cards are from future products, and have been obtained directly via raven from the Archmaesters at the (FFG) Citadel.
From a veteran's point of view, decks in a A Game of Thrones Second Edition have so far been mostly playing a very straight-forward type of game - "playing nice", if you will. While there's been the odd complaint about kneel, burn or unopposed causing frustration here and there, decks have generally conformed to a "STR matters, get characters on the board and try to turn them sideways more artfully than the opponent(s) (while dodging Varys)" philosophy.
While that is indeed close to the Core and heart of the game, there have always been some more underhanded approaches to the game in the past, and our spoiler today definitely does its best to shake up how the game is played.
So, seems like it's time to call that king's peace into question with a nice healthy dose of challenge denial - all In the Name of Your King!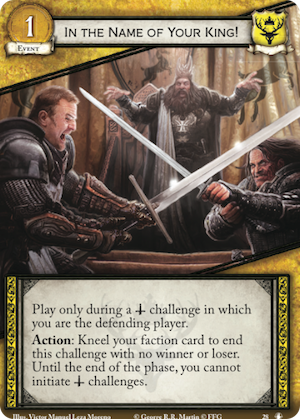 With Baratheon having already been a lightning-rod for cries of frustration and feelings of unfairness or feeling weaponless, it is likely not a surprise that they're also the one pushing the envelope here. Highly thematically, the methods and privileges of those sitting on the throne often feel both stifling and unfair to those they rule.
From a rules perspective In The Name of Your King! offers some interesting interactions for us, as it is the first effect in the cardpool that can prematurely end the challenge, i.e. before the challenge resolution framework window. It bears mentioning here that in 2.0 even a Challenge with no participants (f.ex. thanks to Highgarden or The Things I Do For Love) will still go through the full Challenge resolution, and thus also be available for jumping in new participants, if that ever becomes possible. In the Name of Your King! simply brings the whole conflict to a screeching halt.
Firstly, the basics - this can be played in either of the action windows within a challenge (i.e., after attackers are declared but before defenders are declared, or after defenders are declared but before resolution). This gives the event some flexibility - you can immediately end the challenge without having to commit anyone to defend the challenge, or you can declare defenders, draw out any challenge tricks the opponent might be holding on to, and then end the challenge.
The challenge itself is still considered to be initiated, but as we never get to the Challenge resolution, nobody wins or loses the challenge. The former point is relevant for cards like Sneak Attack or the upcoming card For the Watch!; the latter is relevant for effects like For the North!, Sunspear, The Long Plan and keywords such as Intimidate. It's also worth establishing that the challenge still happened, and all effects within the challenge aren't undone - the opponent has still initiated their military challenge and thus cannot (short of a special card effect) initiated an additional one, a character that was killed by Dracarys! wouldn't come back from the dead, and so on.
It should not be forgotten that the card has a second effect: "Until the end of the phase, you cannot initiate military challenges". This is an absolute (as cannot's tend to be in A Game of Thrones), and permissive cards like Khal Drogo and A Storm of Swords do not get round this downside.
Of course, less diligent apprentices will have no doubt ignored such poignant rules ramifications and jumped straight to ponderings of the card's place in the meta. It's certainly an eye-catching card, with something of a hint of first edition's Burning on the Sand about it as our first true 'challenge denial' card. For those who felt Baratheon was an NPE faction before, we shudder to think of the ramifications this card will offer up...
Interestingly, to use this card effectively one must go against Baratheon's "normal" way of playing in two different ways.
Firstly, Baratheon's primary focus has thus far been on the power challenge, with The Red Keep cementing its importance in the faction's playstyle - does this card let you ignore military further to go further down the power challenge rabbit-hole, or does it fit into a deck that's trying, more so than the typical Baratheon deck, to avoid losing military challenges?
Secondly, if the Baratheon player wishes to still attack on military, they must play first to avoid the drawback of the event, rather than the traditional kneel position of letting your opponent(s) marshal first before kneeling out their best card. Perhaps to tie into the theme, this is designed to evoke the thoughts of King Robert charging in by swinging his hammer round, intimidating those foolish enough to stand in his way, but others not being allowed to go for the kill against their rightful
King
.
On top of that, the card is a very difficult one to fit in the currently most prevalent Baratheon Fealty decks, as it directly competes with the resource production, as well as all other Faction kneel effects you might want to run in the deck.
It is also interesting to note, that In the Name of Your King! is one of the first cards to directly support a more Char-Lite approach to the game, perhaps allowing you to have more meat (say, the brothers Robert & Stannis, with a selection of few weapons and other supporting attachments) and less potato (cheap weenies that you need to have available for military attrition).
What do you think of the place in the meta of In the Name of Your King!? Are you excited to play with it? Nervous to play against it? How loudly do you anticipate yourself bellowing the name of the event when you play it? Let us know your thoughts in the comments section below!
Antti Korventausta (WWDrakey
)
is a self-proclaimed Finnish AGoT philosopher and doomsayer hermit, who used to practice Quantum Mechanics, but found that it paled to AGoT in both interest and complexity. Having played and judged for more years than he would like to admit, he has found himself on the winning side of rules arguments more than he would expect. In any game he plays, he has a tendency of playing anything he considers to be off the beaten path, whether it makes sense to others or not
.
H
elmut Hohberger (Ratatoskr) started playing AGoT in September 2010 and has never looked back (although his wife has, longingly). As a German, he loves rules - and I mean *loves* 'em. He is the quintessential rules board morlock. While the others played and frolicked about outside, he sat by candlelight in a remote corner of the library and tried to get a grasp on the intricacies of the 1st edition rules. He even thought he did not do too bad at it, but then the Call of the Three-Eyed Crow drove him into the darkest depths of madness and despair. But he's all better now, honest, and looking forward to new challenges.
Iiro Jalonen (Ire) Started AGoT in 2009, got pulled under the waves by Krakens years ago, and has never looked back. While not an Oldtown local, he has often been spotted in the Quill & Tankard Inn making sure that the rules of sportsmanship are maintained with the traditional finger dance games. A self-inflicted Shagga and active member of the global AGoT community, he has always strived to know the rules of the game, in order to make them do ridiculous things.
James Waumsley (JCWamma) is a first edition veteran who has judged at multiple large tournaments including the European championship of Stahleck. A renowned loudmouth and pedant, he will shout about the rules loud enough that he can be heard by those north of the wall.
Alex Hynes (Istaril) co-hosts Beyond the Wall, writes articles for FFG, created and curates the Annals - and even tried to fill in ktom's shoes in the big ktom drought of 2013. When the Regulars asked him to be an honorary member, he, of course, refused and said he didn't have the time. Or should have, anyway. Still, how much work can being an "Honorary" member be?
emptyrepublic, scantrell24, Ire and 3 others like this
Article: Quill & Tankard Regulars - Volume II, Issue 6