Welcome to Card Game DB
Register now to gain access to all of our features. Once registered and logged in, you will be able to create topics, post replies to existing threads, give reputation to your fellow members, get your own private messenger, post status updates, manage your profile and so much more. If you already have an account,
login here
- otherwise
create an account
for free today!

0
Star Wars LCG Game Images and Play Overview
Aug 06 2011 05:14 AM | Darksbane in
Articles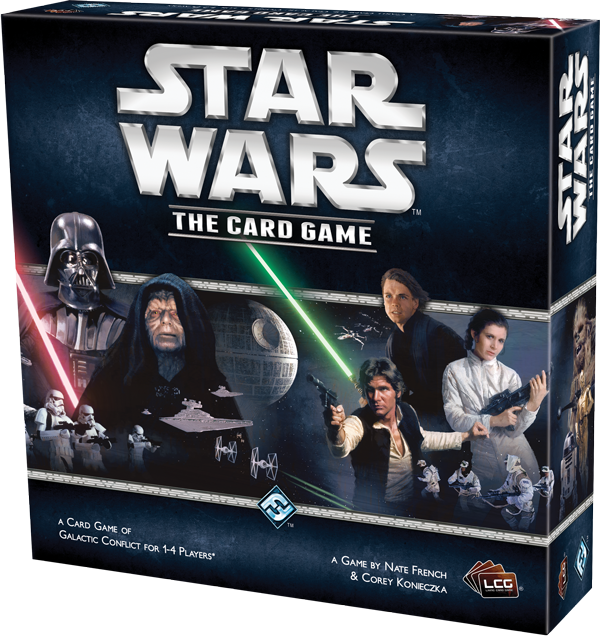 Disclaimer for FFG - All images, card abilities and gameplay are subject to change and may not be final
!
So I got to play the Star Wars LCG at Gencon today and I quite liked it, perhaps even more than Lord of the Rings.
Two demo decks were available (Military and Rogue). The game starts off drawing a hand of 7 cards. You then may play 7 cost worth of cards out to one of 4 zones.
The space zone holds your ships, ships are also the cards which produce resources, defend against imperial space attacks, and attack the encounters ships. You must protect against the space attacks because 10 damage to your base and you are out of the game.
The Reserve zone has cards which are generally support in nature the most frequent ones you play will draw you extra cards.
The Mission zone holds the characters which go on the mission to try to get progress tokens to advance to the next stage.
The Combat zone holds your attackers which you use to attack the encounter deck's characters.
Once you have played your cards you draw back up to 7 and begin with the first phase Draw. You draw 1 card off the top of your deck and may exhaust any cards at this time in your Reserve zone which allow you to draw extra.
Phase 2 is Mobolize. You play your cards from your hand during this phase and my place one development under your base. Each development under your base allows it to generate that many resources. In addition you can exhaust your ships to produce more resources.
Next is the Encounter phase. Each player reveals 2 cards off of the top of the encounter deck and adds them to the appropriate area resolving any when revealed effects as they come up. The Flashpoint keyword on some encounter cards making it so you can't discuss this with your partner can make this phase very tricky.
Phase 4 is the strategy phase where a random Imperial strategy card is revealed. This card leads to phase 5 the Conflict phase, and also can allow the Imperial space fleet to attack at times.
The Conflict phase is where most of your combat happens, each strategy card will tell you the attacks and the order they are to be made in. Imperial characters are broken up into 3 groups. The names of the groups escape me but the first conflict is always the imperials attacking one of the rebel zones. The Players defend as a group and must assign the damage the imperials deal as they see fit. The next conflict is rebels attacking the zone of their choice. Once that attack is done the Imperials get another attack and finally the rebels get the chance to go on a mission as the last conflict, being opposed by one of the imperial groups.
*UPDATE*
Some more detailed info for yall, In response to some questions on BGG.
When a ground attack happens it is fairly simple, you total the attack in the attacking zone and apply the total as damage to any characters in the defending zone. If there is nothing there to defend generally nothing happens, however if the imperials are attacking and there are no rebels in the defending zone the players are likely in a bit of trouble already. Many of the combats that I was in was players trying to mitigate the damage coming from the first imperial attack, and then attempting to attack and destroy the imperials in the zone which would attack next. If you can wipe them out (which we did manage to do on a number of tries) then that 2nd imperial attack has no one to attack with.
Ship combat is slightly different. The imperials don't get to attack with their ships every round (only some strategy cards allow them to attack) but you have to be very careful to have standing ships to defend with for the rounds they do attack. Pilots are very important because they can let you attack the imperial ships and do damage to them as an action with your ships so you can do it at pretty much any time in the turn. This is the best way to take out the imperial ships so you don't take too much damage. When the imperials do get to attack though, you intercept them with your fighters by exhausting them and you trade damage.
There is quite a bit to it and for a game ran off a card AI I think there are alot of good choices for the player to make.
*End Update*
The imperials will be attempting to find and deal 10 points of damage to the Rebels base via their space fleet. The Imperial ships don't attack each turn though, so you really have to balance what you use your ships for, either attack, defense, or resources. Let the Imperials build up too big a fleet and when they do attack there will be no stopping them.
After Conflict is done you reach the last phase Regroup. In this phase you ready all cards, move the time counter up by one, each player may move one character to a new zone, and first player gets passed.
I'll be back there tomorrow if anyone has any questions or wants a better look at anything let me know
I've taken some bad pictures of various cards attached below.














































and here is another image I found of the Chewbacca card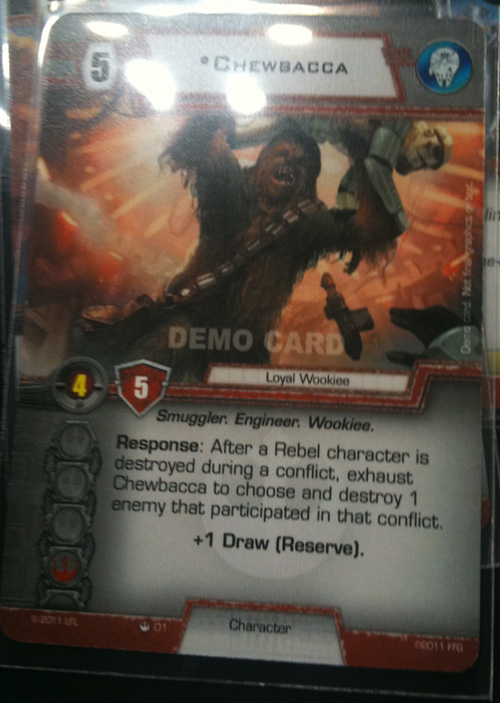 Article: Star Wars LCG Game Images and Play Overview