Welcome to Card Game DB
Register now to gain access to all of our features. Once registered and logged in, you will be able to create topics, post replies to existing threads, give reputation to your fellow members, get your own private messenger, post status updates, manage your profile and so much more. If you already have an account,
login here
- otherwise
create an account
for free today!
Notice!
We have scheduled maintenance windows for the following times:
Monday (5/20/2013) from 2200 EST to Tuesday (5/21/2013) at 0200 EST.
Tuesday (5/21/2013) from 2200 EST to Wednesday (5/22/2013) at 0200 EST.
Estimated Downtime 1-2 Hours total.
Follow cardgamedb on
Facebook
,
Twitter
, or
Google+
to recieve updates when we are down.
0
Call of Cthulhu Deck Building for New Players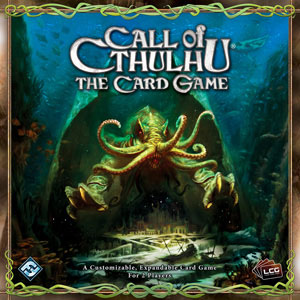 Years ago, I traded some boardgame I no longer remember for a set of starter decks for Legend of the Five Rings (Diamond Edition). I liked the samurai setting and wanted to try it out, although I didn't know much else about the game.
Well, when my package arrived, the starters were not in their original packages. They weren't separated out at all. They were all in a single cardboard box together with all the cards sorted by type, faction, etc...
Needless to say, this was very intimidating. I had no prior experience in any CCG before (LCGs hadn't been invented yet), no basis to understand how to take a collection of loose cards and assemble them into a reasonable deck of any kind.
I don't want you to have that kind of experience.
The Call of Cthulhu Core set comes with the cards much the same way, the decks aren't assembled yet. However, the cards have been chosen so that you can just put any two factions together, add a few Neutrals, and end up with a deck. The instructions for this are included, so hopefully nobody gets lost on the way to making their first decks.
But let's say you like the game, and you want to pick up more cards? Now you're on your own, without instructions. How do you integrate these cards with what you already had? How do you know which ones to select to end up with a playable deck? That's the goal of this article - to get you to that level of understanding where you can construct a playable deck. It may not be tournament caliber, but it will basically make sense and you'll find that the quality of the decks you create will improve over time and you only need to know a few basics to get started.
A legal deck in Call of Cthulhu consists of at least 50 cards, with no more than 3 copies of any given card. There is no maximum size, but you generally want to stay very close to 50. The reason is consistency. The fewer cards are in a deck, the more reliable it is, meaning more consistent odds of when you'll get the cards you're looking for. So as a rule of thumb for beginners, try to keep it close to that level. A couple cards over is no big deal but try not to go over that.
One note though, there *is* one time when I commonly have extra cards in my deck. When I'm making a brand new deck sometimes I have several cards and I don't know which ones I really want. So for a first cut I might just go ahead and put them all in even if that takes me up to 60 or so. The intent is that I'm going to play a couple of games and see which ones I actually find useful during the game. The ones that never seem to get used will be cut, and then I'll be back down to a proper deck size.
There are three basic card types in the game - Characters, Events, and Supports. I'm going to omit Conspiracy cards for now for two reasons. First, you almost never have more than a couple of them, and second, it's probably best to reserve those until you have a bit more experience. Remember, this guide is for the absolute beginner.
So, what proportion of your deck should be of each type?
As a general rule of thumb, I recommend about 60% of the cards (30) consist of Characters, with the remainder split between Events and Supports. It's probably better at this point to make more of them Events. So, something like 30/12/8 is probably a reasonable spread to aim for, but don't worry if your deck differs by a card a two. It's just a general guideline.
When selecting your Characters, you should be aware of a concept called the "Resource Curve". At the beginning of the game, you start with three Domains that you use to pay for cards. At the start of each turn you can add one card to one Domain as a resource. So when you play your first card they will typically be 2-1-1, then next turn maybe 3-1-1 or 2-2-1, and so on. So, your economy isn't going to jump into the stratosphere right away, it takes time to build it up to the point where you can afford those really powerful cards.
So, you need some balance in your card costs. If you have all high-cost (4+) cards, then you won't be able to play anything in the first few turns and your opponent will probably be out there winning stories and gaining a strong lead. On the other hand, if you have all low-cost (2 or less) cards, then you'll probably start falling behind later in the game when your opponent is beginning to play his big guys and you don't quite have the muscle to stand up to them anymore.
Like most of this guide, this is a generalization, and an experienced player likely CAN put together a working deck featuring a more skewed distribution of high or low cost cards. But to start out, I'm going to recommend you go with a more standard distribution for now.
Very few Characters cost 0, most of them are going to fall between 1-6, with cost 6 cards typically being actual Ancient Ones like Cthulhu himself. I'll call the cost 1-2 characters the "cheap" ones, cost 3-4 "moderate", and cost 5+ "expensive".
Very generally, I'd recommend having between 5-12 of your 30 characters in the "cheap" category, not more than about 4-5 in the "expensive" category, and the remainder in the "moderate" category. It's not meant to be a perfect system, but it should ensure you have a reasonable working deck.
These numbers may skew a bit depends on faction as well. For instance, Cthulhu is a "slow" faction which means they tend to have more high cost characters and fewer cheap ones. On the other hand, a Syndicate (mobsters) deck is likely to have a lot more cheap guys in it - referred to as a "rush" deck. You'll explore these differences more as you gain a little experience in the game.
Now, we haven't mentioned factions much up to this point. I'll keep this simple for you. You've got two choices. You can run a single-faction deck, or you can run a two-faction deck. I do not recommend more than two factions unless you're fairly experienced and know what you're doing.
If you're reading this guide, there's a fair chance that you do not yet have enough cards to pull off a single-faction deck and that's fine. Two-faction is sort of the default anyway.
Pretty much any two factions together can work, but if you're brand new you may want to avoid decks made of two Human factions (Syndicate, Agency, and Miskatonic) at first. The reason is that the Human factions tend to have little resistance to Terror effects. This isn't actually a balance problem because they have other benefits (much better Investigation for instance) but for your first couple of games you may become frustrated by not knowing how to deal with opponents that cause Terror and having some yucky monsters on your side as well will help avoid this. Later you'll learn that it's OK to sacrifice an occasional character to go insane (they do come back eventually) and it won't be an issue.
Does it matter what the proportion of cards is between my two factions? No, not that much, with the caveat that I wouldn't go TOO small on either one. Out of a 50 card deck, I'd probably go anywhere between an even 25/25 split down to about 38/12 but probably no lower than that or else getting resources for your other faction gets a bit unreliable. Also, if you're just taking a few cards it calls into question why you're not just going single-faction anyway
Do both of my factions have to follow the resource curve individually, or just overall? Probably just overall. Since only ONE resource of a domain has to match, this isn't really a big problem.
Are there any other special caveats I should be aware of to do with factions? Yes. Some cards have the "Loyal" keyword on them, this means that instead of just one resource in your domain having to match, a number equal to the cost of the card have to match. Try not to include too many Loyal cards. As a rule of thumb, I'd say no Loyal cards that cost more than 2 unless you have 30+ cards of that faction in which case maybe you can do cost 3. But overall, try not to use too many.
Also, most of you are probably starting from the Core set and don't have these cards, but later on a new faction was added called the Order of the Silver Twilight and released in an expansion of that name. I feel they're a little harder for beginners to learn with, being a rather combo-oriented faction, so you may want to hold off on them until you've got a few games under your belt and feel you've got a pretty good handle on things.
We've been yapping on and on about Characters, let's get back to Events and Supports.
These cards are less influenced by the resource curve, although you should probably still follow it to some degree. The reason being that if you cannot play any Events it just means nothing unusual happens, where if you cannot play an Characters it can result in unopposed Stories which gives your opponent a lot of extra success tokens.
One of the common complaints from brand new players is a feeling that story resolution causes AP, that it's a matter of tallying up the icon counts in all possible permutations to predict what's going to happen. There are two main reasons for this feeling. First is inexperience (which I can't do anything about). Second though is under-use of Events and abilities. This is why I recommend going heavier on Event cards than on Supports. Starting out, you almost cannot have too many Events because they add more unpredictability which translated into more tension, which will probably translate into more fun - holding you over until your skill starts generating more of the tension on its own.
Character abilities are in the same category - they can be used to make something unexpected happen, or at least happen in an unpredictable place, and this prevents story resolution from being predictable.
Event cards and many character abilities will cost you a domain to execute (although it's usually just a small one), so be sure to leave on open if you plan to play one, or just want to make your opponent wonder if you will. Using all your domains is telling your opponent "I'm fresh out of tricks, what you see is all I've got". Don't do that too often unless it lets you do something else important.
Anyway, Events are potent surprises because they can be played at nearly any time and can upset your opponent's expectations which can cause big swings in the game. A simple hypothetical situation... You each have one character. You have a cheap file clerk sort of guy that's good at Investigation but can only bench press about 40 pounds on a good day and he has a big nasty monster that could rip your arms off and stuff them down your throat before eating your face whole. It's your turn, both characters are ready, and he *KNOWS* that you cannot possibly go after a story because if you do the monster's going to kill you. Enter the Event card. Now let's say that for maybe 2 resources you play an Event that makes that monster be exhausted so it can no longer defend. Or maybe it's an Event that strips away its combat icons so it can no longer kill you. Or even an event that makes the Combat struggle be resolved with a different kind of icon that YOU have the advantage in and you actually can kill IT now. That's a big swing! You've gone from having a choice of either being too scared to try to make progress or getting killed if you try to potentially slipping past him and winning a story or taking out his big ugly monster.
So always keep an eye on your Events and what you might be able to do with them. When you plan your deck, think about what situations your Characters might get into that would cause problems for them, and see if you can come up with any Events (or Supports or Character abilities) that would help them succeed against those challenges.
Supports are actually a bit like Events, only you play them in advance so your opponent usually sees them coming. Therefore, they're going to tend to cause smaller swings, but this is made up for because they stick around and can potentially be used more than once.
Finally, let's talk just a little bit about the basic flavor of each of the factions. You may have a deck concept in mind, but be unsure what factions would fit with your idea.
Human factions
Miskatonic University (aka Mistaktonic): These are your college professors, students, and researchers. They're #1 out of everyone when it comes to Investigation (which can help you gain extra success tokens and win stories quicker), and not bad at Arcane (which helps your characters become ready for immediate use after being exhausted at a story). They're kind of a split between the cheap students and slightly expensive professors and tend to be good at rushing with their cheap guys. Their downside is that they're very poor in Combat and tend to have trouble with Terror as well, but you should be able to have enough Characters out that you can afford the odd sacrificial lamb.
Blackwood Detective Agency (aka Agency): This faction is a mix of detectives, police, government agents, and the like. Out of the human factions, they have the least trouble with Terror since they have a fair amount of Characters with Willpower. They're quite good in Combat, often supported by Support cards representing different weapons. They've still got decent Investigation, but not as much as Miskatonic and certainly not as much Arcane. They're a good faction for beginners due to fairly straightforward play, I often start people off with a mono-Agency deck
Syndicate: Call them criminals, the Mob, Mafia, whatever, these are the organized crime of the era from low level thugs up to the family crime bosses. They're better fighters than your Miskatonic professors, but they'd prefer not to have to - this faction specializes in avoiding conflict and employs tricks like exhausting enemy characters, tying them up, and otherwise using misdirection so they can try to run at stories unopposed (which makes up for their lack of Investigation that the other Human factions have more of). Like Miskatonic they work well with a rush strategy of more cheap characters.
Order of the Silver Twilight (aka Silver Twilight or Lodge): Not in the Core set, this faction was added later on, they're very much into combos and tricks. If you like the idea of playing a character that bounces another character back to your hand so you can replay him which lets you sacrifice another card to do something else with another card - then Silver Twilight is what you're looking for, and hopefully this also highlights why I don't recommend them until you've got a little experience. At first glance, a lot of their cards seem to have both positive and negative effects, it's turning those seeming negatives into positives that makes them tick. I don't have a lot of experience with them yet.
Mythos factions
Cthulhu: Everyone loves the big green guy. And why not? Cthulhu is one of the better factions for single-faction decks and he just loves to destroy things. Expect a lot of cards that destroy characters and some that take out Supports. For a Mythos faction they tend to have a bit less Terror than most though, and they can also be a little slow - Cthulhu has more expensive characters and not as many cheap ones. I'd say they're a fairly rounded faction that can do a bit of everything depending on what sort of characters you concentrate on.
Hastur: Hastur specializes in insanity and taking control of your mind. Nobody drives folks insane like Hastur does, and particularly they have more ways to remove your resistance to insanity by stripping away Willpower or Terror icons. They're not the best fighters, and rely more on scaring enemy combat characters away or taking control of them to fight for you but that only gets you so far. They're nice to pair with another faction that DOES do combat well.
Shub Niggurath (aka Shub): Shub likes monsters, and the more of them and the faster they flood the field the better. She's the queen of acceleration effects, having a lot of cards that help you get your creatures out cheaper, get characters into play for free, or turn little creatures into bigger ones. There's a mix of Terror and Combat in the faction with a lot of characters having a bit of both. Shub is also the best at taking out Support cards. However, they're lighter on the Arcane struggle than the other Mythos factions and Investigation is rarely to be found.
Yog Sothoth (aka Yog): Yog loves two things, spells and recursion. If you want to search for cards, pull cards back out of the discard, put cards IN the discard, or peek ahead to know what cards are coming and maybe reorder them to stack the deck a bit, Yog's your man. There's the usual assortment of monsters and cultists of course too, with a bit more Arcane than average. They're not quite as good at combat and terror, but they've got the edge in ways to sacrifice characters. Sacrificing is better than destroying because it can take out characters that can't be destroyed, even up to guys like Cthulhu himself! Yog is probably a bit more Event-centric than most factions and can potentially get by with a few less Characters.
Article: Call of Cthulhu Deck Building for New Players