Welcome to Card Game DB
Register now to gain access to all of our features. Once registered and logged in, you will be able to create topics, post replies to existing threads, give reputation to your fellow members, get your own private messenger, post status updates, manage your profile and so much more. If you already have an account,
login here
- otherwise
create an account
for free today!

1
The Sleeper Below Review, Part 1
The Sleeper Below
Deluxe
Fhtagn!
Call of Cthulhu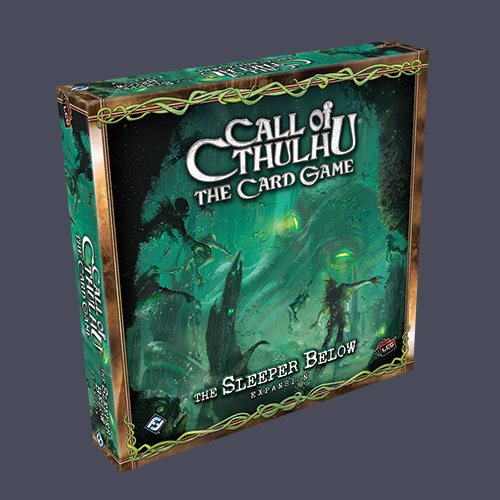 Our staff has put together a first blush analysis of the newly released The Sleeper Below, the deluxe expansion featuring the mighty Cthulhu himself. This is the first of three parts: all of the Cthulhu characters.

We've used a one through five scale; five being the best. The cards are listed in numeric order. Our reviewers are listed in alphabetical order. Let us know in the comments how you feel about the cards in this set!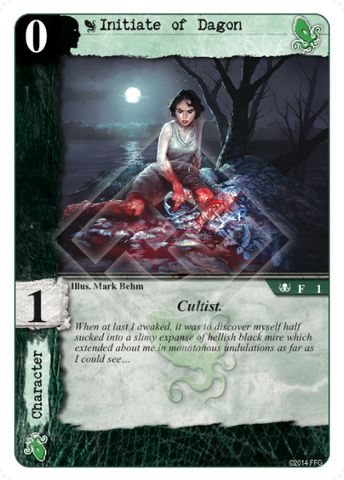 Danigral - 4 out of 5 - Pure vanilla goodness. Great for sacrifice effects or just an early character to rush stories if you have enough surprise control.
dboeren - 4 out of 5. Can you wear this robe? Great, you're in the cult! Pretty much just a warm body that can be used as fodder and soak up Cultist synergies but Cthulhu is lacking in cheap bodies so will see use.
Tom Capor - Can't ask for much with a zero cost character and has some good synergy with several other cards in this very set. Expect to see it aggressive decks and anything focusing on the Cultist theme.
WWDrakey & Ire - 4 out of 5 - As any student should know, there's no cost like "free" (be it food, beer or Cultists). An easy way of generating early presence, while leaving your domains open for other effects.
Wilbur - 5 out of 5 - Cthulhu can probably use these chuds to even greater effect than other factions and it's got a great subtype. With only 1 steadfast, it's boring and great.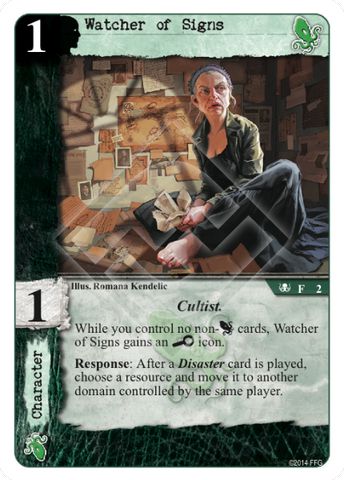 Danigral - 5 out of 5 - This card may prove to be a disaster. There are some pretty cheap Disaster cards out there and early resource-wrecking or resource-ramping could be very potent. The early investigation doesn't hurt either, but it's by no means necessary.
dboeren - 4 out of 5. Better in mono-Cthulhu decks where Investigation would be prized. Most of the Disaster cards are only so-so, better ones would raise him up.
Tom Capor - Outside of mono-cthulhu this character won't see much play. Except for that 'one deck archetype' that really focuses on his ability to ramp and/or disrupt a player's domains. In that type of deck it could really do some damage.
WWDrakey & Ire - 5 out of 5 - While tempered by the requirement of being run mostly in a distinctly dark green (and slightly fishy-smelling) deck, this particular Cultist can create all kinds of havoc. Thankfully most of the in-Faction Disasters however are 3+ cost ones (with Out of the Season Monsoon being the exception)...
Wilbur - 4 out of 5 - Partnered with some of the great disasters (Greatest Fear, Thunder in the East), this card can be game breaking. A card which also has the potential to improve significantly with new releases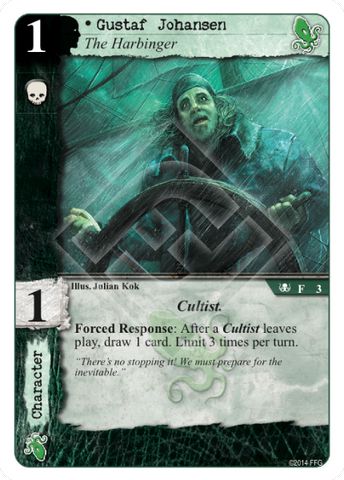 Danigral - 5 out of 5 - He may become a staple in a mono-Cthulhu deck for the card draw alone, which Cthulhu has always struggled with as a faction. The fact that I can use it in a sacrifice strategy for a +1 net card advantage each time is great. He may also fit in cross-faction Cultist decks, but the sacrifice strategy is what will make this guy worth it because it will be more reliable.
dboeren - 5 out of 5. Free cards on a cheap dude, what else could you want? Cultist decks often feature little guys dying in droves making him an auto-include.
Tom Capor - C-C-C-Combo! Cost 1 with a single combat icon and a skill. Sure, not bad. Add a bonkers draw effect that make anyone join whatever cult Gustaf is in… and you potentially have a meta defining card.
WWDrakey & Ire - 4 out of 5 - So… a 1 coster with a Combat icon, with decent stats who can function as a draw engine in your Cultists deck… or against other Cultists for that matter! Best part about him? He works both when sacrificed and destroyed. Worst part? He's not self-referential, so cannot draw off himself leaving play.
Wilbur - 5 out of 5 - Not necessary in every deck, but single-handedly makes Temple of R'Lyeh a viable restricted again. Solid 1-cost body, triggers off of your opponents' Dreamlands Fanatics as well as your own, and great art.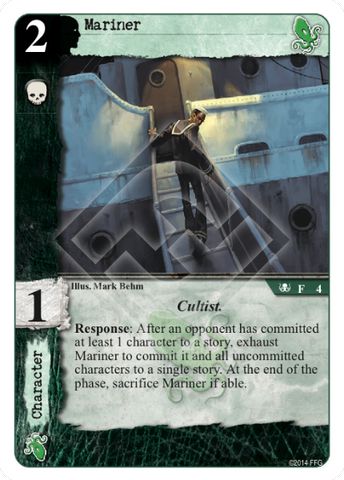 Danigral - 3 out of 5 - Depending on what you have out on the board, he can spell trouble for your opponent if you already have board advantage. It basically could force your opponent to take casualties at stories if he tries to commit or force him not to commit at all. Consider with something like Ravager of the Deep. In that sense though, he could very well be a win-more card.
dboeren - 4 out of 5. He opens up stories for you on the next turn, as well as pulling people into Ravager traps. A board control piece.
Tom Capor - Niche card with a few bomb combinations. At worst he's a green cultist. At best he turns cards like Ravager of the Deep into the scariest characters on the board.
WWDrakey & Ire - 3 out of 5 - While the sheer stats on this seadog aren't all that, he does cause your opponent headaches in the many ways you can screw with the board state. Also, a Combat icon on a Cultist is welcome.
Wilbur - 3 out of 5 - Fun tricks and a help to poor Ravager from the Deep, but I can't see Mariner ultimately warranting the deck space in a highly refined deck.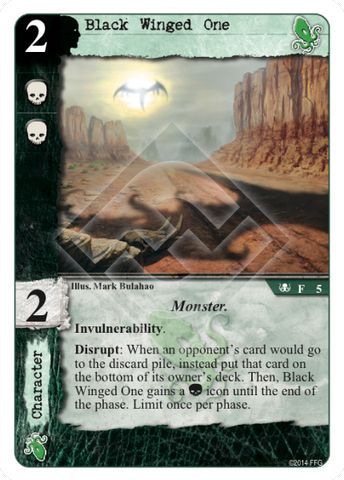 Danigral - 3 out of 5 - without some protection from insanity, this one may only prove to be a minor nuisance. He is very cheap invulnerability, but his ability is mostly unnecessary, until you want to put your opponent's Interstellar Migration (or any other card they want to recur over and over...Ice Shaft? A Syndicate tactic, perhaps?) out of the discard for a little while longer. Even then, its limit of once per phase means that you have to really know what you're aiming to keep out of your opponent's discard.
dboeren - 5 out of 5. Anything with cheap Invulnerability is handy, plus he has good combat, plus a useful ability against a lot of good decks.
Tom Capor - Solid little character. Currently amazing tech in the current meta as he fights Yithians, Khopesh, Tactics (sort of), Black Dog and more all at the same time.
WWDrakey & Ire - 5 out of 5 - So, a black winged anti-Yithian meta-card, which will still pull decent weight against other decks… And can disrupt many of those popular recursion tactics. Invulnerability also opens up some other interesting options, like using this as a less Khopeshable basis for an attachment.
Wilbur - 4 out of 5 - Very useful against certain cards, decks, and strategies and a good body for cost 2. Anything invulnerable that screws with Yithian scouts at cost 2 is solid.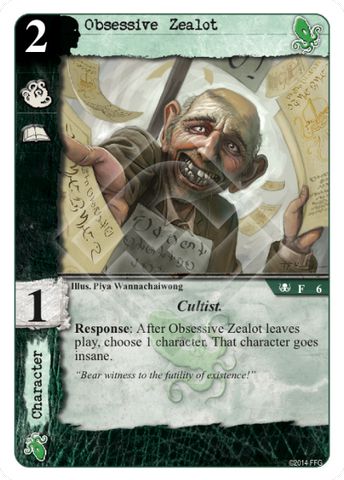 Danigral - 3 out of 5 - He's decent but you can probably find better at that cost. His final "take that" ability is situational, but could be effective against many decks. I feel like it's ripping off Hastur a little, but hey.
dboeren - 4 out of 5. This guy is built to get free bonuses for what you're already doing. Sac him to do something bad to your your opponent, draw a free card with Gustaf, and then get a free targeted insanity too. You can also put attachments on him with a little extra deterrent for taking him out.
Tom Capor - Sure, why not. Solid stats with strong effect. Combos well with other Cultist cards in this set. Outside of cultists, OZzy here could easily find a home in any deck packing some green.
WWDrakey & Ire - 3 out of 5 - 2 cost is a bit steep for a character that simply screams: "Sacrifice me!"... but then getting a bonus from the sacrifice is not all bad, and he's a decent drop against decks hell-bent on destroying your characters as well.
Wilbur - 4 out of 5 - A card that relies upon other cards for maximum value, but excellent for what it is. Two icons, easily triggered targeted insanity, and that great subtype again.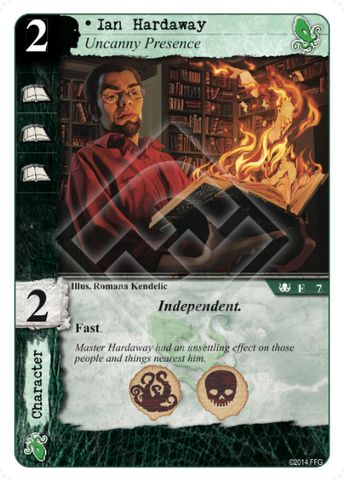 Danigral - 3 out of 5 - This is the anti-Master of the Myths card and a decent support character. 3 arcane fast will stop most decks trying to win arcane as part of their strategy, but on the flip-side, could also help those decks. I'm sure there's a Yog/Cthulhu mill deck in the making with this guy.
dboeren - 3 out of 5. Needs good partners, or you're just helping your opponent win Terror/Combat twice which puts some restriction on how you can commit. Potentially fun guy though and great against Master of the Myths.
Tom Capor - The triple arcane gives Ian some reach as a niche card in our current 'heavy arcane' meta. However, since doesn't function well on his own, he's likely to not make most decklists. However, in a removal-lite environment, Ian could be a real bruiser in a local scene.
WWDrakey & Ire - 4 out of 5 - An interesting pairing with the icons and boosters, which slightly alleviates the fact that this guy brings quite a lot to the board for a 2 cost character, both for helping oppose Arcane-heavy decks as well as leverage your own aggressive icons better.
Wilbur - 3 out of 5 - Feels like a combo piece, but it isn't helping its own combo (whether it's after Arcane or Terror & Combat) and it's unique. Though I'm sure he has uses, Ian doesn't accomplish anything on his own.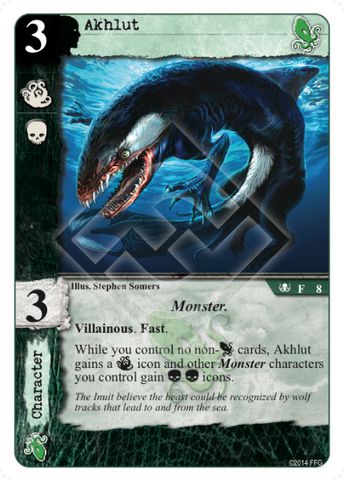 Danigral - 1 out of 5 - So for playing mono-Cthulhu with absolutely no neutrals, I can get even more terror and combat icons? Greaaaat.
dboeren - 2 out of 5. Oh how I wish he didn't say "non-Cthulhu", then cross faction Monster decks would be a thing. It's a theme that's still waiting for some more cards before it will work but until then he's only lukewarm.
Tom Capor - Don't expect to see much of Akhlut. Monster based Cthulhu isn't exactly a highly supported subtype when compared to Serpents, Deep Ones, and now Cultists. However, if you've always wanted to play a pure mono Cthulhu deck with a bunch of Monsters… Akhlut will be there to not quite pull them out of mediocrity.
WWDrakey & Ire - 3 out of 5 - Not really useful outside of all-fishy decks, and only treads water in those. Perhaps the most interesting part here is the Fast, which tends to be a bit rare in Cthulhu.
Wilbur - 2 out of 5 - Don't forget that he's villainous, making him even more fragile and less versatile.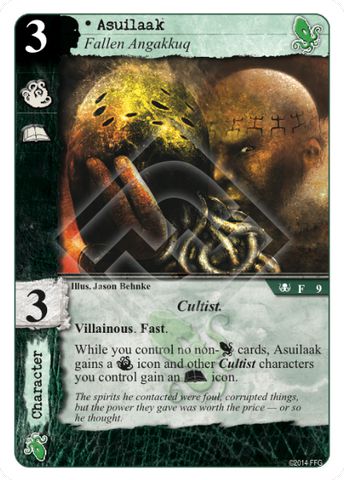 Danigral - 3 out of 5 - For the same drawback as Akhlut, I get something much more usable: arcane on all my cultists. This is something that Cthulhu has long needed and is a real boon to cultist themed decks, such as with serpents even. That said, it's one deck type.
dboeren - 4 out of 5. You can build a strong Cultist deck with just Cthulhu, so he's more usable than Akhlut and free Arcane is pretty nice. If you're doing a Cthulhu Cultist deck you want him. If not, there's no point.
Tom Capor - Better for today's meta than Akhlut, but… still falls below the line of an everyday starter. However, operating in a limited card pool and giving Cultists an extra Arcane icon isn't a terrible call.
WWDrakey & Ire - 3 out of 5 - Support for Cultists clearly trumps support for Monsters… but does the Arcane trump the double-bludgeoning from Akhlut? Cultists tend to be the parts of Cthulhu which already have Arcane, but it's not like Monsters are lacking Combat either. In both cases the in-Faction limitation does feel a bit… limiting. Still, Fast again.
Wilbur - 2 out of 5 - You would be giving up a whole lot to make him worthwhile, and his effect is not as significant as it seems, given the icon spread of cultists as a type. Rarely will he make the cut.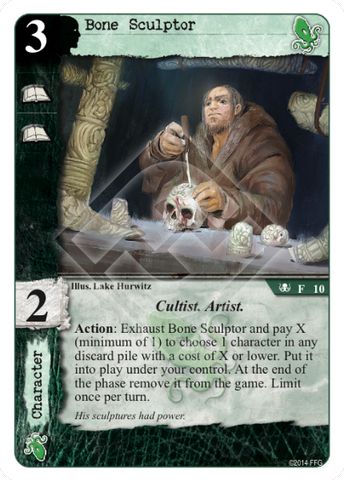 Danigral - 3 out of 5 - He is good in a discard strategy to reuse your "enters play" characters for a timely effect, but the variable cost can be difficult to plan for and can cost tempo during the game so I expect him to see less play after a while because other than his ability there's not much going for him at 3 cost. He'd be a good combo engine if not for the limit...and thank the stars there's a limit.
dboeren - 3 out of 5. He solves odd problems for you but he's pricy and so is his action. Great against Yithians, who are just about to be leaving the building…
Tom Capor - BS is BS. So cool. Utility and disrupt potential is very high. This guy should make a lot of decklists.
WWDrakey & Ire - 4 out of 5 - Another anti-Yithian/recursion card disguised as a decent character which also pulls it's weight otherwise. Still, the raw stats aren't all that, so will mostly find itself in the new Cthulhu Cultist decks filling ranks and adding in a trick you can pull off before being offered to the Sleeper.
Wilbur - 3 out of 5 - You'll have to build around him, but he is strong in and against the right deck. Still, he doesn't do much work on his own. The ultimate value of Bone Sculptor will depend upon how meta-prevalent character recursion is at any given moment.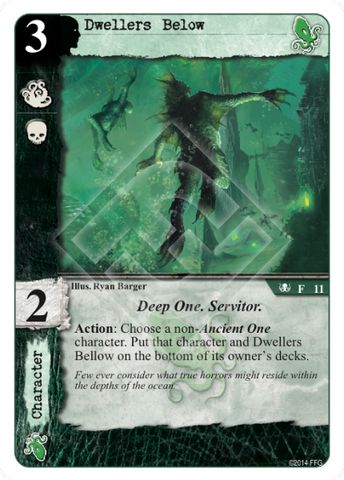 Danigral - 4 out of 5 - I like this as a thematic card. Use it with Shadowed Reef and Pulled Under from the core set to really get that feel of deep ones nibbling your toes. "Those, your highness, are the shrieking eels…" With some reduction, this little guy can cause a lot of problems on your opponent's struggle math.
dboeren - 5 out of 5. Almost any problem character GONE to where nobody but occasional Syndicate decks can get them back. Not sure why he's a Deep One though without their signature icon loadout. I'd have liked to see Monster to bolster that theme in the box.
Tom Capor - The bigger brother to Faceless Abductor. Same stats, but for an additional 1 cost, you get a much stronger effect. Being a Deep One also is a cherry on top of this delicious piece of cake. Likely to be a nigh-staple in decks packing green.
WWDrakey & Ire - 4 out of 5 - Not exactly the muscle one could expect from a 3 cost character, but that removal ability is very flexible, since putting something on the bottom of it's owners library is much better than leaving it lying around in the discard pile for recursion… Also a nice threat to have on the board for jumper characters like Black Dog or Master of Myths.
Wilbur - 4 out of 5 - At this cost, almost like an Immurement on solid, beefy legs. As other have said, the removal is nearly final.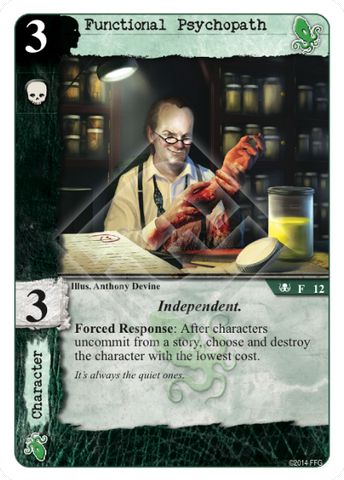 Danigral - 2 out of 5 - Can I put Dark Passenger on Functional Psychopath? Too bad the art isn't of Michael Hall or Sherlock. While this can keep a board to a manageable size or put your opponent off stories, he just can't be abused for any real effect. Plus, eventually he'll be the last man standing and will kill himself unless you feed his urge...
dboeren - 3 out of 5. He's in the wrong box because he's a bad fit with a Cultist deck that features your own cheap guys. What he's for is anti-rush, he should be able to rack up an impressive body count against them. Could still use better icons though.
Tom Capor - This card provides an alternate way to build control. Using a bunch or only lost characters that enjoy being destroyed could be a great way to go. Otherwise, he attempts to replace Red-Gloved Man + Negotium Perambulans in Tenebris combo. Fails, in terms of sheer impact, but could be a solution should a deck need a non-neutral option.
WWDrakey & Ire - 2 out of 5 - The one lonely icon is lackluster, and the ability being Forced doesn't help the card out any. Apparently being functional for a psychopath only gets you so far?
Wilbur - 2 out of 5 - Here's one with 'jank' written all over it. When all is said and done, I don't think the deck that abuses Functional Psychopath is going to be very good...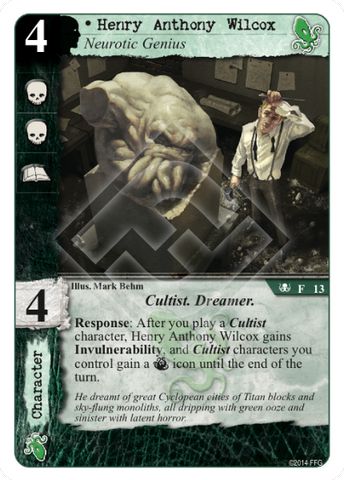 Danigral - 3 out of 5 - I guess it would have been too good to let you trigger his ability from cultists entering play so you could use them with Fanatics? Regardless, he's okay since you can at least make him a super character for the turn you play him, but at 4 cost you will have to build your deck for him and you will probably find yourself wanting more for the cost after a few plays. He's really only for a cultist-themed deck.
dboeren - 4 out of 5. Fantastic boost for Cultist decks and none of that "Cthulhu only" stuff. Welcome to all of my 2-3 faction Cultist decks Henry.
WWDrakey & Ire - 3 out of 5 - Now Henry here is an interesting Dreamer of a Cultist. He brings offensive horror to your whole Cult, with a good board presence also on defense. Now, there's only so many 4 cost characters you can run in a deck, but when going heavy on Cultists Henry definitely at least deserves a look at.
Wilbur - 3 out of 5 - I like that he hits non-Cthulhu cultists, I like that they printed some more Dreamers, and I like the inclusion of characters and items from Lovecraft's most famous story. Still, he's super expensive and forces deckbuilding decisions to maximize his effect. The fact that he only triggers on playing cultists makes him far less attractive. He also interacts poorly, albeit temporarily, with Hastur lunatic cultists (Arsonist, Inmate, Marked. etc).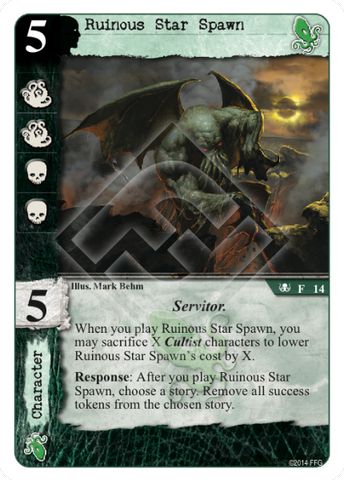 Danigral - 4 out of 5 - In a cultist deck, he can be cheap and force the game to stall while you get your other control out. This can set your opponent back 2 turns at the cost of board position, without considering combos you may use to recur cultists. Sacrificing your board can also make you weak to an opponent's sacrifice or destruction strategy. Very balanced.
dboeren - 4 out of 5. This guy is a bomb that stops your opponent from getting a story, that's 1/3rd of the game. Yes, he's expensive but you can discount him which lets you time him exactly when needed and his stats are scary too. Great card.
WWDrakey & Ire - 3 out of 5 - This card is much more interesting than it's seemingly mediocre rating may imply. Clearing a Story of both players' success tokens is a pretty cool thing to do, and if you're running those new 0 cost Cultists, this can easily come into play on the second or third turn… buying you time to set up your slower, more destructive, engines. Still, when you can't spare the Cultists, the 5 cost is pretty painful.
Wilbur - 4 out of 5 - A huge body that can right the ship (odd thing for Cthulhu to do) against an opponent that has apparently locked down a story. With Gustaf out, the sacrificed cultitsts are a lot less painful. Excellent card design.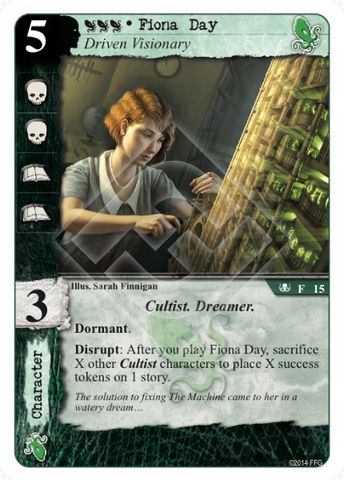 Danigral - 3 out of 5 - Some clever dormant placing will potentially let you steal stories out from under your opponent, but mostly she'll let you put a couple of tokens out. Big play will be stealing a story and getting another dormant out at the same time. Overall though, she seems a little gimicky unless, once again, she's in a dedicated cultist deck built around her.
dboeren - 5 out of 5, but only for decks with enough Cultists. You can play her and just win a story out from under your opponent's nose - usually one that they thought THEY were about to win. That's fantastic.
WWDrakey & Ire - 4 out of 5 - This new Dormant keyword just oozes the kind of "don't wake the Sleeper" -feel that you would expect from Cthulhu! In a Cultist deck Fiona can easily swing you a story when she wakes up, and if you manage to do that feat yourself, that's two-thirds of a victory already. Also, we can see interesting mind-games developing, where your opponent is winning several stories on the same turn, and needs to figure out which Story Fiona is sleeping in… because with the wrong choice she can grab one of those victories from their grasp.
Wilbur - 4 out of 5 - Another superbly designed card. Fun, powerful, and thematic. With this card and others, Cthulhu has built up a very nice arsenal of story 'sniping' tricks.
Danigral - 2 out of 5 - While he can help you play defense once he's out, he'll only be out after at least ⅓ of the game is done. At least you don't have to sacrifice your entire board to play him...
dboeren - 3 out of 5. Big monster, might come back, too expensive to play normally. But that's about all he does, no real special abilities except be big.
WWDrakey & Ire - 3 out of 5 - As before, there are some things you might never want to wake… but despite it's scariness the Wendigo is not the foremost of those. A big pile of Terror and Combat only gets you so far, and if the Wendigo is removed again, he will rarely see the light of day again before the end.
Wilbur - 2 out of 5 - Big old (probably) free card, but his lack of 'enters play' effect makes him unlikely to decisively affect a game, whether you are winning stories or losing them.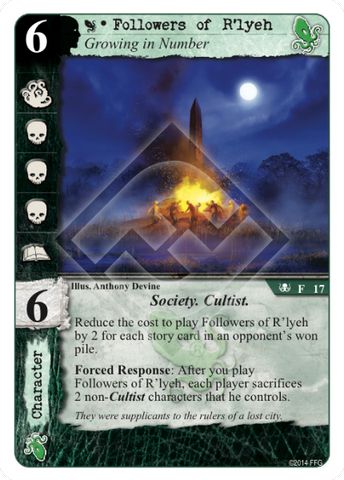 Danigral - 3 out of 5 - Is it ironic that Followers may force you to sacrifice the Great Old One, Cthulhu, himself? Late game, it will be good, but you probably don't want to plan for the position where you let the opponent get 2 stories. Still in a dedicated cultist deck, the effect is rather one sided, and it's got enough good icons to go at it alone.
dboeren - 4 out of 5. Obviously another card for Cultist decks, and pretty good. The icons are excellent, you can expect to pay no more than 4 for him, and snipe two little dudes when he comes into play.
WWDrakey & Ire - 4 out of 5 - Ideally you'd be playing these new Societies after having lost at least one Story - early game they will often find their way into your domains. With this particular one, you want to swing a close game by hitting your opponent's board in addition to bringing in a big pile of hooded followers. The effect of the Followers pushes them to be run in a Cultist-heavy deck (to make it unilateral). This is one of the better of the new Societies, and together with other sacrifice mechanisms can easily wipe away a thinner opposing board and allow your whole Cult to spread uncontested.
Wilbur - 3 out of 5 - Could win you the game outright, but most likely if you're close to losing. If the game does, as intended, slow down, these societies (and this is a good one) will become a lot more attractive.
Danigral - 3 out of 5 - One of the more "playable" AOs with a built-in reduction, which is nice. Good icons too. The ability is a little more difficult, almost requiring you to run conspiracies to get consistent use out of it. If your opponent is running a conspiracy (one in particular is popular right now) then she'll be very effective.
dboeren - 3 out of 5. Very pricy, but one of the very few ways to zap a Conspiracy so he's worth having in the pool. If the timing and targets are right, he can be pretty amazing, it's just hard to line up that perfect storm in the time you have.
WWDrakey & Ire - 3 out of 5 - Now, that's a pretty hefty cost, even for an Ancient One. We do get quite a bit of impact with it, but only if you actually play the card (instead of twisting time and space to put it into play).. and that impact can bite two ways if your opponent has no supports or characters in play. Being able to reduce with Cultists is quite tempting, but you would have to sacrifice 3-4 to be able to play Kassogtha in a reasonable amount of time.
Wilbur - 3 out of 5 - 'Play' vs. 'enters play' hurts a lot, as others have said. Still, this card is a massive bomb with some really powerful effects and a huge body. With free cultists (Initiate, Fanatic), and a way to recur them (Foul Induction), he's usable.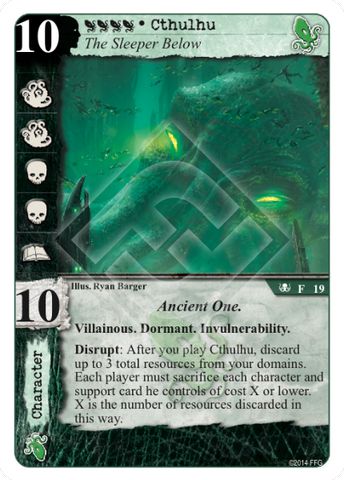 Danigral - 4 out of 5 - The big baddie himself. I love that he is the only 10 cost character in the game. Dormant is so evocative here, and while dormant can be a little unreliable in the sense of timing, his stats and ability make up for it. He can definitely do some damage against an opponent who isn't expecting him, like a hasty opponent doing all out rush. It will be interesting to see if the mere possibility of him in the meta will shift decks to be more expensive and more prepared for the long game.
dboeren - 4 out of 5. When Cthulhu comes to town, very bad things happen. He's a bomb that will help you push through the endgame after blasting away some defenders and their gear. Ideally you should sacrifice away your dudes right before he comes out so avoid paying the cost yourself. There will be much crying and gnashing of teeth.
WWDrakey & Ire - 4 out of 5 - Iä! Iä! Don't wake the sleeper, indeed... when the Sleeper waketh, the world won't be the same. You will most often be playing him to wipe out everything with 1-2 cost, since losing three resources from your domains on top of wiping most of your own board can be a tough prospect… unless you've been running the resource acceleration to compensate, that is.
Wilbur - 4 out of 5 - Exactly what a Cthulhu card should be. Huge, bad for everybody, indiscriminate in his destruction. When he flips (because you ain't hard-casting this fella), your opponent is going to be asking 'how crazy is he??'. Great design and a good card to boot. Obviously, you're going to have to discard 3 resources if your opponent has Rite of the Silver Gate, or Lord Cthulhu will not be having lunch.
WWDrakey, Jhaelen, 1161 and 5 others like this
Article: The Sleeper Below Review, Part 1