Welcome to Card Game DB
Register now to gain access to all of our features. Once registered and logged in, you will be able to create topics, post replies to existing threads, give reputation to your fellow members, get your own private messenger, post status updates, manage your profile and so much more. If you already have an account,
login here
- otherwise
create an account
for free today!

1
A Journey's End Review
Small Council
A Journeys End
Review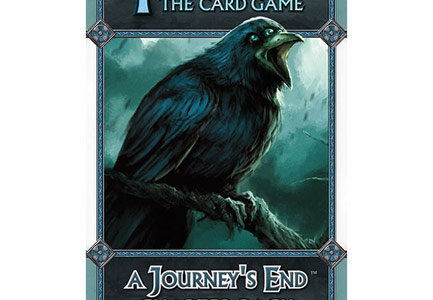 A Song of the Sea - A Journey's End
60% 421 out of 700
Our staff has put together a first blush analysis of the newly released chapter pack A Journey's End. We've used a one through five scale; five being the best. The cards are listed in numeric order. Our reviewers are listed in alphabetical order. Let us know in the comments how you feel about the cards in this pack!
Top 3
Qarl the Maid 34 out of 35
Supported by the Smith 31 out of 35
Choosing the Spear 30 out of 35
Bottom 3
Trident Guard 9 out of 35
Longship Nightflyer -tie- Blessed by the Maiden 14 out of 35
[CRB='forums/uploads/got/med_kings-landing-dromon-aje.jpg']
King's Landing Dromon 16 out of 35
Clu - 2 out of 5
Wow, renown if you win a challenge?! Pretty hot. Renown only on some of your characters that aren't that good? Well, maybe? Could be devastating in the right deck, not many.
emptyrepublic - 3 out of 5
I like this card. It's reasonably efficient and not too hard to execute as it can apply to attack or defense. It costs nothing to put down and is non-unique. In my view it's a good balance. There aren't a ton of Lanni naval enhanced characters to take advantage and it only really good for a BS deck. Also, the word templating on this card is sloppy. The intent is pretty clear but syntaxically it's not good.
Ire & WWDrakey - 3 out of 5
This card looks great! The cost is correct and the ability is powerful, but we barely have any support for Lannister Naval/Black Sails. In future this card might be impactful in helping the power gain aspect there, but currently it falls short with only 4 in-house naval characters.
JCWamma - 2 out of 5
Right now Lannister don't have a good Black Sails deck. If they ever do, this card is an okay addition for power grab. Otherwise, Naval just isn't ubiquitous enough in Lannister decks to justify this right now, but it has potential for the future.
mnBroncos - 2 out of 5
As far as I have seen and played myself Black Sails isn't a rush deck but more of a situational control deck and this doesn't fit that criteria and so I am unsure if would run this card in a Black Sails deck that I would put together. Also, like stated by everyone the wording is confusing, if multiple characters can gain power from this card, non-unique, can be a good power grab card so perhaps get to a place where build a Black Sails deck without the Black Sails, if that makes sense.
OKTarg - 2 out of 5
This wording is confusing. Which character is claiming power? It seems to imply that my navally declared character would, but what if I've declared more than one? Do I pick? Do they both get it? It probably won't matter in practice because this card isn't that good. It's nice to see a bit more naval support for Lannister as well as a bit more power grab, since they suffer in that department, but even though the price is right I won't find myself using it I don't think.
scantrell24 - 2 out of 5
Zero-cost on setup is great, but that's where the positives end. The power gain is too slow and doesn't help you trigger the Agenda or accomplish any type of control, which is what most Lanni decks are made for, not rush. King's Landing Dromon also feels similar to Dockside Brothel, which doesn't see any play.
[/CRB]
[CRB='forums/uploads/got/med_qarl-the-maid-aje.jpg']
Qarl the Maid 34 out of 35
Clu - 4 out of 5
Makes a lot GJ deck for several reasons. The cheapest of the cheap intimidate out there. Fleshes out Raider trait. Also cheap intrigue in house that needs it. Not good enough for out of house but man is this guy good!
emptyrepublic - 5 out of 5
I'd give this a 1 out of 5 just for spite because I do not get why Greyjoy keeps getting this amazing selection. Hard pressed to find anything wrong with this card. It functions perfectly well independant of a Black Sails deck. Super solid stats/cost ratio. No bad traits. Good multi purpose response for mill or self-boost mid challenge. Great keyword. Why so much love for Greyjoy?
Ire & WWDrakey - 5 out of 5
So an Auto-include 2 cost character for GJ? At least we don't see a reason not to run 1 copy in every GJ deck. What this card has mostly going for it is the intrigue icon which is rare for Greyjoy and the Intimidate. The traits are what you need in most of your builds and they have nothing negative in them. The ability itself is a cherry on top, but it will rarely matter unless you are running mill in which case - yay an easy to trigger mill effect! In non-mill it will rarely matter, if you are dedicating 2 characters on intrigue (one with naval) you better be prepared to win that challenge without a pump that might happen. Also it is very likely that thanks to the intimidate your other character is not counting its strength at that point anymore. All in all this is probably one of the best 2 cost characters in the game.
JCWamma - 5 out of 5
As Ire and WWDrakey say, the response is something that you cannot rely on. Just triggering it isn't that easy for Greyjoy a fair amount of the time (unless you feel like triggering it on your opponent's attacks?). Even without the response though, Qarl is a great card for Greyjoy. Two fine traits, an uncommon icon for Greyjoy, and that delightful Intimidate keyword - the number of cheap cards with intimidate Greyjoy have can be counted on one hand, and the number that are good can be counted on two fingers.
mnBroncos - 5 out of 5
Perfect card for Greyjoy I don't know what better card you could get for only 2 gold. Nothing wrong with this card and when will go in every Greyjoy deck, or atleast should I think, I don't know how can't give it a five.
OKTarg - 5 out of 5
More in the parade of efficient, cheap, useful Greyjoy cards. It really is getting out of control. Is it going too far to say this is one of the best 2 cost cards in the game?
scantrell24 - 5 out of 5
Easily five stars. Qarl will be included as a single copy in many Greyjoy decks for his cost-efficiency and intrigue icon, not to mention the positive traits, keyword, and naval enhancement.
[/CRB]
[CRB='forums/uploads/got/med_ten-towers-longship-aje.jpg']
Ten Towers Longship 24 out of 35
Clu - 4 out of 5
Get that 4 strength in and play the recursion game. In a tight mirror match you should get the win. Can't believe this is non-unique. Bonus reason for the high score is it's going to be more and more important to clear out your opponent's discard pile.
emptyrepublic - 3 out of 5
Middle of the road rating because I'm just not sure. At a minimum it's a decent way to deny opponents who are running heavy recursion from the discard. There are also tons of great and interesting events that I'm sure Greyjoy players would love to turn against their owners. There are just so many Warships in the Greyjoy fold right now that it's really hard to say what impact this might have.
Ire & WWDrakey - 4 out of 5
Very powerful possibly even game altering ability coupled with being situational. So what does this Warship offer? For those who can read the meta correctly it is a hard counter tool. Against decks that like to run neutral events like say Nightmares, Die By the Sword, Distraction it will do wonders. Against heavy recursive decks like Martell KotHH or even the now more popular Baratheon Fiery Kiss + Blackwater Bay can be stopped completely by using this. Now where this card is weak is in metas that run very house specific events, like Incinerate, Lannister Pays Debts or anything with influence cost as GJ isn't known for running influence. So with a correct meta assessment this card can single handedly change the course of match-ups, with a wrong one it will just float on the ocean and do nothing for you (except maybe fuel Naval Escorts). Situational yet still good.
JCWamma - 3 out of 5
Firstly, wow that's some gorgeous artwork. This location is interesting, having synergy with mill but anti-synergy with
Asha Greyjoy (WLL)
,
Alannys Greyjoy (ODG)
and
Baelor Blacktyde (TIoR)
. This is therefore a card you probably won't see outside of some specialist decks. In those specialist decks, the potency of this card ranges from okay to absolutely incredible.
mnBroncos - 4 out of 5
Greyjoy Kothh is going to be a deck, and I have weird feeling be good. You have Salt Wife that can use the influence very successful along with Maester Wendamyr that can save multiple people with influence and at some time will get more effects to use that influence. Now with this card you can use basically any event if you have the influence and that is a scary deck to be against. Not to mention how many non-influence events are played. I see this card someday being a five in the right deck.
OKTarg - 3 out of 5
This is a fun card. I like it quite well, but the effect will vary widely from game to game, and I don't like cards that require my opponent to be doing something specific to benefit from them. In this case, the playing of easy-to-trigger events is that specific act. The others have detailed some of those options, but a He Calls it Thinking would be amazing to copy. Some games, though, like vs Burn, it will be a dead card.
scantrell24 - 3 out of 5
Ten Towers Longship is too slow and conditional to earn better than a 3. It works great with Nightmares, Paper Shield, Dissension, Distraction, etc., but you'll have to make a meta call based on whether those are prevalent. It's great in combination with mill effects, not all of which suck (The Reader and Bloodthirsty Crew), and the fact that you get to cherry-pick the event rather than having to take the top one helps. However, it has anti-synergy with Baelor Blacktyde, and has to kneel for its response, rendering it unavailable for combination with Naval Escort.
[/CRB]
[CRB='forums/uploads/got/med_longship-nightflyer-aje.jpg']
Longship Nightflyer 14 out of 35
Clu - 3 out of 5
Great for GJ control decks. Unopposed is a crapshoot and the two cost is iffy but getting an additional claim for intrigue challenges while not having to win intrigue should really work for the men in blue.
emptyrepublic - 2 out of 5
I want to again point out that the number of Warship cards at Greyjoy's disposal is huge now. Naturally, not all of them are brilliant but many of them are at least decent. The effect seems too situational to appear useful since it's not a random discard. It's also a bit expensive for a meh effect.
Ire & WWDrakey - 3 out of 5
If it weren't for our current meta this card would be clear 2 as it is too situational and the ability isn't too great since it is not random discard. Now, in the current Negotiations at Great Sept -meta this card gets more powerful. People usually leave enough cards in their hand so that they can either use NatGS themselves or to take part in case their opponent uses it. What this card does is raise the buffer on how many cards your opponent has to keep in his hand to be able to negotiate. As a side-effect, this will also mitigate their board flood quite a bit.
JCWamma - 1 out of 5
2 cost to probably give the opponent a choice of what card they ditch? Unless you're running some intrigue-heavy build (and I'm fairly sure that doesn't exist yet in Greyjoy), that's not a powerful enough effect to justify the cost.
mnBroncos - 1 out of 5
Now I don't play Greyjoy that much but I don't see any deck playing this card, maybe a TLV deck can find space for just one copy but I find that even doubtful. You aren't going to run this out of House of Dreams, and you aren't going to want to pay two gold for it, so looks like won't be played.
OKTarg - 2 out of 5
It's kindof weird, but card advantage is so different than it used to be. Now, with such easy access to draw like in TLV, a singular discard won't matter that much. On the other hand, Negotiations means that if you can totally clear someone's hand, you'll be in great shape. In the final accounting, I think it's niche since Greyjoy is usually trying to do other things and you'll be more efficient going those routes.
scantrell24 - 2 out of 5
Nightflyer won't see much play. If it didn't kneel this would be awesome in a House of Dreams deck with high initiative + stealth, but kneeling means it can't be used multiple times.
[/CRB]
[CRB='forums/uploads/got/med_arms-of-the-kraken-aje.jpg']
Arms of the Kraken 19 out of 35
Clu - 2 out of 5
Absolutely a game winner, when you are probably winning the game already. It will make splashes in decks with a location control themes and a great combo with Breaking and Entering. I can't wait to use this but you have to build around it.
emptyrepublic - 4 out of 5
The effect of this could be devastating. It can definitely wreck things in melee and really shake up the dynamics of a match. For that alone I like it. Sometimes cards are all too often driven only by 1-to-1 interactions which is a particular shame in multiplayer games. Given the strength, including the player who played the event in the effect makes it feel balanced. Kudos to FFG on this one.
Ire & WWDrakey - 4 out of 5
This is clearly at its best in a GJ TLV deck... *Sigh*. The more you have board presence the better this gets and similarly with the more you have locations that you are willing to bounce to your own hand. This card can easily lead into plays of "locations back to your hand and lets play negotiations so you lost them", which GJ TLV should be really good at. Returning a used Iron Cliffs on the side is just a nice added bonus. This card probably isn't for Choke as it negates the effect of cards such as Burned & Pillaged and Veteran Marauder. Other GJ decks might not be too keen on playing this either, due to their intrigue weakness. Overall the balance of the card seems good, but TLV is going to abuse the hell out of this one. Extra points for you if you play this in a melee game!
JCWamma - 3 out of 5
Firstly, potentially hilarious in Melee. Now, the effect itself ranges from meh to good depending on the opponent's deck. Are they running lots of expensive locations? Are they running lots of limited locations? Do they need to keep influence on the table for dominance? In all those scenarios this is a great effect. It also combos splendidly with the Song of Ice agenda that's been spoiled from the upcoming Kingsroad cycle. The Greyjoy player can also mitigate the damage somewhat were they to get hit with it themselves by choosing their own
The Iron Cliffs (HtS)
to return. Lots of interesting uses, in short. Worth pointing out that it has anti-synergy with Longship Nightflyer, since it gives the opponent more choices as to what to discard - as if that Longship needed weakening further!
mnBroncos - 1 out of 5
I just don't see why you would play this card? In the house with the most location control options I would rather discard their locations. Sure can use it for yourself to replay Iron Cliffs but is that worth running an event for? I could see other houses running this effect with less location control but to me this is ah.. Now I would give it a 2 in melee just for fun factor.
OKTarg - 3 out of 5
As if GJ needed more location control options! I will for sure try this in a melee, but I'm not sold in it in Joust. The double-sided nature of it means that I can suffer as much as my opponent. It's probably best if I'm playing second, but GJ usually wants to go first. More than other cards in this pack, I want to see it in play before I make any judgments too hard one way or the other.
scantrell24 - 2 out of 5
Arms of the Kraken is too unpredictable to beat out other Greyjoy events for a deck slot. At best it's returning something like an empty Iron Cliffs for you and maybe a limited resource location for your opponent. There's also some synergy with Breaking and Entering, but not enough to make it playable.
[/CRB]
[CRB='forums/uploads/got/med_shores-of-the-mander-aje.jpg']
Shores of the Mander 18 out of 35
Clu - 1 out of 5
Hope there are more captains out there in the future. A blanket +1 is sweet but I'm not going to build a deck around it.
emptyrepublic - 4 out of 5
Baratheon has received four Captain character just in this cycle so keep that in mind while you evaluate this card. The card doesn't do anything on it's own but it's non-unique and comes in at a bargain price for a really decent effect. Certainly not appropriate for anything outside a Smuggler/BS build but almost certainly one or two should be an auto-include for those deck types.
Ire & WWDrakey - 3 out of 5
"Hey guys we have printed the Captain trait a lot in this whole cycle... should it actually do something?"
"Nah leave it be.""But the players will not like that!""Ok let's give Captains one pretty bland non-unique card."
...and thus this card was born.
JCWamma - 3 out of 5
Ser Davos Seaworth (TGF)
,
Salladhor Saan (TPoL)
,
Dale Seaworth (AToTT)
,
Khorane Sathmantes (TCC)
- 4 solid Captain characters. The sad thing is, other than Dale those characters won't see much play outside of a Black Sails deck, and in a Black Sails deck you're already having to overcommit to win challenges so the STR boost means little. So why the reasonable rating? Well, it's non-unique. This means that you can run three in your deck with impunity, and getting multiple out can result in a big STR boost. With a little trait manipulation (admittedly not something Baratheon specialises in), this can make for a very cheap and efficient boost. Also, that's a beautiful, beautiful landscape.
mnBroncos - 2 out of 5
I could see Bara Black sails running this card so that if you are up against a burn deck can fetch this card because adding one strength to every character is a surprisingly big deal against burn. However, outside of that it isn't a big deal until maybe we get more captains, yes they have some good ones but how often will you have a captain on the board, especially Dale who seems to be one of the first people you kill once played.
OKTarg - 3 out of 5
At least they were paying attention to their traits! But it's a bit bland. Making Dale Seaworth 3 STR (or more!) with Joust is pretty nice, but overall just is OK. Do note that it makes ALL your characters +1 and not just the Captains themselves.
scantrell24 - 2 out of 5
Shores of the Mander will have a hard time beating out Massey's Hook, Smuggler's Cove, and even Black Betha for a deck slot. At least it's non-unique so multiple copies will stack the strength bonus, which is great against burn, but I just don't know if it will see much play. Trait manipulation or a Bara/Greyjoy Treaty could be in the works.
[/CRB]
[CRB='forums/uploads/got/med_huntress-aje.jpg']
Huntress 22 out of 35
Clu - 4 out of 5
Ok, not everything is going to have the lord or captain trait. There are several great targets that don't have renown already. Melee, the bastard keyword of the bunch, is shockingly great. Til the end of the phase! Phase!!
emptyrepublic - 3 out of 5
Not so keen on this one. So many Baratheon Lords already have renown that the effect isn't huge. Plus it's limited to only two traits although the effect does last till end of phase. It's also not terribly cheap at 2 gold. Possibly useful if you have a lot of Captains in your deck, but even then I'm not convinced.
Ire & WWDrakey - 3 out of 5
This card will never really be run for the Melee, it's the renown that matters, so all you really need to know about this card is: Jousting KoF, Penrose, Davos (2 different ones), Core Renly, Stormlands Bastard, Dragonstone Bannerman, Randyll, Khorane, Dale and Smuggler Salladhor. There. Mediocre, a bit costly and it's kinda sad to see renown (which used to be a Baratheon thing) be much easier for other Houses to grant - a White Harbor Dromon, this is not.
JCWamma - 2 out of 5
So it's
Winterfell Practice Yard (ODG)
, only rather than requiring you control more uniques you can only give the keywords to a Lord or Captain. And that Yard sees little play. Of Bara's 22 in-house Lord characters, 14 of them already have Renown. Melee isn't good enough to make up the rest of the card. The Captain trait gaining Renown is interesting, as Bara Black Sails can already make for a nasty rush deck, but overall this isn't really doing enough for me.
mnBroncos - 3 out of 5
melee is an underrated keyword, renown is great for the rush house, and will get even better when less and less lords/captains have built in renown. Maybe isn't the best right now with most of the lords that are played already have renown, but still solid card that will see play.
OKTarg - 4 out of 5
It seems I like this more than the other guys. I believe in the melee keyword, and there are plenty of useful targets for this. Dale with Joust, Melee, Renown? Knight of Flowers with the same? Yes please! Not to mention more things to copy with Banner Bearer.
Sure, there's already a lot of printed renown but more won't hurt. Compare with White Harber Dromon. That gives naval icons and renown and people love it, but the Naval isn't helping you win challenges. Melee is. We'll see if it can squeeze in decks since a 2 cost Bara location isn't super cost friendly, but I'll for sure give it a try.
scantrell24 - 3 out of 5
The Huntress is great in combination with Ser Cortnay Penrose, Stannis Baratheon, non-kneeling Knight of Flowers, knee- influence-to-stand-me Renly, and pay-gold-to-save-me Davos. "No attachments" prevents Frozen Solid and other shenanigans, but it's just too expensive to be better than a 3.
[/CRB]
[CRB='forums/uploads/got/med_fury-aje.jpg']
Fury 25 out of 35
Clu - 4 out of 5
Wut?! Phenom recursion discard, unrestricted stand (well, kinda) and can replace the discard effect. This thing is a beating, better for mid-range monster rush rather than mini-vigilante rush.
emptyrepublic - 2 out of 5
This really feels like a TLV card to me. FFG seems to be going to route this cycle of introducing a lot of mechanics that cycle cards a lot. It being any phase is actually quite useful but the 2 card discard is a bit rough; especially if canceled. Also the return isn't great unless you meet the condition, which isn't super high but still an issue you'd need to contend with. Just feels too clunky to me.
Ire & WWDrakey - 3 out of 5
The combo potential in this card is great. It might even be a choice to use this as a HoD location in the right deck. Unfortunately you cannot stand a chain-laden Lomys with this... without filtering the stand through Marya Seaworth, that is. And hey, Bronze Link helps mitigate the discard portion. Too bad for the draw cap. Another nice trick will be to use this as a draw engine, and fuel it via infinitely recurring cards like the Lost Captain (who isn't really a Captain), OOH Pentoshi Guild Master, Greedy Councillor or even Endless Endurance (hey, at least Brienne and KL Eddard are legal targets!). Too bad it further digs Baratheon into the same hole of being extremely vulnerable to location trigger cancel effects. And with River Blockade now having some other compatriots in GJ, that ain't even funny anymore. Still, probably the most interesting of the Baratheon cards in this pack.
JCWamma - 4 out of 5
I'm a big, big fan of this card. The most immediate point of comparison has to be
King Robert's Hammer (TBoBB)
, and for me this is slightly better for two reasons. Firstly, it doesn't become useless in Summer/Winter. Secondly, it lets you dig through your deck. Yes there is card disadvantage, but if you've won a challenge by 4 or more STR that disadvantage doesn't exist, and even if you haven't Baratheon is one of the easier houses to have things you're happy to discard -
Royal Entourage (TTotH)
, anyone? Or ditching a character to recycle with
Melisandre's Scheme (RotK)
? I might be slightly biased here due to having been playing a Baratheon recursion deck of late that this card is tailor-made for, but I still think this is a great card.
mnBroncos - 5 out of 5
So you are telling me I have to discard two cards, but I get to stand a guy for that, well when looking at Martell's event (few cards later) that lets you stand a character and that is getting a bunch of fives so I get a repeatable event but with the downside of having to use 2 cards instead of 1 guess that is fair since is repeatable and will just use it when want to stand a character. Oh wait there is more you are also letting me draw a new card, and maybe even 2?? Not to mention this house is now the house of playing out of your discard pile it feels, to me this card is amazing!
OKTarg - 4 out of 5
Standing effects in a renown house are so good. Yeah, there's a high cost to it, but it's easily mitigated with your other fun Bara tricks. And if it's pushing you to the win condition, then so be it, right? I'll give this a shot and I think I'll see some good results.
scantrell24 - 3 out of 5
There's some recursion synergy, but if cancelled you're just out 2 cards. It doesn't work with The Laughing Storm and doesn't work unless you have 2+ cards in hand. Fury could replace King Robert's Hammer if seasons become prevalent with the next cycle's spoiled agendas, and it allows some manipulation with the upcoming "cards at your command" effects.
[/CRB]
[CRB='forums/uploads/got/med_house-manderly-escort-aje.jpg']
House Manderly Escort 17 out of 35
Clu - 3 out of 5
Great mid-level card. Mebbe House Manderly will be a thing but if nothing else it is a cheap naval enhancement. Stark is starting to look like a sick killing machine with Black Sails.
emptyrepublic - 2 out of 5
It's a chud but not a horrible one. I'm not sure if the naval enhancement on power is enough to offset the non-optimal cost/STR ratio of the card. This is doing for House Manderly what Shores of Mander did for Captain. So unless you are neck deep in House Manderly cards I don't think this is worth that much play.
Ire & WWDrakey - 3 out of 5
Interesting, a 2-for-2 weenie with a naval enhancement. It strengthens the naval theme in Stark nicely while simultaneously helping with the House Manderly theme depending if we keep on getting more Stark cards from White Harbor (and based on the books, we might).
JCWamma - 3 out of 5
If the other House Manderly characters were better, this guy could be really good. As it is, the best chance you have of giving him a further STR boost is by having a second House Manderly Escort in play. I doubt he sees play outside of Stark Black Sails, but Stark Black Sails is an interesting and under-explored deck-type right now. That Ally trait hurts, but it hurts less in Stark BS than in regular Stark because most of their Naval characters have the trait anyway, so what's one more target?
mnBroncos - 2 out of 5
Now this is a solid 2. You get a solid character 2 cost, 2 strength, 2 icons, and can boost other characters strenght, very good in Black Sails where you will be playing more House Manderly cards. Also, I will never rate a card negative for the ally trait at two cost, if you want to use your ally hate on this card that means better chance my 3 cost guy is safer.
OKTarg - 2 out of 5
Have you noticed that the House Manderly cards are pretty bad? So a buff for them is then also pretty bad? I still want to try Stark Black Sails, but man, those naval weenies are not making it easy. Sure, it makes your Fleet better but you're not playing it for this. I do like, however, that it means that Wyman no longer cancels his own Manderly weenies.
scantrell24 - 2 out of 5
Fleet from Wolf's Den and Wyman are the only playable Manderly characters. The Escort boosts Stark Black Sails by a tiny fraction but not enough to be playable in a tournament. He's also an ally and has the two icons Stark doesn't need, with a naval enhancement on the weakest of those icons. Meh.
[/CRB]
[CRB='forums/uploads/got/med_trident-guard-aje.jpg']
Trident Guard 9 out of 35
Clu - 3 out of 5
Watch out Carrion Bird, your days may be numbered with this guy around. The Tully trait is really making me think about build a regular Stark deck and toss in Blackwood, Vyman, Guard, and Messenger with some Brynden's Guile seems like a solid play.
emptyrepublic - 1 out of 5
What is this for? Since this card was spoiled months ago I'm struggling to wrap my head around its purpose. I guess it's not entirely lost since it at least has no negative traits, but even then. At base 0 STR it could have at least justified a second challenge icon I would think.
Ire & WWDrakey - 1 out of 5
Now that is a nice cost to strength ratio right there... as this is also a monocon character the designer choice of giving it zero for strength seems very odd. Some odd House Tully deck might actually run this (due to Hoster), but even that is really far-fetched. You are probably better of running Dreadfort Outrider over this one, and that's saying a lot.
JCWamma - 1 out of 5
FFG really don't like House Tully, huh? I imagine the Guard's expression sums up most Stark player's thoughts on this card. If you want to turn Riverrun into a Rush build then he'd make the cut, maybe, but otherwise this guy is just useless. Why would you run him over
Hungry Mob (CoS)
, or
Shaggydog (Core)
?
mnBroncos - 1 out of 5
I would rate these guys like this 1/5 for the mil icon, 2/5 for power icon, and 3/5 for an intrigue icon. To me this card would be very solid if they would have atleast given him an icon that Tully and Stark needed in general to help win on defense. Now if playing Riverrun out of House of Dreams a one cost guy can help set up and if trigger it is a kinda renown character, but with having a mil icon isn't as great when I feel shouldn't need help winning that mil challenge.
OKTarg - 1 out of 5
LOL.
Ok, I mean, I like trait-based decks as much more more than the next guy, but they probably need real cards to make them go. On the other hand, if you wanted to make a super-glass cannon Siege that could set up 7 cards consistently, then this guy is your huckleberry.
scantrell24 - 1 out of 5
Garbage. Is there an upcoming House Tully resurgence? Probably not. Trident Guard is pathetic against burn like Threat from the North and needs a war crest or something.
[/CRB]
[CRB='forums/uploads/got/med_call-of-the-three-eyed-crow-aje.jpg']
Call of the Three-Eyed Crow 28 out of 35
Clu - 4 out of 5
Since this card was spoiled I immediately built a Blackwood, Siege deck. Giving Stark more save effects just seems unfair.
emptyrepublic - 4 out of 5
Now this is interesting. It's essentially an indirect save. Granted the character has to still be properly killed first, losing attachments and power tokens, but it's entirely unconditional. No need to lose a challenge, no need to win a challenge. Doesn't matter why the character went to the dead pile. Might have been an easy 5 if the character didn't have to be knelt and the card wasn't subject to easy cancels, but still really strong. I would definitely expect to see this make it into quite a few Stark decks.
Ire & WWDrakey - 5 out of 5
A semi-save effect which dodges some save negatives like cannot be saved. The character will lose all of its attachments which might be bad thing or a boon. It will also lose all power it managed to gather while it was alive which can be a big thing - then again it would have lost it anyway. For Stark and the amount of great unique characters they have, this event can be a priceless support for many deck types. Your bouncing House Bolton characters will also love this as you only need to own the character... not control it. Reek says: "Hi, have a nice day, Grey Wind sends his regards!"
Rant from WWDrakey: Again, a card that doesn't really flow according to the existing rules of the game, and needed quite a bit of questioning to FFG so that it's functionality could be parsed. What's the issue here? Well, a card in moribund counts as having been removed from play, so triggering the Response: is pretty much according to existing templating. The issue is what the effect really *does*. Does it remove the moribund state? Does it maybe change it to some kind of "enter dead pile and come back again"? But then it doesn't have the "instead" usually required for a card affecting the moribund state... As far as we've manage to infer, based on clarifications from FFG, it would seem that it creates a lasting effect on the character, which will bounce it back into play after it physically leaves play (so some kind of passive that happens in Step 6 of the action window). Reader beware, this is just our best guess. Honestly, this highlights one of the issues with AGoT cards in general: instead of cards being designed based on what the rules allow... it seems more like the card intent is designed first, and then mangled into the structures of the game. This may not seem like such a bad thing at first, but with every third or fourth card 'breaking' the rules, the game gets really difficult for people to learn. In the end this seems to lead to a mentality of "Some rules-lawyer will probably tell me how it works". Which really isn't good for the game in the long run, since very few Metas can sport a non-playing Judge for each table in their Tournament...
JCWamma - 3 out of 5
Was non-Army really necessary given that Stark only have two unique Army characters anyway? Saves in houses outside of Greyjoy are always powerful (this technically isn't a save but for most purposes will function the same), but this one isn't as strong as it might first seem - only working on uniques, coming into play knelt, not offering any additional boost (compare to
Risen from the Sea (KotS)
). Granted it can 'save' against Burn, since the character leaves play and re-enters so any attachments fall off and lasting effects on them stop, but overall this just isn't doing as much as it first seems. That said, it goes tremendously with Meera Reed, who can just duck back into shadows later on. This would be a good choice if more Stark characters had "comes into play" effects, but the only ones I can think of are
Eddard Stark (Core)
(who can't be touched by this thanks to Stalwart), and
House Umber Berserkers (BoRF)
(non-unique).
mnBroncos - 4 out of 5
Save is one of the most effective things in Game of thrones, it is a cheaper and more consistent method towards your decks functioning. Now sadly you will lose any power or attachment and other things but that also means this will let you get by with burn since character will come back in full strength so could be a fair trade off. A very solid event and besides direct kill events to me seems like Stark always has the most wiggle room with their events since not as many "auto-includes" as other houses.
OKTarg - 4 out of 5
It's a better Retreat with a few more conditions. Retreat isn't an amazing card, but it has its uses. I think this will find its way into quite a few decks in the foreseeable future since saves seem to be all the rage right now.
scantrell24 - 4 out of 5
Assuming this works as a sane person would expect, it's pretty damn good for the sole reason that Meera becomes almost un-killable. I would run two or three copies in Stark TLV, but I'm not a Stark player so I can't say where else it earns a spot.
[/CRB]
[CRB='forums/uploads/got/med_starfall-skirmisher-aje.jpg']
Starfall Skirmisher 27 out of 35
Clu - 3 out of 5
Two cost for three strength seems pretty good. The Martel two slot is pretty good, especially with Messengers pushing everyone around. However, if you want to run a more military hand only Bill Bones eeks these guys out.
emptyrepublic - 4 out of 5
Yes, yes, yes, thank you, finally. It's an unconditionally decent House Dayne character with no obvious downsides. It's been a looong time since Martell has gotten a new one. It's not going to be ideal for every deck, but if you have a House Dayne thing going it fills in the power icon gap that many House Dayne cards have. Two gold for 2 STR and two icons and a keyword is very nice. It's not a game changer but it fills out Martell's card base on the lower cost end which has been sorely lacking lately.
Ire & WWDrakey - 4 out of 5
A decent low cost character with the rarest icon pair that Martell has? by just having those this card is good on its own. Now add in that the character has a positive trait House Dayne and also Melee keyword which can pump its strength over what its cost is, nothing bad in this card. All around good character.
JCWamma - 4 out of 5
Melee is such a great keyword to have on a cheap character (Trident Guard excluded, of course!). Aside from that 2/2/Bicon is reasonable, and House Dayne finally gets a welcome boost. In a House Dayne deck this slots in x3, and in a Long Voyage deck this probably makes the cut too. He probably doesn't do anything card advantage-y enough for a KotHH build and being non-unique makes him unpopular for
Quentyn Martell (VD)
builds. Otherwise though, this guy is a great fit to help round out most decks, and pretty much exactly what Martell needed.
mnBroncos - 4 out of 5
Besides the draw two cost characters and Lost Spearmen, Martell has one of the weakest collection of winnie characters and this is an amazing card for Martell to have, it will be a 3 of in many decks, especially with Kothh down in popularity and in need of more lower cost characters.
OKTarg - 4 out of 5
Great support for House Dayne, and a good challenge-based 2 cost for Martell. What is there to say other than efficient, good, let's move on.....
scantrell24 - 4 out of 5
Similar to Ironborn Marauder, this guy will see play just for being a solid body with all positives and no negatives – House Dayne trait, Melee keyword, two icons. Sign me up.
[/CRB]
[CRB='forums/uploads/got/med_choosing-the-spear-aje.jpg']
Choosing the Spear 30 out of 35
Clu - 3 out of 5
This only works during the challenge phase. Otherwise, ARE you kidding me? How many houses would kill for this. Martel has too many great events but with them getting better in aggro builds this thing is going to be amazing.
emptyrepublic - 4 out of 5
Okay, there is something clearly wrong. Two relatively decent Martell cards in one expansion pack? FFG cleary has made a mistake. Seriously though, I like the look of this. An unconditional stand effect that also grants melee. Not sure why Martell is being handed melee now but it's not an awful keyword and works in the context of this card as it looks prime to be played mid-challenge. Like the Starfall Skirmisher this is not necessarily appropriate for any deck, but gives Martell more options. The usual problem stands that Martell has tons of great events, how do you determine if this one makes the cut or not?
Ire & WWDrakey - 5 out of 5
An event that both has offensive and defensive uses and also combo capabilities. This event is just pure gold, but as always, the fight for Martells event slot will be a tough one. In Maesters this card is a beast for triggering more chain responses. The melee isn't nothing to laugh at either, since surprise stand + melee can easily equal two more challenges won. The only really bad thing about this is the house Martell character limitation, so no neutral character standing. Then again GJ cannot steal and use this with their new shiny boat.
JCWamma - 5 out of 5
Standing a character is a tremendous effect, one that usually has limits put on it - see
Obey the King (KotStorm)
, for instance. It's also a very rare effect for Martell. In a Maester deck this power is a godsend. With the recent influx of Renown characters Martell hardly lacks for good targets either. On top of that, a mid-challenge STR boost is a very powerful effect when it's unexpected. As Ire and Drakey say, when used well you're playing one event card to win two additional challenges. Great stuff.
mnBroncos - 3 out of 5
Reread my reaction to Fury and will get a starting point of my thought process with this card. Now I am clearly the hater of this card and as Martell being probably my main house maybe thinking of this in a different way. I know shouldn't rate a card this way but whenever I see an event for Martell I first have to think okay would I put this in my deck in place of a different Martell event, and to me this one won't replace many. Now is very effective in a Maester deck, but I refuse to play maesters so isn't pretty to me in that way, and in a house with a built in standing keyword (vengeful) I don't know how often if at all will run an event that can stand a character for me. I may be the one that is clearly wrong on this card, but unless in a strong rush Martell deck it isn't worth my event slot.
OKTarg - 5 out of 5
Great. Amazing. Spectacular. My only beef with it is that it doesn't 'feel' like a Martell card. It's a great event, but more Baratheon in style, and I understand where the Martell crowd is coming from that feels as though their house is being shunted from a control one into a aggro/rush one.
That said, this is a GREAT tool that any house should be thrilled to have.
scantrell24 - 5 out of 5
It will be hard for Choosing the Spear to bump other Martell events, but surprise strength pumps are always good and this one stands a character in addition. I'm loving two or three copies in Quentyn and TLV decks. It's also great to stand Maesters and re-use chains, and it's great for tricons like war crest Red Viper.
[/CRB]
[CRB='forums/uploads/got/med_venomous-manticore-aje.jpg']
Venomous Manticore 17 out of 35
Clu - 2 out of 5
I'm not quite sure, a reusable challenge control effect (much like Forever Burning) seems good. Harriered by Dragons doesn't get much play but I think this guy is better.
emptyrepublic - 3 out of 5
So it's an update to Poisoned Wine, just cheaper with a smaller burn. Might have been more interesting if you could have reverted the attachment back to a character. The advantage this has over Poisoned Wine is that you can activate the character ability mid challenge. Still not sure if rises above more efficient burn effects. Again, one of those cards that looks interesting but may not compel enough people to use it.
Ire & WWDrakey - 3 out of 5
A setupable burn on legs. This card doesn't have much going for it normally, since Targaryen usually has better uses for its influence than moving this around often. It can on the other hand be comboed with cards such as Brazen Beasts or Maegi crone to get multiple uses from them depending on how much influence you have around. Balanced for a 1 drop weenie. Might also have some fun casual uses in a Creature themed deck.
JCWamma - 2 out of 5
When was the last time you saw
Poisoned Wine (Core)
see play? Well Venomous Manticore is better than that, but not by too much. It being set-uppable is nice, and being able to pass it around to win multiple challenges can be fun, but the moment you try to use this to burn a character, the Manticore is discarded. Probably not worth a slot.
mnBroncos - 2 out of 5
Eh any burn is good, but is this burn really that good? In my opinion no. Now burn does have a downside of having usually not enough characters so the fact that it can be a character when you want it to be is nice. However, the other downside some of Targ's best burn cards only affects character's without attachments and this card hurts those cards.
OKTarg - 2 out of 5
It's just not good enough. I made some fun melee decks a while back that used Maegi Crone and Brazen Beasts to grab a ton of power and cards, and this goes in that deck for sure. I'm not sure what other deck it goes in. Maybe, MAYBE HoD dragonpit since you can set it up easily, but even then I think it's a bit expensive for the ability. I realize that there aren't a ton of 1 drops in Targ, so we'll see, but it seems a bit expensive for now since it's one gold and an influence.
scantrell24 - 3 out of 5
Manticore is good on setup, but KotHH doesn't get one anyways, so this is essentially going in TLV Jumper/burn and HoD Dragonpit. The flexibility to move it at any time can cause headaches for your opponent. However, it's bad against other Targ that can remove attachments, and it can't switch back to being a character.
[/CRB]
[CRB='forums/uploads/got/med_randyll-tarly-aje.jpg']
Randyll Tarly 22 out of 35
Clu - 3 out of 5
The more I think about this card the worse it gets. So, while I'm still riding high on nostalgia, there will be some awesome aggro decks centered around this guy. The war crest is going to be abused but he's not for everybody. But, hey, another target for Fiery Kiss!
emptyrepublic - 4 out of 5
If you can give him vigilant the results could be amazing. Neutral Randyll is good, but I think this is has the potential to really shake up some builds. There are a lot of House Tyrell cards out there. It's also an easy point of entry for Lannister to get access to one of the most powerful keywords in the game. Cost and stats are in line, and it's yet another card with melee. Why so much melee this pack? He's also a Captain for some reason.
Ire & WWDrakey - 3 out of 5
For a 4 cost you want a character that can always impact the game. For both Baratheon and Lannister there are plenty of better choices to be used in the 4-slot. One of the problematic things is that there just isn't enough support yet on what he is trying to do... he is a good start, but not enough to make House Tyrell to be a worthy trait to build around. In the future, if we see more good House Tyrell characters his value will rise, since Vigilant is one of the most powerful keyword there is, but in the current meta he doesn't have much to offer.
JCWamma - 3 out of 5
4 cost is expensive, even for what he offers. What House Tyrell characters are you looking to trigger his response with? There's Willas, Margaery, the jousting version of The Knight of Flowers... There's a few extra non-uniques, but not really enough to build around him yet, so unless you're planning on using trait manipulation or happen to be using a swathe of good characters who happen to incidentally have the House Tyrell trait, he's just not doing enough out of Bara or Lanni. Maybe later on, if there's an attachment that grants the House Tyrell trait or something, this could be more interesting. For now though colour me unimpressed, with only the sheer power of the Vigilant keyword keeping his rating so high.
mnBroncos - 3 out of 5
Biggest problem about this card is it's 4 cost, Baratheon just has to many other four cost characters that right now this card will not see much play in competitive decks, right now. Now if House Tyrell gets a real strong push (which currently it is seeming to be going that way) it can get better but when have to pay for him and right now only slim chance have a house Tyrell character in play isn't too great.
OKTarg - 3 out of 5
I like what he's doing, but there aren't enough Tyrells to really make it go short of some Alliance build or something. What can't be overlooked, though, is the war crest. Lannister is finally getting enough to be able to use Price of War effectively.
I wonder if he would be good in a Bara Black Sails, since you're always looking for stand in that build and you can search your Tyrells from the hold.
scantrell24 - 3 out of 5
We'll have to wait and see how many House Tyrell characters show up. At the moment, Randyll won't make many decks despite his good traits, war crest, and Melee keyword because it will require trait manipulation to get the most out of his ability.
[/CRB]
[CRB='forums/uploads/got/med_cape-wrath-aje.jpg']
Cape Wrath 19 out of 35
Clu - 1 out of 5
Well, interesting. I think in the future this location will see some play but I'm not convinced there are enough interesting things to do right now. The King's Guard should be a delight.
emptyrepublic - 3 out of 5
I'm wondering if this is a card intended to prime the field for the next expansion cycle. Lots of shadow cards will be showing up there from what the previews indicate. It costs nothing and is non-unique so you can run multiple instances of the effect. In the current card space I think Baratheon might be able to make use of it now. On its own it's nothing. Definitely feels like a piece of something bigger to come.
Ire & WWDrakey - 4 out of 5
0 cost non-limited locations are always nice sights to behold. Currently the houses chosen don't make much sense since House Martell has barely any cards to used with this. There will be very very rare moments when someone wants to bounce Southron Mercenaries back, but other than that Martell doesn't have cards that need help in getting back into shadows. There are some neutral characters that are definitely worthy of going back to shadows like though, Varys and Pyromancer's Apprentice being the prime suspects. Baratheon on the other hand gets a lot out of this, now a Black Cells can jump in and out of shadows much easier so that you can use the trigger every round. Add in Queen of Thorns, and there will definitely be fun moments to be had. With Shadowy Kingsguard and other similar cards looming on the horizon, the future for this should be bright.
JCWamma - 3 out of 5
Great for set-up, and there are some fun tricks to be had with the likes of
Varys (SaS)
or
The Black Cells (TftRK)
. Beyond that though, there aren't that many in-house or neutral toys for this card to play around with, relegating this to some very specific combo-builds running City of Shadows as the agenda. Maybe when the Shadowy Kingsguard characters come out next cycle, that will change.
mnBroncos - 2 out of 5
Shadows is a very expensive deck type anyone who has played with it will already know this, and is also a very slow deck type so when have a card designated for Shadow builds won't be too game breaking especially one that is making your deck even slower and more expensive when having to retake cards out (now of course there is cards would like to rebring out doesn't make it any less slow/expensive.) But could get better and I am intrigued to see what future shadow cards these two houses get with bring into play from shadow abilities.
OKTarg - 3 out of 5
It's OK. Usually there is a reason that 0 cost cards don't cost anything, and this is one of those. I'd like to see some more cool hop back in shadows effects before I slotted this, and if it could recycle Fiery Kiss I'd be ecstatic, but it feels like something is missing to me. We'll see how the next cycle fills this out.
scantrell24 - 3 out of 5
There's a lot going on with this card. Cape Wrath is great on setup and belongs to two houses with a decent number of playable shadows cards. You can also access shadows cards from any House with the City of Shadows Agenda. Now to activate the effect, first you have to win a challenge by 4 and then you can return a shadows card that you control to shadows. Cape Wrath doesn't kneel or have a limit so it can be triggered more than once per phase. For example, if you plan to Valar on the next turn, you can protect your characters by putting them safely in shadows. We'll have to wait and see how the upcoming Kingsguard shadows characters turn out, but for the moment its playabe with Varys, Qyburn, Venomous Blade, and Black Cells.
[/CRB]
[CRB='forums/uploads/got/med_the-tattered-prince-aje.jpg']
The Tattered Prince 15 out of 35
Clu - 2 out of 5
I'm for sure going to check out Targ and Neutral house with him. I'm not quite sure the results yet but hey, three cost, tricon won't get played no matter how cool his name is, see Mance.,
emptyrepublic - 2 out of 5
Our first neutral Chargenda. Maybe someone more clever than me can figure out how this guy might be useful. As a straight up character he's 3/3/3 and not that bad. Given the heavy bent on Mercenary I guess this might be useful most in Targ but I'm not sold. Pretty much all the in house character agendas are better not to mention the slew of stand alone agendas out there. Seriously doubt this guy will see much play.
Ire & WWDrakey - 3 out of 5
There is not much currently going for this guy as Mercenaries are very packed towards House Targaryen currently and they have better things to do than start running a Mercenary heavy deck. Unfortunately this doesn't go too well for the neutral house either. Still it is a 3 cost for tricon 3 strength with a situational ability, it has it uses, but nothing too amazing to be seen here. Definitely a great tool for casual players. Oh, and this also finally adds the choice of being able to run two different Charagendas in the same deck, which could be interesting.
JCWamma - 3 out of 5
I want to like this card a lot more than I do. Any cards released that immediately make me go "I want to build a theme deck around this" are doing something right, for sure. The problem is though, a character you want to die shouldn't have two different negative traits that easily see him discarded. If you can actually manage to get him on the house card he could make for a really fun deck type, but until then he's just an easily disposable 3/3/Tricon, which isn't that bad I suppose.
mnBroncos - 2 out of 5
Okay so best facts about this card is a 3 strength, 3 cost, tri icon character which isn't anything bad for just a normal character. Second best thing is that we see our first neutral character agenda which is very intriguing. However, currently his ability is nothing can build a deck around for now.
OKTarg - 2 out of 5
I really hate to be the bearer of bad news, but this guy isn't good. Mercs in general aren't that strong, with a few outstanding exceptions like Long Lances. They, unfortunately for our Prince, are better out of other builds. I would love to be corrected, but I'm just not a fan of this guy.
He doesn't even make a neutral Merc deck go, since the good ones are House Only and there's not enough splashable ones to make it worth your time. Maybe with future support, but until then I don't see it.
scantrell24 - 1 out of 5
The Tattered Prince is a classic example of a good idea with poor execution. Like Aurane Waters, he'll hardly ever see play because he's simply not efficient or effective in any way.
[/CRB]
[CRB='forums/uploads/got/med_blessed-by-the-maiden-aje.jpg']
Blessed by the Maiden 14 out of 35
Clu - 2 out of 5
Ok, Black Sails is going to ride roughshod all over this card but not too many other agendas are going to run this over Judged by the Father. Targ may make this work with Harried by Dragons, Stark can reach out for shuffling in other searchable cards. This recursion doesn't put it in your hand so it's less useful.
emptyrepublic - 2 out of 5
Another way to introduce some generic recursion for other houses. In my view the real value is getting uniques out of the dead pile. You're not really improving card advantage with this and the chances of seeing those cards again aren't high. Cost is a bit high for an effect that isn't terribly overwhelming. Additionally several of the houses have been getting their own recursion effects that are a bit better tuned to their card base and play styles.
Ire & WWDrakey - 2 out of 5
This card will mostly be used as a failsafe precaution in combo decks to make sure that their pieces aren't disturbed with going into dead/discard pile too early in the game. Other uses it can have is to have Prince's Plans back from the dead pile, but then again those Martell KotHH are pretty tight already on what events they are running. It can also be offensively used against a heavy recursion deck, but doing that isn't worth the cost.
JCWamma - 2 out of 5
For combo decks and self-mill decks, this card is ideal, as it is for decks that run lots of copies of their uniques. Otherwise this is actively hurting you by taking stuff out of recursion zones. But for those decks that will make use of it it's perfectly fine.
mnBroncos - 2 out of 5
I like this card for its ability to get dead characters out of the dead pile. For a deck that wants to run 3x of a unique character it is great to have a card that get a character out of dead pile, and also love a way to get Prince's Plans back, but I don't see this card making many decks, with a relative high cost for the event.
OKTarg - 2 out of 5
Eh. Almost every house has better recursion or card advantage options than this. I like the idea of getting a Prince's Plans back, but since you're just shuffling it in why not dig for your third instead with some card advantage options or even a Much and More?
scantrell24 - 2 out of 5
It doesn't affect board position and it's only useful late game. No thanks. The best I can say is that mucks with an opponent trying to use recursion like Dale or Prince's Plans, and it can make a dead Asha, Victarion, Stannis or Cersei playable again.
[/CRB]
[CRB='forums/uploads/got/med_supported-by-the-smith-aje.jpg']
Supported by the Smith 31 out of 35
Clu - 2 out of 5
I love this card. It should get most of it's workload from Bara holy power rush and Martel control. There is going to be a monster resurgence of combo decks (if it hasn't started already) to stem the tide of TLV aggro decks. Snagging Pyre after Desperate Measures seems good. This card is going to be a lynchpin in a few narrow decks.
emptyrepublic - 4 out of 5
I see some real potential here. I'm not sure if kneeling 2 influence is worth bringing back two Narrow Seas or Summer Seas. It could be a clever way to get around the Limited keyword. Keep in mind that Limited is a "play" restriction and not a "put into play" restriction. Regardless, even though the total cost that you can bring back is low there are some interesting possibilities that could spring from this.
Ire & WWDrakey - 5 out of 5
From looking at the houses, this event is best suited for both Martell and Baratheon. Martell can now secure their powerful locations like Ghaston Grey better with this, while Baratheon can get back its oh so nice Seat of Powers. For other houses this will mostly work for gaining some locations back after destruction, Stark might find some use with this and Borderland Keep to destroy opponents' saves.
JCWamma - 5 out of 5
Superb card, the answer to a lot of decks prayers, and clips the wings of location-hating Greyjoy decks quite nicely. The best part for me is that the cards go straight into play, so you can use it return your
Ghaston Grey (FtC)
mid-challenge.
mnBroncos - 5 out of 5
This card is amazing for Baratheon for getting seat of powers back that can be a huge swing with boosted economy. With location hate being a relative big thing in the game is nice to have ways to get those locations back in ways that don't require you to run duplicates. Maybe the best part is that it comes into play! So gets past limited locations and is cheaper.
OKTarg - 5 out of 5
Just as the others have said.
scantrell24 - 5 out of 5
Support of the Smith deals a blow to Greyjoy choke, but ironically it's yet another reason to Alliance or Treaty with Greyjoy in order to bring back Iron Mines over and over again. Greyjoy, Lanni, and Bara all have plenty of holy characters as well if you don't want to use influence. This card is also great with Desperate Measures, and provides some insurance against Rule Decree, Fleeing to the Wall, and Price of War. It also bypasses out-of-house penalties and the 'limited' keyword.
[/CRB]
[CRB='forums/uploads/got/med_favored-by-the-warrior-aje.jpg']
Favored by the Warrior 20 out of 35
Clu - 3 out of 5
The two influence has me worried the most right now but if you have the means aggro won't have any reason to NOT overextend between this and Negotiations at the Great Sept. Remember that anyone can grab Advisor of the Crown with At the Gate.
emptyrepublic - 3 out of 5
An generic save for the non-Starks out there. The 3 power to cancel condition isn't a super high threshold and if the character is important enough most players will probably be glad to trade those few power so you don't get to keep what you really need. Upshot is that you get to search and play a duplicate (should the save not be canceled). Not sure if it's worth the 2 influence. Many of the other in house saves are superior in terms of cost and other side effects.
Ire & WWDrakey - 4 out of 5
A nice save event with a good added bonus of searching a new save. By all this card is replacing itself with a duplicate which is nice. Greyjoy & Baratheon the two heavy H themed houses will definitely find uses for this as both of those deck types are very dominating during power challenges and also Greyjoy has other saves to be used in case an opponent can cancel this one. Even Martell (with their natural lack of saves and surplus of influence) will probably find clear uses for this, although this is one of those moments where The Red Viper's immunity will be a hindrance. Especially in a timed tournament setting, the 3 power can be a big cost if the time is running out and the winner is soon to be decided. When you take this event to a Melee you can be sure that no-one will be willing to take the hit in power just to stop your save. Clearly a 5 in Melee.
JCWamma - 3 out of 5
In early-game, or in decks where you can keep your opponent locked down, this is a tremendous effect. In later game, 3 power is a good number - enough that the opponent will feel it, but not enough to stop them at least being tempted by it. Only being able to run this in influence or holy decks does hurt somewhat, as most reliable influence decks will run it out of KotHH which will be the decks that struggle to keep the opponent from amassing power. As a result this seems like it'll find its way into Bara Holy Rush and maybe Greyjoy Holy Rush, although the latter has enough saves already. So this card is, in practice, probably going to be "kneel 2 influence to save Melisandre and dupe her". Not necessarily a bad thing. Also a couple of fun uses - in melee it could be hilarious for creating arguments about who has to discard 3 power to cancel it, and note that you can use it to dupe a character with Riders of the Red Fork. Also, sucks for you if you're running Brotherhood and the opponent plays this!
mnBroncos - 2 out of 5
With the build in cancel that isn't that steep of a cost, I will look for my save elsewhere.
OKTarg - 3 out of 5
This will be GREAT when it hits...you're rushing, keeping them down, and they need to Valar. You grab a dupe. Amazing.
But after turn 3, they'll be able to cancel it and you'll wish you had played something else.....
scantrell24 - 2 out of 5
In theory this event reads "Kneel 2 influence or a Holy character to save a character and a gives it a dupe". In practice it reads "Kneel 2 influence or a Holy character to discard three power off your opponent's House card". Considering that it takes up a valuable event slot, I'm not interested.
[/CRB]
Anurak and SeanBecker like this
Article: A Journey's End Review