Welcome to Card Game DB
Register now to gain access to all of our features. Once registered and logged in, you will be able to create topics, post replies to existing threads, give reputation to your fellow members, get your own private messenger, post status updates, manage your profile and so much more. If you already have an account,
login here
- otherwise
create an account
for free today!

1
A Turn of the Tide Card Reviews
Small Council
A Turn of the Tide
Reviews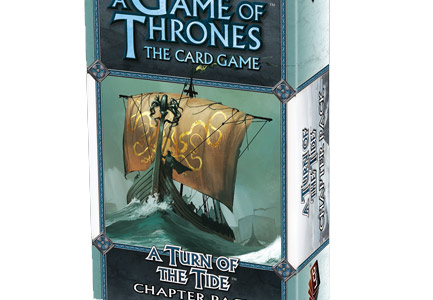 63% 547 out of 860
Our staff has put together a first blush analysis of the newly released chapter pack A Turn of the Tide. We've used a one through five scale; five being the best. The cards are listed in numeric order. Our reviewers are listed in alphabetical order. Let us know in the comments how you feel about the cards in this pack!
Overall alittle below average for this pack, 2 cards get very high scores but alot of others are stuck in the 2-3 star range.
Top 3
Margaery Tyrell 40 out of 40
Dale Seaworth 43 out of 45
Dothraki Outrider, Braided Screamers 31 out of 40
Bottom 3
Shores of the Summer Sea 17 out of 40
Passing the Wall 19 out of 40
Deepwood Motte 20 out of 45
[CRB='forums/uploads/got/med_house-clegane-brigands-atott.jpg']
House Clegane Brigands 30 out of 45
Clu - 3 out of 5
The four gold cost will keep this House Clegane rockstar out of several decks. However, he powers Price of War. This is the guy I've been looking for to fill out location control in the House of the Lion for a long time. Plus, if anyone hasn't noticed yet, I heart Gregor Clegane.
emptyrepublic - 3 out of 5
So much at the 4 gold level it's getting hard to figure out what to do. It doesn't play into the current naval them but broadly speaking strengthens Lannister's ability to maximize intrigue challenges. Too bad you can't use it in a Power Behind the Throne deck; main reason it's only getting a 3.
Ire & WWDrakey - 4 out of 5
More House Clegane and War crest support for Lannister, excellent! The army is at an unfortunate slot of 4 gold which makes it so that it is taking room from some other usual suspects like Cersei. However, the lovely thing with this army's Response is that it doesn't have to participate itself in the challenge, nor does it care if you won it on defense or offense. That is very flexible. Surprisingly, this is also a larger Army that actually takes attachments, like Dragonbone Dagger or Devious Intentions.
JCWamma - 2 out of 5
When rating these "no agenda" Army characters there are a few things that need to be considered, but by far the most important one for me is "what other agendas are commonly used in this house"? In Lannister, the two most common agendas of the moment are Power Behind the Throne and House of Dreams, and I don't know if the Brigands are good enough to justify dropping either agenda for. At 4 cost they're also competing with Tywin's children, and let's be honest that's not a competition they're winning. They also need to be compared with the Fleet, and I think the lack of Deadly means that they don't come off favourably there either. The War Crest is nice, but at the moment it means little in Lannister. I was on the fence between 2 and 3 for these guys, almost moving up to 3 because in a Lannister Army deck the Brigands will be a force. However, given those decks are hardly tier 1 at the moment, a 2 it is.
mnBroncos - 4 out of 5
The first thing that I notice from all of these armies are the 4 cost 5 strength. Although, most of the time the navel armies are reduced to 4 gold is the possibility that they stay at 7 gold and also are never an option to play on setup. So first thing about all these armies are if you need some high strength guys for your deck these armies (even with agendas) can be options. Also, with all the armies I like how they encourage decks without agendas or by using character agendas with using positive effects and not negative effects for the opponent using an agenda like Northern Cavalry Flank. Now with this army in a non agenda or character agenda deck, the effect is great! I believe most players like going INT challenge first so you get your INT out of the way with the army and then be able to use the army again for MIL. Solid great card.
OKTarg - 4 out of 5
Great cost for STR, great response, War crest--this card goes a long way to making those decks viable for Lannister. Don't sleep on the Kevan agenda--with this card and Cersei's Schemes, not to mention the high initiatives of Frey Hospitality and Schemes of the Scholar, an INT/Aggro deck seems very possible.
rave - 4 out of 5
Characters that can participate in multiple challenges by themselves are great and hard to come by. Hard to burn characters that can participate in multiple challenges with a good chance of an auto-win by themselves are friggen unicorns. This card is pretty much what I feel a 4 cost character should bring to the table. The only reason I can't rate this a 5 is that Lannister's non-agenda options really aren't that stellar. The two decree cards are more anti-Lannister than anything. Kevan is alright, and there are a lot of good aggressive intrigue based plots to take advantage of him, but it's a hard sell over some of the agenda options. I think the Kevan deck can work though, and I'm curious to see what deck types this army brings.
scantrell24 - 4 out of 5
My first thought: This is awesome for PBtT decks! My second thought: Oh, duh, the response only works with no agenda (or a character-agenda). So while I'm giving this card a high rating, that rating only applies to a small number of decks -- namely one built around Kevan Lannister.
In most other decks, The Brigands should be avoided because they cost too much and accomplish too little. Under the right conditions though, the Brigands are monstrous, capable of participating in three challenges per phase. Add stealth and/or deadly, perhaps with Little Bird and/or Dragonbone Dagger, and you have an unstoppable force.
TinyGrimes - 2 out of 5
Perhaps there is a great fit for this card in a Lanny deck of the future. However, at this point it seems that PbTT or maybe TLV are the best agenda choices for Lanny. Without it's bonus text it doesn't fit well with any decks I've been crafting. Perhaps there is a great army, war crest to be had and it might have a place there. However, this is not a toolbox card that will find a home in a variety of decks.
[/CRB]
[CRB='forums/uploads/got/med_sitting-the-iron-throne-atott.jpg']
Sitting the Iron Throne 28 out of 45
Clu - 4 out of 5
OMSevenGerrrds! There is a lot to analyse here. Would you play an event that just says "pay one gold to claim one power"? Probably not, but there would be an argument for the right deck. At it's worst, that's what this card states. Throw in a Coin Mint or three and you are talking about some real win. It also fits nicely into their archetype. Kneeling doesn't win you games. Claiming power during dominance can win you games. If only Brotherhood was good out of Lanni, oh, wait... No 5 rating because it's house Lanni only. It hadn't even occurred to me that this can fire up infamy characters. House Clegane Outlaw will now cost you two gold, still a steal at that price!
emptyrepublic - 4 out of 5
Given the rate Lannister can generate gold this is a great way to close a game outside the challenges phase. Deathbound is a good thing here as it would a be bit too easy to get this card back. It's strong but I don't think it warrants an auto include.
Ire & WWDrakey - 3 out of 5
In melee this card can be a lot more beneficial than in joust since the surprise power matters more and also gold gathering is easier in that environment (thanks to the Title and other possible interactions... like taking tons of gold with wealth of the rock). In joust it has some nice combo potential that might work now, like say, the gold Tywin and the new Warships, or even combo this with the only Kingsguard Jaime. There might be also a small use in Brotherhood since power on a character is not a bad thing, when it is comfortably sitting on top of Beric. All in all, nice to see combo-based win conditions get a boost for once, even though this card probably won't push such a deck to be very competitive by itself.
JCWamma - 3 out of 5
Consider this 3 for Joust; in Melee I think it might be a 4. I could see Lanni decks throwing in a single copy for when they have gold to spare later in the game; from fooling around with heavy-gold decks I can confirm this is a tremendous event in the later phase of the game for quickly rushing to power. I really want to like this more, because anything that supports the Nedly "Lanni Gold = Lanni Power" theme gets a big thumbs up from me. I don't think it's quite good enough to make that deck wholly viable yet, sadly, but I do think it's a big step in the right direction. Also for the Shaggas out there, note that it combos with Small Council Joffrey just as well as You Killed The Wrong Dwarf does, with the added benefit of recursion.
mnBroncos - 2 out of 5
Now this was close to a three and I would like to give it atleast a 3 because I just love the art so much on this card. However, I don't see this card being that strong. It can get power pretty fast but that is preventing you from using the gold for other abilities and if building a heavy gold deck I would want to get more out of them then just power. Its also very costly if wanting to use one of them in dominance to get all three of the limit costs 5 gold. Other nock is that it goes on a character where its more vulnerable than if the power went on the house.
OKTarg - 3 out of 5
I would go to a 4 in melee. Obviously, in either format, you have to build around this type of effect, but with Paxter, coin mint, LotR Tywin, Daven Lannister, Lionstar, and in melee Shadows Varys, you really have something here.
rave - 3 out of 5
Definitely worth looking at. With the gold, this is a reliable 3 free power every turn in the dominance phase. Unlike Forever Burning, this also can't be cancelled with Paper Shield. Lanni KOtHH comes to mind here, 6 gold is not all that difficult for a KOtHH deck in the mid to late game. I would run it as a 1 of in KOtHH and see what happens..
scantrell24 - 2 out of 5
I generally dislike cards that have no impact on board position. This one's only impact is to eat all of your gold. Perhaps it can be useful later in the game, once you have an excess of coin-producing locations, but until then it's less than helpful.
TinyGrimes - 4 out of 5
So you're telling me if I win dominance over three turns I can claim 9 power from a single event. Hmm, that kind of smells like a 5 and an impending restriction. However, I will temper those statements until I've actually played the card a bit. But I must say a Tywin dominance deck just went from pipe dream to potentially viable. An even better fit is probably in a deck with Cersei and the standing Jaime. Those characters alone provide a minimum of 6 strength towards dominance. Perhaps you are like me and are tempted to throw in an out of house Asha and Power of Blood. Hmm, this deck seems to be building itself..
[/CRB]
[CRB='forums/uploads/got/med_raiders-of-orkmont-atott.jpg']
Raiders of Orkmont 26 out of 45
Clu - 2 out of 5
Hmmm, to be fair, Ocean Road already fits nicely in Greyjoy but that four slot is getting pretty snug already. The ability is actually quite a beating and the War Crest give access to something Greyjoy has pretty much zero of, direct kill. I really like this guy. But, he just won't see that much play. Has anyone noticed how much bigger the game is going this cycle?
emptyrepublic - 3 out of 5
Raider support and mill support are always nice for the Krakens but they aren't suffering for characters with a warcrest and at this point aren't suffering much for mill effects. It's not bad but I don't see it getting much play.
Ire & WWDrakey - 4 out of 5
A big War crest raider beat stick. A popular belief is that Raiders need a HoD agenda, but it is quite possible to run them as efficiently with no agenda, maybe even better, considering how much setup can matter... especially when you consider that GJ is still the most likely house to use refugees as their restricted choice. The mill theme is pushed more with this, maybe even extending to some card manipulation by making sure your opponent gets 2 cards he didn't want in his hand, like resource locations late game. The war crest is lovely as well if you want to go the Die by the Sword route with your raiders/mill. All in all a great card for theme decks.
JCWamma - 4 out of 5
Unlike the Brigands, that War Crest is near-guaranteed to be put to good use. The Raider trait is also very nice. But what gives these guys a high rating is that response. Immediately your brain goes to "Raider Mill", but the fact that it is selective is very useful. Also note that it works on attack or defense and the Raiders don't have to feature in the challenge, so you can trigger it multiple times a phase. So in other words, in practice what this card is ideal for is everyone's favourite archetype, Greyjoy choke. Other than recent experimentation with The Long Voyage, it's a deck that doesn't tend to use an agenda, so the Raiders are an ideal fit, albeit expensive. But being able to selectively mill to get rid of cheap characters and resource locations is a valuable, valuable asset.
OKTarg - 3 out of 5
I'm skeptical about how much this will see play since the response isn't as compelling as most of the other armies, but it's more options for Mill (which I like) and another War crest. A tad expensive for Choke decks, but I'm excited to see what people come up with using this card.
rave - 3 out of 5
Even though it's nice that Mill has another tool, this is too expensive for the effect. It is interesting though that this is probably the only Mill character that is difficult to burn.
mnBroncos - 3 out of 5
Still a solid character for all the reasons mentioned before about all the armies. but not as good of an effect than others. Mil is a theme Greyjoy can run though so can work if doing that out of no agenda, also being able to rearrange the order of the cards can be just as effective as discarding them. Nothing special though then high strength character that uses the same icons as most of the Greyjoy characters.
scantrell24 - 2 out of 5
I can't think of a deck that would use the Raiders of Orkmont. In the future there could be some agenda-less Raider-trait-based theme deck, or maybe Mill with no agenda, but for now it just doesn't fill any pressing needs. In an Aeron Damphair character agenda deck, you're probably focused on holy crest characters in combination with the Power of Faith plot, so even the Raider's military crest isn't that helpful. The response ability doesn't affect board position but I can see how it might be useful - discard their economy early, discard their best characters late, pump Asha and Alannys. Still, I'm not impressed.
TinyGrimes - 2 out of 5
A war crest saves this from a 1. Ok, go ahead and build your tier 2.5 raider/mill deck around this card. Don't complain though when you lose at regionals with the deck.
[/CRB]
[CRB='forums/uploads/got/med_deepwood-motte-atott.jpg']
Deepwood Motte 20 out of 45
Clu - 1 out of 5
This card does something Greyjoy can't do which is great; mill without a trigger. But, your opponent can cancel it… The text is pulled from the old Whirlpool and because this card isn't non-unique you just can't count on it. I foresee several HoD mill decks in the making already.
emptyrepublic - 3 out of 5
This is a good way to trigger a mill effect "on demand" for Kraken Tattoo or anything else that triggers off of milling. Discarding one power to cancel it is a low threshold for a cancel but does slow your opponent down. The real downside is that it's a 2 gold location and I shouldn't have to tell you how many 2 gold locations Greyjoy has now; hint: it's a lot. Where is there room for this?
Ire & WWDrakey - 4 out of 5
if something is going to make a mill strategy finally work it is probably going to be this. Slowing power gain or milling for a possible stand is win-win for such a deck. This is also a good target for the HoD agenda to make sure you have a mill effect straight from the get go. ~Good thing we all still remember how giving your opponent a choice between two bad things was a horrible drawback for both Pentoshi Manor and The Scourge, eh?
JCWamma - 2 out of 5
For Mill decks, this card is a 5. Sadly Mill decks aren't that great. That cancel isn't particularly bad news, because Mill decks are slow - if the opponent is choosing to forego power, GOOD. What makes Mill viable is cards that Mill AND provide bonuses for doing so (the Noble Euron springs to mind), rather than cards that do one or the other. The Motte isn't exactly reliable for character-standing, but just the threat is nice. If only Greyjoy had just gained an army that helps guarantee what cards would get discarded to it...
mnBroncos - 2 out of 5
Mil still is unproven as a solid theme, and now that The Long Voyage has been doing so well may be seeing even larger decks with Mil being even less effective option. But, with it being so easy to cancel with not a step price also makes it less effective, although mill is slow and so making opponent playing even slower with losing power is nice, still isn't much of a cost for most decks now a days with the speed of the game.
OKTarg - 2 out of 5
Does anyone remember that Mill isn't good? Well, maybe it's getting better now, but actually milling cards doesn't do much for you. Now that houses have great recursion options (Bara, Martell and Targaryen especially, but also Kindly Man....) I'm not sure that Mill is getting any better. That said, hyper-mill Maester decks sure are annoying and perhaps this will make regular ones just as much so.
rave - 2 out of 5
This could be crazy-frustrating in a deadlocked game. 3 cards is a lot, especially off a repeatable effect. In any other type of game, this will probably fall flat, but it's not the worst card that's come out this set.
scantrell24 - 3 out 5
The ratings on agotcards are generally positive, but I fail to see why. Sure, Mill has gotten more support lately and might finally be gaining traction, but this particular card is so easy to cancel. Maybe it will work with House of Dreams to get Asha and Alannys going on turn 1 every time? I still think Mill is a card or two away from being viable.
TinyGrimes - 1 out of 5
See the card above and my thoughts on mill.
[/CRB]
[CRB='forums/uploads/got/med_seized-atott.jpg']
Seized 27 out of 45
Clu - 3 out of 5
Ooohhhh yeeeaaahhh!! Love it. Location control is incredibly important in AGOT and what's better than taking your opponents? Haha, take that…errr… Sunset Sea? Well, maybe it's not that powerful but it will be a great meta call because it can still take Pentoshi Manor, Smuggler's Cove, Kingdom of Shadows, all shadow locations, and some other useful landscapes.
emptyrepublic - 2 out of 5
I could live with the non-limited if this attachment wasn't so expensive. 1 gold is reasonable but 2 gold is really expensive for a Condition attachment that is too easily discarded. I know it looks really strong (and it might be) but I won't be convinced until I see this used to great effect in a game.
Ire & WWDrakey - 2 out of 5
So what do we have here, a situational location steal card for the house that has the most location control in the game. For comparison, let's have a look at Direct Assault, a Stark/Baratheon event that hasn't been seen in many published decklists these days. Compared to Direct Assault this effect is clearly weaker - it cannot hit limited locations, it isn't permanent and it even costs quite a hefty amount of gold. It is also very hit & miss since against some houses it is really good (like, say, Lannister), but against others it can be a dead card in your hand.
JCWamma - 2 out of 5
The "non-limited" part makes this card significantly worse. Why would you run a 2-cost Condition attachment that does what you have Newly Made Lord to do? Yes, it's very nice to have visions of taking a Golden Tooth Mines, Pentoshi Manor or whatever else, but a lot of the time the best option you'll see is a Street. And that's not bad, but hardly worth using up a 2-cost attachment spot for.
OKTarg - 3 out of 5
I undersold Enslaved when it dropped; am I doing it again? I don't think so.....too conditional, but when it hits it will be a beast. A solid option for GJ. Sure, you have Newly Made Lord also, but why not run them AND seized AND Price of War and see your opponent struggle all game. It's like when Ambush hit a critical mass with effects....mill and Location destruction are heading there.
rave - 4 out of 5
As a Lannister player, I shudder to see this card. This is a great tool for Greyjoy. It's definitely not a 3-of card, but there are a lot of locations that when caught with this, can completely turn the game around. Lannister and Martell in particular both have horrible answers to attachments, and will get hit pretty hard in the Greyjoy matchup when this hits the cardpool. Being able to dictate the round before the challenges phase is very strong. 2 gold is a lot, but I feel in practice this is going to be very good.
mnBroncos - 4 out of 5
The only negatives this card has is that it is an attachment and that it is a condition attachment. Besides that this is a crazy strong effect. Everyone hates losing even a claim soak character with enslaved, and this against some decks can be just as damaging. KotHH decks will hate losing a kingsroad fiefdom to this card, also some strong control decks like Pentoshi Mannor that this can take, it won't make it into every Greyjoy deck but it is usable in all sort of builds and a strong effect.
scantrell24 - 4 out of 5
I expect Seized to be a hit or miss type of card. Sometimes it will be game-breaking, but
sometimes it will be dead weight or too expensive to play when you need it. There are a number of locations that now have a huge target painted on them: Pentoshi Manor, Golden Tooth Mines, Iron Cliffs, Naval Escort, Scouting Vessel, Frozen Moat, Frozen Outpost, White Harbor Dromon, Smuggler's Cove, Hellholt Docks -- Sunset Sea makes a good target against Lannister or another Greyjoy, and perhaps targeting Street of Steel/Shadowblack Lane/Street of Sisters would be worthwhile for choke decks.
TinyGrimes - 3 out of 5
I remember thinking oh wow this is an easy 5. Then I got to thinking about the limited selection of cards that this hits. I do think it will find a home in a choke deck, especially a TLV choke deck looking for redundancy. Stealing all of your opponents neutral reducers is a great way to choke an opponent. However, it won't be stealing that many amazing locations. Let's list some strong ones just for one: Iron Mines, Iron Cliffs, Smuggler's Cove, Lost Oasis, Golden Tooth Mines ... Hmm, maybe it's at least a 4 after all. I'll have to try this one out a bit before my final verdict is in.
[/CRB]
[CRB='forums/uploads/got/med_blackcrown-knights-atott.jpg']
Blackcrown Knights 23 out of 45
Clu - 2 out of 5
Super cool in reanimation decks. However, we run into a completely jammed four slot. Crimney, it'll be competing with Stannis, Mel, and Sallador Saan. Although I do like going old school and tossing together a Bara military crest deck. The traits allow you to run the Knight agenda, you lose the ability but it was not something you always wanted to trigger anyway.
emptyrepublic - 3 out of 5
I'm finding several of these agendaless 4 gold armies pretty uninspiring. Again, it's not *bad* but is it good enough to warrant the space in your deck? The response is not bad until you remember that there are plenty of ways to break it (thus you discarding a card for nothing). A strong set of traits is nice. We're getting more House Tyrell stuff. Maybe one day they'll actually be a strong enough sub-theme of their own.
Ire & WWDrakey - 2 out of 5
So... a big pile of Tyrell Knights. The art is pretty cool, but too bad the card doesn't really mesh into the overall Baratheon picture. Card disadvantage for something you usually get for free (power gain) just doesn't seem like a good deal. Especially when better priced similar cards (King Robert's Loyalists) haven't seen any play. The only real chance this card has to stop it from becoming binder fodder are a possible future need for a reliable discard engine (Wildling Bard is still better) and the House Tyrell trait. We're not holding our breaths...
JCWamma - 2 out of 5
Bara No Agenda is a viable deck-type for sure, but its biggest weakness right now is Card Advantage. That makes this less useful. The fact that the response is conditional, requiring you to including the Knights in the power challenge and win it, makes it worse too (although to be fair in Bara you should be able to win power challenges without much trouble). In certain circumstances it'll be a great closer, but for the 4-cost spot in Bara you need to be better than in certain circumstances. That said, there can be something said for discarding cards not mattering as much for Bara any more, although Wildling Bard still seems like the better option right now. Glad to see it rocking that immunity to Terminal Schemes.
mnBroncos - 3 out of 5
Baratheon loves getting power and claiming 2 power for just 1 card is great, and if have two guys out that is getting you four power for just cost of 2 cards in one challenge. Downside though is Bara usually needs some sort of agenda that can net them an extra draw, because don't have much inhouse draw options, and also with that is probably the house that can't throw away cards for power. Still another solid army though.
OKTarg - 3 out of 5
I rate it as such since I have a suspicion that Tyrell trait will get more support going forward. I am into no agenda decks these days and even though Bara's aren't super awesome, it takes cards like this to get them there. Even with an Agenda, it's an extra Crest, Knight, and Army, which isn't bad at all.
rave - 3 out of 5
I actually kind of like this guy. Negotiations at the Great Sept is strong as a tool for any Baratheon deck, and Baratheon reduction can fit this guy in. I would give him a 4 if Baratheon's agenda-less options were better.
scantrell24 - 2 out of 5
Again, what deck would use this? In Long Voyage or Knights of the Realm it would be solid if you could trigger the response, but you can't, so what does that leave us? The one thing Blackcrown Knights has going for it is the rise of Baratheon recursion, so maybe there will be even more synergy in the future that makes him playable.
TinyGrimes - 3 out of 5
Apparently I'm the only one who likes this card much. With Melisandre's Schemes, discarding cards is not all bad. If you told me with a rush deck I could discard 1 card to claim 2 power every turn I would do it for sure. Now is that more fragile on a character without a noble crest, well yeah. Is the 4 cost slot really crowded in Bara, yes again. That's why he's a 3 and not higher. I will certainly be giving this card a try. He's either a 3 or a 1 in my book and for now he's getting a 3.
[/CRB]
[CRB='forums/uploads/got/med_dale-seaworth-atott.jpg']
Dale Seaworth 43 out of 45
Clu - 5 out of 5
Whatever. Oh, he's not a smuggler, ok. His gold cost is higher than his strength, please, you get ANOTHER card into your hand. Dale just gave Targ the recursion finger. He immediately goes into all my Bara decks. Two for one in a control matchup is sick. Two for one in an aggro matchup is even sicker. Hurry up and target him with At the Palace of Sorrows already.
emptyrepublic - 5 out of 5
Possible restricted one day? I think so. I immediately think of The Viper's Bannermen when I see that response and wonder how easy will it be to bounce him in and out of play. If only there was a way to get him to synergize with Ghaston Grey. Joust unfortunately is not quite as good as it used to be due to Naval Enhancement but still decent.
Ire & WWDrakey - 5 out of 5
Well now, Baratheon hasn't gotten a good candidate for the Restricted list in years, so I guess it was about time. Stupidly-silly-bonkers card advantage mini-Bannerman in one of the best Houses for recursion. Best card in the pack, with only Margaery even coming close.
JCWamma - 5 out of 5
Holy wow. The one criticism you can throw is "3 cost for 2 strength is a poor ratio", but it doesn't stop the best characters - look at Meera Reed. And yes, I'm making that comparison, because this card is tremendous for Bara Rush, Bara Control, ...just, Bara. Think about it this way, often the worst-case scenario will be fetching a Seat of Power, which means you effectively play Dale Seaworth for free AND get a second card upon him leaving play. If he gets discarded then you can return him with Mel's Scheme, if he gets killed you can return him with Fiery Kiss THEN return him with Mel's Scheme. He combos spectacularly with the likes of Narrow Escape, or if you're not into using up your Restricted spot there's also Glamor of Fire or even Retreat for insane card advantage. Think of him as Bannermen jr., only (for now) he's not restricted and he only costs 3 gold. Maybe I'm getting giddy, but I don't see a scenario when you wouldn't want to put this card in your Bara deck. Although I don't get what he gains from Joust, but really that's an incredibly minor nit-pick.
mnBroncos - 4 out of 5
The big thing that bugs me about this card is that he didn't get the smuggler trait, I am hoping for some cool smuggler synergy and this guy should be able to fit in there but doesn't. Also, 3 cost for 2 strength isn't the best and gets a horrible keyword for a 2 strength character. However, the ability is great for returning a duplicate or reducer and is usable twice makes him still a solid character.
OKTarg - 5 out of 5
Great card, full stop. Two card advantage (and recursive, selective advantage!) is bonkers good. Use with the Rivers, Parting Blow, or even just by himself. Solid, solid. No....more than that. Just good.
rave - 5 out of 5
Limitless potential with this guy. He can make any deck a little stronger. He would be decent if his effect just triggered off coming into play, the effect triggering off leaving play as well makes Dale pretty amazing. All Bara decks (especially ones that decide to go Narrow Escape) will get a lot out of him.
scantrell24 - 4 out of 5 stars
I'm looking forward to seeing what Dale can do. The cost-to-strength ratio is mediocre, Joust could come in handy occasionally but isn't one of the top keywords, and the naval enhancement lies on what is generally the weakest icon. However, I can see Dale naval attacking to pump your strength for Seductive Promise and other "win by X" triggers.
The real meat of the card lies in Dale's response, which gives you a Baratheon card from the discard pile when he enters play AND when he leaves play, making Dale one 2-strength dude that Targ will NOT want to burn. Note that you CANNOT return a "House Baratheon only" event because events do not have the House Crest in the top right corner.
TinyGrimes - 5 out of 5
Flat out amazing and a big reason why Bara is soaring up the charts. Run 3 in every deck along with 3 Fiery Kisses. Then loop him and get back all of your reducers for your Melisandre Schemes turn. He makes Bara recursion viable and frightening again. You will see me running him at a regional at some point this season.
[/CRB]
[CRB='forums/uploads/got/med_shores-of-the-blackwater-atott.jpg']
Shores of the Blackwater 21 out of 45
Clu - 2 out of 5
Hmmm, I think this card has a ton of potential with Smuggler's Cove getting so much action and Holy being a thing Bara can do. What's holding me up is "If I can win a challenge by four or more, aren't I in the drivers seat already?". It is King's Landing trait so, King's Landing gets a bump. I see it now…Bara KotHH River Plots FTW… I would give this a 4 if the character popped back into play.
emptyrepublic - 3 out of 5
Ideally you shouldn't need this and you should only need this if there is a must play unique in your deck that got killed. Perhaps it's a way to enable some recursion for Dale if he gets killed? I don't think it'll make the cut in most decks but it could prove useful for decks that are reliant on recursion.
Ire & WWDrakey - 3 out of 5
If one other card wasn't in this pack, this card would probably only get a 2... but with the distinctly obvious combo-potential, one should probably give the card a bit of a break, and be optimistic that it can find slots as another block in the Baratheon recursion puzzle. Retreat is really not a bad card, and this is basically a more conditional setuppable version of it... with the benefit of also working on non-uniques.
JCWamma - 3 out of 5
To again return to Dale Seaworth, you kill him, fetch something from your discard pile, discard Shores to return him, then next turn you play him and get the Shores back again? That said, outside of that combo this is only okay. If it was Any Phase it would be wonderful, but for a Challenges only ability it's a lot more limited. I do like that this isn't a Response, so you can win the challenge and know that for the rest of the phase, you can return a character who was killed. Also worth noting that it's nice for combo decks out-of-house - Martell Sandsnakes returning the Viper if their No Use for Grief is cancelled, for instance, or Targaryen Dothraki recurring the search Khal Drogo.
mnBroncos - 2 out of 5
Now there are times this card could be great, however, more times see it being a dead card. It is nice that is 0 cost location for setup, but many things don't like about this card. Can't return anyone that was killed during plot phase. Also, the win by four, now this isn't to bad for events because the opponent doesn't see it coming but with this in play for the opponent's knowledge the opponent if able can just over commit to defend so if you lost a key character can prevent you from triggering it. Lastly the card goes into hand not play so will have to spend the four gold (or whatever) for the character anyways when most often in a bara deck will just have another key character to play in its place. Some decks that rely on one or two key characters could have a need for a card like this though.
OKTarg - 2 out of 5
This is weird. Yeah, you don't have to trigger a Response, which is nice. But the win by 4 is public (though that may actually help them defend against you). Works great with Dale or how about the new Quentyn OOH? I'll wait and see.
rave - 2 out of 5
Awkward card. It doesn't do anything against Valar, and that's been Bara's bane all along. Bara also doesn't need any help adding 0-costs to their deck. Could be interesting with characters that have effects that trigger off of dying, but nothing in the cardpool that I can think of is good enough to make this card worth it.
scantrell24 - 3 out of 5
Shores of the Blackwater isn't for every deck, but if you NEED Stannis or Melisandre or somebody alive, then it's useful. There are too many terms and conditions involved (win by 4)(killed this phase), but zero-cost locations are so handy during setup that I can't give it lower than a 3.
TinyGrimes - 1 out of 5
Junk, pure and simple. Why are my good cards dying during the challenges phase? I'm not killing them to claim. So basically I'm playing this card to combat targeted kill decks when I could just run fiery kiss instead. Yeah, no thanks. Now if this said any phase it would get a 5, but it does not.
[/CRB]
[CRB='forums/uploads/got/med_riders-of-karhold-atott.jpg']
Riders of Karhold 33 out of 45
Clu - 3 out of 5
Stop giving Stark card draw mechanic!!!! Ok, fine, you can't run an agenda with this and there are plenty of better armies in the House of the Wolf. And it has the Traitor trait. Alright, fair enough, this card is completely balanced and I look forward playing with it!
emptyrepublic - 4 out of 5
I might end up using this in my no-agenda Stark deck. It's a pseudo-draw mechanic that's not hard to execute and even if someone cancels it there is no cost to lose so this one is ahead of some of the other armies in this pack. The larger problem is selecting which armies to use in Stark, which are quite numerous.
Ire & WWDrakey - 3 out of 5
Nice ability which can be triggered as many times as there is a military challenge to be won (epic challenges we are looking at you). It also goes well with stalwart characters, making sure that you will hit something with the ability and also stop the draw clogging which stalwart usually causes. Unfortunately it has a negative trait and it is a 4 cost. In the 4 cost slot Cavalry Flank just beats this hands down and even the Fleet is usually better.
JCWamma - 3 out of 5
Stark is one of the few houses that runs No Agenda with regularity, and the Riders are money there. The obvious combo with Stalwart is great. It has no phase limit so you can trigger it multiple times in the one challenge phase, or even across the round with epic battles, Lucas Blackwood and the like. That said, if there's one house that doesn't care about a 4 cost 5 STR Army with a War Crest, it's Stark. They kinda already have the definitive one. If the Northern Cavalry flank magically didn't exist any more this would be at least a 4, maybe even scraping into being a 5.
mnBroncos - 4 out of 5
In most decks you got a fifty fifty shot of drawing an extra card, when trigger response, but also a key thing is that Stark has the most support for non-agenda decks with kindly man being one of the better if not best character agendas and with the ability of Maege. However, gets a weaker rating if more traitor hate comes out.
OKTarg - 4 out of 5
Great option for Stark. They have the most no agenda support, and this is a really good choice in a Kindly Man deck. It's super crowded at the 4, but the extra War crest may just push this into some decks. I mean, card draw....come on!
rave - 4 out of 5
The card itself is great, but I feel like it's not worth giving up Stark's agenda options to play it. Stark agenda-less isn't the worst thing you could play ,but this card doesn't put it over stuff like Stark Siege.
scantrell24 - 4 out of 5
Again, I'm reviewing within the context of a Kindly Man or no agenda deck. The four-gold spot is crowded in Stark, with Northern Cavalry Flank, Roose Bolton, Robb Stark and the Blackfish already laying claim. I can see a single copy, perhaps two at most, especially in tandem with the army-reducing Robb Stark. Being non-unique he can come back from the dead via the Kindly Man and maybe even add a card to your hand before dying dying for claim. Not bad.
TinyGrimes - 4 out of 5
Stark no agenda (or better yet Kindly Man) is more than viable. So now you are just looking at another great army/war crest with draw. Yeah he's real good.
[/CRB]
[CRB='forums/uploads/got/med_passing-the-wall-atott.jpg']
Passing the Wall 19 out of 45
Clu - 2 out of 5
Weird right? It draws a card so that's good. Too bad it doesn't say ANY other trait. It avoids the cellar rating of 1 due to it's probably an auto-include in Stark Night's Watch decks. Mebbe I'll dust off my Greyjoy Night's Watch deck again?
emptyrepublic - 2 out of 5
It's poor support for Night's Watch. It is a nice "Ambush" style effect like The Wall that also allows for a draw but unlike The Wall you can only do it once until you draw the card again. Usable only for Stark but it seems like Night's Watch is better run out of Baratheon these days. It's not making me run out to make a Night's Watch deck.
Ire & WWDrakey - 3 out of 5
Now this is a really interesting card. It opens up quite a bit of interesting shenanigans for Night's Watch, while also being efficient card-wise and staying true to the Night's Watch credo of retreating behind the Wall (into your hand), instead of staying out in the open. If the Kingsroad Cycle brings some more boosts for Night's Watch, the theme might even become decent one of these days. Sadly, one good card does not a deck make.
JCWamma - 3 out of 5
Any Phase makes this interesting, I'm sure there are some fun combos available with it. An event that automatically lets you draw a card is good too - if there was an event that just said "Any Phase: draw a card" then you'd probably run it x3 for deck-thinning purposes unless you consistently draw-capped yourself every turn. The only downside is having to use a Night's Watch card! If some more good Black Brothers come out (and with their pivotal role in A Dance With Dragons you feel we're due some) then this card will rise in value very, very quickly.
mnBroncos - 2 out of 5
Now I could argue this only deserves a 1 however, I have a weak spot for Night's Watch, also events that replace themselves with drawing a card is always nice, and putting the character back into hand and not discard is another advantage, and with all these positives if Night's Watch ever gets more support could become even a 3 or 4 card. But right now isn't that great and also I tend to think Baratheon should be more Night's Watch then Stark is, from a book standpoint.
OKTarg 2 out of 5
I love theme decks, but the only cards worth dropping are Jon Snow, Benjen Stark or maybe Aemon or maybe Shadow Tower Knight. If you're running those guys already (and neutral Jon Snow is decent, actually) then sure stick this in. But it will need more support. Hopefully it gets it during the Kingsroad cycle.
rave - 2 out of 5
Well, this is going to be a hit in a Stark Night's Watch deck, that's for sure. Against the whole of the card pool though, Stark Night's Watch doesn't make that much of an impact. Even still, in Stark Night's Watch, this isn't going to do much more than a strength buff will. It's worth watching though as the card pool grows. One non-unique Night's Watch with a stellar 'come into play' ability is all it will take to give this card a second look.
scantrell24 - 2 out of 5
Yet another card that will probably become more useful sometime during the next cycle. Even with more Night's Watch support, it's good but not great, allowing for some surprise defenders and more turn 1 Rule by Decree shenanigans.
TinyGrimes - 1 out of 5
Alright I figured out the point of the card and it's broken. Sam will never die. So you use this, play Sam, play 2 ravens, draw 3 cards, then Sam goes back to hand and you do it next turn. Just kidding that plan and this card are terrible with the current card pool. Will that change? I'm hoping for yes.
[/CRB]
[CRB='forums/uploads/got/med_host-of-the-boneway-atott.jpg']
Host of the Boneway 28 out of 45
Clu - 3 out of 5
Don't look now but Martell has quietly assembled some quality military crests along with some stud armies. Can you imagine ripping a Condemned by the Council off these guys? Not fair. Martell has some of the best resources available so the cost doesn't scare me like it does in other houses. So, the four+ slot looks like this, Arianne, Darkstar, Red Viper, and two of these guys. Sub in Hotah and Starfall Calvary if you want to push the military crest for location and character kill. These guys are competing with some heavy hitters.
emptyrepublic - 4 out of 5
This is really good for Quentyn Agenda decks (too bad it's a no go for KotHH). Like the Stark version the response is great and doesn't have a cost so no need to stress about cancels. Martell war crest support is always a good thing too. The 4 gold space seems to be crowded in general but there's a tiny bit of room in Martell that this guy will see some play.
Ire & WWDrakey - 3 out of 5
Quentyn has recently been one of the best character agenda choices so naturally an Army that can support no agenda/charagenda goes well into some of those decks. This is also another war crest support for Martell and it seems like they are soon getting to the point where they can have some nice location control with Price of War (something they are usually very weak at). This ability, like some from the other armies, works even when it is not participating, so you might be able to get to use it more than once in a round.
JCWamma - 4 out of 5
Martell are starting to have a good collection of strong War Crest characters, enough to seriously consider running the War Crest events - if only they had a way of fetching them... Quentyn decks are quite a good archetype right now, and this card deservedly will feature in them. And again as with the Stark and Greyjoy armies, the Host don't have to participate in the Intrigue challenge and there's no limit per phase, so it's a very flexible response. Obviously no use if you're not running a decent handful of events, but you're Martell, they're at least worth considering!
mnBroncos - 3 out of 5
I was first going to give this army a 4 because Martell loves events, but then remembered the effect won't work in a KotHH deck so much less likely of drawing that event. Still a strong army, and for those that have been using the 7 strength sand snake support army I could see replacing that card for this one if just want a high strenght card for your deck because this card doesn't have the 7 cost potential, and Quentyn is one of the better character agendas so could see good amount of play still because Martell will always run some strong events want to draw.
OKTarg - 3 out of 5
The war crest events are good for them in theory, but I don't think anyone will ever actually run them out of Martell. Decent in Quentyn decks, and perhaps better suited to buff Distinct Mastery than the Price of War. Nobles and War crests and Vengeful? Yeah, that's not so bad.
rave- 3 out of 5
Martell loses a lot of strength in their event slot without KOHH, and they're not exactly set to efficiently make use of the War crest. Card advantage is never bad, but this has less of an impact then Stark's version, with less synergy for the house.
scantrell24 - 3 out 5
I like the icons, trait, and war crest more than the response. Quentyn decks could probably use a copy or two of this guy, and perhaps he fits in a Long Voyage army deck just for the solid body.
TinyGrimes - 2 out of 5
Quentyn decks are viable so I'm sure someone will be running him. At 4 cost it sure won't be me.
[/CRB]
[CRB='forums/uploads/got/med_greenblood-vessel-atott.jpg']
Greenblood Vessel 29 out of 45
Clu - 2 out of 5
Super interesting. Does Martell love Dany and her dragons so much they make cards for her? In the grand scheme of things this card wastes space. You should be building decks without glaring icon holes. But, in house applications are relevant with the amount of stealth available and Arianne. Did you just say Night's Watch? Weird, I though I just heard you say that.
emptyrepublic - 4 out of 5
I smirk at this being traited as a Warship. I think Greenblood Merchant has more utility despite its ability to be canceled by a simple point of influence. That said this can't be canceled simply by kneeling an influence. To me it's better for Melee, not so good for Joust. Give Arianne military or Darkstar a power icon. Lots of options here.
Ire & WWDrakey - 4 out of 5
So, anyone else thought of Sid Meiers Pirates! and the indian war canoe in that game? Thats one mean Warship right there. This card has some great utility in blocking most of uo your opponent could get, even better if you have Vengeful character that you can keep on giving icons to go and defend. This might also have some utility in making some of the strange monocons work better like say the Pit Viper or Craster. There will rarely be situations when you would not use this and in Melee it just gets better.
JCWamma - 2 out of 5
Great for giving Arianne a Military icon, and unlike the Greenblood Merchant your opponent can't cancel the effect. It does require you to go second to take advantage, but you're Martell, you probably wanted to go second anyway. That said, I don't know if it's doing enough to justify even the paltry one-gold cost. At least the Merchant can double as claim-soak. Could potentially be interesting to splash in Greyjoy to round out their Intrigue weakness, but probably not doing enough work to justify that. Money on the To The Spears! round though.
mnBroncos - 4 out of 5
I actually love this card so much. The best thing is it happens moment an opponent declares an attack so even allows you to give someone an icon to defend that normally couldn't. Also, with so many decks switching to rush potential with to the spears, the downside of the plot having 0 initiative goes away, because now the opponent will have to decide should they go first and allow you to give some characters extra icons or just say screw it and let you go first with your non-kneelers. Also love non-unique controlish locations. (well maybe less if Seized sees a lot of play).
OKTarg - 3 out of 5
Great for To the Spears! and Game of Thrones turns; mediocre otherwise. Not terrible though.
rave - 3 out of 5
Very good for 1 gold. At best, go second and give your missing challenge icon to a character to attack with, at worst avoid stealth or unopposed power for your opponent.
scantrell24 - 4 out of 5
The effect is quite good and, together with Hellholt Docks, FFG is making me want to revive my old KotHH control deck. The timing of the response is interesting because if you attack first, you won't get the extra icon until your opponent's challenges. If you're using the Vessel in a non-KotHH deck, it's also great for setup. I'm intrigued.
TinyGrimes - 3 out of 5
I really like this card. Martell has a lot of great locations or this would be a 4. I'm thinking it would be great in a rushy/non-kneeling deck. For instance, giving Oakheart and intrigue icon for To the Spears and A Game of Thrones will be great. Imagine how good this could be with Cyvasse. You have no intrigue icons, huh? Now I do.
[/CRB]
[CRB='forums/uploads/got/med_shores-of-the-summer-sea-atott.jpg']
Shores of the Summer Sea 17 out of 40
Clu - 3 out of 5
Totes playable and super hot with Black Sails. You can create an infinite loop by targeting another Shores of the Summer Sea the actual thing you want. Now all we need to do is figure out something relevant. I hear Burning on the Sand is pretty good. The downside, why are you losing challenges?!
emptyrepublic - 3 out of 5
In my view you should stick with Prince's Plans but this is good for setup so that's definitely worth something (if you are playing non-KotHH). Also, you're playing Martell so you are going to lose challenges at one point or another and so you'll have an alternative method of recycling your Red Vengeances.
Ire & WWDrakey - 3 out of 5
Now this is an interesting card. On face value it doesn't look like much, but over the course of a long game, it can end up helping you quite a bit. Now, the important part here, is that the cost is exactly right. If this cost anything, or couldn't be setup, it wouldn't be worth much. However, as is, it's now a perfect setup card (something that Martell needs, due to the copious amount of events) that will help either re-use duplicates on an important character (Viper, anyone?), help re-gain your Bronze Link with Maesters or just let you easily play 4-5 Red Vengeances (or Burning on the Sands) in a game. Also does some interesting things to your opponent's math, since they can't rely on you not having any more copies of a specific event (like He Calls it Thinking)... while helping mitigate the problem that is Baelor Blacktyde as a happy coincidence. Can also be fun with the new Areo Hotah, for picking and choosing what events to keep in your deck.
JCWamma - 1 out of 5
The seemingly obligatory "bad Martell card" for the pack. Lady Nym's Guard, Meadowlark, Unbowed..., and now this, although to be fair this is "Lady Nym's Guard" level rather than the other two, in that it could potentially be useful. If it was "dead pile or discard pile" it'd be a LOT more useful. As it is though, the best you can say for this card is "set-up friendly". Against Greyjoy it's nice, putting events back in the discard pile to put them out of Baelor's clutches, or putting non-character cards back in the deck to switch off Asha and Alannys. But that's a specific match-up, and against the other 5 houses it's doing pretty much nothing other than potentially letting you filter your Prince's Plans better, and are you really going to waste valuable card slots for a card that's conditionally nice 1/6th of the time? And on top of that it's a Response that triggers off you losing a challenge, from the Unbowed... school of suck. In fact, maybe this IS worse than Lady Nym's Guard. Although people have been talking about a Martell Self-Mill deck, and it will do well there. Until it's proven though, this keeps a 1.
mnBroncos - 1 out of 5
I know a lot of people like this card but i really don't, maybe in a long voyage deck would find space for it but in any other deck there is just better cards out there. Sure it can be nice if Greyjoy has Baelor out there to play your event again, but besides that isn't that great I would rather get the cards back into my hand with prince's plans or even open market then putting them back into my deck.
rave - 2 out of 5
Not necessarily horrible. Free and non-unique with a repeatable effect. This will at least keep you from getting decked in a close game between control decks. It could potentially get a key character or event back for you, but historically with these kind of effects, that's pretty rare.
scantrell24 - 1 out of 5
And here we have yet ANOTHER card that will need more support before it does anything special. Right now, its horrible -- similar to Unbowed, Unbent, Unbroken. The best thing about this card is the artwork. Maybe you shuffle the Red Viper or something necessary back, but it's still potentially turns away from being drawn, unless you use a Herald or one of the Summong Plots. No thanks.
TinyGrimes - 3 out of 5
So I guess I'm the only one who has a super secret (probably terrible) deck built around discarding cards and then choosing which cards make up my 25 card deck. Perhaps I'm insane but that sounds pretty darn strong to me. It certainly isn't the card for every deck but I think it will have its place in the meta.
[/CRB]
[CRB='forums/uploads/got/med_dothraki-outrider-atott.jpg']
Dothraki Outrider 31 out of 40
Clu - 4 out of 5
Boom goes the dynamite! Because of this character Dothraki is relevant again. Bi-con, stealth, AND conditional renown. If you told me I was going to be interested in reworking a Dothraki deck this year I probably would've called you crazy. Oh, he doesn't just play for the hairy man deck either, all Targ decks love this guy. Jousting Lance + Fighting Pit + this guy = awesome.
emptyrepublic - 5 out of 5
And Targaryen gets yet another bump. This is good outside of Dothraki decks. Good cost, good keyword, two icons and a simple, but powerful, ability makes this guy a winner. It doubles as a good aggro and rush card to boot. There needs to be more more middle ground non-unique characters like this. The tendency is either to have high cost armies or low cost chud/utility characters.
Ire & WWDrakey - 5 out of 5
This is a perfect example of what a non-unique character should look like. Good trait, good keyword, even better keyword during power challenges. There is nothing bad in this card and it will find its ways in several Targaryen decks. Not to mention how good non-unique renown can be in a melee deck. Considering how good Captain of the iron fleet is... well this is the same, but the renown is non-conditional during power. This card is by no means "boring", it is just well templated and utilizes existing keywords, instead of having a deluge of text that would give conditions on the power gain. Honestly, we think that the game needs more cards like this, and less with built-in novellas included.
JCWamma - 3 out of 5
I'm a sucker for 3/3/Bicon/Keyword/Text, as you may have noticed. It's interesting that it's Power where he gains Renown, given that Dothraki usually like to focus on Military challenges. He's a valuable card for Dothraki decks, which between this card and the next one suddenly look a LOT more viable with this pack. But he's not going to be seen in any other Targaryen decks and he's a bit vanilla, so a 3 will do.
mnBroncos - 4 out of 5
3 cost for 3 strength non-unique with stealth and a conditional renown keyword and also can support Dothraki theme yea I got nothing to complain about.
rave 3 out of 5
I want to put this on the cusp of 4. This is definitely a step in the right direction for Dothraki, but I don't really think it's enough to make them stand out among Targ's other builds. The renown is nice, but Targ isn't quite fast enough yet for this kind of deck I feel.
scantrell24 - 4 out of 5
I'm glad FFG is making "boring" cards like these that don't have any killer text, but rather solid strength, icons, keyword, and trait. It's quite similar to Iron Fleet Captain, and fills a role nicely for Dothraki decks.
TinyGrimes - 3 out of 5
Before Chris crushed me with his Dothraki deck in AZ I would have given this a 2. But clearly Dothraki are a thing. I'm just not convinced they are a good thing yet. Come show me I'm wrong.
[/CRB]
[CRB='forums/uploads/got/med_braided-screamers-atott.jpg']
Braided Screamers 31 out of 40
Clu - 3 out of 5
Playing Targ without an agenda feels weird but ok, we'll go slowly at first. He won't get top rating from me because he's only going to go in a very thin number of decks. However, in those decks this dude is silly amazing. Card advantage cannot be overstated. He's non-unique so another great target for Womb of the World.
emptyrepublic - 5 out of 5
I really like this. It's good for the Dothraki theme which needs the help. Good to keep your hand full of pesky Ambush characters or core Drogo so you can toss in additional support if need be during challenges. Targ isn't hurting for war crests but it's not like having another one will be a problem; it might have been a problem if it didn't have one.
Ire & WWDrakey - 5 out of 5
Since we are at the last of these armies it's time to ask a question. Couldn't they have created a new keyword for this whole "if no agenda/charagend get this" (Agendaless?) so that the textbox would not be filled by things that repeatedly give a similar condition? Now onto the card itself. It will certainly see play, War crest is great in Targ and searching for Dothraki is nice for the theme. Imagine playing Drogo's Horde for cheap, finding another one, and then another one after that. Probably the best card of the lot to be honest, since it effectively has a built-in mini-search by itself when entering play.
JCWamma - 4 out of 5
Dothraki don't care about agenda. Dothraki care about fight. This card fight good. This card tutor for other Dothraki good. This card trigger off itself. Dothraki deck look more good now.
mnBroncos - 4 out of 5
Great army like all of them and I like how this supports different themes with the Dothrakis, also with no limit if you just keep searching for 3 cost guys can just keep triggering and triggering (well while can afford them, but if get 2 or image 3 out there all responding can get some crazy card advantage with this army) very tempted to run a non-agenda Dothraki deck just because of this army now.
rave - 4 out of 5
Wow! This is a great addition for Dothraki. The card itself is sublime, pseudo-draw in the marshalling phase, no bad traits, and a war crest. Here is the Dothraki backbone we were looking for. The problem is, Targ's Agendaless options are pretty weak. Griff doesn't synergize particularly well with Dothraki, and I don't see the worth of the decrees. With this, the outrider, and Selmy's Scheme, Dothraki are definitely picking up speed... but still quite not there yet.
scantrell24 - 3 out of 5
This will make the agenda decision difficult for Dothraki-deck builders. House of Dreams with Vaes Dothrak? Long Voyage? Heir to the Iron Throne? Griff? No agenda at all? The response triggers off playing the army itself and is a strong argument for no agenda. The war crest in such a deck is huge and I think its fair to say many people will give the Braided Screamers a chance.
TinyGrimes - 3 out of 5
Ok, so here's a card you build a Dothraki deck around. War crest and you get more Dothraki. The only problem is are you really giving up the draw of TLV for this one card. Hmm, so I get a Dothraki just for playing 1. Yeah maybe I am giving up TLV for this one card. On second thought, probably not, but I am tempted.
[/CRB]
[CRB='forums/uploads/got/med_port-at-slavers-bay-atott.jpg']
Port at Slaver's Bay 23 out of 40
Clu - 2 out of 5
Did you know Enslaved isn't Lanni only? That new Seized attachment isn't either. I think it's very possible to run a toolbox attachment with very little change to a couple decks. I love that the attachment theme is getting stretched. Hmmm, better dig out those Ill Tidings again.
emptyrepublic - 2 out of 5
If this somehow affected Ambush attachments then it'd be worth it. As it is it's only useful during Marshalling where it's not as useful. Also, the location being unique doesn't help it. Finally, I don't think there are enough OOH attachments worth playing in Targ to make this card worth the space.
Ire & WWDrakey - 2 out of 5
There is a lot of combo potential in this card, but other than that you would need your deck to go really heavy for attachments to make this worth more than any other 0 cost reducer there is.
JCWamma - 2 out of 5
I'm a big fan of this card, and that parenthetical text is just begging to be used and abused, probably by Kennon. That said, I'm not going to get mega-excited about what is essentially "Street of Attachments" in-house for Targ only. It's a pretty vanilla card, and just like the streets it will go in decks that require a lot of what it's reducing. Until good decks start running as many in-deck attachments that cost 1 or more gold as they do characters of a certain icon, I don't accept this is a good card outside of combo-heavy decks.
mnBroncos - 4 out of 5
Love the 0 cost, and love the minus two to out of house attachments. Now this isn't going to go in many, many Targ decks. However, I can see some people finding some crazy combo's with out of house attachments and such excited to see what kind of splashing combo's can come up with.
rave - 4 out of 5
It's good. I don't think it's good enough to bring out-of-house attachments into the mix though. It being unique really hurts it's strength in terms of Shagga.
scantrell24 - 4 out of 5
Again, the scope of this card is narrow. It probably needs a deck built around it and other attachment-friendly cards like Captain Groleo and Meereenese Fighting Pit. Some early thoughts for potential out-of-house attachments include Pyromancer's Cache and Taste for Blood.
TinyGrimes - 3 out of 5
A meta card. If attachments stay viable (which they will not) it's a 4. If people start remembering attachments are good and they need to pack new and creative hate for them it's a 2. But I have a lot of decks which are begging for some ooh attachments like Aegon's Blade and Widow's Wail.
[/CRB]
[CRB='forums/uploads/got/med_margaery-tyrell-atott.jpg']
Margaery Tyrell 40 out of 40
Clu - 5 out of 5
I see nothing wrong with this card. It can win you games but pushing through power challenges after sucking up an intrigue loss. The Queen trait is becoming more useful AND she can be played out of two houses. Margaery will see more play than Ben Brantley.
emptyrepublic - 5 out of 5
First, the art is amazing on this one. It's also a nice change to see a character get more powerful when there are competing Queen or Lady characters. It's a forced kneel effect so she's great at manipulating a player's defensive position by bringing in high STR military characters into an intrigue challenge to make space for your upcoming military or power challenge. Really like it.
Ire & WWDrakey - 5 out of 5
Nice to see someone else share our love for House Tyrell and their dual-house incarnation in the LCG. The card itself is expertly crafted to be both strong and balanced, while still being thematically brilliant due to growing stronger when facing other Queens and Ladies. And it even fits perfectly into the existing House Tyrell cardpool. Our hats are off to the creator for both a well-earned victory and a brilliant card design.
JCWamma - 5 out of 5
Just like The Reader I think this is a very fair, balanced card, while still being fantastic. Both Baratheon and Lannister love that response for different reasons, although I do think she's only a 3 or 4 out of 5 for Baratheon. It's also worth noting that for Melee she is phenomenal, with her keyword far more likely to exist and her response able to take non-kneelers during Power of Faith/To The Spears!/every Asha or NCF turns. But for Lanni kneel, forcing a character to defend is great news, and in Bara it can shore up weaknesses in your icon spread or create weaknesses in the opponent. And her traits are very nice to boot, particularly in Lannister where you want a Queen for your Pyromancer's Cache.
mnBroncos - 5 out of 5
Well it is a champion card what do you expect. Now I will say I like this card just like the Reader because great examples of great cards yet don't make me scream restrict. Can combo well with deadly, or removing strong cards from attacking you, but they balanced it well with giving it a limit so with all the stand abilities can't trigger it twice, is a trigger not passive so cancelable, and is really only good if first player so if don't win initiative often, becomes less useful card, now I was just pointing out all the negatives that makes it a fair card but yes she is still a 5 card.
rave - 5 out of 5
Very good for the Cache, and fits well into Lannister's general game plan. Could be a nice way to force participating characters if you have some deadly out there. As said in the official article, she's got fun synergy with Arrogant Contender. It's also interesting to note that she should be able to kneel any character and have it participate regardless of icons... 3 gold is a real steal for this card, and is an easy fit into Lannister's kind of shaky 3-cost slot. It seems useful for Baratheon too to help push challenges through, but I'm more excited about what it gives to Lannister.
scantrell24 - 5 out of 5
The Queen trait alone has me drooling - Pyromancer's Cache just became a much more attractive choice for Lannister's restricted card. She also makes King Joffrey's Host and King Robert's Host viable, and gives a much-needed boost to Lanni control in an environment bursting with rush decks. On the flip side, she simultaneously makes Bara rush more dangerous, able to attack first and simultaneously kneel the opponent's biggest threat, thus preventing a retaliatory strike. That response is just bonkers, and with the dual-house affiliation, she'll be in about 1/3 of all decks.
TinyGrimes - 5 out of 5
So amazing. She will go in every lanny and Bara deck ever made by a good player. Lure is really strong. Now build around her with some deadly and oh man the madness doubles or triples. She is going to be a must deal with threat for a long time to come.
[/CRB]
[CRB='forums/uploads/got/med_blazewater-bay-atott.jpg']
Blazewater Bay 26 out of 40
Clu - 1 out of 5
Nope, not gonna get me on this one. Shivering Sea does it better, I think. We don't know how many naval enhancements we're going to see. Currently this isn't worth it. The influence is cute but not enough for me to jump on board. Nice setup though.
emptyrepublic - 4 out of 5
Great if you know you are running lots of naval enhancement so far Black Sails or other Naval heavy decks it's a 4. Crap otherwise (obviously); so it gets a 1 there. Good for setup. It's worth it if you are running lots of naval enhancement and allows you to spam out characters in combination with the Seas.
Ire & WWDrakey - 4 out of 5
Naval decks have had some resource problems thanks to the randomness that is the hold and this fixes that well. Great for setup. The influence might have some borderline use and it gives a nice possibility to run OOH naval better. All in all good card to support the two best Naval houses, clearly cementing that status further.
JCWamma - 2 out of 5
Naval Enhancement-only Narrow/Sunset Sea. If you're running a larger deck with a lot of Naval characters, it's okay but boring, and (unless you're splashing out-of-house Naval characters) still worse than Narrow/Sunset Sea. So yeah, it's useful but not spectacular in some decks, and worthless in others. Colour me thoroughly unexcited. Gorgeous landscape though.
mnBroncos - 4 out of 5
Well nothing bad to say about it, amazing setup card, dual house, and even gives a random influence for a deck that wants to use it for that. Now obviously this really is only a 5 for black sails decks but with limited amount of navel enhance characters this also helps with splashing. Stark can use Victarion for the normal 4 cost and all those armies can go down to just 2 gold! Amazing card for Black Sails.
rave - 5 out of 5
Amazing, but only for the decks that en-masse Naval characters. There is 0 drawback to this card in a dedicated Black Sails deck. +2 net resource advantage for free is huge. I think Stark may run into some hiccups with this, but Greyjoy Black Sails should be able to use this with no problem.
scantrell24 - 4 out of 5
Blazewater Bay fills a role for Black Sails, allowing for bigger decks without dragging in sub-par economy cards. However, I was hoping for more significant Black Sails support. After Victarion and the two Naval plots, an economy location doesn't quite pack the same punch. Honestly, I'm not entirely convinced that a 4th, 5th, and 6th Sunset Sea (which is basically what this card amounts to in a Black Sails deck) is beneficial. I guess we'll see.
TinyGrimes - 2 out of 5
So I can have 6 Narrow Seas in my deck now. Oh one is only for Naval guys. Well in a naval deck that's going to be decent.
[/CRB]
[CRB='forums/uploads/got/med_blackwater-rush-atott.jpg']
Blackwater Rush 20 out of 40
Clu - 1 out of 5
Definitely not enough naval enhancements between these two houses.
emptyrepublic - 3 out of 5
On demand deadly in the middle of a challenge is one the most irritating things to deal with. I'm cheating and reading what Clu is saying and he's right: there's not quite enough characters to make full use of this... yet. But because there are enough that can still make this card annoying; especially since it's dual house.
Ire & WWDrakey - 3 out of 5
Anyone who has played Greyjoy for long knows what a location that gives deadly on the board does, gives great amount of unopposed power. Not to mention how much more deadly it can be with naval jumping. This is also a lot cheaper than the Greyjoy Black Wind, or any existing location that grants deadly, for that matter. The ability is solid, unfortunately there is not yet enough support for this, but we see this easily getting better in the future.
JCWamma - 2 out of 5
First Lanni location that offers Deadly, and the only 0-cost location to offer Deadly in the game, so there's that. For Targ and Lanni Black Sails decks I think it's worth at least 1 copy, but those decks are hardly top tier, at least for now. I don't think you'd bother searching your hold for it, let's put it that way.
mnBroncos - 3 out of 5
This card is just really bleh to me, and for that don't see it making many decks. First seems like Targ and Lanni aren't getting too much navel enhancements (so far) which makes it less effective. The good thing is though can be used attacker or defender so can either trigger a kill effect or prevent from being killed by opponents deadly, also positive is that the character just has to have the navel enhancement doesn't have to trigger the ability as a naval attacker or defender to use.
rave - 2 out of 5
Not useless, but pretty weak overall. Both houses have poor naval options, Lannister's fleet already has deadly. Deadly naval characters are a scary thought though. I say it could be ok by the end of this cycle, but not good.
scantrell24 - 4 out of 5
Being a zero-cost location means its already good in my book. Then you compare this to Longship Blackwind, which costs two gold, and Blackwater Rush looks pretty damn good. It's even non-unique! Lanni and Targ suddenly have an avenue to rack up lots of power for unopposed challenges. If they get a couple more naval characters, this could be a 5. On the flip side, if they don't get much, this could drop to a 3. It all depends.
TinyGrimes - 2 out of 5
Not many naval guys for this to work on. I don't see myself playing this ooh just for some deadly.
[/CRB]
[CRB='forums/uploads/got/med_kings-landing-coup-atott.jpg']
King's Landing Coup 27 out of 40
Clu - 2 out of 5
Weird. This does not beat out any of the other City plots. Great stats. If you aren't on the City train then this guy is sweet. Hey, why aren't you on the City train? It's really good and maybe the only one in town these days!
emptyrepublic - 4 out of 5
Really think hard. How often do you win a challenge as a defender? If you are playing Tully/Riverrun this is a gimmie. For everyone else I'm not so sure; depends on the deck and if it's a melee or joust game. I'm rating highly because there isn't a drawback to the effect and the stats are good.
Ire & WWDrakey - 5 out of 5
This is the only one of the new city plots that is a great starter for both the City cycle and any Power Struggle -dependent tech that your deck might be needing. It also lets you play defensively for the first turn and gives you advantage for doing so. In Melee the defensive decks will jump on this plot immediately, as it feels almost custom made for them. High gold and initiative in melee coupled with the ability will get those decks far. One of the best things here is that this is the first really universal City starter, making that cycle of plots viable for any deck, without further affecting deck structure.
JCWamma - 4 out of 5
Ned looks far too chill about the betrayal. But yeah, great card. Those numbers are great, as any Musing Minstrel will tell you - we're talking a number above the Search & Detain curve here. Unlike the other new City plots, this is a great starter which means it has synergy with City cycles rather than the anti-synergy of Negotiations. Interestingly it's the first City plot to have a passive effect rather than a When Revealed, which means you won't mind it being pinned by Art of Seduction so much either. But the important part of the synergy is this means the Power Struggle part is highly-relevant too. Targaryen decks will definitely want to consider it as their go-to opener if they're running To Be A Dragon, since their restricted spot is highly unlikely to go to the Fury plot and it means they don't have to lead with the boring Lineage & Legacy. And I haven't even gotten to the actual effect yet! Free pseudo-draw for successfully defending challenges means your opponent is going to be VERY careful about attacking you, and against Martell they'll be left in a "damned if you do, damned if you don't" scenario. In decks that can play around with STR like Targ Burn, Greyjoy Naval Escort and the like, it's even better.
mnBroncos - 4 out of 5
Now so much of me wants to give this card a 1 just because this will lead to more city plots being played. Great Sept is an amazing plot but isn't one you play first turn to start the city plots going off, however, this one you can play first turn maybe get some extra card advantage and then use the city cycle. However, just my hate for it can show why it is a very good plot.
rave - 4 out of 5
This is a great opener for Targ control. Power struggle, a good trigger for Bay of Ice, and good gold. The chance to get a card on defense is kind of an afterthought, but still nice.
scantrell24 - 3 out of 5
Yes, King's Landing Coup is yet another solid opener for the rest of the City plots. However, I see it's real use as a bridge between an opener like At the Gates or City of Lies and the rest of the bunch. On turn 2 or 3, you get high gold and initiative while making the subsequent rounds more painful for your opponent. I'm going to give it a whirl, at least in that capacity.
TinyGrimes - 1 out of 5
I don't get it. Why would anyone play this over Gates, Walls, or Sept. I'm mystified by all these high numbers. Lineage and Legacy has the same gold, why would I waste my city plot starter on this? Are people really going to play this because it is a city plot with no text? I personally don't see it.
[/CRB]
Article: A Turn of the Tide Card Reviews