Welcome to Card Game DB
Register now to gain access to all of our features. Once registered and logged in, you will be able to create topics, post replies to existing threads, give reputation to your fellow members, get your own private messenger, post status updates, manage your profile and so much more. If you already have an account,
login here
- otherwise
create an account
for free today!
1
All Things Shagga - Shagga Melee
Small Council
All Things Shagga
Kennon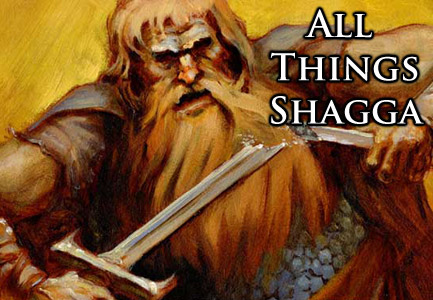 This week, All Things Shagga, turns our attentions back to our roots. I'm bringing the focus of the column this week back to what I first started with- examination of the construction of a Shagga melee decklist.
I feel that I must warn you all though, that parts of this article may seem like a bit of déjà vu. The reason for this, is that we're working on converting a joust deck that I've discussed here before into a melee deck. For those curious, you may check out my
prior article on the Stonewall Martell deck
. In a nutshell, this deck uses a treaty agenda to offer cheap access to Stark's Riverrun and a plethora of
Tully
characters and combines this with a heaping helping of Martell draw and challenge control to shore up any weakness in your defense.
As with any strategy that makes heavy use of control cards, this can be considerably more difficult in melee when there are two more opponents than normal to deal with. With the additional number of possible incoming challenges, Stonewall Martell is just something that I've never felt quite comfortable enough in taking to a melee table. But a few months back, a beautiful new card graced my collection-
Across the Summer Sea
(APS). Using this plot, we can ensure that with one turn, Riverrun will certainly activate for massive amounts of power because no one will be able to attack us at all. Of course, utilizing Across the Summer Sea requires a pretty significant change to the deck- swapping from Martell to Targaryen.
With the Stark core of the deck, no changes were made so I won't bore you again with the details of the cards, but instead, we'll look at the new package of cards that make up the Targaryen melee version of this deck.
First up are the plots. While changing to include
Across the Summer Sea
(APS) is quite the obvious change, there's one other important tweak that needs to be made.
Counting Favors
(Core) slots in for two reasons. Not only does it help shore up the draw that we lost with the missing Martell cards, but it also brings a deal making capability that might keep further challenges off your back as you prepare for the essential turn of the game.
Next, we'll take a look at the character additions.
Jhogo
(OSaS) doesn't play directly into the
Riverrun
(LoW) theme, but he does provide one of the few Targaryen ways to account for the draw that we're lacking.
Daario Naharis
(WLL) and
Ser Jorah Mormont
(WLL) are a slight departure as well, but a little targeting removal of their kind can be extremely useful to take out troublesome opposing characters who might be able to force challenges through against you or might be able to close out the game for an opponent before you're able to do so. As tricons, the two make decent defenders as well and Daario's melee can make him quite formidable provided stealth doesn't keep him out of the way.
The location base changes are actually quite small, largely just swapping Drogo's Tent in for some extra income, as well as utilizing the brand new kingdom location
Braavos
(VD) which will lower the cost of the first of the many out of house Starks that you are playing each turn. The only one of really particular note is the inclusion of
Meraxes
(TBC). The new Targaryen
warship
actually provides a variety of uses for this deck. To begin with, it provides more draw to get the
Tullies
you need and does so in a way that encourages opponents to attack other players so that they can take advantage of the draw as well and that's on top of probably netting you some extra power from Dominance!
Two copies of
Court Advisor
(PotS) are added in the attachment slot in order to offset the weaker intrigue presence that the deck presents with the loss of the Martell control and conveniently cantrips in order to slightly shore up our draw.
The event slots of the deck probably see the most change, however. In particular, the deck's restricted card has changed this time around to
Narrow Escape
(KotStorm). When a player realizes what the goal of your deck is, it's quite likely that a reset or two may make its presence felt. Narrow Escape gives you the opportunity to fight your way out of this tight space by returning them all to play. An opponent may perhaps discard their hand, but it does at least give you a better chance than you might have without it.
Dragon Support
(TftH) plays an important role as a pseudo-Burning on the Sands. As long as you have a defender or two to commit to the challenge, it's quite likely that the double strength swing of melee on your own character and minus strength to the opponent's will be enough to stop it cold. In a similar vein, as long as you have a power on your house to discard,
Secret Alliance
(TBC) gives you the opportunity to neutralize challenges entirely or at the least make them winnable by removing key attackers from the challenge. One power seems like a small price to pay when the payoff might quite easily be 5 or more power at the end of the Challenge phase. The final event change is the inclusion of a pair of
The Dragon's Tail
(PotS). Much like Counting Favors, The Dragon's Tail gives us the chance to increase our draw while simultaneously cutting deals with other players and potentially avoiding incoming attacks.
So there you have it folks, the melee version of the Stonewall build. Give it a try and let me know what you think.
Stonewall Targaryen
House (1)
House Targaryen
(Core) x1
Agenda (1)
Alliance
(QoD) x1
Plot (7)
Building Season
(Core) x1
Lineage and Legacy
(KotStorm) x1
Muster the Realm!
(QoD) x1
Family, Duty, Honor
(LoW) x1
Valar Morghulis
(Core) x1
Across the Summer Sea
(APS) x1
Counting Favors
(Core) x1
Character (31)
Riverrun Messenger
(LoW) x3
Guard at Riverrun
(LoW) x3
Catelyn Stark
(Core) x1
Edmure's Host
(LoW) x3
Hoster Tully
(LoW) x1
House Tully Recruiter
(Core) x3
Knight of the Tumblestone
(Core) x3
Riders of the Red Fork
(FtC) x3
Ser Edmure Tully
(LoW) x1
Maester Vyman
(TWoW) x1
House Tully Septon
(LoW) x3
Knight of the Red Fork
(LoW) x3
Daario Naharis
(WLL) x1
Jhogo
(OSaS) x1
Ser Jorah Mormont
(WLL) x1
Location (14)
Riverrun
(LoW) x3
Street of Sisters
(Core) x1
Street of Steel
(Core) x1
Shadowblack Lane
(Core) x1
River Row
(QoD) x1
Narrow Sea
(Core) x3
Braavos
(VD) x1
Khal Drogo's Tent
(Core) x1
Meraxes
(TBC) x2
Event (13)
Lethal Counterattack
(Core) x3
Narrow Escape
(KotStorm) x3
Dragon Support
(TftH) x3
Secret Alliance
(TBC) x2
The Dragon's Tail
(PotS) x2
Attachment (2)
Court Advisor
(PotS) x2
Article: All Things Shagga - Shagga Melee