Welcome to Card Game DB
Register now to gain access to all of our features. Once registered and logged in, you will be able to create topics, post replies to existing threads, give reputation to your fellow members, get your own private messenger, post status updates, manage your profile and so much more. If you already have an account,
login here
- otherwise
create an account
for free today!

3
Ascending in the Ranks - The Current state of Baratheon (a small tourney after thought)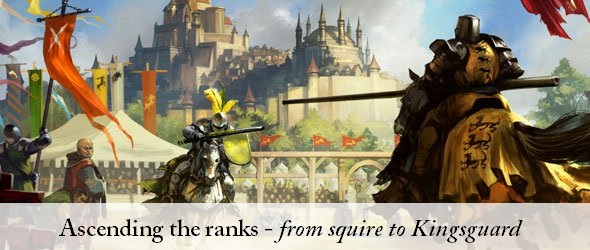 Volume II 'The current state of Baratheon'
I won't write a tournament report but instead I want to talk about the state of Baratheon in the current meta. In the early days of second edition Baratheon Fealty was really popular. It won events left and right and really got people worked up. Then the Lannister decks were discovered, a strong competitor in a Bara heavy meta. Then Worlds came and we saw the Targ explosion. Now there are a number of strong decks across multiple factions and agenda combinations that are talked about and which are successful.
Factions such as Lannister, Greyjoy and even Targ are seeing play in a wide variety of combinations, not only does each faction have Fealty or NA builds but also have popular banner builds. Baratheon however has a single popular build, the Fealty build. Baratheon banner of the Watch is seeing more play the last few weeks and is having some degree of succes but in total is still somewhat underrepresented. I really wonder why people aren't experimenting with different Bara builds outside of Fealty. Sure their loyal cards really make the Fealty build a strong option but I wholeheartedly believe that Bara has strong banner combinations as well, that in the correct configuration are not inferior to the Fealty build.
Which builds do I feel have potential and why?
Banner of the Rose
Tyrell adds some much needed elements such as pump effects to counteract burn, more renown to help close out games and deck manipulation to draw the correct cards at the right moment. A solid addition that can both be build as a high powered renown build or as a tempo control deck. The Knight of Flowers and Margaery Tyrell are really strong additions to the Bara deck.
Banner of the Sun
The most tempo orientated of all banners. This banner gives you icon manipulation, if you can control their icons, you can ensure that you will draw from The Red Keep. The extra control elements really help stall out the game or win challenges if you need. Sunspear is also never a bad card to have in a reactionary deck such as Bara.
Banner of the Lion
This banner adds a ton of good cards, the card quality of the non loyal Lannister cards is really high. Tyrion is a baller and Treachery makes everyone sad. More good cards and more gold, this banner takes away some of the synergy in exchange for power cards.
Banner of the Watch
The most controlling of all banners, if you can kneel out their characters and build up a large enough pillow fort then you will be untouchable. This banner has a much stronger focus on locations than anything else. This is probably also the most non interactive deck of all Baratheon builds.
Banner of the Kraken
Like the Lion banner this build adds mainly good characters such as Theon and Asha Greyjoy. The stealth really helps to win power challenges and keep The Red Keep online. This banner is slightly more aggressive than the Fealty version but can very much play the defensive game as stealth is really good on defense as well. If you expect a lot of Greyjoy this would be my go to banner.
Banner of the Wolf
This a banner I haven't quite figured out yet. There are good elements there with Arya providing stealth and card advantage, Sansa providing power and Bran with a cancel effect but I still feel that there is something missing. When Ward comes out I think it will be a really good addition to the deck. Getting to kneel a character and then steal a standing character really swings the board state in your favor.
Banner of the Dragon
I don't see this banner being any interesting at the moment, there aren't enough good cards such as with Lannister or synergies such as with Tyrell to make me want to play this banner over Fealty. We don't know much about the future of Targ, but I don't foresee them being a good banner option in the near future.
The most important card in the deck to me? The Red Keep, a good Bara deck has different ways of attacking a board state, it is your job to identify when to push and when to reign it in and play defense. If you can ensure card draw, you will draw into a good card, a way to impact the board. Without the draw Baratheon really falters to decks such as Lannister, Targ and Greyjoy. Prioritizing draw over challenge wins to me is really important. I only care about power challenges, if I win those then I am in a good place. Each other challenge I can win is a bonus.
Cards I was down on but have come around to? The King's Hunting Party and Consolidation of Power. Those two cards I felt were first cards I wanted to cut when I got the chance to. But both have been instrumental in me finishing a top of the swiss in Sunday's tournament. The Hunting Party is a really big body people can't easily go past, it can win a military challenge against big guy in a head to head or help you push the challenge if you need that. Consolidation of Power looked meager, it had a strength cap and was a marshaling action. But the synergy with Stannis and the ability to kneel that mid-sized character can really help you if that means you get to draw from The Red Keep or something of the sorts. The versatility really makes it a star and if you are able to play multiples in a single turn you can really swing a game.
New cards that are proving their worth? Support of the People and King Robert's Warhammer. Like I said before The Red Keep is your life line, it helps you stay in the game and the ability to go get it early is extremely powerful, especially if you go second. If you found The Red Keep already you can get one of your other locations and impact the board in that way. Bara should be focused on power challenges anyways, this card only solidifies that. The Warhammer helps to pump your characters out of Dracarys range, a feat that is not to be underestimated but mostly it serves as a onetime mass kneel, swing the game, grab multiple power and get ahead.
In the early stages of a tournament Bara is fairly forgiving, you have a clear gameplan and it works straight forward. But when the going gets tough and you get near the end of a tournament, start facing better opponents and more refined decks, the deck can be tricky to pilot. To understand when to push and when to hold back can be difficult at times. Understanding when to play around cards like Put To The Sword and when you have to assume they don't have it to be able to win are a pain at times. I feel like the deck isn't the strongest anymore and shouldn't be seen as a 'that guy' deck to be honest. It is a strong deck that still has a lot of room for innovation. I look forward to focus on Baratheon for the coming weeks to try and see how far I can push them.
My list from the tournament:
MrDav, MightyToenail, hagarrr and 1 other like this
Article: Ascending in the Ranks - The Current state of Baratheon (a small tourney after thought)