Welcome to Card Game DB
Register now to gain access to all of our features. Once registered and logged in, you will be able to create topics, post replies to existing threads, give reputation to your fellow members, get your own private messenger, post status updates, manage your profile and so much more. If you already have an account,
login here
- otherwise
create an account
for free today!

0
Boulevard of Broken Links
Small Council
OKTarg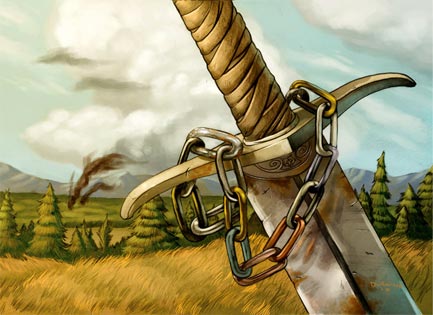 Hi all, OKTarg here. I know you're accustomed to seeing me over there at Fire and Blood, but I had to ban myself from writing that article this session. I just attended the Dallas regional, and I was going to do a tournament report touting my spiffy new Targaryen Black Sails deck, but it just wouldn't come together for me. As a result, I switched away from not only that deck but also from my usual house entirely. I felt OK with the change since I'd played this other deck and was comfortable with how it worked, at least in terms of piloting it correctly. I felt that I could do well, especially since I placed fifth in Tulsa last year and second this year. As my first out of town tournament, I knew I wanted to represent well.
Somewhere along the line, I learned without a shadow of a doubt that forging one's chain isn't about piling success on top of success. Sometimes that learning process involves shattering your links, hammering your fingers, and getting sent on errands like Pate the Pig boy. Dallas was that for me. I offer up this article confessing my failures and hopefully preventing you from making the same mistakes along the way.
Lesson One: Evaluate the Meta Properly
Dallas was a completely unknown meta for any of us traveling down there. Nobody in Dallas (to my knowledge) posts on CardGameDB or the other, lesser sites, so we had to just shoot in the dark as to what would be played. As in any tournament, the top decks shouldn't have been too hard to identify: Greyjoy TLV, Rusted Maesters, and Martell TLV would for sure be there, right, as well as Siege, Dragons, and Bara Rush. These builds all had to be accounted for.
So, of course, I didn't do this properly. I was testing on OCTGN with Libert1ne, one of my preferred sparring partners, and he was giving me some advice about how to deal with these decks. For Rusted Maesters, you need
Bastard (LotR)
. For Greyjoy TLV, you need
Fleeing to the Wall (Core)
or some other location control. For Stark Siege, you need
Forgotten Plans (KotStorm)
or
Shadows and Spiders (LotR)
. This seemed like great advice, of course, and then when it came down to brass tacks, I decided to ignore it.
My deck cared about initiative as it was based around the
Ser Kevan Lannister (VM)
character agenda. I felt that some of those plots were too low and I couldn't decide what to drop. I always intended to slot one or two of them in before the tournament, but in the excitement I couldn't quite remember what I finalized my plot deck too. (Or that's what I'm telling myself)
So of course, Round Two I'm facing Stark Siege. I know for a FACT that he's going to plot Fear of Winter to follow up his three pre-plot epic battles. So I look into my plots, planning to grab Shadows and Spiders and.......it's not there. Ok, no problem. Let's go for Forgotten Plans. Whoops. Not there either. I'm stuck trying Cersei's Scheme when I probably should have been able to handle that match with ease. Maybe I should have Valared first turn, but still.....I lost in like fifteen seconds due to not properly preparing for the meta.
Third round I'm facing Martell Brotherhood. It's at this point that I realize that I don't have any Bastards in my deck either. When he drops two Taste for Bloods, a Thirst for Vengeance, and a Poisoned Knife on Beric turn one, I knew I was up against it. A Bastard wins me that game, hands down, but I don't have one even though I should. What i do have is
A House Divided (WLL)
, but I can't draw into it. I lose that one too, though thankfully it took longer than fifteen seconds. At this point, I can't even regret not including Fleeing to the Wall since I'm not doing well enough to face the Greyjoy TLV decks that are monkeystomping everyone.
Always, always listen to the Aussie champ.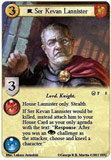 Lesson Two: Good Cards are Better than Bad Cards
This really goes along with lesson number one. You may be wondering why I didn't put the aforementioned cards into my deck. Am I just an idiot? Well, maybe, but it's more likely that I'm either arrogant about my deckbuilding or just too Shagga. I didn't have space for Bastards since I wanted to run ways to make the new Margaery Deadly for fun with her ability. I didn't have space for those reactive plots since I wanted to be more aggressive in my initiative.
In other words, I wanted my deck to do what I wanted it to do, matchups or no matchups. I included a few of what I call "luxury cards" rather than the hyper-efficient cards that can actually win tournament matchups.
You may be wanting an example of these cards. Well, I've got one. How about the new hotness, fresh from exile in out of print land....the To Be events. I bought the pack for To Be a Dragon, but
To Be a Lion (SB)
was just sitting there so lonely. Since my Kevan deck packed a lot of kneel, I thought this would be a great include and I'd get to include my new shiny events. To make them run, I needed some Intrigue Gambits.
Frey Hospitality (LotR)
and
Breaking and Entering (LotR)
were great choices. Of course, I also needed Valar. My deck was slow so I wanted another reset...Wildfire it is. Cersei's Scheme is too good to pass up, and I needed at least one plot that wasn't three gold, so Take them by Surprise fit in as well. I also ran Negotiations at the Great Sept, giving me three Intrigue Gambits for my event. A two-of event, mind you.
What if I had ran two Bastards and instead of those intrigue gambits ran Forgotten Plans and Shadows and Spiders? Well, for one, my deck would have been less original and creative, but it probably also wouldn't have been last.
Lesson learned: ruthlessly cut your fancy cards and go with stuff that really matters. My deck wasn't bad; it was just about five cards and two plots off and at the tournament level you just can't afford that.
Lesson Three: Having Fun Matters
It would have been easy when my Black Sails deck didn't work out to just revisit the Tulsa top-two deck that I ran with success. The problem there was that I just wanted to play something else. I'd already ran that at a tournament and it was time for something new. Would I have won the tournament with my Dragon Maesters? Well, it's unlikely in the face of all the Greyjoy cancel that I would have, but I guarantee you that I wouldn't have been sixteenth. On the whole, though, I don't regret the decision to play something else since my major goal was to have fun. I blame my lack of tuning in my Kevan deck rather than the decision to abandon the tried-and-true.
I had great opponents in Dallas and it was a really fun day. The other three Tulsa guys all made top 8, so at least our meta showed what we are made of despite our inability to overcome the Greyjoy hordes. I'd really recommend getting out and traveling to a regional if you can in any way make it happen.
Hopefully these small lessons and examples from my own tournament failure can help you fine-tune your deck for your next upcoming event. Thanks for reading, and I'd love to hear some stories about deck choices that either backfired or worked a treat in your recent tournament decks, so leave them below in the comments!
zordren, Archrono, bigfomlof and 5 others like this
Article: Boulevard of Broken Links