Welcome to Card Game DB
Register now to gain access to all of our features. Once registered and logged in, you will be able to create topics, post replies to existing threads, give reputation to your fellow members, get your own private messenger, post status updates, manage your profile and so much more. If you already have an account,
login here
- otherwise
create an account
for free today!
0
Crimson and Gold - Enemies of the Crown
Small Council
Crimson and Gold
Rave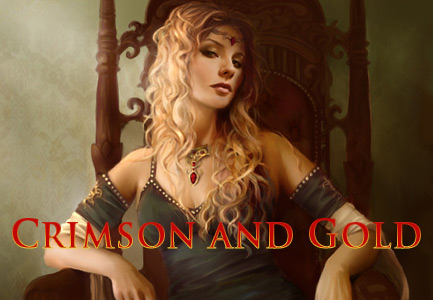 Yes, fellow Lions, the pretender kings are everywhere. Let us use the next few articles to take a look at our enemies, and some of the builds that work best against them. Not silver bullet concepts necessarily, but Lannister decks that just happen to match up well against others.
Anyway, today we're going to take our focus across the sea to focus on that Targaryen witch and her savage hordes.
Targaryen KOHH... This house/agenda pairing is probably the best control deck in the environment right now, but it is not without its holes. This article will discuss some of the weaknesses, and then some of the ways the Lions can hope to deal with this nightmare of a deck.
My favorite Lannister match-up at this point for TARGKOHH is a City of Shadows build. I originally went into the matchup pretty intimidated by the burn, but the more games I played against it, the less frightening it became. It's still a difficult battle, but in the end feels like a pretty even matchup.
It's nice because the deck runs a lot of 2 claim, and a lot of cheap characters, 6 of which don't even show up until the challenge phase. One 2 claim power or intrigue can make a big difference VS heavy control, especially if the draw isn't there.
KOHH decks that opt for shadows themselves will not be guaranteed to have use of Dragonpit and King's Landing as well because of the shadows and king's landing locations in your deck.
Anyway, I thought it would be fun to share the current build with you. This is pretty much the latest iteration of my Kublacon deck, and it's a lot of fun to play.
Lannister - City of Shadows
Total Cards (60)
House (1)
House Lannister
(Core) x1
Agenda (1)
City of Shadows
(CoS) x1
Plot (7)
City of Lies
(CoS) x1
City of Soldiers
(TBoBB) x1
City of Spiders
(TftRK) x1
Retaliation!
(ASoSilence) x1
Rule by Decree
(Core) x1
Search and Detain
(HtS) x1
Valar Morghulis
(Core) x1
Character (28)
Mountain Refugee
(RoW) x3
Carrion Bird
(ASoS) x3
Penny
(VD) x1
Tommen Baratheon
(SA) x1
Shadowcat
(KotS) x3
Silent Sisters
(KotS) x3
Lannisport Steward
(Core) x3
Samwell Tarly
(TRS) x1
Ser Arys Oakheart
(PotS) x1
Varys
(SaS) x1
Qyburn
(SaS) x1
Cersei Lannister
(AToT) x1
Pyromancer's Apprentice
(TBoBB) x3
Tywin Lannister
(TTotH) x1
The Queen of Thorns
(TftRK) x1
Meera Reed
(TftH) x1
Location (21)
The Goldroad
(Core) x3
Twilight Market
(AToT) x3
Kingdom of Shadows
(KotS) x3
Toll Gate
(AE) x2
The Iron Throne
(LotR) x1
Golden Tooth Mines
(Core) x2
Lannisport Brothel
(Core) x1
Alchemist's Guild Hall
(TBoBB) x3
The Black Cells
(TftRK) x3
Attachment (3)
Pyromancer's Cache
(TWot5K) x3
Event (8)
Condemned by the Council
(AToT) x3
A House Divided
(WLL) x2
You've Killed the Wrong Dwarf!
(Core) x3
Ok, now lets examine the matchup in detail.
TARGKOHH always starts at a disadvantage
This is huge. In order to mitigate this, you have to use a heavy hitting character control plot, which usually means less than stellar gold or initiative for them that first turn. Search and Detain could pop up, but will rarely take anything of value.
Expect
The First Snow of Winter
(ODG)
City of Lies is a good answer against this plot because it lets you quickly get 2 cards out of your hand.
Lannisport Steward and Penny are not a bad cards to flop against the threat of this because you will still get the gold bonus or effect if it goes off.
Avoid setting up other low cost characters if you can, 1 is probably fine. If you have Carrion Birds in hand and Sam on your setup, you might even get some recursive card draw out of this.
Also, don't forget that if you manage to lock the Targ player in the Challenges phase with
Alchemist's Guild Hall
(TBoBB),
The Black Cells
(TftRK), or
You've Killed the Wrong Dwarf!
(Core) (YKTWD). You can pass to keep the effect from going off.
Your own
Rule by Decree
(Core)
trick first turn with YKTWD
You will have to kneel out your own guy to do this, and odds are very small that the KOHH player doesn't have a pre-plot action or paper shield to match you in cards, but it's worth the risk. If this goes off, this is a huge blow to the KOHH player. If they are forced to ambush in a card, you've also used their influence for the turn on something negligible and a first turn retaliation might be able to get a key military or intrigue challenge through.
TARGKOHH has weak in-house options for location control
Targ doesn't have good in-house option for location control, and many decks will eschew neutral cards like Condemned by the Council in favor of more burn or ambush effects.
Alchemist's Guildhall
The biggest boon this gives you is free reign for your Alchemist's Guildhall. The Guildhall is your greatest asset in the matchup, because it is a solid answer to all of Targ's tools in the location base. All of them. This card will be your MVP of the game.
For fear of
Fleeing to the Wall
(Core), don't just vomit your location base out onto the board, if you are frugal with your locations, this plot will actually hurt the Targ player more than you, since you will still be able to kneel one of the remaining threats with the Guildhall. That said, if you see the Targ player going gung-ho with their locations, it's probably safe to do the same.
TARGKOHH has limited draw options
Being re-usable, the draw isn't bad by any means, but it's fairly sparse.
Though you cannot control the game as well as Targ, you definitely have the advantage in draw.
Meraxes, and Jhogo are fairly easy to neutralize with the tools you have.
Bay of Ice
(KotS) x2 or x3 is probably the hardest for you to deal with, but a deck that runs Bay of Ice in multiples probably isn't running Fleeing to the Wall, which is very nice for you.
TARGKOHH has trouble dealing with high strength characters
Though the character control is the best the game has seen in awhile, big characters will still cause a problem.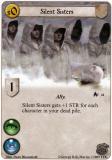 In this deck, we have 4 heavy hitters. Silent Sisters x3 and Shadow's Tyrion x1.
Late game Silent Sisters is really tough for Targ to deal with. There are up to 5 cards in the deck that I know of that can deal with Silent Sisters reliably:
Ser Jorah Mormont
(WLL),
Varys
(SaS), and
Ambush from the Plains
(QoD). The Ambush from the Plains trick requires Jorah already be in the discard pile or in hand.
Tyrion is another option, and though he doesn't get nearly as high as the Silent Sisters, he can protect himself from events with his response. Beware of
The Hatchlings' Feast
(ASitD). If Targ is first (getting first response) on a Threat from the North turn, you will lose Tyrion. (True story. It was sad times)
When these guys really start to shine is when you have Kingdom of Shadows out on the board. You can re-use them for another challenge after you win the initial intrigue with them. This can be key on any of your three 2-claim plots.
Cards to watch out for
Dragon Thief
(AE)
This card is amazing, and will make short work of your Pyromancer's Cache.
Because this card is in the environment, if you have a Cache, it's always going to be important for you to use your first possibe action to draw off the Cache. Based on the plots and KOHH in general, you are rarely going to win initiative, but even still, your opponent may do things out of order, or let you go first, so keep this in mind.
Threat from the North
(PotS)
This deck has a decent amount of 1 STR characters. It is important that you don't throw them all into setup for this reason. Learn from my mistakes, please. If you can afford the swing in power, just play a bunch of stuff to shadows during this plot, and don't bother building up your board too much.
Flame-Kissed
(Core)
This is an easy 1 shot to many characters in our deck, and is going to be one of TARGKOHH's best tools against you. It's good to note that Shadowcat is immune to this, so if you have a 2 claim military coming up, make sure you add this guy to the fray if able.
Jhogo
(OSaS)
Let him rot in the Black Cells forever. Jhogo with jumper friends will let your opponent draw to cap, and quickly ruin your day.
Meraxes
(TBC)
In sea of evil locations, this is the one that will catch you by surprise. Unless you really need to get rid of Rhaenys Hill, or Meereen Tourney Grounds, this is the card I would hit first, since it draws AND gets them power.
Misc strategy/key cards
Pyromancer's Apprentice:
Is it possible your opponent will keep gold all game? Yes. But it is still worth it to run.
Get these guys in the shadows early and let them sit there, so if they mess up once, it's not tough to hit them with 1 or 2 of these in 1 turn.
Carrion Bird/Shadowcat:
In this deck, 2 claim military is very useful, because it lessens the number of targets you need to swallow with your control locations. Aim to get your 2 claim military off as often as possible.
Toll Gate:
I originally put Toll Gate in to help protect against Stark Siege, but it also happens to work really well against Targ KOHH as well. Try to play it early and it will help you out all game.
City Plot order:
Targ doesn't really have a lot of good 1 STR characters for you to hit, for that reason, I would probably save the shadows if you can, and go City of Lies > Spiders > Soldiers. This definitely is not the case versus many decks (Val, Ice Fisherman, Ghost of High Heart, Orphan of the Greenblood, Tommen, etc...) but Targ doesn't have a lot of good stuff for you to hit unfortunately.
Anyway, thanks for reading, and I hope you enjoyed the article.
Article: Crimson and Gold - Enemies of the Crown