Welcome to Card Game DB
Register now to gain access to all of our features. Once registered and logged in, you will be able to create topics, post replies to existing threads, give reputation to your fellow members, get your own private messenger, post status updates, manage your profile and so much more. If you already have an account,
login here
- otherwise
create an account
for free today!

0
FAQ for Called to Arms
#rules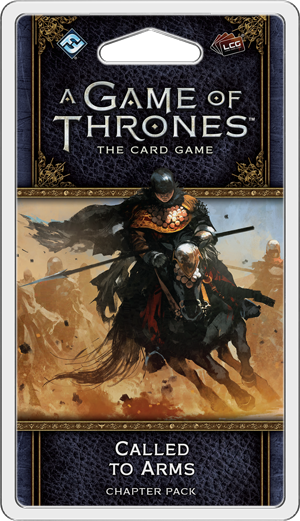 Fear Cuts Deeper Than Swords
- This event can only cancel an ability with the word "choose" in its text (so it won't work with Tears of Lys, Tyene Sand, etc.).
- The targeted Stark character doesn't have to be kneeling (standing is not a cost here, unlike with Ser Barristan Selmy).
- You can use this event to cancel your own ability (from an event or a card in play) that targets a Stark character you control, just to stand that character.
- You cannot use this card to cancel the ability of Ser Gregor Clegane or The Tickler.
- You can use this card to cancel Intimidate or Stealth.
There Is My Claim
- You must reveal 4 Tyrell characters before your opponent gets to decide whether to cancel your event or not (e.g. with The Hand's Judgement).
Dolorous Edd
- Placing a character into play as a defender gets around any limitation on declaring defenders (e.g. Ser Loras Tyrell, Jousting Contest).
- If you win the intrigue challenge, you must choose whether to return him to hand or not *before* any reactions to winnins/losing the challenge can be triggered.
Craven
- Attached character cannot be declared as an attacker, but this doesn't mean he cannot participate as an attacker (e.g. Wardens of the North, Kennel Master).
The Stone Drum
- Naval Superiority does not affect The Stone Drum. Naval only affects the base gold value of plots, which almost always means their printed gold value. The Stone Drum's ability is a modifier, and so it still applies.
- Rains of Autumn does not affect The Stone Drum. Its constant ability is not considered to be a gold modifier (that term refers to gold coin icons in the card's text box).
Balon Greyjoy
- Balon's Action ability will always give him at least +1 STR for himself being loyal.
Ours is the Old Way
- If you choose the second option, your non-Greyjoy characters will lose stealth too!
- Keywords stack just like icons, so if you play this (choosing the second option) and use Pyke or Syrio Forel to give your Tyrion stealth (in whatever order), he'll have stealth (1-1+1 = 1 instance of stealth)
Venomous Blade
- You can marshal it as normal, and the poisoned character will be killed at the end of the Marshaling phase.
- If attached character gets Warded, the Blade will become illegally attached (not to a character you control) and get discarded.
Summer Harvest
- If one player reveals Summer Harvest and another player reveals Varys's Riddle, both "when revealed" abilities define the X on Summer Harvest (neither of them defines anything about Varys's Riddle!). One of the abilities makes X=0+2 while another one makes X=5+2. The first player gets to decide which one of these conflicting effects ultimately applies (i.e. whether Summer Harvest provides 2 gold or 7 gold).
scantrell24 and Thursday like this
Article: FAQ for Called to Arms