Welcome to Card Game DB
Register now to gain access to all of our features. Once registered and logged in, you will be able to create topics, post replies to existing threads, give reputation to your fellow members, get your own private messenger, post status updates, manage your profile and so much more. If you already have an account,
login here
- otherwise
create an account
for free today!

1
FAQ for Calm over Westeros
#rules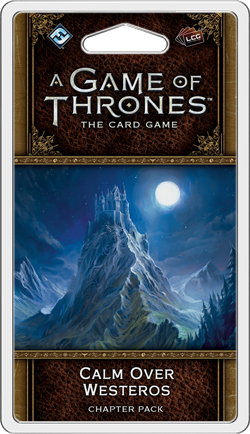 Greatjon's Vanguard / Knights of the Sun
- Remember that the currently revealed plot is not in the used pile.
* * * * *
Winterfell Crypt
- Compare the printed STR of both characters.
- Duplicates can save from any effect that makes the character leave play, including "Shuffle into the deck".
- Tears of Lys kill a character outside of the challenges phase, so you cannot react with Winterfell Crypt.
* * * * *
Roseroad Patrol
- Kneeling to attack and declaring stealth are simultaneous, so in order to declare stealth with Roseroad Patrol, you need to control a character with the highest STR before you declare attackers (relevant for Robert Baratheon, Daenerys Targaryen, Lord of the Crossing).
- Multiple characters can be tied for the highest strength. As long as you control one of them, Roseroad Patrol gains stealth.
* * * * *
Pulling the Strings
- You can choose another Pulling the Strings in your opponent's used pile. In this case, an infinite loop can be created. Choose a number of times you want the loop to resolve (e.g. one billion times), then end the loop and proceed with the game.
* * * * *
Bronn
- When defending, Bronn effectively has 2 military icons, so removing one with Nymeria Sand or Maester Caleotte will still leave him with 1 military icon (HE HAS TWO SWORDS).
- You cannot take control of Bronn if you own or control another Bronn, or if you have him in your dead pile.
- If you blank Bronn's text box (with Milk of the Poppy or Nightmares), he stays under the control of his current controller (he does not go back under his owner's control).
- If killed, discarded, sacrificed, returned to hand, or shuffled into the deck, he goes into his owner's respective game zone (not current controller's).
- Any duplicate on Bronn remains under his owner's control, and thus cannot be used by another player controlling Bronn.
* * * * *
Vengeance for Elia /
Trial by Combat / Mirri Maz Duur
- Claim replacement effects are used during the C step of DUCK (after Determining the winner and gaining the Unopposed bonus, right before Claim is applied).
- These effects do not resolve immediately, rather they modify the way claim will be applied after all interrupts are played.
- If multiple claim replacement effects are played (see also Seastone Chair, Dagmer Cleftjaw), only the most recently played one applies.
- If Vengeance of Elia is played during a power challange, the attacking player (= your opponent) takes power from the defending player (= your opponent, as per VoE's effect), so
claim is essentially nullified
. You do not lose power, but you do not take power from your opponent either.
- Calm over Westeros reduces claim only if its controller has to satisfy it.
* * * * *
Blood Magic Ritual
- If you're the first player, you can play this to save your opponent's character before he can use his own save effect (e.g. duplicate, Bodyguard, etc.)
- If used to save a character with the "No attachments" keyword, it will save that character but will not attach.
- Can be used to save Sansa Stark (WotN) from terminal burn (e.g. Dracarys, Plaza of Punishment, Blood of the Dragon), just like Risen from the Sea.
* * * * *
The Eyrie
- "Cannot be killed" is not a save effect, so it will protect from effects that say "Cannot be saved".
- Use this ability before plots are chosen (if you plan to reveal Wildfire Assault, or expect your opponent to reveal it). Then you can choose up to three characters, and kill all others except the one protected by The Eyrie, so you'll end up with 4 characters on the board.
- "Until the end of the phase" lasting effects wear off before "At the end of the phase" delayed effects trigger, so The Eyrie will not protect a character from being killed by Tears of Lys.
- All lasting effects wear off simultaneously, so The Eyrie will protect from terminal burn (e.g. Dracarys). The first player does NOT have a say in what wears off first.
- A character that "cannot be killed" cannot
be chosen to satisfy military claim (i.e. you need to choose someone else).
* * * * *
Nightmares
- "When the phase ends" interrupt abilities are triggered before "Until the end of the phase" lasting effects wear off, so Nightmares will blank The Reed Keep, The Wall, etc. for the whole phase.
- "Until the end of the phase" lasting effects wear off before "At the end of the phase" delayed effects trigger, so if you blank Benjen Stark and kill him with Tears of Lys, Benjen's opponent can still trigger his ability (same goes for Ser Davos Seaworth, Joffrey Baratheon, etc.)
Amuk, Bomb, emptyrepublic and 6 others like this
Article: FAQ for Calm over Westeros