Welcome to Card Game DB
Register now to gain access to all of our features. Once registered and logged in, you will be able to create topics, post replies to existing threads, give reputation to your fellow members, get your own private messenger, post status updates, manage your profile and so much more. If you already have an account,
login here
- otherwise
create an account
for free today!
Notice!
We have scheduled maintenance windows for the following times:
Monday (5/20/2013) from 2200 EST to Tuesday (5/21/2013) at 0200 EST.
Tuesday (5/21/2013) from 2200 EST to Wednesday (5/22/2013) at 0200 EST.
Estimated Downtime 1-2 Hours total.
Follow cardgamedb on
Facebook
,
Twitter
, or
Google+
to recieve updates when we are down.
1
Fire and Blood - Here There be Dragons!
Small Council
Fire and Blood
Doulos2k
Targaryen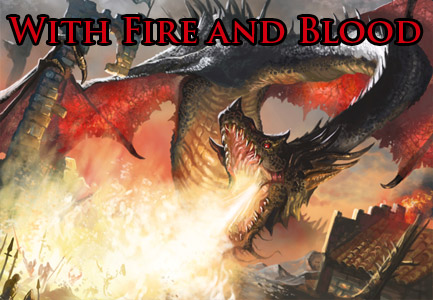 Welcome back to Fire and Blood! This week we turn our eyes to one of the primary reasons people start playing House Targaryen - Dragons! Putting dragons on your flag is a nice touch, calling yourself the House of the Dragon is better, getting to command actual dragons? Priceless.
So, today, we're going to go over the ins and outs of our beloved pets and talk about why people have such a love/hate relationship with these leathery beasts. We'll go over the basic strategies regarding play with the Dragons and we'll talk through our favorites and discuss a couple of deck ideas. So, without further ado - let's jump in!
To Joust or to Melee - that is the question
For most, this question has been answered countless times. Dragons only really work in Melee. Most of the solid dragons cost 4 gold and their keeper, the True Queen herself, is also four gold. To take full advantage of the synergies afforded to this archetype, you're talking 4 characters that cost you 4 gold, two of which you're almost certain to want at 3X. And that's not even mentioning any of the support characters or locations that are commonly used. Considering most competitive decks will only play 1 or 2 unique characters that cost 4 gold, it's hard to justify 4 of them... in multiple copies. (And we haven't even mentioned Balerion the Black.)
There are tales of Top-4 placements of Dragon decks in days gone by, but I don't recall seeing any recently (in Joust). Perhaps part of the issue is that most Dragon decks tend to be rush decks at heart and, due to this, suffer from the same fragility the entire Rush archetype encounters. What will be interesting is to see if the nerfing of control cards in the latest FAQ makes Dragons more viable (and Rush in general). Time will tell.
There are ways to reduce the cost of these beasties, using characters and attachments that reduce costs and, of course, typical location reducers; but, resource curve isn't the only thing that makes Dragons difficult to pull off in Joust. It's opportunity cost that you have to consider. A deck that focuses on Dragons is painting a very large target on the most expensive characters and your opponent will do everything they can to eliminate any Dragon from the field (especially if that Dragon is
Rhaegal
(QoD)) because the synergies afforded to being able to use multiple Dragons can end a game very quickly.
What I mean is, even if you're able to get a Dragon or two into play, you'll find your opponent willing to expend significant resources to eliminate those dragons from the field. Considering what you've likely invested (whether that be gold, influence, or reducers) and the fact that they're unique, anything your opponent does to remove them from play creates a significant problem for you.
There has yet to be a top tier player who has successfully fielded a Dragon deck to a Championship slot in Joust. There are many players overall who have tried to bring some form of a Dragon deck to a competitive Joust event, but few have had great success. So, the assumption stands - there is no Tier 1 Dragon deck. Sound like a challenge? You bet it is. Prove us wrong!
The Dragons
We'll start with the heart of this deck type - the three primary Dragons: Rhaegal, Drogon, and Viserion. Each of these dragons has two versions in the game. Most of us started playing with the Core Set Dragons and, well, those are terrible cards. Why, you ask? Each and every one of them costs gold to trigger their rather lackluster ability. Let's take a look at this:
Rhaegal (Core) - the cheapest of the three (with regards to paying for an ability), you're paying 1 gold to search your deck for a dupe... and that's his ability. Excited yet?

Drogon (Core) - the next most expensive in our starter set allows you to pay 2 gold for a burn effect. Burn effects are great - awesome in fact... but for 2 gold, you're getting a -1. Granted, it introduces a terminal condition so that's a great addition, but not enough.

Viserion (Core) - the most expensive ability by far. Pay 4 gold to kill a kneeling character. Now, that's an ability. But, when are you going to have 4 gold when running Dragons? Hint: never (unless you decide to stop putting cards on the table).
Seriously, these bad boys already cost you 4 gold just to put into play. The odds of you having much gold at all after marshaling are pretty low. It's doubtful that you
only
want to play a Dragon this Marshaling phase. Honestly, it feels like these Dragons would do better Out of House in Lannister - who can actually have gold to spare on some turns.
As the Chapter Packs were released, starting with the Defenders of the North cycle, FFG introduced a few more Dragon characters to the mix - namely a few Hatchlings. Some of these still see some play, but usually in non-Dragon decks, believe it or not. Why? Because they're pretty weak on their own and they get discarded if their corresponding fully grown Dragon enters play under your control.
Black Hatchling (DB) - this is the one I see the most. A low cost tri-con is always nice. He can't defend, but then including him in a challenge offensively becomes a no-brainer.

Green Hatchling (TWH) - also sees some play to help prevent an unopposed Intrigue challenge and you get 2 STR for a single coin.

White Hatchling (AKitN) - sees little play due to its low strength. It does provide you another stealth option, and adding a Power icon on defense doesn't tend to be that useful in most Targ decks because we rarely lack in Power icons.
In the final chapter pack of the Defenders of the North cycle, we received the Dragon of all Dragons -
Balerion the Black
(RotO). A 10 gold, 10 STR beat stick of a character that is so amazing, there are deck ideas still being generated to abuse this character. (See the latest
All Things Shagga
for a very cool deck designed to recycle Balerion). Why? You mean besides the 10 STR ridiculousness? It's his ability - the fact that EVERY character and location without the Dragon trait can be forced to kneel once he get played from your hand can completely nuke your opponent's ability to do anything at all - especially if you ensure you go last.
After the Defenders of the North cycle, we come to the Queen of Dragons expansion. This is where Dragons finally take center stage again. With the Dragons introduced in this expansion, there were three amazing things that were added:
Ambush - every fully grown Dragon was given the Ambush keyword allowing them to drop into play

Stealth - every fully grown Dragon was also given Stealth (death from above!).

Trait Synergy - every fully grown Dragon was also given an ability that only gets better the more Dragons that participate in any given challenge.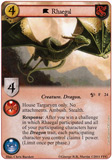 This was the first time a Dragon-focused deck actually became viable. Before this, you tossed Dragons in for other purposes, but you were never actually playing a Dragon deck. The synergies between the Dragons create a series of brutal combinations:
Rhaegal (QoD) - fuels a rush component that Targ never really had before he showed up on the scene

Drogon (QoD) - provides targeted kill

Viserion (QoD) - provides targeted location removal
On top of these, we saw new varieties of the Hatchlings. They're all Shadows cards and they can all be used as dupes of their fully-grown counterparts when they come into play. (Note: they can't be played from hand to dupe a fully-grown Dragon - they'll have to go through Shadows first because their text doesn't activate until they're in play.) These do see some play, but the Shadows portion of this tends to relegate them to Shadows-centric builds. Using them specifically as dupes to the big Dragons is actually pretty inefficient due to the inherent expense and speed hit you get from Shadows. But, they do have their merits:
Black Hatchling (QoD) - only 1 STR, but with Deadly - it can win you some unopposed power

Green Hatchling (QoD) - 2 STR and nothing else - pretty straightforward character

White Hatchling (QoD) - once again, only 1 STR, but this one adds Stealth. If you've ever successfully stealthed an Army with a Carrion Bird, you know how powerful a stealthy weenie can be
The True Queen
The one card that took all of this over the top was the new
Daenerys Targaryen
(QoD). As soon as she enters play, Dragons no longer kneel to attack. She's so good that FFG chose her as the first character to receive alternate art treatment in the Game Night Kits. (Just kidding - no idea that's why they chose her... but her effect is phenomenal).
The interesting thing about Dany is at different levels, different players react to her being on the board differently. Some people work hard to remove her immediately. Others just want to blank her on crucial turns and focus on removing Rhaegal (which isn't a bad choice, honestly). Due to her vulnerability, you want to get her duped as soon as you can. While it won't save you from a blanking effect, it will save you from a dead draw (since most Dragon decks tend to include her at 3x).
Rounding it Out
After Queen of Dragons was released, we began to see a lot of Dragon decks. It quickly became clear that with the cost curve and the need to get these characters duped to protect them, Dragons were difficult in the Joust format. You needed extra Influence and you needed search effects. Plus, with Rhaegal, Dragon decks in Melee quickly became a form of a Rush deck with some control to hinder your opponent while you rush to the win. I actually played a Dragon deck in Melee in Tulsa last year to great success and the top Melee slot at World's went to a Dragon deck.
So, what's the problem? I see the following:
Dragon decks need to go first. Most players run Kingsroad Fiefdom (QoD) at 3x for the initiative bump plus some extra influence. With the number of high initiative plots out there, this is rarely a guarantee. Your Dragons are your most expensive characters and it took you a good amount of resources to get them into play. Kneeling them out for defense reduces your synergy (though you can still trigger their abilities when winning on defense).

Dragon decks are expensive. There's no easy way to deal with this. You can pump up your Influence, of course, to try and Ambush them in. But, every card that provides influence is a card that isn't hurting your opponent directly and if you put too much in, you're choking your draw.

Dragon decks are too fragile. The synergies of the Dragons require that you, well, have Dragons. The more the better. If any of them get killed or removed from play, your synergies are reduced. Considering the resources usually expended to get them into play - losing a Dragon or Dany can lose you the game if it happens at the wrong time.

Dragon decks are hard to play. It isn't just getting every Dragon into play as quickly as possible. It's reading your opponent and trying to determine if he's going to use his one reset to nuke Dany if she's not duped or a Dragon. Are they intrigue heavy - how are you going to deal with defending the incoming intrigue if you're also holding onto cards that you need to get duped? Timing when to drop cards and when to hold cards can make or break your game.
Do we have any answers to these problems? Some...
Going first - Kingsroad Fiefdoms are certainly a must to buff your Initiative. Running Bay of Ice (KotS) can also help (plus if you are running high on Init, it'll give you added draw). But there are two cards that have had the biggest impact on this problem: Long Lances (THoBaW) and Meereenese Fighting Pit (ARotD). Both have the ability to stand your Dragons back up after they've knelt to defend. Long Lances has just been Restricted, which is no surprise, but it's a solid choice for your Restricted card to ensure your Dragons are standing when you go on the offensive. The Fighting Pit is an auto-include at 3x... anything less and you're being ridiculous. WWDrakey called this card "easily one of the best stand-engines in the whole game" and I'd have to agree.

Expensive - Influence certainly helps, but here are a couple other ideas:


Dragon Lore (CbtC) - the most common reducer. It requires a Maester, but kneel it and the Maester and any Dragon is free. Running Maesters does skew your deck a bit, but it also makes trait manipulation an easier bet with maindecking Copper Link (GotC)

True-Queen's Harbinger (QoD) - yes, it's a terrible card. It has no icons and it's fragile. But with the Refugees now restricted, it's back in as a solid choice for potential reduction and claim soak. Even if you use one once before it dies, it's saved you a coin.

Fragile - you have to have a way to rescue your Dragons (or Dany) from the Dead pile. The most common methods for doing this are Maegi's Promise (QoD) and Strong Belwas (VD). Other cards to consider are:

I've got nothing for the hard to play problem. That's just going to take experience. Knowing when to drop a Dragon and when to drop Dany is going to be a read. The basic strategy is to try and get them duped using
Dance With Dragons
(Core) before dumping them into play. The minute you have more than one Dragon or a Dragon and Dany in play... look for the reset. I actually run Maester's and
Outwit
(TIoR) in my deck just to try and combat that. Plus,
Missandei
(RotK) makes it even easier.
Trait Manipulation
The best way to gain the greatest advantage from your Dragon synergies is to make more Dragons. If you're already running Maester's for Dragon Lore, maindecking Copper Link is always a good choice.
Hall of Dragons
(AHM) is a no-brainer include for both the trait and the extra Deadly. If you can get 5 Dragons involved in a challenge, you can kill
Northern Cavalry Flank
(SA), discard
Bear Island
(AE) (non HoD) and gain 5 power in one challenge. Add Yunkai and Dany, then you're talking about the potential for a game-winning turn (assuming you already have some power).
Locations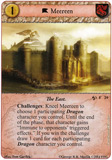 There are a number of locations that provide some additional synergies to a Dragon deck that we have to mention:
Four good locations... what to include? Meereen is a must. The rest... really depend on what direction you're going. If you're running heavy influence locations, you may find it really hard to include the others. If you're running a Rush theme, you want Yunkai for the extra Renown.
Conclusions and a Challenge
What I've done is talk a bit of theory regarding Dragons and tried to introduce you to the concepts surrounding running a Dragon deck. Let me tell you - Dragon decks are some of the most fun decks to play. While you're tweaking, your Dragon deck will likely lose... a LOT. But don't let that dissuade you - keep at it and you may just be able to create that elusive Tier 1 Dragon build (if it exists).
The challenge? Make a Tier 1 Dragon build! Or as close to one as you can and let us know how it fares. Submit your decklist to the CardGameDB decklist section (PLEASE DO NOT POST YOUR DECKLIST TO THE COMMENTS SECTION) and link it in here and let us all look at it. Please do tell us how the deck has fared for you and what you think the deck's weaknesses are.
So, what did I miss? Something glaring probably - let me know!
Article: Fire and Blood - Here There be Dragons!