Welcome to Card Game DB
Register now to gain access to all of our features. Once registered and logged in, you will be able to create topics, post replies to existing threads, give reputation to your fellow members, get your own private messenger, post status updates, manage your profile and so much more. If you already have an account,
login here
- otherwise
create an account
for free today!
1
First Tilt - Expanding House Baratheon
Small Council
First Tilt
doulos2k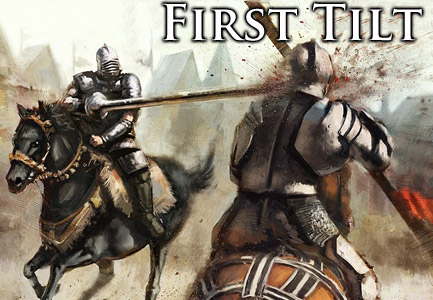 Welcome back to another edition of First Tilt! This week we're finishing up our House Expansion series where we're building decks for a smallish card pool that includes 2X Cores, 1X House Expansion, and no more than 6 Chapter Packs. This week we're taking a trip to Storm's End to see how the we can expand House Baratheon.
While looking over the themes for House Baratheon, I found myself in a bit of a quandary. Baratheon is primarily known for the Rush theme - grabbing as much power as you can as quickly as possible through the use of multiple Renown characters. In the current meta, that seems much harder than it used to be. I will be honest, I don't play House Baratheon that often. Only two people in our meta play this House and one of them is in a crazy Alliance deck, so that's not quite the same thing. I've had to do some serious play testing with some various themes to try and figure out what I thought would be the best fit for a limited card pool and fun to play.
Of all the decks I played, I found the Asshai Holy theme to be the most fun, in general, to play. Beyond being fun to play, if the right cards came up, you can win easily in Turn 2. There are bad matchups of course and you can hit a bad draw and end up without the right cards in hand to move forward. I tried to even out the pieces as much as I can so that you can survive if you hit a bad draw against an Aggro deck that's focused on killing your characters.
So, let's cut to the chase and examine the cards we're going to be putting into the deck. I've broken them down below by Chapter Pack.
Return of the Others
Melisandre (RotO) - while there are a number of versions of this character, I've played against this one enough to know that she's just bonkers good. Being able to claim extra power for unopposed INT and POW challenges and an extra power for Dominance should not be underestimated. We'll be doing some other shenanigans to try and guarantee some unopposed challenges as well. On top of that ability, she has Renown herself. So, in theory, when coupled with The Power of Faith (KotStorm) she can get you 10 Power in a single turn (one each MIL/INT/POW for Renown, two each for unopposed INT/POW, one for Power claim, and another two for Dominance) with only three of those on her card. I think this goes a long way to reducing the fragility of this type of Rush. You're not relying on the Power to rest on a few Renown characters.

Val (RotO) - honestly, if we're getting this pack, it's stupid to not include Val and also grab The Laughing Storm (GotC). It's free card draw and TLS provides protection from Intrigue challenges. One thing to note, activating Val counts toward your draw cap, so you can, at most, activate her three times per Round (assuming you've not drawn any cards through other card effects). Plan carefully when you want to trigger Val. Remember that she has a specific restriction, if you can play the card, you must play the card. One suggestion might be to trigger her during the Draw phase itself as this is statistically the place where you would least likely be forced to play a card. This is really the only draw engine in this deck. Baratheon doesn't have much for in-house draw, so this is a common ploy to overcome it; however, this draw is fragile. We include 3X of both Val and The Laughing Storm, but it requires getting them both into play at the same time - some games that'll be easy, others, it will never happen. After all, it's only 6 total cards out of a 60 card deck - there's no guarantee you'll see them in a short game.
Of Snakes and Sand
Shadow Enchantress (OSaS) - while this is the only card we're pulling from this pack, she is a key card in this deck. The ability to give a MIL icon to your Asshai characters outside of Power of Faith turns is a crucial element that will save you a lot of characters and win you more challenges. With this card, and a single card in shadows anywhere on the board (yes, even your opponent's Shadows cards), every Asshai in play gets a MIL icon and +1 STR. She's non-unique, so she doubles up if you have more than 1 out, AND, look at her text - she's +1 for each card in Shadows. If you have two of her in play and only 1 card in Shadows, your Asshai now get +2 STR, any additional cards in shadows will add an additional +1 per copy of Shadow Enchantress in play. Killer effect. Note - the risk is if your opponent happens to be playing any Asshai characters, theirs get buffed as well (since this card is missing the ever important words "you control.")
Rituals of R'hllor
Some folks might wonder why I didn't include the
Melisandre
(RoR) from this pack because of her kill ability. Simply - she relies on there being a character on your opponent's board that has power on it making her utility too conditional. The Melisandre I've picked has a better fit in this deck to get you to the win condition more quickly.
Gates of the Citadel
The Laughing Storm (GotC) - as mentioned above, if you have Val, we may as well grab this guy. Just too good to pass up.
Tales from the Red Keep
The Black Cells (TftRK) - this is the card to help you lock down a problem character and, along with Smuggler's Cove (KotStorm), will all but guarantee you unopposed challenges. While the Shadows rules only allow a single card to come out of Shadows at the beginning of each phase, combining this card with Sister of Truth will get you a quick, and repeatable, way to lock down up to three characters. Since you really want to keep cards in Shadows to fuel Shadow Enchantress, we'll be looking to Sister of Truth (KotStorm) to help us here because once she comes out of shadows, her response allows you to put a card back into shadows... including herself. So, you can take Sister of Truth, bring her out of Shadows, trigger The Black Cells and then put Sister of Truth back into shadows. But wait, there's more... The Black Cells is a non-unique location, so bringing a single card out of shadows can trigger every copy of The Black Cells you have in play just like Altar of Fire (see that entry for the link to the explanation on the FFG forums). So, if you're fortunate enough to get all three of these into play, a single card can almost guarantee you some unopposed action to fuel Melisandre.

Syrio Forel (TftRK) - just a great all around card and you'll find you'll be using him in a lot of your decks. He's almost Valar proof since he goes back into Shadows after winning a challenge he participated in.

The Queen of Thorns (TftRK) - we're going to put 1X of her in here. There's just no reason not to. If you can get her into play and pull the Sister of Truth shenanigans, you may win in a single turn with Mel in play during Power of Faith. For a more detailed explanation of how crazy good she can be, check out Kennon's Queen of Shadows article: http://www.cardgamed...adows-article-2
Mountains of the Moon
Black Amethysts (MotM) - this is one of the rare attachments that can be used on Setup. We have enough Asshai in here, that if you luck out and get it on setup, you should be able to use it. Beyond that... well, it gives Deadly to an Asshai. Get this thing on Melisandre as quickly as you can. Deadly almost always leads to unopposed Intrigue and Power challenges. Who wants to lose a character on those challenges? Answer: Nobody.
Rounding Out Your Deck
The Core Set will give us some of the Baratheon staples in reducers and the following events & characters:
Kings of the Storm brings us a number of key cards:
Plot Strategy
Plots are the hardest things to choose when using a limited card pool. There are some specific plots that are key to the theme and others that are either defensive plots or just solid choices based upon the pool we're using.
This is the full deck list. I'll list some other cards you might want to consider after the list:
Plot (7)
The Power of Faith
(KotStorm) x2
Forgotten Plans
(KotStorm) x1
Many Powers Long Asleep
(RoR) x1
Lineage and Legacy
(KotStorm) x1
Valar Morghulis
(Core) x1
At the Gates
(GotC) x1
Character (31)
Melisandre
(RotO) x3
Bearer of the Light
(KotStorm) x3
Intolerant Priest
(RoR) x2
Old Red Priest
(Core) x2
Maester Cressen
(Core) x1
Val
(RotO) x3
The Laughing Storm
(GotC) x3
Sister of Truth
(KotStorm) x2
Shadow Enchantress
(OSaS) x3
Syrio Forel
(TftRK) x1
Army of the Faithful
(Core) x2
Maester Aemon
(Core) x1
Marya Seaworth
(KotStorm) x1
Edric Storm
(Core) x1
Maester Pylos
(KotStorm) x1
The Queen of Thorns
(TftRK) x1
Salladhor Saan
(KotStorm) x1
Location (16)
Smuggler's Cove
(KotStorm) x2
Altar of Fire
(RoR) x3
Aegon's Garden
(Core) x2
King Robert's Chambers
(Core) x1
Narrow Sea
(Core) x3
Shadowblack Lane
(Core) x1
Street of Sisters
(Core) x1
The Black Cells
(TftRK) x3
Attachment (6)
Black Amethysts
(MotM) x3
Fanatic
(RoR) x3
Event (7)
Distinct Mastery
(Core) x3
Lord of Light, Protect Us
(RoR) x2
Seductive Promise
(Core) x2
Cards to Consider
Acolyte of the Flame
(TWH) - from The Wildling Horde is a great, inexpensive Holy character that plays perfectly into the deck theme. She's +1 while standing, so she's even better during Power of Faith turns where she becomes a 3 STR tri-con. It doesn't get much better than that. She is an Ally, but if you have 3X of her... they're not going to be able to rid of them all.
Zealot of the Light
(BtW) - this can continue milling cards from your opponents hand every Dominance phase (if you win Dominance). If you have multiple copies of him out, it's brutal because you can kneel each copy to mill another card from their hand.
Confession
(KotS) - continuing the theme of milling their hand while you continue to keep yours with TLS in play, this, again, lets you look at their hand and discard a card of your choice from it.
Bound by the Light
(DB) - allows you to put another Asshai of equal or lower printed cost into play if the one this is attached to is killed. Read that again - INTO PLAY.
Cleansing Light
(FtC) - adds even more punch to the Shadows mechanic you're using in the deck. It's a zero cost attachment, and it may be overkill, but it's worth a look.
Ruby of R'hllor
(KotStorm) - giving Vigilant to a character is already being handled by Fanatic if attached to a character that already has the Holy Crest, but, again, this is something to consider if you find you could use some add'l Vigilant.
Threat from the East
(QoD) - this is a much hated card when played in a deck that utilizes The Laughing Storm (TLS), but I would be remiss if I didn't bring it up. The ruling has been made and discussed and discussed some more and much Sturm and Drang has happened over it... but here's the gist. If you have TLS standing when you play this plot, you choose the action that says "Each player discards 3 random cards from hand and then draws 3 cards." What happens when you do this? Because you have TLS in play (and standing) you do not discard cards, but your opponent does. The kicker is that because EVERY player wasn't able to discard 3 cards, nobody draws. Yep, that means you've just successfully milled three more cards from their hand with no impact on your hand. I know. Sick. I would pull At the Gates and use this instead.
I'm sure there are other cards that some of you think are absolutely vital and I'm just crazy for not including them - tell us about it in the comments! If you do play the deck, let us know how it worked for you!
Major shout out to Nathan Bradley for his assistance in tweaking this deck. His input was invaluable!
Article: First Tilt - Expanding House Baratheon