Welcome to Card Game DB
Register now to gain access to all of our features. Once registered and logged in, you will be able to create topics, post replies to existing threads, give reputation to your fellow members, get your own private messenger, post status updates, manage your profile and so much more. If you already have an account,
login here
- otherwise
create an account
for free today!
1
First Tilt - Expanding House Lannister
Small Council
First Tilt
Paladin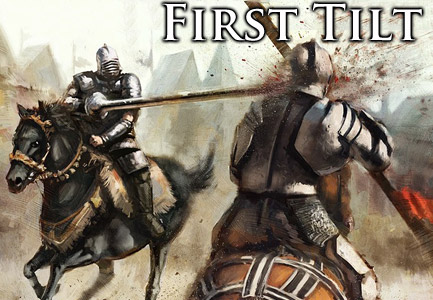 In this edition of First Tilt, we continue with our series of articles exploring how a new player might affordably expand each house into a reasonably competitive deck build with only a few purchases (2X Core Sets and 1X House Expansion + up to 6 chapter packs). Keep in mind that in addition to keeping purchases to a minimum, this series tries to avoid older chapter packs that don't currently come in the 3x variety, as those are harder to find. However, since it seems FFG is on its way to having all of the chapter packs reprinted, we will make suggestions at the end of each article for additional cards that one should consider and that may come from older packs or from packs that exceed the series restriction of building with only six CPs.
This week we cover the powerful Lannisters, a wealthy and ambitious House hailing from the western end of Westeros, extracting riches from their gold mines and containing two of the most powerful figures in Westeros: patriarch Tywin, one of the richest and most feared men in the land and a former Hand of the King, and Queen Cersei who schemes from King's Landing to advance the House to even further power. The Lannisters, full of wealth and power, desire to control the kingdom and see everyone kneel before them, so it is quite Nedly that the traditional Lannister build is one that relies on kneeling and controlling opponent's characters.
Given the focus of this series on competitive decks with limited card pool builds, I would like to first direct your attention to excellent articles on Lannister builds that were previously featured on CardGameDB. As part of his Crimson and Gold column, Rave has already presented an excellent overview of Lannister cards and decks that address the building and playing of Lannister decks built with a limited amount of cards, with great analysis of the key cards, discussion of strengths and weaknesses to different builds, and useful coverage of strategic and tactical considerations when playing Lannister. So, before we proceed any further with the Lannisters, I would very much encourage you to go and read the following two articles:
Forging the Lions Tooth
Lannisters and Regionals
Given that Rave has already done an excellent write up of Lannister decks built with smaller card pools, my first bit of advice would be to examine his suggested builds, read over his advice on the cards, and get to know the Lannister staples. For this First Tilt, rather than covering the same ground, we'll aim instead to supplement Rave's columns by covering something a bit different: a Clansman deck. Since most of the useful clansmen cards can be found within a single chapter pack cycle, we can make a decent theme deck with only a few packs, with the added benefit of getting a build that focuses on fan favorite Tyrion and his merry band of mountain men. (Note that we'll be using Clansman to refer to the trait, and clansmen to refer to the group of charcters).
WHAT TO BUY
Everything in the Brotherhood Without Banners cycle, except for Rituals of R'Hllor. So that means:
▪ Illyrio's Gift
▪ Mountains of the Moon
▪ A Song of Silence
▪ Of Snakes and Sand
▪ Dreadfort Betrayal
We are excluding Rituals of R'Hllor, as it doesn't have very much to add to a Clansman deck, since the main Lannister card in the pack,
Campfire Mime
(RoR), is not exactly a must have card when you have so many other clansmen at your disposal. Instead, for the sixth chapter pack, we'll go with Beyond the Wall, as
Fear of Winter
(BtW) is an awesome card for a Clansman build and will help the deck excel.
THE CLANSMAN IDEA OF DEFENSE: LOTS OF OFFENSE
Here are the main forces we'll use for challenges:
▪
Shagga Son of Dolf
(DB) - when you go first, Shagga will ensure that attacking doesn't tire out your clansmen for defense.
▪
Tyrion's Enforcers
(MotM) - whether you go first or second, Tyrion's guys will always be up for some slaughter.
▪
Timett Son of Timett
(MotM) - as you can see, Clansman characters can be fearsome warriors who never tire of military challenges. With Timett along, they will also never die once they have knelt to attack or defend.
▪
The Burned Men
(MotM) - a 5 strength with deadly is already pretty good, but his ability to raise your claim makes them phenomenal: these guys will be leading the charge for your forces whenever they're in play.
▪
Tyrion Lannister
(LotR) - a one man wrecking crew who, as a tri-con, can provide a devastating follow up in any challenge type you want, whether it is after your clansmen have had the first strike or after they have defended a large attack.
▪
Rise of the Mountain Clans
(MotM) - you may be getting the feeling that your Clansman characters love to fight. Let's encourage that further by throwing in this event to surprise your opponent.
CARDS TO HELP YOU REACH A SMALLER HAND
While most decks need to carefully tune the amount of resources they supply, here you want to lean on the generous side since you'll want to be able to play as much as possible on any given turn. Also, resource cards tend to be cheaper to play, further helping you reduce your hand size.
▪
Lannisport Moneylender
(LotR)
▪
Lannisport Weaponsmith
(Core)
Thank the Seven you're a Lannister, because it means your resource accumulation can come in the form of characters, allowing you to be a little excessive in resource supplying cards without losing as much utility and usefulness. The Moneylender and Weaponsmith are always happy to help out, while keeping your costs low and your income high.
▪
Chella, Daughter of Cheyk
(Core) - will help you slow down your opponent, by returning resource producing lands to their hand. And even if those lands aren't crucial for your opponent, returning them will still have the benefit of adding cards to their hand, making it bigger than yours!
▪
Tywin Lannister
(LotR) - is in here for two reasons. One, a tri-con with 4 strength and renown is always nice to have. Two, if you do a good job of getting your hand size low quickly, you may find yourself with a surplus of gold. Tywin can use that gold to accelerate your win. Shagga players can read more on the possibilities Tywin offers
here
.
▪
Tribeless Vagabond
(OSaS) - a decent card, with an icon adding ability that can be useful, but his greatest utility is in simply letting you get your hand size down.
▪
Crawn Son of Calor
(LotR) - to get your hand size down, you might have to engage and/or allow some discarding. Having Crawn in play will make the discards easier, as he will allow you to play a Clansman card from your discard pile
OTHER KEY CARDS
▪
Tribes of the Vale
(LotR) - an amazing price for such high strength, and they're not totally useless if you happen to have too many cards.
▪
The Iron Throne
(LotR)
▪
Lannisport Brothel
(Core)
These will provide you with some character control options to block off responses and kneel opposing characters.
▪
Fear of Winter
(BtW) - this is your killer plot. When you reach the point where you have key Clansman cards in play, have reached a smaller hand size than your opponent, and are itching to let your forces go wild, this is the plot to play. It will pretty much guarantee a turn of maintaining a smaller hand size, given that only one card can be played, and at two claim it's going to magnify the damage your clansmen deal. It can also be played earlier in the match if things are going poorly and you need to slow your opponent down.
▪
Rule by Decree
(Core) - if you build up your clansmen and still find yourself with too many cards to trigger their effects, sure you can use this to bring your hand size down. But only do that if absolutely necessary; ideally you're going to be successful in playing out your hand quickly and will get to use this plot to bring your opponent's hand down, so as to minimize the advantage of their having more cards than you.
First Tilt--Lannister
Total Cards (60)
House (1)
House Lannister
(Core) x1
Agenda (0)
Plot (7)
Retaliation!
(ASoSilence) x1
Valar Morghulis
(Core) x1
Rule by Decree
(Core) x1
All the Gold in Casterly Rock
(LotR) x1
Blockade
(Core) x1
Fleeing to the Wall
(Core) x1
Fear of Winter
(BtW) x1
Character (34)
Crawn Son of Calor
(LotR) x2
Painted Dogs
(IG) x3
Shagga Son of Dolf
(DB) x1
Son of the Mist
(ASoSilence) x2
The Burned Men
(MotM) x3
Timett Son of Timett
(MotM) x2
Tribes of the Vale
(LotR) x3
Tyrion's Enforcers
(MotM) x3
Tyrion Lannister
(LotR) x2
Lannisport Moneylender
(LotR) x3
Tribeless Vagabond
(OSaS) x3
Bronn
(LotR) x1
Ser Amory Lorch
(LotR) x1
Tywin Lannister
(LotR) x2
Chella, Daughter of Cheyk
(Core) x1
Maester Aemon
(Core) x1
Ser Jaime Lannister
(Core) x1
Location (18)
Mountain Camp
(DB) x3
The Inn at the Crossroads
(LotR) x1
Street of Steel
(Core) x1
The Goldroad
(LotR) x3
Street of Sisters
(Core) x1
Queen Cersei's Chambers
(LotR) x1
Sunset Sea
(LotR) x3
The Iron Throne
(LotR) x1
Lannisport Brothel
(Core) x1
Western Fiefdoms
(Core) x3
Attachment (0)
Event (8)
Rise of the Mountain Clans
(MotM) x3
A Lannister Pays His Debts
(Core) x2
I'm You Writ Small
(Core) x3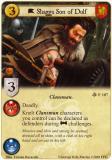 PLAYING THE MOUNTAIN MEN
The challenge for running the Mountain Men is that you have to play counter-intuitively to the traditional Lannister strength of intrigue. Normally, a Lannister play will use thier strength in intrigue to reduce an opponent's hand, but in this deck you want to be the one with the smaller hand so aim to avoid intrigue challenges until you reach a lower hand size than your opponent. To speed your path to a smaller hand, this deck relies on an abundance of resource locations so that you can start throwing down everything you can as quickly as possible. Use whatever means you have available to to keep your opponent's hand size larger than yours. For example, once you have all the resources you need play Blockade to choke their income and limit their card plays. Be careful however about playing out your hand more than necessary. A Valar could wipe you out and if you're out of cards, you won't be able to recover.
Fear of Winter is the key plot. Once your clansmen are built up and your opponent has less cards than you, play the plot to lock your opponent to only one card play and give yourself a two claim plot to make the most of your abilities. If you can, follow up the next turn with Blockade, and your clansmen should leave a field of devastation in their wake. Once you get abilities that allow attacks and defense while knelt, you will end up with a confusing and unpredictable field for your opponent: make the most of it and attack relentlessly.
OTHER CARDS
▪
Mountain Refugee
(RoW) -
zero cost, 2 strength Clansmen. Definitely add them if you have them, by taking out some of your gold producing characters
.
▪
Black Ears
(FtC) - A good Clansmen with Deadly who allows you to discard cards.
▪
The First Snow of Winter
(ODG) - is good for returning opponent's characters and building up his hand size again. You have a couple of tough dudes, so even if you have to return some of yours, it will be worth it if your opponent ends up with more cards and you end up with your clansmen on the board.
Article: First Tilt - Expanding House Lannister