Welcome to Card Game DB
Register now to gain access to all of our features. Once registered and logged in, you will be able to create topics, post replies to existing threads, give reputation to your fellow members, get your own private messenger, post status updates, manage your profile and so much more. If you already have an account,
login here
- otherwise
create an account
for free today!
3
First Tilt - Resets
Small Council
First Tilt
doulos2k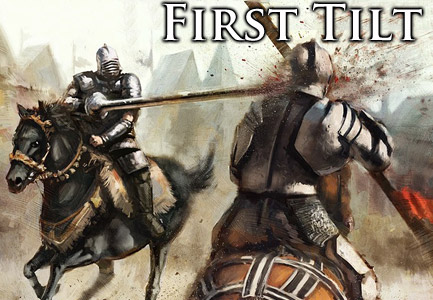 And... we're back again to another exciting edition of n00bs helping n00bs! Er, I mean, welcome back to First Tilt! This week we're continuing our Plot series and we'll be venturing into the concept of the Reset Plot. And, yes, there's more than just
Valar Morghulis
(Core)... but, we'll cover that one, of course!
Resets are Good for the Game
First, let's talk philosophy. Why does a game like AGoT even need a reset? If someone is handily winning the game... shouldn't they just win? Is it fair that you can single-handedly nuke the board and then, potentially, come back for the win? My answers? Yes, no, and yes. Your draw deck has 60 cards in it. Unless you can somehow come up with a way to algorithmically shuffle your deck in such a fashion that you ensure even distribution of card types throughout the deck (without actually stacking it), then you're going to have an unpredictable draw. Even if you have 3X of every card (which is crazy, by the way), you can't guarantee what you'll see. You could draw three of the card you don't need at a particular moment and never see the card you actually need or want. That randomness keeps the game interesting, but it also can make for a situation where a reset is actually necessary to keep the game...well, a game.
Also, a reset fits the game thematically, in my opinion. If you've read the books, you know that you just can't tell when anyone might live or die. Just because a group of people are winning battles doesn't mean their fearless leader isn't about to lose his head. In the books, armies can win every battle but then be decimated in short order through traitorous scheming or stupid decisions or... magic. You just can't tell what's going to happen. The reset fits that flavor quite well.
Finally, a reset allows for a slower (and sometimes far more interesting) deck to have a chance against a Rush deck designed to win on Turn 2 or 3. Without resets, we might see a large dominance of Rush decks and 15 minute games. Which, in my opinion, would make the game far less fun in general and it would then only cater to certain player types. Resets allow a larger player base because you can build a deck that fits your play style and not worry that you won't be able to overcome one type of deck or the other.
There are multiple reset cards in the game, but we're going to focus on the Plot reset. Why? Well, we're in a Plot series! Duh! Honestly, plot resets are far more ubiquitous in the game and they are played by almost every player at one point or another while other types of resets see limited play. So, without any further ado, let's dive in!
Valar Morghulis (Core)
All men must die. No reset conversation can really start without talking about the one card that probably has a greater impact on the game than any other single card. This card appears in more decks than any other single plot bar none. There are people who don't like this plot and yet still put it in their decks? Why? Because it's a good card. This card completely resets the character board (unless you have save effects, of course). It can be played offensively or defensively.
When used in an offensive manner (cue Robert from TC who will say it's always offensive when anyone plays it), it's designed to punish the person who has overcommitted their characters or who have put an obviously critical, non-duped unique character into play with no obvious save effects showing. The downside is extreme of course, so you have to be sure you really want to play this card. Having only 2 gold, no initiative and no claim is going to hurt you too.
When used defensively (probably the most common method amongst newer players), you're using it to balance the board when it's clear your opponent has board superiority and you're struggling with a bad draw. Again, the down side to you is extreme, but it may very well be the best play because you're hopelessly outgunned. Normally, it will take your opponent more than 1 turn to rebuild their board. If they didn't read that a Valar was coming, it might completely decimate their plans and the game could be yours. I've seen someone go from 13-0 to 11-15 due to a well-timed Valar. It can turn death into a fighting chance to live.
For a more detailed discussion of the ways to play this card and its effect on the game, I urge you to read the last two Crafting the Theory articles. First
this one
and then
this one
.
Wildfire Assault (Core)
Another reset that's part of the Core Set, this is a weaker rest, but it has the advantage of giving you a little more gold, some real initative, and you actually have a claim value. This is a solid choice for an Aggro deck. If you're facing a Rush deck or a deck with a lot of cheap characters, a timely Wildfire Assault can keep the game even and provide you an opportunity to deal with their board more evenly.
The thing to keep in mind about Wildfire is they're always going to keep their most important characters on the field. So, if you're facing a Rush deck, they'll be keeping those characters with power on them. What this does for you is gives you the ability to narrow their choices for choosing to fulfill Military claim or, if you're running a more Aggro-style control deck it provides you a smaller attack surface for which to exert your control elements.
You might consider this a "soft" reset, but don't forget that anything above the three selected cannot be saved. This can be a huge boon for you if you're playing against a save heavy deck, their saves are useless with this plot. If you're struggling about the need for a reset, this is about as low-risk as it gets. You still have claim and you still have some initiative. If you can't bring yourself to include Valar Morghulis, this is an easy include.
The First Snow of Winter (ODG)
There are a few who wouldn't technically call this a reset plot... but it can be. This plot has seen the most play in decks based around the
Knights of the Hollow Hill
(MotM) agenda, but it's also a solid choice for decks that run a lot of expensive characters. Most decks are built with a solid slate of inexpensive characters to help with setup and to keep the game pace moving and, potentially, to ensure you always have something for claim soak (which is a dubious strategy, in my book). If you're running expensive characters and you need a way to slow down clown boat style decks, then this card can be a great boon. Follow this up with
Rule by Decree
(Core) and it can really ruin your opponent's day.
Threat from the North (PotS)
This is an incredibly common card in a Targaryen Burn deck. In fact, it's a staple. I don't know of a Targ Burn deck that doesn't run this card. When this is timed with cards like
The Dragonpit
(TftRK),
Thundering Calvary
(QoD), or
The Hatchlings' Feast
(ASitD) - it can quickly become a one-sided reset, thereby, almost guaranteeing you board control for that turn. If you're playing Burn, you need this card in your plot deck.
Oh, and if you're playing Burn and you win Initiative with this card... don't forget to make yourself First Player. Why? In a Burn deck, many of your cards will say something similar to "Reduce STR by X and if STR is 0, kill the character." Well, Threat From the North's text is very similar, except that it has a Discard effect and not a Kill effect. Since both of these effects would resolve simultaneously, the First Player would decide which effect resolved.Typically, death is better than discard (especially for unique characters). If you ensure you're first player, you can choose death over discard every time.
Fleeing to the Wall (Core)
This almost didn't make the cut, but it is a reset... it performs the same way as Wildfire, but for locations. You might find it hard to justify including this as part of your plot deck unless you're running location light yourself. But consider this - if you're playing a House that is lacking location control, this is definitely something worthy of a look. With this, you can really put the hurt down on a player that's relying on a lot of reducer or influence locations. Targ can use a boatload of influence locations to surprise you with any number of characters. Martell has a solid slate of control locations that can cause you real pain. Face it, there are a lot of great locations and being able to negate or reduce the ability of your opponent to use locations to keep up the board pressure might be just what you need.
Remember, just like Wildfire, the locations not chosen cannot be saved. Take a hard look at this plot - it can save your hide in some matchups.
Reset Strategy
Since resets are such a common part of the game, many players build their decks with the intent of saving their most important characters during any reset. Whether they hold them back in hopes that they can get a dupe or if they work to ensure they've got a save in place - their deck is built with a plan. The worst thing you can do is to play a reset when they're able to save most of their characters and you're unable to save yours. How do you combat this? The Cancel. Playing something that can cancel a triggered effect will nuke most any save effect your opponent has on their most important character. If they try to discard a dupe, cancel that trigger and they've got to kill that character. If they're hoping to trigger a card like
Strong Belwas
(VD) to save a character, the cancel can really ruin their day. Some examples would be
He Calls It Thinking
(PotS),
Seasick
(KotS),
Alannys Greyjoy
(ODG), and even
The Iron Throne
(LotR) (if it's a character ability).
If you plan on using a reset offensively, you really need to look hard to see if you can get some cancel into your deck to ensure your plan goes off. If your House doesn't have a good cancel effect for this, then use your offensive reset judiciously. Most (but not all) save effects have to be in play before they can be used, so pay attention to the dupes that are there and what cards might have safe effects.
The other way cancel comes into play is as a response when your opponent plays a reset. No, the plot reset isn't a triggered effect, but they may be doing it with saves in mind as well. Canceling their saves can royally thwart their plans. As I mentioned earlier, don't forget that you can cancel the discarding of a dupe to save a character, especially if they only have one dupe - the dupe would still be discarded (as it's the cost of the effect), but the character dies. Really? Yes, really. Even though there isn't text that says "Response: discard this characters duplicate to save it from being removed from play" - I refer you to the official FAQ, section 4.2 which reads (emphasis mine):
Quote
4.2 Using a duplicate to save a character is considered to be a gained triggered "Response:" action. Thus, it is treated as a triggered effect and may be canceled, but because it is gained (and therefore an ability of the card attempting to use the response), a character who is "immune to triggered effects" can be saved by using a duplicate, as a card cannot be immune to its own abilities.
So... cancels... a very important part of any reset strategy.
Which Reset Should You Choose?
Deciding which reset to put into your plot deck can be a tough call. Some plot decks need to run without a reset, but those are rare and they're typically what I'd call plot manipulation decks that are designed to run through the plots as often as possible. Besides decks that focus on plot manipulation, most decks should run some type of reset plot. If you decide to opt for a type of reset that is in your draw deck (like
Westeros Bleeds
(Core)), you're taking the risk that you may never see that reset card at the moment you need it. Plot-based resets tend to be far more reliable because you can choose when to play them and they're harder to cancel (though not impossible). So, let me sum up the choices one more time:
Valar Morghulis - this is usually the default choice. If you aren't sure what to do, go with this one. If you're running a lot of saves and dupes, this is probably a no-brainer include (I'm looking at you Greyjoy).

Wildfire Assault - if you're running a deck that's designed to get a lot of characters into play and keep them there or if you're really relying on having claim for Military challenges, you should consider choosing this over Valar Morghulis. This is a no-brainer if you're running a character light deck or a deck that's really designed to support a few big characters (just make sure you dupe those or have saves on hand in case your opponent is running Valar Morghulis) and, like I said before, this can really bring the hurt down on a save-heavy house due to that nice little "cannot be saved" text.

First Snow of Winter - summed this up before, but typically, you only want to run this if you have a lot of expensive characters or are running Knights of the Hollow Hill

Threat From the North - typically only run in Targ Burn

Fleeing to the Wall - if you're running location light yourself or end up facing a lot of location-based decks in your meta. This can even things out for you in the long-run.
How Can You Prepare for a Reset?
Finally, let's discuss what you do when you see a reset coming. This assumes you've built your deck defensively to either be able to account for a reset or to anticipate a reset (thereby allowing you to play a card that will mitigate its effects). The most common methods of dealing with resets are as follows:
Saves - this can be done through dupes (for unique characters) or actual save effects. Dupes are dangerous if someone hits you with an early Valar (before you have your dupes in play, thereby turning them into dead draws) and they're useless against Wildfire Assault (so are saves). But, as you now know, these can be canceled.

Outwit (TIoR) - this plot can nuke the "when revealed" effect of any plot (unless the plot says it can't be cancelled), so this can affect both Valar Morghulis and Wildfire Assault. The downside is that you have to have a Learned Crest character in play AND you have to anticipate the reset.

Forgotten Plans (KotStorm) - this can nuke Threat From the North and First Snow of Winter because if blanks their text outside the plot phase. Threat can still take effect during the plot phase, so it isn't a perfect solution, but it at least protects the rest of your cards during the Marshaling and Challenges phases. Also, just like Outwit, you have to anticipate the reset.

The Power of Blood (Core) - if you're running a lot of Noble Crested characters, this can save your bacon. If you play this on a Valar or or Wildfire turn, you've done great damage to your opponent's ability to reset your board. And since your Noble Crests "cannot be killed" you don't even have to choose them during the Wildfire turn. To clarify that: the text of the card plainly says YOU choose up to three characters, and it specifies that the others are killed and cannot be saved. So, you choose three characters that can be killed and the kill effect passes right by your Noble Crests you didn't choose as their "cannot be killed" status does not qualify as a "save" effect. They simply cannot be killed. You might be able to save your entire board depending on the mix of crests and characters. Again, you have to anticipate the reset (seeing a theme here?)

Old Bear Mormont (RotO) - he is expensive, but his effect is powerful. He's the equivalent of Outwit. Kill him (cannot be saved) and the "When revealed" effect of any plot is nuked. He can be a good defense against Valar or WIldfire. One thing though, since he's a character, he can be blanked during the action window pre-plot reveal with something like Nightmares (LoW).

If you're running a Stark winter deck (or a City of Shadows (CoS) deck) and your gold curve can handle it, one thing you could include as a defensive measure is Maester Malleon's Tome (TftRK). It's a bit extreme, but if you can pull it off, it would allow you to put their reset plot into their used pile and eliminate it as a threat for the current plot cycle. It's a unique attachment, so unless you can get that attachment out of play, you'll only be able to use this particular effect once per game. Now, it looks amazing, but this is a hard card to play... essentially a 4 Gold attachment that encounters the Shadows delay. But... if you can afford it and you're using Winter already, it may just be what you want.

If you believe you see an offensive reset coming and you are running Assault on King's Landing (KotStorm), play it and whatever plans they might have had to save characters are now dismantled.

Search and Detain (HtS) has become a pretty common play when a reset is suspected. Due to its high initiative, during a reset turn you can name yourself first player and cause your plot to trigger first and save a valuable character by bouncing it back to your hand.

And, an offensive move is to use The Art of Seduction (LotR) to pin their Valar and leave them with 2 gold and no initiative for 2 turns.

Narrow Escape (KotStorm) - this is a Restricted card and your opponent can discard their hand (as long as they have at least 1 card in hand) to cancel it; however, it has the added benefit of putting every card that was killed back into PLAY. It has a pretty awesome effect, but remember that it also brings your opponent's characters back as well.
There are, of course, other plays available to you and I'm sure our loyal readers will sound off in the comments with ideas of their own (please do!). Obviously, the biggest thing you see in that list is the need to anticipate the reset. That can be hard to do. Sometimes, the reset turn is quite obvious (you have 7 characters and they have none... almost a guaranteed Valar or Wildfire turn). But, all bets are off if they can tell you're ready.
The best advice is to build your deck knowing that Valar Morghulis (or some other type of reset) is almost inevitable. Look at your slate of characters, does your entire strategy hinge on one or two characters (which is generally a very bad idea, by the way)? Then you may want to hold them back until you can dupe them (understanding, of course, that you risk them being Intrigued away). Should you add some specific anti-reset tech or can you spread your strategy out so that you're able to survive the reset? Does your House have any way of resurrecting characters (like
Maegi's Promise
(QoD) for Targ or
See who is Stronger
(KotStorm) for Bara)? Build your deck knowing resets exist and whether you tech against them specifically or build your deck to survive, the bottom line is you need to play with the reset in mind. One of the biggest mistakes new players make is to overcommit your characters early or just get caught up in the game and completely forget a reset could hit at any point.
So, include the reset that fits your deck and keep in mind that your opponent is likely to play a reset at some point and you may just survive that game! Do you have other ideas? Did I miss an important reset plot? Sound off in the comments!
Many thanks to
WWDrakey
for pointing out the cancel strategy (and a few of the specific defensive cards)!
Article: First Tilt - Resets