Welcome to Card Game DB
Register now to gain access to all of our features. Once registered and logged in, you will be able to create topics, post replies to existing threads, give reputation to your fellow members, get your own private messenger, post status updates, manage your profile and so much more. If you already have an account,
login here
- otherwise
create an account
for free today!

0
Forgotten Plans - Forgotten Draw
Small Council
Forgotten Plans
jmccarthy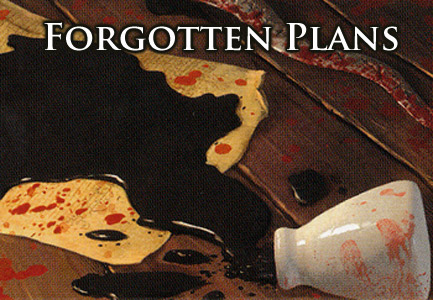 DRAW. It's what makes a good deck good. It's what keeps bad decks from reaching levels of mediocrity. Every single deck you build needs to have at least one solid "draw engine," and if possible, more than one. By "draw engine," I'm referring to a card that can be used on multiple turns, something more than just a Parting Blow.
Any intermediate level player knows about, and uses: Sam and Ravens, Val, the Knights agenda, the Summer agenda, King's Landing, Jhogo, Meraxes, Longship Iron Victory, Viper's Bannermen, Valyrian Steel Link, Bay of Ice and/or Gold Tooth Mines. These are the most common, and most easily used draw engines in Thrones.
This article aims to educate you as to five less commonly used draw engines, and the reasons why you should consider them:
[CRB='forums/uploads/1281901134/med_gallery_11_79451.jpg']
Xaro's Home
This card requires the most deck-dedication of the entire list, but is also the most powerful. For a 0 cost location, you get the ability to draw up to three cards per turn by using the influence you're already running. Make sure to run
Lady Daenerys's Chambers (Core)
to recur those attachments, and a few simple attachments can be used to draw an endless supply of cards. My personal favorites with Xaro's Home:
Khal Drogo's Tent (Core)
,
Unburnt (QoD)
,
Bowl of Brown (LoW)
,
Hrakkar Pelt (RotO)
,
Sun Stroke (QoD)
,
Court Advisor (PotS)
, or
Flame-Kissed (Core)
. Use early, use often. For a crazy idea, what about running Xaro's Home OOH in Baratheon or Martell?[/CRB]
[CRB='forums/uploads/1281900855/med_gallery_13_105955.jpg']
Pyromancer's Cache
Of course everyone thinks of running Pyro's Cache out of Lannister, but what about Stark and Baratheon? Or even Greyjoy or Targaryen? Sure three gold is a big investment (1 with Alliance or 2 with Tyrosh), and sure Maesters and their Tin Link must be considered, but drawing two extra cards per turn is often worth the risk. Think of Jeyne Westerling, Robb Stark; Robert/Renly/Stannis Baratheon (try adding Jeyne to Baratheon while you're running Alliance); Alannys, Euron, Balon; and Daenerys Targaryen. These are characters most decks are already running, and you can add Mance Rayder too. If you need draw, consider Pyro's, and be sure to put it a limited location to protect yourself from Price of War.[/CRB]
[CRB='forums/uploads/1295669265/med_gallery_73_59140.jpg']
The Dreadfort
Most Stark decks already run
The Bastard's Elite (RoR)
, and many run
The Flayed Men (DB)
as well.
Damon Dance-For-Me (VD)
and
Roose Bolton (DB)
should be considered in any Stark deck, and
Steelshanks Walton (OSaS)
is better than most people realize. Even without running the "crazy" Bolton cards - Steelshanks Reserves and Bolton Loyalist. Add in the fact that Bolton Refugee (run x3 in almost all Stark decks) can be STR 3 with Robb Stark, Song of Summer, or Winterfell Castle (grab the Castle and the Dreadfort with Maege Mormont, and the Dreadfort can be drawing you some serious cards without the need for a dedicated Bolton deck. As a side bonus, use The Kindly Man on an opponent's non-unique Bolton in their discard or dead pile, and draw another card with the Dreadfort![/CRB]
[CRB='forums/uploads/1287540757/med_gallery_67_95021.jpg']
Hollow Hill
Most people assume this card can only be effectively run out of neutral house, or with Treaty/Alliance agendas, but imagine running Hollow Hill with dual-house characters. You won't be able to run 6-house locations, but you could easily use cards like Ser Aerys Oakheart, Joffrey Baratheon, The Hound, Ser Jorah Mormont, River Bandit, Ghost of Winterfell, Royal Guard, Brienne of Tarth, or many more. FFG keeps adding more dual-house characters, so your opportunity to use this card will continue to grow.[/CRB]
[CRB='forums/uploads/1281900855/med_gallery_30_356821.jpg']
Fishmonger's Square
This one is a little more difficult to use, but you're also going to be desperate for draw in Greyjoy, so hear me out: Most Greyjoy decks will already be running
Euron Crow's Eye (TGM)
, but consider these common Greyjoy cards that also have a discard ability:
Theon Greyjoy (WLL)
,
The Knight (TftH)
,
Finger Dance (WLL)
, and Bloodthirsty Crew. You could also mix in any of these cards often found in non-"raiding" decks:
Training Vessel (TIoR)
,
Raiding the Reach (TGM)
(totally underused),
Desperate Looters (SA)
, Drowned Disciple, Stowaway, or
Priest of the Drowned God (KotS)
- Fishmonger's doesn't even require it to be your opponent's deck![/CRB]
That's my two cents, can't wait to see what ideas everyone comes up with!
-Jimm
Archrono and FioFioFio like this
Article: Forgotten Plans - Forgotten Draw