Welcome to Card Game DB
Register now to gain access to all of our features. Once registered and logged in, you will be able to create topics, post replies to existing threads, give reputation to your fellow members, get your own private messenger, post status updates, manage your profile and so much more. If you already have an account,
login here
- otherwise
create an account
for free today!

2
Valar Morghulis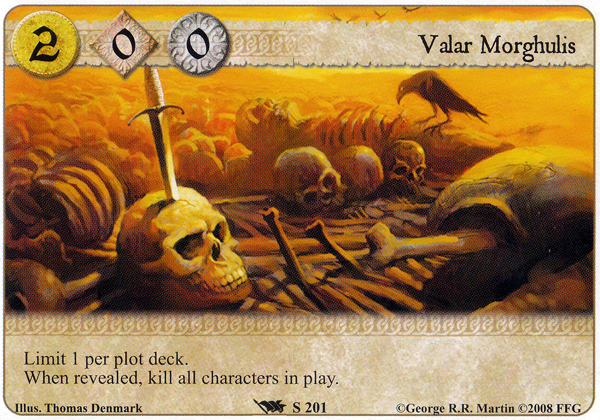 Valar Morghulis (Core)
2-0-0
Limit 1 per plot deck.When revealed, kill all characters in play.
Arguably THE meta-defining card for A Game of Thrones LCG, Valar Morghulis demands the attention of every player not only during play but also as they build their decks. How does the option of "Valar" influence the best player's decisions? I have some theories but would ultimately like to hear from the community on how Valar Moghulis guides your AGoT experience.
When I consider Valar Morghulis, it is usually in one of four general ways:
i)
A Safety Net
– I would use Valar Morghulis as one of my seven plots in this case to recover from a poor start. Even the best tuned decks have poor flops/opening hands or face nightmare flops/opening hands from their opponent. If you don't account for below average starts, you won't have an answer when they happen. I'm not saying that Valar is an all powerful actual reset of the game, infact, in many cases it just delays a loss when used this way. It does, however, provide a better chance than just trying to play from behind for the rest of the game. It would be interesting to see the thought process of top players after a poor start. I'm sure they are playing towards some form of a reset. How does this planning ahead inform their decisions? How many rounds can they afford? Which characters are held back and which options are used before or saved for after?
ii)
Part of the plan
– I would use Valar Morghulis as one of my seven plots in this case as part of my strategy to gain and capitalize on a card and resource advantage. A classic example of this would be a Lannister Control Deck. This deck baits the opponent to play more and more characters in an attempt to break free of character control. To the Lannister player this is a good thing. As their opponent is flooding the board, they are building up a large hand(
Golden Tooth Mines (Core)
), resource base(
Lannisport Steward (Core)
) and depleting the other hand with intrigue challenges(
The Power Behind the Throne (LotR)
). All of this is leading to a "flipping of Valar" which usually signals the end. The result is a refilled board by the Lannister player and a controllable board by the opponent.
iii)
Offensive Weapon
– I would use Valar Morghulis as one of my seven plots in this case to wipe my opponent's board and leave my board relatively strong. This is most easily achieved by using Greyjoy and their access to character saves(
The Iron Mines (KotS)
), although any deck using saves(
Maester of the Sun (ASoS)
), cannot be killed(
Beric Dondarrion (IG)
), shadows(
Tyrion Lannister (CoS)
), or jump into play effects(
Drogon (QoD)
) might consider Valar in this regard.
iv) The fourth way I consider Valar Morghulis is as a
threat to my board position
. In this case it is the presence or possible presence of Valar in my opponent's plot deck that I need to account for. This awareness of Valar influences me in both deck building and the playing of the cards. For deck building I need to balance my desired flow of the game with ways to defend against an opponent's Valar. An example of this would be a Baratheon Rush Deck whose desired flow of the game is an early accumulation of 15 power through renown(
Stannis Baratheon (Core)
) and power grabbing effects(
Melisandre (RotO)
). If the deck was 60 cards dedicated to this objective, a well timed Valar Morghulis would be crippling. That is why many rush decks will include cards that help mitigate a Valar at the same time as partially slowing down the speed. Specific cards would be
Loyal Guard (WotN)
,
Bodyguard (Core)
,
Narrow Escape (KotStorm)
,
Lightbringer (Core)
, and
Maester Lomys (CbtC)
[some may argue he doesn't help]. Draw effects and Intrigue defence can help as well while slowing down the deck slightly. I don't include
The Power of Blood (Core)
here because as it does a great job defending against Valar, the nature of having seven plots allows for flexibility and doesn't force you to sacrifice rush oriented plots.
When it comes to the playing of the cards I have seen the phrase "over extend" as something that you want to try to not do. This is where knowing your deck and how you play really becomes important. Over extending to one deck may look like a conservative strategy to the next deck and vice versa. Again, I would like to pick the brain of the top players on this topic. What are the main things you are thinking about in regards to a reset as you play your rush/aggro decks in the first rounds?
I hope this can start a discussion on Valar Morghulis and that average players like myself can gain some insight into high level play and decision making.
BraavosiBanker likes this
Article: Valar Morghulis