Welcome to Card Game DB
Register now to gain access to all of our features. Once registered and logged in, you will be able to create topics, post replies to existing threads, give reputation to your fellow members, get your own private messenger, post status updates, manage your profile and so much more. If you already have an account,
login here
- otherwise
create an account
for free today!

1
All Men Are Fools: Thrones Pack Review
Mar 09 2017 12:00 AM | scantrell24 in
Strategy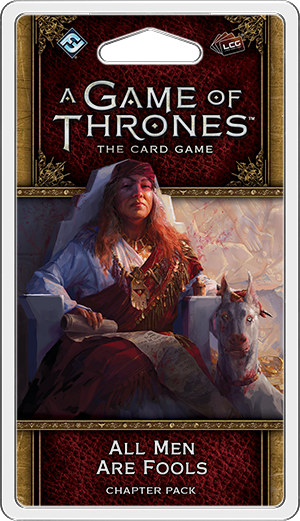 All men are fools, if truth be told, but the ones in motley are more amusing than ones with crowns.-
The Queen of Thorns
Our staff has put together a first blush analysis of the newly released "Tyrion's Chain" chapter pack. You can find frequently asked rules questions on the individual card pages on thronesdb.com (although this pack is relatively straight-forward).
Cards are listed in numeric order and scored on a scale ranging from one through five, with five being the best possible score. We have 4 reviewers this time around, so the maximum score per card is 20 points. Let us know in the comments how you feel about the cards in this pack!
Now onto the reviews, starting with....
Hoster Tully (12 Total Points)
Barnie25 - 3 out of 5
Some extra Tully love is good for the archetype but the deck where he will really shine is as a sacrificial lamb for Tinder Marge.
Quill & Tankard Curmudgeons - 3 out of 5
Loveable but not so lively old coot. The general feeling here is that he'd be overjoyed to be able to woo Margaery even if quickly replaced by a more… beefy suitor. The general usefulness of the Lord trait and the ability to once in a blue moon help more Tully-oriented decks accelerate to victory should help him see play once in while. Just wouldn't expect him to live too long...
scantrell24 - 3 out of 5
Niche, combo-y, win-more, and mono-con. What's not to like?
In all seriousness, despite the downsides Hoster does breathe life into the Tully rush archetype and could be a difference-maker in Melee decks.
VonWibble - 3 out of 5
He fits perfectly in decks that plan to get power on House Tully characters - primarily Fat Cat and Blackfish. As a 1 strength guy he's risky to run more than 1 copy even in those decks though, and as a monocon you aren't likely to put him in decks that aren't about the Tully rush.
The Tumblestone (12 Total Points)
Barnie25 - 3 out of 5
I quite like this card due to the cost it's very setup friendly and it's flexibility. It's not a power house or a game changer but it fills a role in a rush type strategy. Not a bad pick up for the Tully's.
Quill & Tankard Curmudgeons - 2 out of 5
More than one way already to stand a Cat, so this ends up being very niche, even in the deck it's designed for. Even the ability to accelerate the Blackfish in getting his groove on will likely have little impact in a post-Valar meta. It's not terrible, but for a utility card this is seeming somewhat specific.
scantrell24 - 4 out of 5
With a flexible cost, the Tumblestone helps combat Melisandre who is prevalent right now, and powers up the Blackfish quickly. It's a decent joust card and a great Melee card.
VonWibble - 3 out of 5
Like Hoster this card does very little unless you are all about Tully rush. Edmure doesn't trigger Tumblestone (move vs gain), so it's not meant for non-Tully decks. On the other hand, if you are going for Tully rush then the effect is really strong, good enough that this card should be in your deck. Same rating as Hoster for the same reasons. Additionally, at 0 cost you could use it on setup as a blank card that just draws you an extra card. Desperate move but a possibility.
Margaery Tyrell (20 Total Points)
Barnie25 - 5 out of 5
This is the most powerful card in a long time. She will be very very popular. Both Stark and Lanni provide you with a good number of cheap Lords. Her efficient body with renown alone is great for Tyrell but that ability...
Quill & Tankard Curmudgeons - 5 out of 5
We like her rather a lot.
We wrote an article on her
.
scantrell24 - 5 out of 5
Tyrell has wanted renown on intrigue for a long time. Also, Lady-in-Waiting makes more sense now.
VonWibble - 5 out of 5
There are so many uses for this card that I can't rate it any lower. A 5 str bicon with renown isn't bad by itself. The ability means that there is a fair chance people won't make military challenges at you for fear your claim-soak Rickon turns into Eddard Stark, or Tommen Baratheon becomes the Mountain! Whilst there aren't enough targets in House Tyrell alone, there are good banner factions, and possibly the Alliance Agenda to really help her. I know she prevents you from having core Margaery on the table, but Tyrell have received a couple of good strength pumps in recent packs so I think Randy will get over it.
All Men Are Fools (17 Total Points)
Barnie25 - 4 out of 5
One of the more scary rush cards I think. Since you can trigger it during any challenge and it costs 0, makes it that preparing for this is near impossible. Knights and Ladies will love this.
Quill & Tankard Curmudgeons - 4 out of 5
In Joust this drops to a 2 or 3, but over Drakey's protestations we choose to consider Melee even if it lacks an official rules document. In the future this will rise to a 5 in that format, but right now Tyrell just don't have enough Ladies to get any significant amount of power out of this without massively telegraphing the play. Will be your 4th-6th copies of Superior Claim for now, with potential for more later.
scantrell24 - 4 out of 5
Zero cost, works on attack and defense, and works with out-of-faction Ladies too! Tyrell Wolf will surely be a popular deck in the coming Regional seasonal, and this event may force the meta towards more Hand's Judgment.
VonWibble - 5 out of 5
"Each lady character you control". They don't even have to be participating! As long as you have ladies in play (which you will), this is Superior Claim for any challenge. Even with just 2 ladies out this is worth it to me, and with a Wolf banner any big challenge becomes dangerous. Winning by 5 isn't that hard for Tyrell to achieve, and whilst it has a limit of 1 per challenge, it can combine with Superior Claim. I'm between 4 and 5 in joust, and am going higher because it is definitely strong in melee.
Eastwatch Carpenter (12 Total Points)
Barnie25 - 3 out of 5
The ability is very strong but the body is relatively expensive. Solid trade off.
Quill & Tankard Curmudgeons - 3 out of 5
Economy for the Watch is not something one should dismiss out of hand... even in a 3-cost monocon. Wait, did GJ just get cheated out of their obligatory P monocon of the pack? The pattern to Halder seems obvious & with new spoiler articles out we can already see how Builders are taking shape. That said, this one will likely need to wait for another good non-unique location or two - in other words, their econ location for the cycle, or the deluxe box...
scantrell24 - 3 out of 5
Eastwatch Carpenter has potential, like most non-limited economy, but the emergence of Political Disaster into the metagame limits the attractiveness of location-heavy decks. Also, three gold characters, despite First Snow waning significantly post-Valar, are still unattractive as a rule. I'd slot one copy into Wall defense decks, and maybe there will be a non-Wall, Night Gathers... deck with the next card that runs enough locations.
VonWibble - 3 out of 5
Another Builder to slowly make Brandon's Gift worthwhile! He is at that awkward cost slot that makes him fairly pricy to play and set up whilst still being affected by First Snow, which is still a thing. However, even if you only have 2 locations, which is easy enough, this is a non unique non limited source of economy. I'm just not convinced he beats out the competition at his cost slot. I'm hedging for now, I can see a particular build (no pun intended) emerging with the right locations in the forthcoming box.
Eastwatch-by-the-Sea (13 Total Points)
Barnie25 - 3 out of 5
More draw for NW! We all know they needed it. I think getting to trigger this is not that difficult in NW. Fealty lists will probably run a single copy and be happy.
Quill & Tankard Curmudgeons - 3 out of 5
On an average day, this should be easily giving you a steady supply of cards - that trigger is somewhat less fickle than many of the draw locations in the Core set. The auto-include that is Messenger Raven does mitigate its impact somewhat, but we've found that when it comes to draw, there's not really such a thing as "less is more" - even if it is all in the dominance phase. Somewhat hilariously, Baratheon remains the Watch's nemesis even here, with the Iron Throne's reserve boost being one of the most common ways to block this reaction…
scantrell24 - 4 out of 5
Excellent value, especially in Fealty decks, but slots are tight and the Iron Throne is hard to replace right now with Painted Table decks everywhere. I still like it though.
VonWibble - 3 out of 5
With the +1 reserve granted by this, given that reserve doesn't vary that hugely between plots, there is a good chance you will win this and get the card draw. I think 2 rooks in the bush beat a bird in the hand (Northern Rookery) in this case, though you could always run both in a Night Gathers… deck.
Fickle Bannerman (16 Total Points)
Barnie25 - 4 out of 5
This card is really serviceable. It reminds me of creatures with Fading in MTG. You know his shelf life is limited and that's fine. The decks that will run this probably look to close early or at least in a reasonable time frame in a more delay rush manner.
Quill & Tankard Curmudgeons - 4 out of 5
5 is the magic number for STR in Thrones, and this is also a 3-cost non-unique Renown body to boot! The drawback means this isn't for every deck, but write it off at your peril when it's so efficient. We don't expect people to often actually use that Bestow bit, mind. It'll attract spare gold, but you won't be setting any aside for it.
scantrell24 - 4 out of 5
He seems strong in the right deck. I'll probably build a Bara Sun with 3x Red Keep, 3x Condemned, 3x Fickle Bannerman, and focus heavily on power challenges.
VonWibble - 4 out of 5
This card is tough to rate at first blush. Even at "5" gold, this card has good efficiency, with equal strength, bicons and renown. But I'm not sure if that's the best way to go. If you have a couple in hand, you could risk paying 6 gold instead and having effectively 10 strength out. With careful play I can see these guys dominating games, but there are answers - stealth, Ward and Night's Watch thievery. A high skill tariff card to be sure.
Storm's End (8 Total Points)
Barnie25 - 1 out of 5
Pre-Valar this card would have been awesome, but since we live in a post Valar world I am not liking this card one bit. Too risky to try and trigger this, not worth the deck slot.
Quill & Tankard Curmudgeons - 1 out of 5
It's nice to see that some things never really change across the years. Being a largely identical reprint from 1.0 & coming out after Valar is released, it's easy to identify that this will never really see any play (as it didn't then). The fact that current Dominance-based builds don't really have one (let alone two!) solid bodies that they maintain on the board simply underlines this. We'd rather just have a Table, thanks!
scantrell24 - 2 out of 5
A similar 1st edition card rarely saw play, but this version is reasonably priced. It's definitely win-more though, and loyal which limits combo potential.
VonWibble - 4 out of 5
You get a net gain of 1 power but placed on characters who may die at any point. Nice in melee to help speed the win more, but not so nice in that you have to win dom against more opponents. In joust, it's probably best this is loyal as Fat Cat and Blackfish would just get too much out of this effect. Worth it in a deck which has access to saves such as Banner of the Kraken or just using Barristan Selmy. Also good for setup. I can see this card making decks.
Stone Crows (12 Total Points)
Barnie25 - 3 out of 5
This fills a hole the clansman deck had. This gives them the military monocon they were lacking… solid in what it does.
Quill & Tankard Curmudgeons - 3 out of 5
Yet another solid addition to the Military-obsessed Clansman family. It'll most of the time get unopposed instead of picking on corpses, but that trade isn't half-bad for Lannister, which tends to otherwise be one of the easier decks to stall until it can get a proper lock of the table.
scantrell24 - 3 out of 5
At first glance, it looks like there's synergy between the Ambush ability and the kill effect, but it actually doesn't result in surprise kills. I can see 1 or 2 copies in dedicated Clansmen decks for the trait redundancy, but I don't envision Storm Crows seeing play in good stuff decks.
VonWibble - 3 out of 5.
Assuming you have the gold for bestow these are at worst a claim raising card. The fact they only do it twice is not a big concern given they probably are going to be eaten for claim sooner than later, in fact, in an even match I'd consider only paying 1 and getting a 1 shot effect. It should be noted that just because they have ambush doesn't mean you can't marshal them in - such a move could be strong if done to save you money with reducers, at the cost of surprise factor and the ability to grant extra icons. I can see a clansmen deck finding room for these.
Attack from the Mountains (8 Total Points)
Barnie25 - 2 out of 5
There are instances where I want this card but they are few and far between. I can't imagine this card seeing tons of play since most clansman are military monocons and there are tons of ways to get lanni characters into play already.
Quill & Tankard Curmudgeons - 2 out of 5
The biggest impact of this attack will be the surprise scrambling of Challenge math… which is honestly less surprising coming from a generally Ambush oriented theme. The economic nudge it can provide to getting Chella or Timett out is not nothing, but weighs less on the scales in Lannister, and may not be enough for a combo card that represents card disadvantage. In the end, conditional jank is conditional.
But still… watch out for
JC coming down the mountain
. (Ire is responsible for this, but Drakey strongly approves. JC is confused and scared.)
scantrell24 - 2 out of 5
Expensive and unnecessary. There are better, more consistent jumper options.
VonWibble - 2 out of 5
2 cost is quite high considering a lot of the clansmen characters already ambush for equivalent or less - you are only saving 1 gold on Stone Crows or Shagga (or spending 2 more to avoid a kill!), and paying 2 to avoid a house card kneel on Moon Brothers. Chella and Timmett are the 2 characters who get the most out of this for sure. I think this is a nice idea and will be powerful long term, but for now I'm lowering its score as there aren't enough targets.
Drowned Disciple (7 Total Points)
Barnie25 - 2 out of 5
Currently this card is not good but it's a good piece for a not yet existing deck (assuming we will get more drowned god recursion tech).
Quill & Tankard Curmudgeons - 3 out of 5
Ah, there's the GJ 3-for-3 power monocon we were expecting. Scared us for a bit there! As usual, the promise of recursion has us Curmudgeons chomping at the bit, even if it looks like this one's more of a seed than something you can start watering straight away. Let's look at this one again in 6-12 months.
scantrell24 - 1 out of 5
Currently, he's terrible, both in terms of ability and cost/strength/icons. There's room for improvement, but even with the right support he's still likely jank at best.
VonWibble - 1 out of 5
Great art! The ability is OK, and an Old Wyk style Drowned God deck is starting to form. However, winning dominance is needed to get the key piece, core Aemon, to work with this power, and in a meta based around Table and Chair that's tough to do. Also this guy is not at all what Greyjoy need in icons, a 3 strength monocon...There are possibilities long term, for now I'll pass.
Moat Cailin (5 Total Points)
Barnie25 - 1 out of 5
I suspect that this card was originally designed to be much more potent and got hit with the nerf hammer because this version is horrible. I hope this will be one of the lowlights of the cycle meaning the rest is playable. This card is expensive, conditional and not very impactful.
Quill & Tankard Curmudgeons - 1 out of 5
2 gold for a card that does nothing unless you play a Winter plot AND the opponent doesn't play a Summer? It's like a poor man's Frostfangs. You remember Frostfangs, right? The one that doesn't see play?
scantrell24 - 1 out of 5
Expensive, conditional, and not even that impactful. Sorry Greyjoy fans.
VonWibble - 2 out of 5
I hope this card proves to be weak as I did the Frostfangs, as choke is never fun to play against. The initiative is an odd choice of attribute, as most winter plots aren't that strong to begin with, and one of them, Snowed Under, provides no benefit at all. Summer plots are also prevalent enough for this card to not be working in a few crucial plots of each game, especially given you probably aren't running 7 winter plots in the first place. Maybe if Old Nan comes to visit?
Ghiscari Elite (9 Total Points)
Barnie25 - 3 out of 5
I really like what this card does, a decent body with a good ability. The ally trait doesn't matter as ally hate is never played, if that picks up this card will be binned. If a Targ control list becomes possible in the future, this might be a piece since having an unlimited number of burn events is great.
Quill & Tankard Curmudgeons - 2 out of 5
We were on the verge of a 1 here. It's an expensive Ally with a mediocre effect - like a Wildling Horde that's been put through the wash on the wrong setting. But if we gave it a 1 it implies it's as bad as Moat Cailin or Storm's End...
scantrell24 - 2 out of 5
Finally, an answer to the dominant force in the meta, Pillage decks! (that's sarcasm, just in case). Ghiscari Elite sure looks overpriced by 1, but I guess this character fits in Pyat Pree decks that want to use Isle of Ravens to recycle Dracarys!, etc. That's about the only use though.
VonWibble - 2 out of 5
Finally another use for the Lordsport Fishermanl! That aside, you have a good strength to cost ratio on an intrigue icon, and that together with a built in Isle of Ravens will be good enough for her to see play in some Targ decks. Is this enough to make Targ Rains a thing?
Slaver's Bay Port (14 Total Points)
Barnie25 - 4 out of 5
The tempo hit is certainly there but in a longer more grindy game this card is potentially amazing. This is a good piece for a future Targ Control list, it also gives Targ more targets to you Fealty on which is great. My main love for this card is due to the fact that it's non unique making it possible to get your Kingsroads from your fealty list.
Quill & Tankard Curmudgeons - 4 out of 5
This suffers slightly from the "you want to draw economy early, but it's a tempo hit unless you draw it late" disease, AKA Golden Tooth Syndrome, but the prospect of 2 gold a round is just really nice. Get two of these out and 4 characters in the opponent's dead pile, and you have no econ worries for the rest of the game.
scantrell24 - 3 out of 5
Slaver's Bay Port should see play at 1x in Fealty and Aggro decks, but otherwise I'm not sure why you'd choose it over other options.
VonWibble- 3 out of 5
With Valar Morghulis now existing, plus the general kill potential of burn, Mirri, and Drogo, I can see this card working nicely. 1 of in any Targ aggro kill deck.
Ricasso (13 Total Points)
Barnie25 - 3 out of 5
Finally an enabler for the plot focus in Martell. He is fragile but in the right deck he could be interesting.
Quill & Tankard Curmudgeons - 3 out of 5
We're being generous here because it's our kind of card. Thanks to In Doran's Name this is actually one of the easier Bestow effects to justify investing in. It's a shame that a cool centrepiece effect like this is on a vulnerable 3 cost body (we'd have loved it on, say, a 0 cost location), but it's a neat one-of for the Doran decks.
scantrell24 - 4 out of 5
He only belongs in dedicated Viper decks (along with Doran, Dawn, etc.), but Ricasso might be worth 3 copies there. Two extra plots can make a big difference, especially in the early game. And as with all Bestow cards, I love the flexibility to pay only 3 or 4 gold when the situation warrants.
VonWibble - 3 out of 5
Ricasso has 2 icons and equal strength to cost, which in itself puts him above the curve for a cheap Martell card. Of course, that assumes no use of Bestow, and if anyone warrants the full amount of gold to begin with its Ricasso. Looking at his benefits, we have; with Doran, +2 strength for all lords and ladies, with Dawn, +2 strength, with In Doran's Name, +2 gold, and potential +2 power with Scorpions Sting or Doran's Game. I like the idea of using Arianne to cheat him in and get a strength pump mid challenge for sure. However, he does not work well with First Snow, and seems to only really benefit one type of Martell deck.
The Prince's Plan (14 Total Points)
Barnie25 - 2 out of 5
To me this card just seems expensive. The effect is cool and certainly tricky but this being loyal means you need to play main house Martell and they are not so hot right now. If they become stronger again I can see the rating for this card to go up.
Quill & Tankard Curmudgeons - 4 out of 5
Drakey is unhappy with us here, thinking we've overrated this one by a good couple of points and muttering something about Venomous Blade. There are certainly concerns to be had with the cost of this - 2 gold, plus 1 gold to recur it, is pricey - Vengeance's price-point, in short. However, this is a perfect effect for Martell's most successful builds right now. It serves several purposes, letting you win a challenge you might've lost, initiate a challenge you previously couldn't, make use of a blanked Nymeria, protect a character from a potential Dracarys!, and of course synergise with the Viper… The reaction is also pretty solid, as if you have a spare gold it can be repeated intrigue claimsoak.
scantrell24 - 3 out of 5
It's expensive outside of Fealty decks, but can be generally useful besides creating a hyper Viper, thanks to the icon granting.
VonWibble - 5 out of 5
The Prince's Plan That Was Promised? The card that will make Dornish Paramour really good? A card that makes Milked Nymeria actually do something beyond be half an Iron Throne? Another reason to have Ricasso in your deck? Even more HyperViper? Caleotte in military challenges? Even the price isn't too bad - I can see this with You Murdered Her Children to actually make Littlefinger's Meddling get used. I like this card.
Ygritte (15 Total Points)
Barnie25 - 4 out of 5
Good body and reasonably easy to trigger. I suspect this card to become a lot stronger when the NW box hits assuming it will bring us new wildlings.
Quill & Tankard Curmudgeons - 4 out of 5
French vanilla goodness, not much more to say. Pro-tip, run her in more than just Wildling decks.
scantrell24 - 4 out of 5
She'll see play as 1x in NW defense and other factions light on intrigue icons (most of them except Lannister and Martell really). Ygritte improves with more Wildlings coming the next deluxe too.
VonWibble - 3 out of 5
Some factions will really like the icon spread, and there are enough decent Wildlings around to give a decent chance of stealth in a non Fealty, non Banner Agenda, with this only increasing in likelihood with a Night's Watch box to come. She is also a candidate for King Beyond the Wall if you are into that sort of thing. The non kneel thing is a nice bonus, nothing more, though immunity to intimidate should not be underestimated.
Alliance (11 Total Points)
Barnie25 - 4 out of 5
I can't do justice to this card in a short review. This opens up so many possibilities and going forward only becomes stronger. This will be broken and will provide us with a few good lists. The key is to find strategies that overlap between factions, though I suspect that alliance will often be good stuff centric.
Quill & Tankard Curmudgeons - 3 out of 5
It's an agenda with a lot of promise. Combos galore lay ahead for the deckbuilders brave enough to try to solve them. Speed Dating Margaery will enjoy the threesome the agenda offers, but several other paths lay in wait - slamming three control factions together? Three rush factions? Weird specific combos? Simple protection against the second tie-breaker metric for tournament matches that go to time? Unfortunately, Banner agendas are currently in a somewhat unfavourable place in the meta (
JC wrote an article on the subject
), and this only intensifies those problems, particularly when almost all draw is loyal (and therefore more sparse in a 75 card deck, effectively doubling down on the variance…). At least Ocean Road will be reliable economy!
scantrell24 - 2 out of 5
Economy and draw will be wonky in 75 card decks. Besides, is there really enough synergy between any three factions right now? I don't think so. Other agendas are better, barring support for this agenda in the rest of the cycle. Now don't get me wrong, I love the design and the deckbuilding creativity it fosters, but I'm skeptical about the tournament worthiness of Alliance.
VonWibble - 2 out of 5
I want to like it, but the fact is that having more cards, combined with having to take a minimum number of cards from 2 banners, combined with relative lack of neutral economy to play these cards, makes it tough to see this as anything other than a fun janky agenda. Which isn't a bad thing, but doesn't score points.
Barring the Gates (X Total Points)
Barnie25 - 4 out of 5
Decent stats and provides choke decks with a guarantee that no characters will be cheated into play.
Quill & Tankard Curmudgeons - 4 out of 5
The problem with Winter choke is that effects that put cards straight into play typically circumvent gold costs. Say hello to their new friend. 5 gold is the exact amount needed to make this work. It's a great counterplot for several powerful plays - Ghosts of Harrenhal, Here to Serve and Reinforcements all hate this, as does Margaery, Lanni Harrenhal, and several others. This will help establish Kings of Winter as a highly relevant agenda going forward.
scantrell24 - 3 out of 5
Last I checked, Thrones doesn't have a sideboard rule, and this plot is too much of a silver bullet to warrant regular play outside of decks choke decks. But even in King's of Winter, this plot will only be active for a turn, or two maybe. So it can slow down ambush, Harrenhal, Marg, etc, but not stop them altogether over the course of a game. Also, its hit by Naval which might see a resurgence.
VonWibble - 1 out of 5
This is a way to ensure ambush and the like doesn't get out of hand. However, given that this plot will simply provide 5 gold with mediocre initiative and reserve in a lot of matchups, I'm not a fan. Additionally, any deck running Arianne or Speed-Dating Margaery won't want this plot, nor will Lannister or Night's Watch. Who does want this? Maybe Greyjoy, as you can't stealth cards in hand? Still not good enough.
Late Summer Feast (X Total Points)
Barnie25 - 2 out of 5
The gold is great but the downside is terrible. If you can live with that trade off than go for it. I will be leaving this card at home 9 times out of 10 at least.
Quill & Tankard Curmudgeons - 2 out of 5
This might be good in the future, if we get some real soft control options. But most control decks currently rely on resets, which mean they want Trading (more gold to play stuff to get board-wiped!) far more than this (more cards to recover from the board-wipe with!). The only other home we can conceive of is Rush? It's not a terrible closer plot, if the aim is to put out enough stuff to win that turn before the opponent can marshal the cards you're handing them...
scantrell24 - 3 out of 5
If Trading didn't exist, this plot would be amazing. As is, location-heavy stall decks might want it, and maybe Tyrell Summer decks to establish The Arbor, Highgarden, and/or Mander turn 1.
VonWibble - 4 out of 5
Interesting to say the least. A nice opener plot for sure where you can get away without making challenges, or more generally good for Table and Chair decks, and Night's Watch even more so as they weren't bothered making challenges (but would like money to get the Wall out early and some guys to defend it). 5 out of 5 for those factions, 3 out of 5 for anyone that wants to win lots of challenges quickly. If more plots like this become common, does that make Naval Superiority viable again? Playing this against Summer Harvest will be very annoying however!
Total Pack Score:
60.1% (241 out of 400 possible points)
Top Cards:
Margaery Tyrell
All Men Are Fools
Fickle Bannerman
Bottom Cards:
Moat Cailin
Drowned Disciple
Attack from the Mountains
Storm's End
If you're hungry more content, check out the list of podcasts, articles, game video and more in
the Community FAQ
. Let us know in the comments how you feel about the cards in this box, and we'll see you again soon to discuss the Night's Watch deluxe box !
Article: All Men Are Fools: Thrones Pack Review